For consumers, one positive thing about the pandemic was that many airlines introduced more flexible policies when it comes to changing or canceling tickets. For example, with the "big three" US carriers, you can now generally cancel a ticket, and apply the credit toward a future itinerary.
In the case of American Airlines, the company uses both flight credits and trip credits, and that tends to confuse people. So in this post I wanted to talk about the difference between those credits. There's a trick to extending the expiration of these, and even to being able to use them for others, so I'll cover that as well.
American Airlines travel vouchers explained
Nowadays American Airlines primarily issues two kinds of travel vouchers:
There are flight credits, which are credits related to a canceled or unused ticket
There are trip credits, which are credits related to compensation, refunds, and remaining value when exchanging a flight credit
Below you can find a chart that compares trip credits and flight credits. As you can see, the chart also discusses travel vouchers, but for these purposes, we'll ignore that (these are outdated paper vouchers that a vast majority of people will never deal with).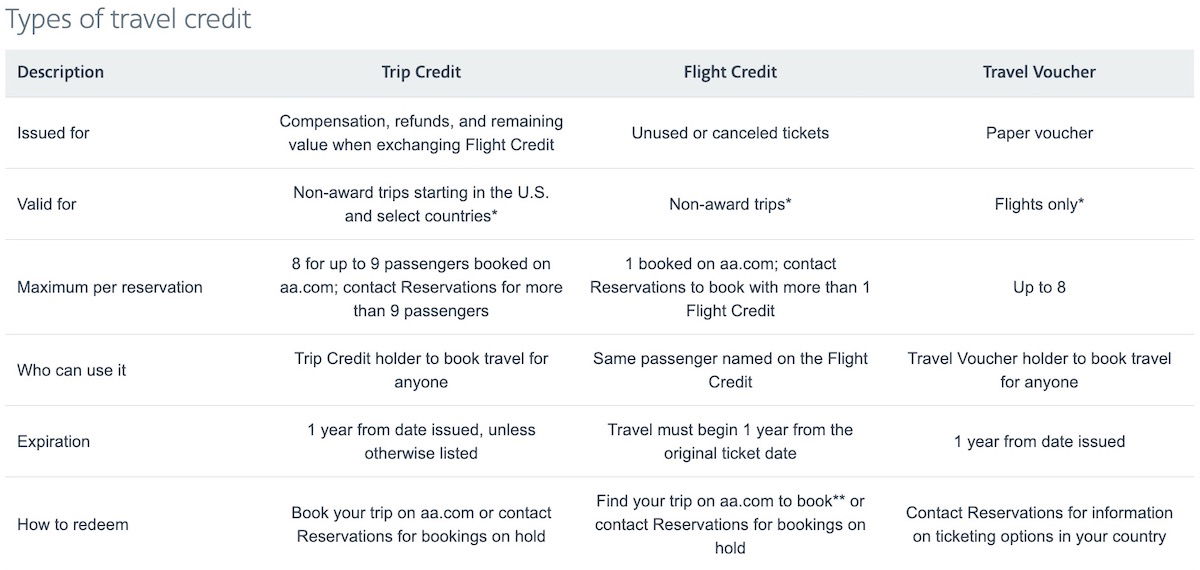 Trip credits are much more flexible than flight credits, so let me discuss that in more detail below. I'll then talk about the "trick" to exchanging flight credits for trip credits, which gives you a lot more flexibility.
How American flight credits work
American Airlines flight credits are issued for unused or canceled flight tickets. In other words, if you book a non-refundable ticket with cash and then need to cancel, you'll be issued a flight credit (some fares, like basic economy fares, don't offer any residual value).
Here are the general terms associated with flight credits:
A flight credit can only be used for the same passenger named on the voucher, so you can't use this for someone else
A flight credit needs to be used within one year of when the original ticket was issued, and travel has to begin by that date
A flight credit can only be used for one passenger when booking through aa.com, or for more passengers by contacting reservations (that assumes that there were multiple people on the initial ticket — as stated, only the person who the voucher was issued to can use it)
You can only redeem one flight credit toward a single flight at a time on aa.com, but you can redeem multiple flight credits toward a single itinerary by contacting reservations
As mentioned above, flight credits are more restrictive than trip credits. However, these are in line with the kinds of vouchers that airlines have historically issued for ticket changes, so there aren't really any surprises here.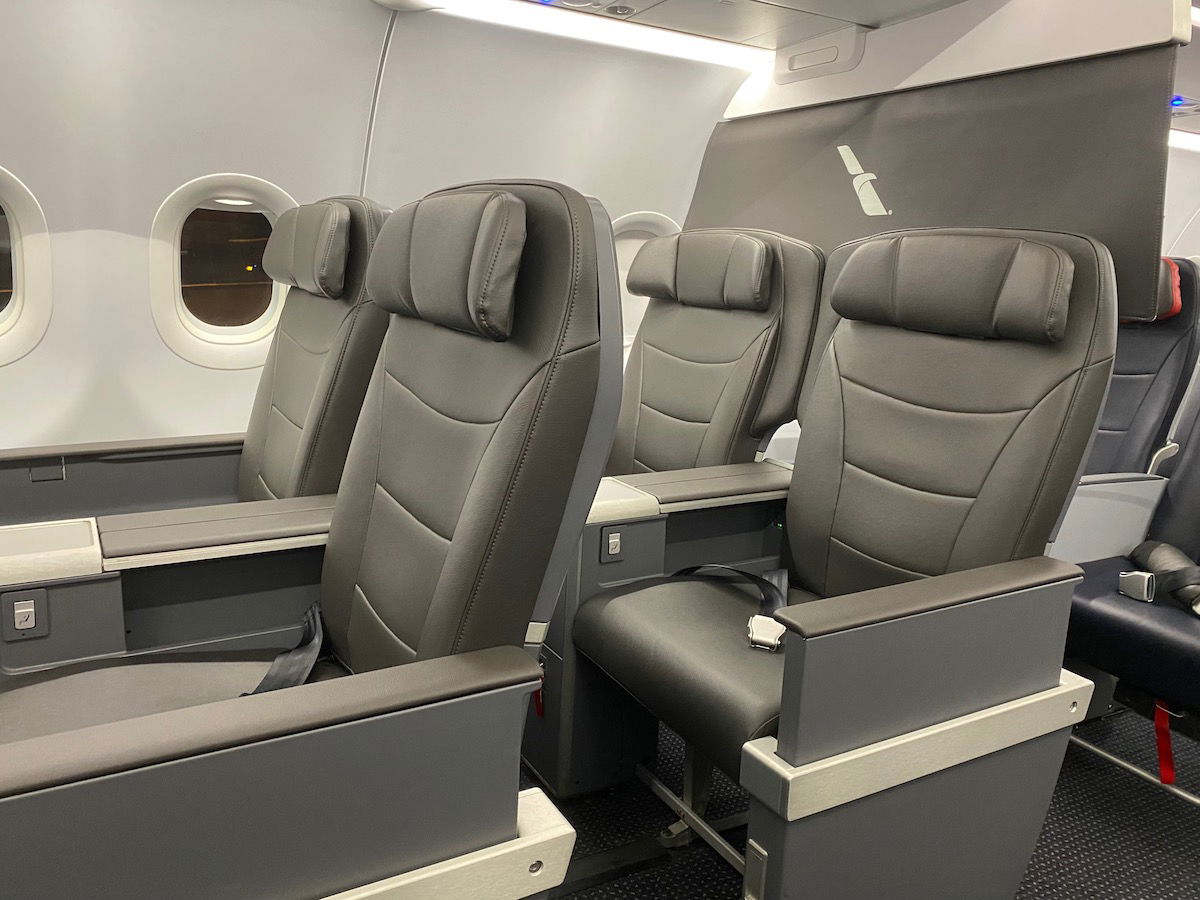 How American trip credits work
American Airlines trip credits are most commonly issued when you have remaining value from a flight credit, or for compensation. In other words, if you book a ticket at least partially with a flight credit and then need to cancel, you'll be issued a trip credit for the residual value. This offers a huge advantage in terms of flexibility.
Here are the general terms associated with trip credits:
A trip credit can be used to book travel for anyone, and not just the person who the ticket was initially for
A trip credit needs to be used within one year of when the trip credit was issued (rather than when the original ticket was issued), and you only need to book by then, and not actually commence travel by then
You can use up to eight trip credits for up to nine passengers when booking directly on aa.com, meaning you can use multiple trip credits for a single itinerary
Trip credits give you a huge amount of flexibility. Almost think of them like airline gift cards, except they do have an expiration date.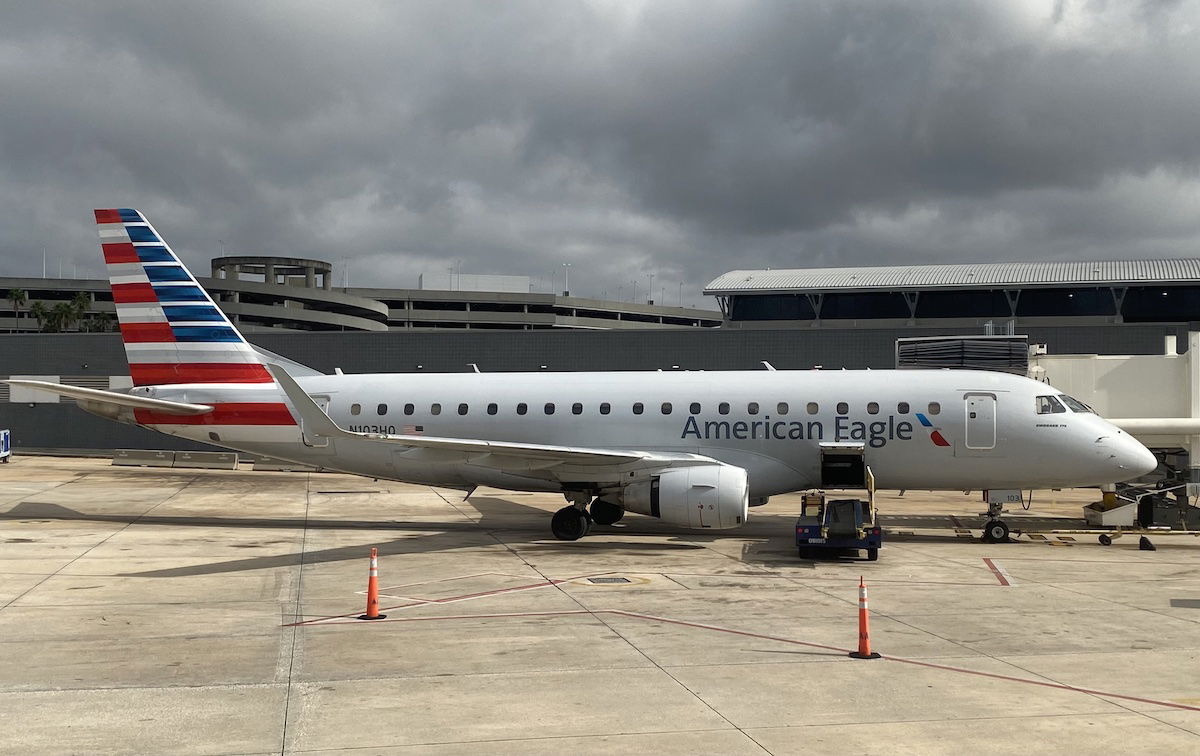 How to redeem American flight & trip credits
How do you find and redeem any American Airlines flight or trip credits you have?
Let me start by saying that if you're canceling a ticket that offers some residual value, you'll just want to take note of the ticket number of the itinerary you canceled, because that's what your credit will be associated with.
If you're an AAdvantage member and have your number linked to your itinerary, you should automatically see the credit posted in your account, under the "Account summary" and then "Travel credit' section.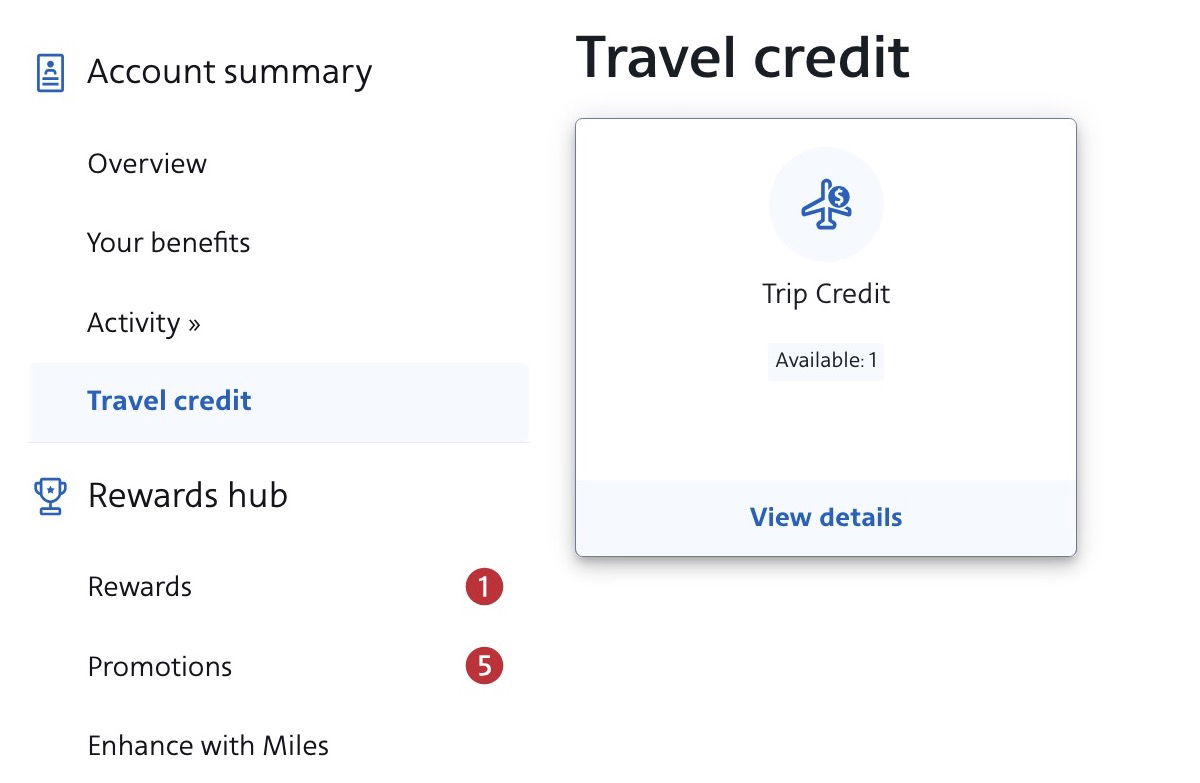 There you can select any credit in your account by clicking "View details." You'll see a trip credit number listed there.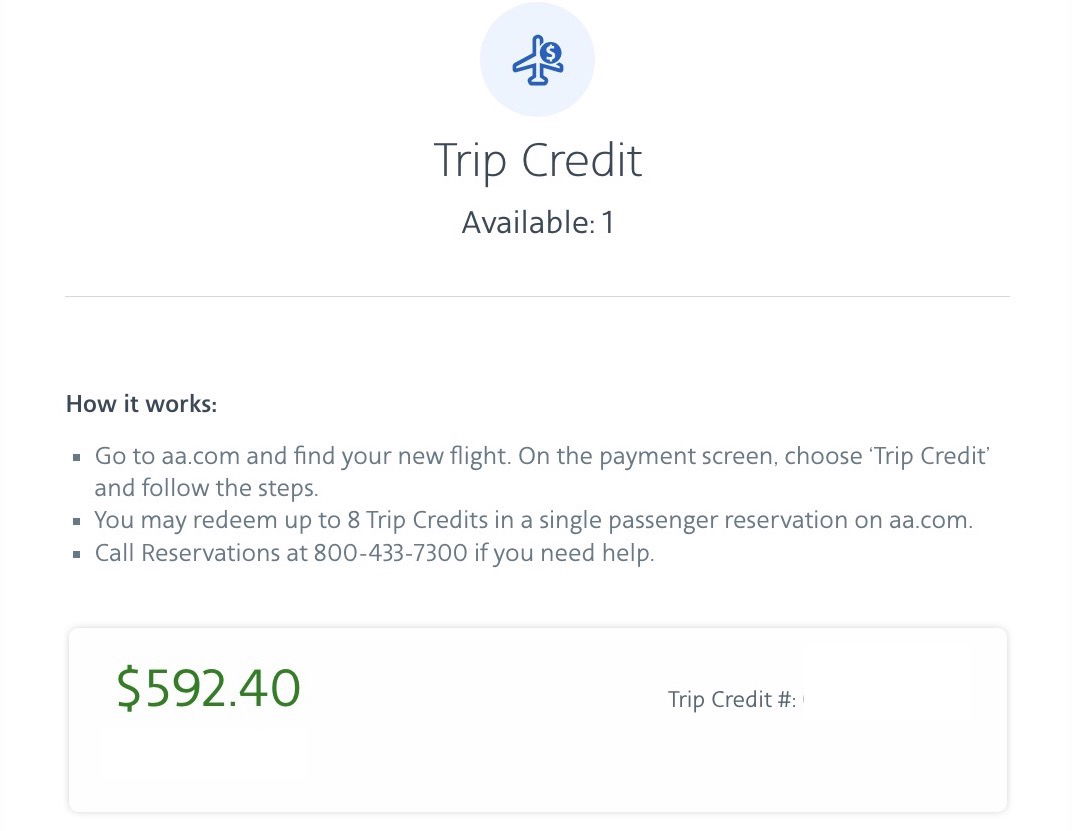 When you're ready to book with that credit, just go through the usual booking process, and on the final payment page, you'll see the option to apply a credit.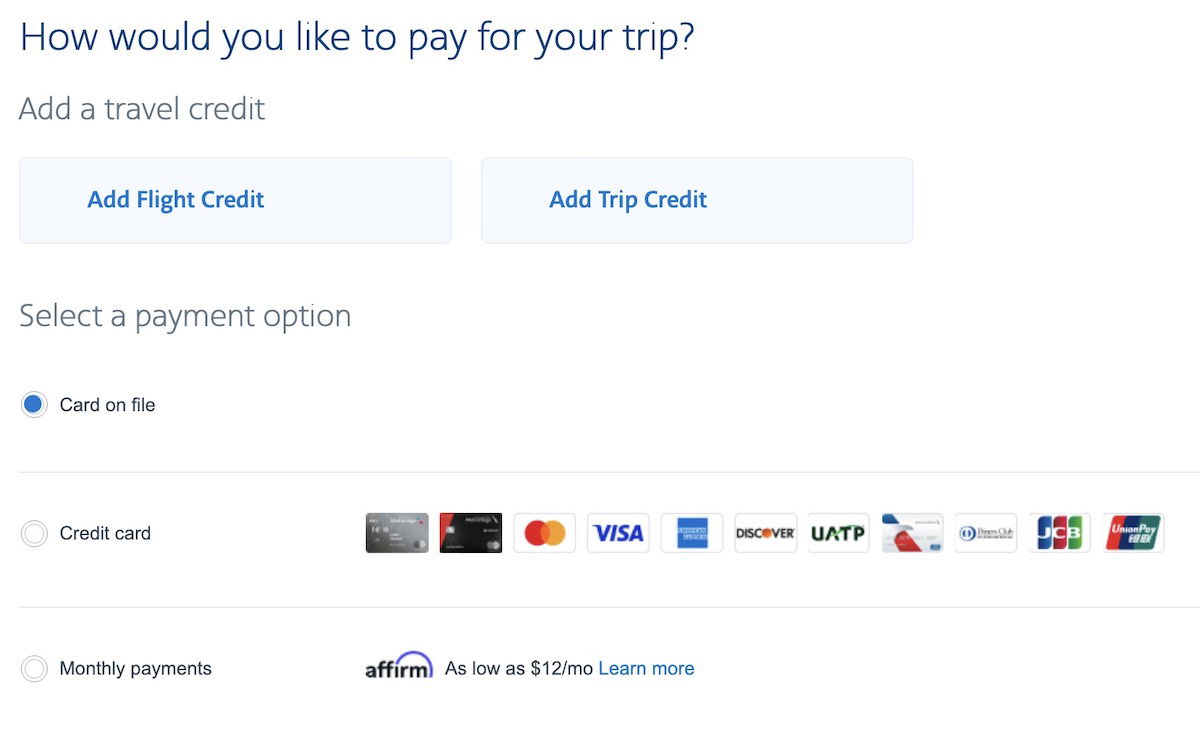 Just select either flight credit or trip credit, and then enter the number associated with it.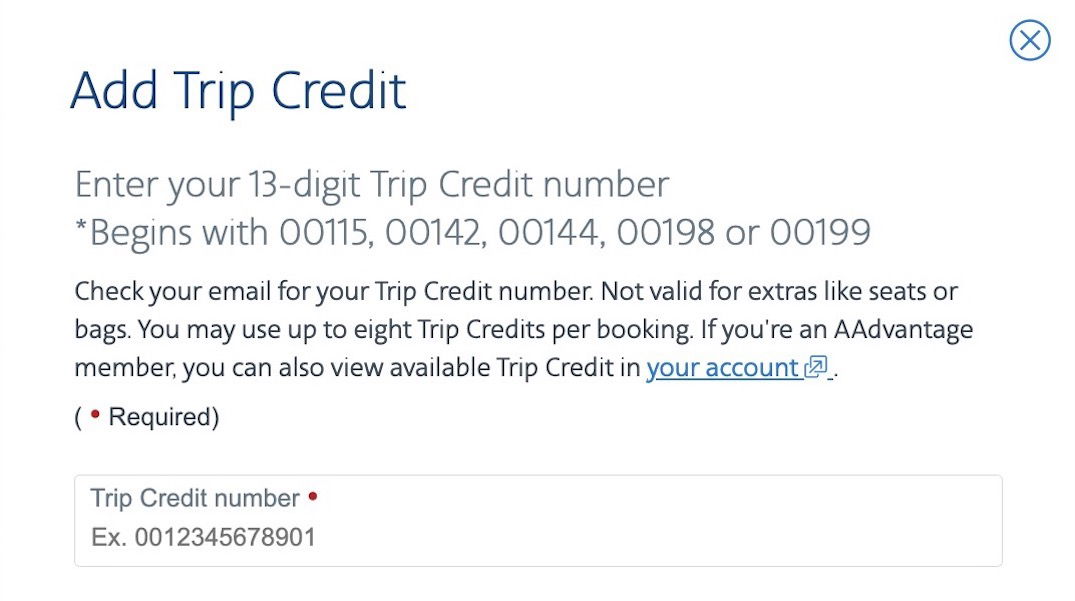 How to avoid vouchers expiring, use them for someone else
Understandably, many people might find themselves in a situation where they can't redeem an American Airlines flight credit. For example, maybe the expiration date is approaching, or maybe you don't want to use the voucher for yourself, but rather want to use it for someone else.
Fortunately there's a creative solution. Just booking any ticket will turn your flight credit into a trip credit, and give you a huge amount of flexibility. For example, say you have a $1,000 American Airlines flight credit. If you were to book a cheap $60 ticket from Los Angeles to San Francisco with that, you'd be issued a $940 trip credit, reflecting the residual value:
You could then use that voucher for anyone, and not just yourself
You'd then have a whole additional year to use the voucher (and you only have to book within that year, rather than travel within that year)
That gives you valuable flexibility, and I think this is an opportunity that many people overlook, especially those who have flight credits but aren't frequent flyers with the airline.
Similarly, if you have a trip credit that's expiring soon, you can simply use it to book a new ticket (ideally of equal or greater value, so you don't lose any of your credit) for the future, and then if and when you cancel that, you'll get a trip credit back for that amount, once again valid for a year.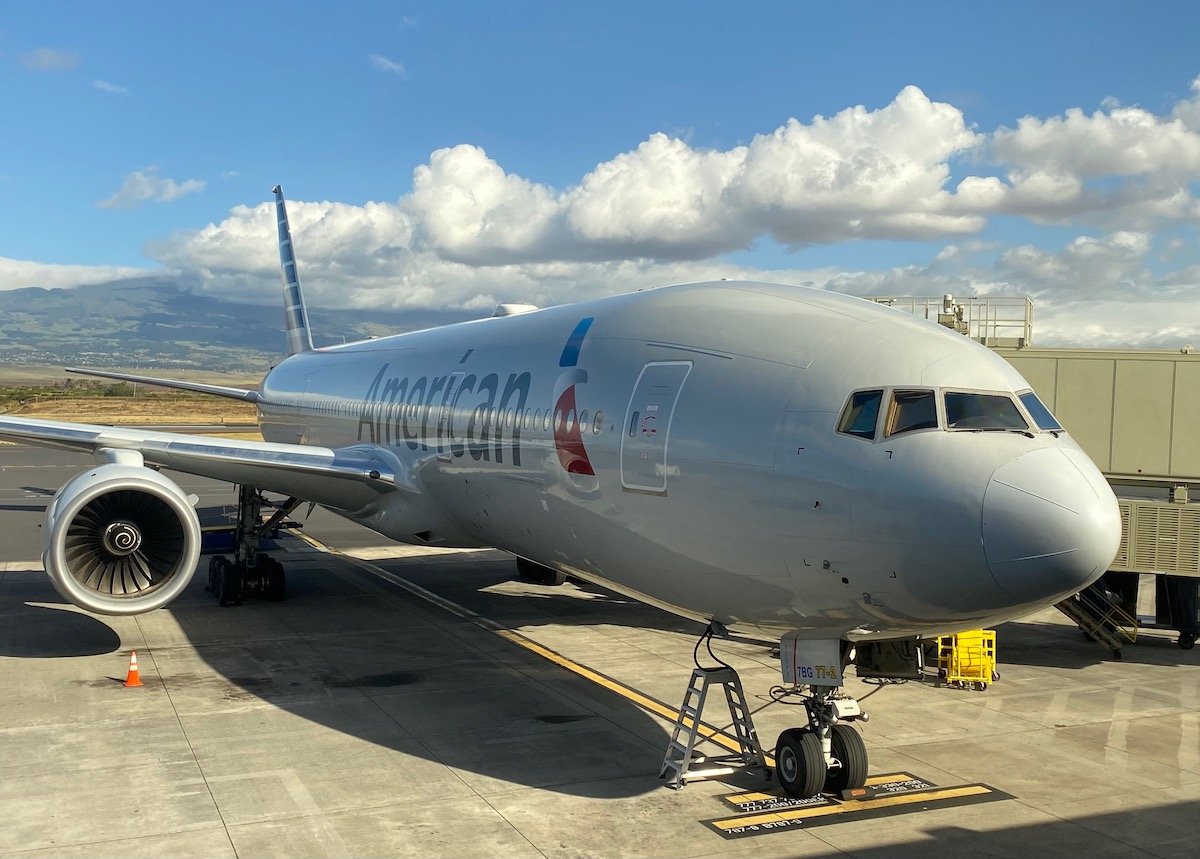 Bottom line
Nowadays most American Airlines tickets have quite a bit of flexibility. Some people are confused by the distinction between flight credits and trip credits. The good news is that you can use this difference to your advantage, especially if your voucher is expiring, or if you want to use a voucher for someone else.
What has your experience been with American flight credits and trip credits?