A year ago January, United started offering Premier 1K and Global Services members a complimentary drink and food item if their upgrade didn't clear. American was already offering their top-tier flyers complimentary food and drinks in Economy, so this was obviously a very positive change at the time, you might even say a change I like.
Now sure, a cynic will point out that this is literally throwing us a snack box to make us forget about the fact that our upgrades rarely clear anymore, but I'm going to choose to focus on the positive. At least for this post.
Anyway, we're now a year into this program, so I thought it would be worthwhile to review my experience and see how you all have fared.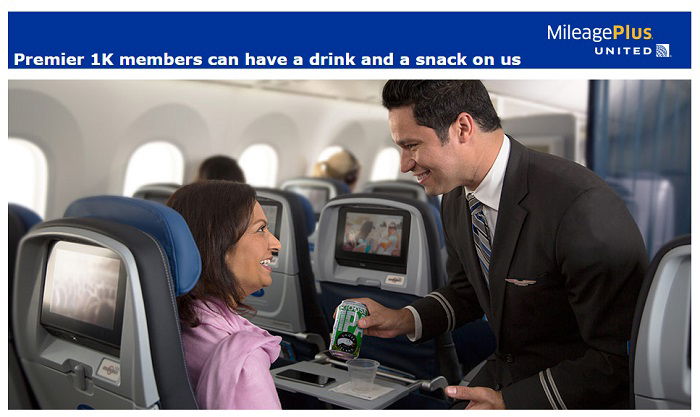 First, let's recap how the program is supposed to work.
Have a drink & snack on us
United's policy where 1Ks get a free drink and snack is pretty straightforward:
If you're a member with Premier 1K status, you'll receive one free alcoholic beverage and one free Choice Menu food item when traveling in United Economy on United- or United Express®-operated flights within North America and between Guam and Honolulu. See our Inflight Beverage Selections for a list of all of our available non-alcoholic and alcoholic beverages. Please note that customers can request any alcoholic beverage except half-bottles of premium wines (375 mL). All Choice Menu options, both Snack Shop and Bistro on Board items, are included.
It's worth noting that the policy specifically includes Snack Shop and Bistro selections, which means you can order the fresh items as well. Some of those are actually pretty decent. Here are the four current options.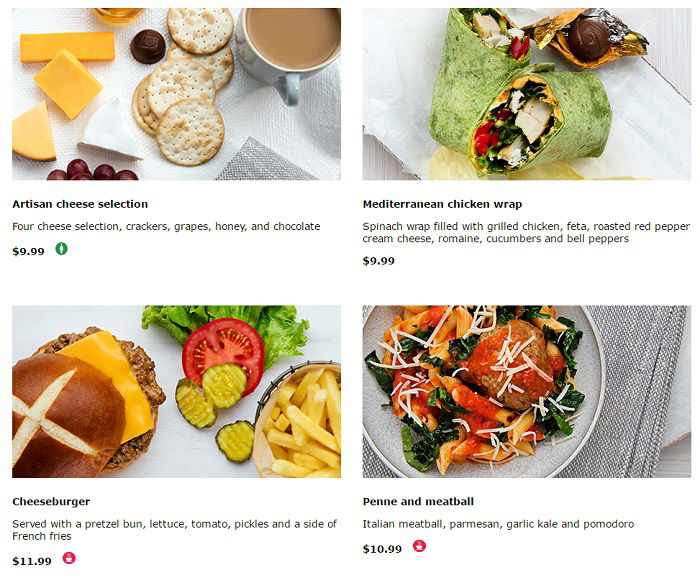 United Bistro options as of January 2017
I've had each of these on multiple occasions except the hamburger, which recently replaced the roast beef baguette.
It's interesting to note that United doesn't mention Global Services members as being included in the policy. It's almost like even they don't want to admit that these high value customers end up flying economy from time to time! That said, I'm pretty sure it includes them.
United then defines where the policy applies:
"Flights within North America" is defined as all travel within the 50 United States, Canada, Mexico, Central America and the Caribbean.
The process for requesting your complimentary food and beverage is also straightforward:
Before ordering, make sure your flight attendant knows that you're a member with Premier 1K status, and show your digital MileagePlus membership card, available in the United app, or your Premier membership card or boarding pass.
My experience with the program
Like most 1Ks, I end up in economy quite a bit these days so I've had numerous occasions to test out the policy. In fact, I'd say I request my complimentary food and beverage on pretty much every flight, even if I just end up bringing it home for later consumption.
Now that I think about it though, I realize that I don't quite follow United's guidelines.
I tend to place my order, and then when the flight attendant tells me how much it will cost, I quietly say "I'm a 1K". At that point, they usually hand me my items and that's that. If they pause, act confused, or seem like they don't believe I'm a 1K, I show them my boarding pass. And then it's all fine.
I guess the reason I don't tell them I'm a 1K upfront is because a part of me sort of wishes they would proactively recognize my status, offer me a drink, and thank me for my business. Quaint, I know.
To be fair, a few flight attendants do this. They do have a manifest after all, and a tablet-like thingy with all this information at their fingertips. Theoretically.
I also would prefer not to share with my entire row that I'm special. Don't get me wrong, I will if I need to, but I figure it's not unreasonable to give the flight attendant a chance to be discreet. Sometimes it works, usually it doesn't.
Seated in first, order from the back
On shorter flights, first class passengers are generally offered a refreshment service which is really code for the snack basket. The flight attendant comes around with the basket that has maybe a half dozen or so choices in it, ranging from chips to bananas to chocolate brittle.
There's nothing wrong with these snacks, per se, but had your upgrade not cleared, you'd be seated in economy and could have ordered a snack box for free. Only in the wacky world of the legacy airlines do you sometimes get more or better food in the back of the bus than you do up front.
So the question then becomes, can I decline the snack basket and request a complimentary snack box from the back?
I've heard of folks who have done exactly this, mostly with favorable results. I haven't tried it myself.


United Snack Boxes
What about international flights?
The webpage says that this only applies to flights within North America. I guess I didn't remember that little detail, however, and inadvertently requested a snack box on a flight to China during the mid-flight service earlier this year. I seem to remember the flight attendant telling me that it didn't technically include international flights, but then giving it to me anyway.
I'm not even sure United offers a midflight snack service on flights to Asia right now — it seems to change frequently — so perhaps it's a moot point.
Bottom Line
The introduction of a complimentary food and beverage item for 1Ks seated in economy has been a very positive change in my opinion. As long as you aren't bashful about informing the flight attendant of your status, you should have no trouble claiming the perk.
Sure, I wish my upgrades would clear a little more often, but that's a subject for a different day. In the meantime, I'll just keep stockpiling Select boxes in my pantry for the neighborhood kids to enjoy when they come over. And Moscow Mules. For obvious reasons.
What has been your experience with the United complimentary food and beverage policy?