While there are ways in which US airlines have gotten worse in the past few years (basic economy, shrinking economy seats, frequent flyer program devaluations, etc.), there are also some subtle ways in which they've been investing in their product.
For example, over the past few years we've seen US airlines bring back small snacks in economy on domestic flights. Prior to that they mostly didn't offer any snacks at all in economy domestically, even on a transcon flight.
Well, today one airline has announced that they're improving their snack selection further, though admittedly it's fairly subtle.
United first brought back complimentary snacks in economy in late 2015. As of today (July 1, 2019), United customers will have the choice between three complimentary inflight snacks in economy on all domestic flights, regardless of the departure time.
Customers will have the choice between Byrd's maple wafers, pretzels, and stroopwafels.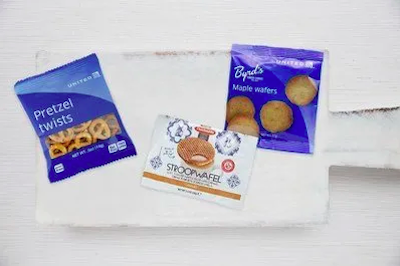 Prior to this change, United rotated the complimentary inflight snack offerings on flights that departed prior to 9:45AM. For a while they had even eliminated stroopwafels altogether, even though they were a customer favorite.
Now the stroopwafels and pretzels are available at any time of day, in addition to a rotating third option.
United's Chief Customer Officer had the following to say:
"Since we reintroduced free snacks a few years ago, our customers have come to look forward to enjoying their personal favorites on board – whether it be the stroopwafel, our exclusive maple wafers or the classic pretzels. Now we're going a step further and when it comes to snacks, every customer wins since our entire inflight snack lineup is available to choose from no matter the time of day."
Happy news today, @leepowellTV: The stroopwafel is now available as one of three complimentary snacks any time of day on all domestic flights! https://t.co/XeFKLz7RwW https://t.co/UQlknWOpxq pic.twitter.com/qMyLf9lVsV

— United Airlines (@united) July 1, 2019
There's no doubt that it's nice to have the choice of snacks in economy. Furthermore, I imagine there are also some savings to United in being able to consistently cater all flights, rather than having to differentiate based on the time of day.
That being said, I feel sort of bad for flight attendants. I already feel bad when they have to ask each passenger which of two snacks they want, and now they'll have to repeat the three options over and over.
People just don't really listen, often have their headphones on, etc., so the repetition with which flight attendants have to ask the same questions sure must be frustrating for them.
Bottom line
This is a nice though minor improvement for United. Admittedly this is an area where United still lags behind airlines like JetBlue, which offer a much bigger selection of complimentary snacks. But people really seem to enjoy the stroopwafel, so to have that plus two other options on all flights is cool.