With US carriers experiencing record profitability, we're finally seeing them invest in the onboard product a bit. United has been doing an impressive job with some new customer initiatives, like adding complimentary snacks back in economy on domestic flights. This is minor in the grand scheme of things, but at least it shows some effort, at a time where oil is less than $30/barrel.
Yesterday United announced a new policy, where Premier 1K and Global Services members receive a complimentary beverage and food item when seated in economy on flights within North America, Canada, the Caribbean, Mexico, and Central America.
Here are the details, via View from the Wing:
Beginning today, January 20, 2016, we will be offering Premier 1K and Global Services members 1 complimentary beverage and 1 complimentary Choice Menu food item when seated in United Economy for all UA/UAX flights within North America (all 50-state U.S. flights, Canada, Caribbean, Mexico and Central America).

As many of you noted back in October 2015, we began offering 1 complimentary drink to our Global Services and Premier 1K members seated in Economy, and this is an expansion of that program to recognize and show appreciation for your business. We are communicating these changes to our internal teams now and an email communication with more details will also be sent to eligible members in the coming days. Before ordering let your flight attendant know that you are a Global Services or Premier 1K member and show your digital MileagePlus membership card, Premier membership card, or boarding pass.
So Premier 1K and Global Services members can choose between a snack, snackbasket, or one of the fresh onboard items, if available on a flight. Here's United's full buy on board menu.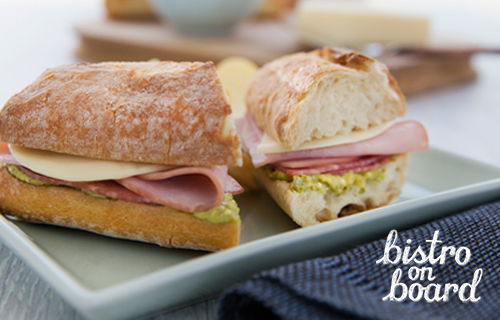 United is following American's lead here, as they've been offering Executive Platinum members one complimentary drink and food item for years now. It's definitely a nice perk which somewhat takes the blow out of upgrades not clearing. And I sometimes even find the "fresh" food in economy to be better than the hot food in first class.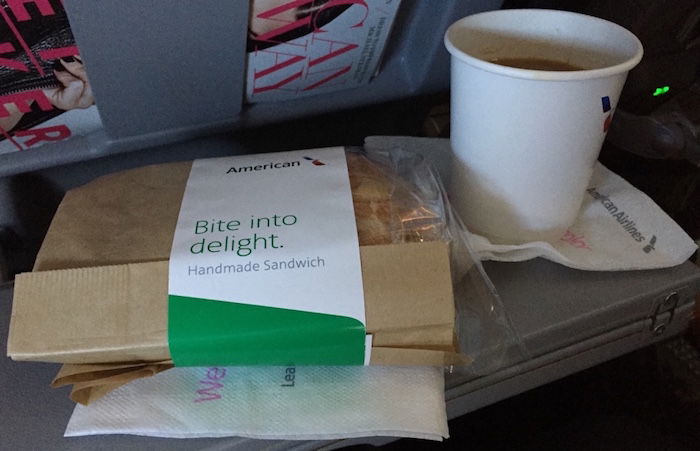 Complimentary Executive Platinum snack in American economy
While I of course commend airlines for making this shift, I think it's important to note what's really going on here, and this isn't specific to one airline or to one policy change. Airlines are finally being run like businesses, and over time we're going to see fewer and fewer upgrades. For example, Delta recently shared that in 2011 only 31% of first class passengers had paid, while in 2015 that number increased to 57%. By 2018 they're hoping over 70% of first class seats are paid for.
The fundamental shift we're seeing is that airlines are offering top tier elites extra legroom economy seating with free food, since free upgrades will become tougher to clear. From a business standpoint that's perfectly defensible.
Bottom line
Kudos to United for this change, and for in general seemingly putting some effort into the customer experience lately. Now both American and United offer their top tier elite members complimentary drinks and food in economy.
Funny enough this means that Delta is trailing for once. Delta offers all passengers in their Comfort+ cabin complimentary drinks and snacks, but this doesn't include the fresh food items. Diamond Medallion members don't get any additional perks in that regard.
To top tier United flyers: are you excited about this change?