Update: United Airlines has added new restrictions on pilots drinking.
Fairly often we hear stories of pilots arrested at the airport for having had too much to drink. While that's of course irresponsible, I understand why this happens with some frequency:
The alcohol limit for pilots is consistently much lower than the limit to drive
Jet lag can be tough, and for some can lead to depression, drinking heavily, etc; pilots are also only human
The good news is that typically when we hear stores like this, it's only one pilot who has had too much to drink, and they end up being reported.
Well, today's United flight from Glasgow to Newark was canceled because both pilots had too much to drink. As United describes it on their website, the flight was "canceled because of a crew scheduling disruption out of Glasgow."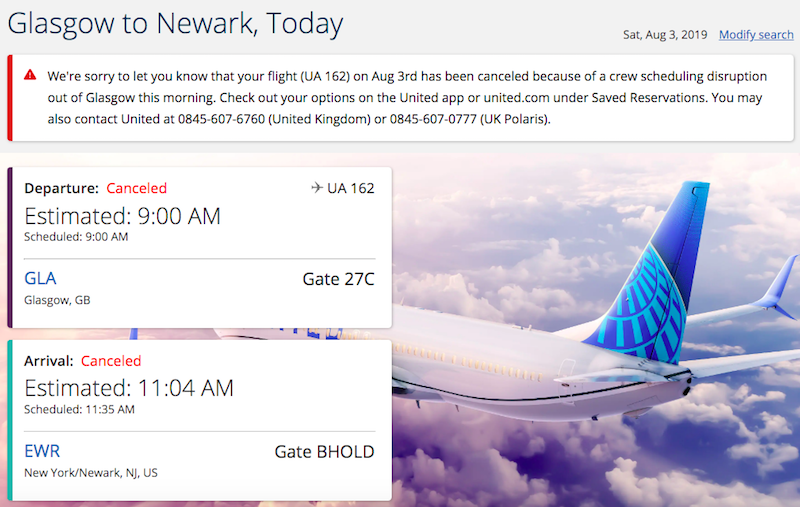 A police spokesperson explains:
"Police Scotland can confirm that two men, aged 61 and 45, have been arrested and remain in police custody pending a scheduled court appearance on Tuesday 6 August for alleged offences under the Railways and Transport Safety Act 2003 (Section 93)."
Meanwhile a United spokesperson said the following:
"The safety of our customers and crew is always our top priority. We hold all of our employees to the highest standards and have a strict, no tolerance policy for alcohol.

These pilots were immediately removed from service and we are fully cooperating with local authorities. At this time, we are working to get our customers back on their journey as soon as possible."
Now, a couple of things to note. First of all, I wouldn't (necessarily) say the pilots here were "drunk." While in the US you can typically drive with a blood alcohol level of up to 0.08, pilots are subjected to stricter limits, and in this point I believe the limit was somewhere around 0.02 to 0.04 (I believe the limit for US pilots is 0.04, but in the UK it's 0.02 — someone correct me if I'm wrong).
In other words even the equivalent of about one drink in your system is over the limit, and can get you arrested.
So the pilots were definitely irresponsible, but they weren't necessarily stumbling through the airport.
Now, it is possible that they were actually super drunk. Generally speaking when pilots are caught above the alcohol limit it's for a reason — either because someone smells it on a pilot's breath, because of how they're acting, etc. It could also be that they were reported by colleagues who saw them out and drinking late the previous night.
Given that both pilots were above the limit, it sounds to me like they may have had a late Friday night at the pub, had a few beers, and it was still in their system in the morning.
Lastly, thanks to EU261 regulations, every passenger on this flight is entitled to 600EUR compensation for the delay. That's a nice chunk and change, and costly for the airline.