This week United Airlines secured $5 billion in financing thanks to the MileagePlus loyalty program. But at least to me there's something much more interesting than that…
United secures $5 billion from MileagePlus
All major airlines are looking to build up cash reserves given the uncertainty at the moment, and loyalty programs can make great collateral, given what big businesses they are, and also given how profitable they typically are.
United has announced plans to have $17 billion in liquidity at the end of the third quarter, thanks to an additional $5 billion of committed financing secured through the company's loyalty program.
Goldman Sachs Lending Partners LLC, Barclays Bank PLC, and Morgan Stanley Senior Funding, Inc., have committed to providing the financing, which is expected to close by the end of July 2020.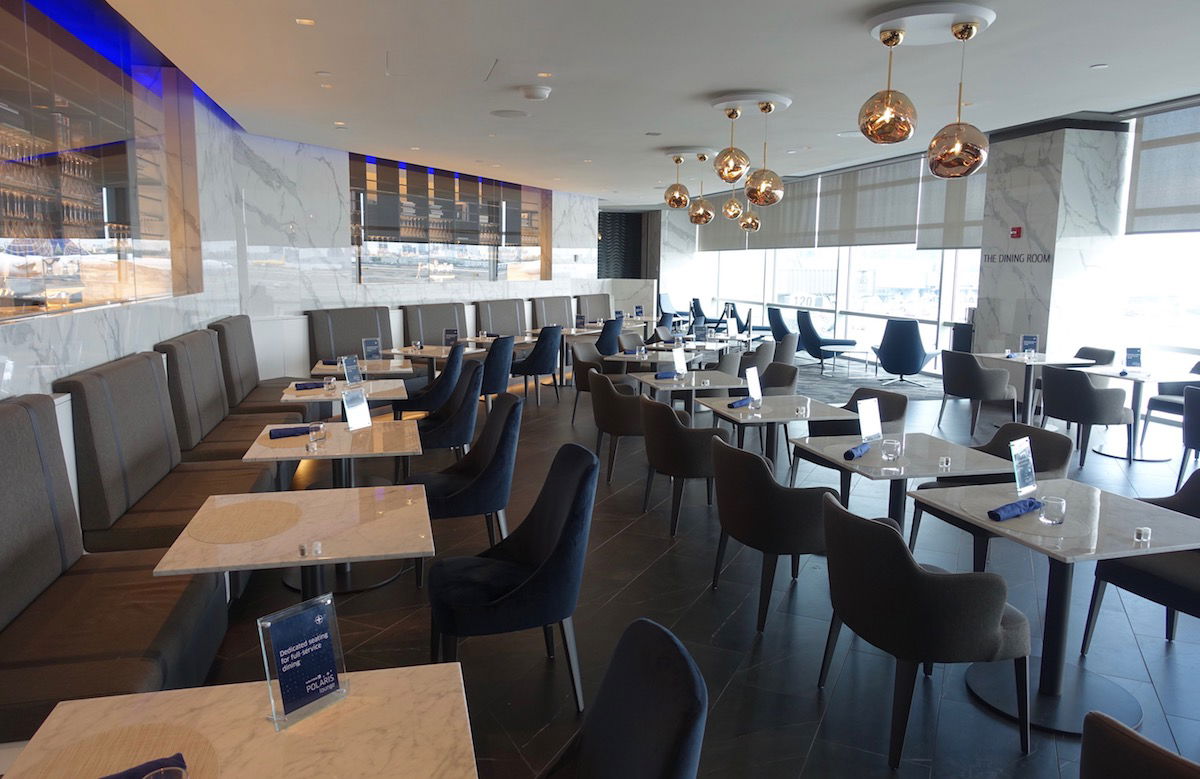 United is using the MileagePlus program to raise cash
Newly revealed details about United MileagePlus
United has a new 8-K SEC filing that reveals some fascinating information about the MileagePlus program. Generally speaking programs are tight-lipped about so many aspects of their membership, though a lot has been revealed here.
To start with some basic details:
United MileagePlus has over 100 million members
50%+ of United's flight revenue is from MileagePlus members
The program generated $5.3 billion cash flow from sales in 2019, which represents roughly 12% of United's overall revenue
The program generated $1.8 billion EBITDA, which represents roughly 26% of United's total adjusted EBITDA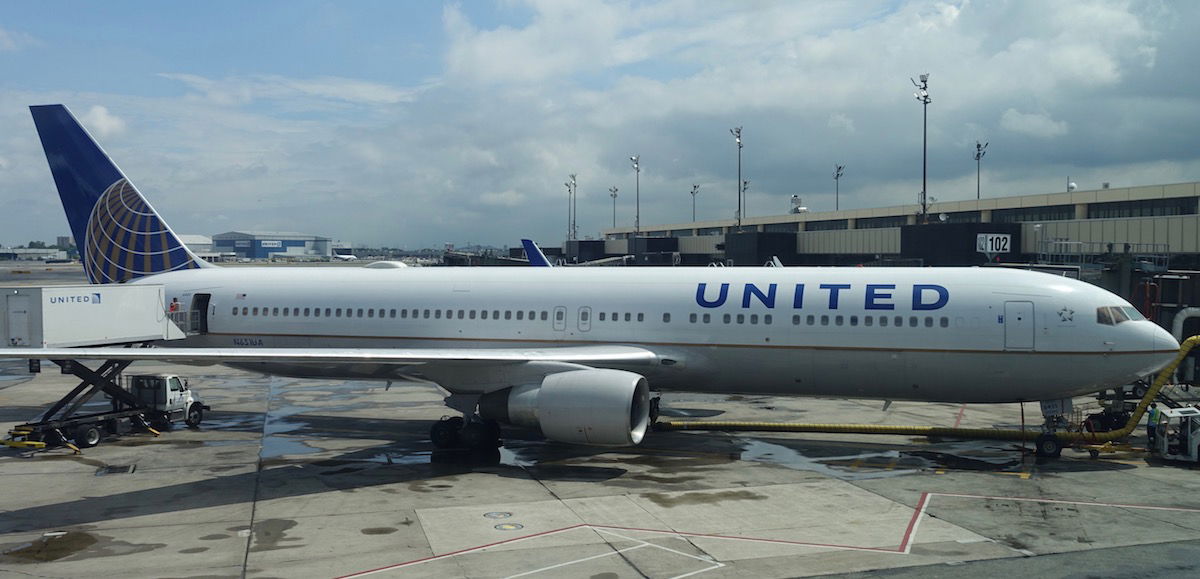 Over 50% of United's flight revenue comes from MileagePlus members
How MileagePlus miles are earned by members
This is where it gets really interesting to me. First of all, when it comes to miles being issued:
71% of cash flow comes from the sale of miles to third party partners
29% of cash flow comes from the sale of miles directly to United
97% of miles are redeemed for travel, while only 3% of miles are redeemed for non-travel rewards
Of miles redeemed for travel, 80% are redeemed for travel on United, while only 20% are redeemed for travel on partner airlines
Those are all things that are cool to know, but I would assume most of these aren't that much of a surprise.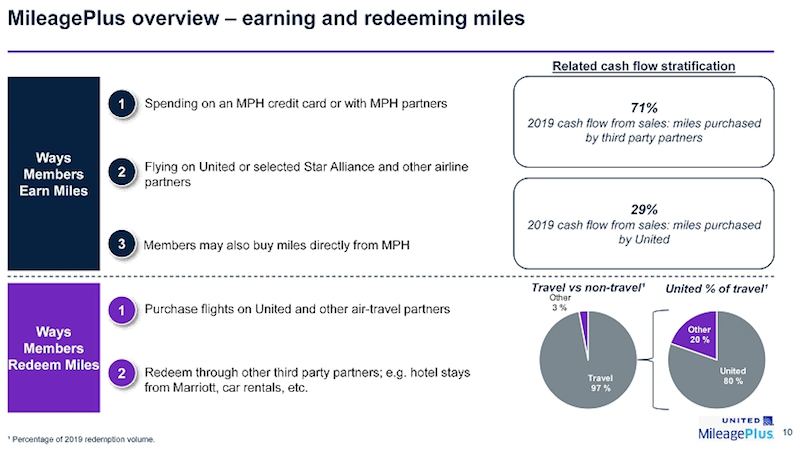 It's the page about earning and redemption costs that I find most interesting. It's noted that the numbers are for illustrative purposes only, but even then I still find this intereting:
For the 71% of cash flow from sales to third party partners, United claims that on average partners buy miles at the cost of $0.02 each
For the 29% of cash flow from sales directly to United, United is paying $0.01 per mile, plus an additional margin
When it comes to members redeeming miles, MileagePlus essentially buys seats from United at the cost of $0.01 per mile
We don't know if the $0.01 and $0.02 numbers are accurate (since they're illustrative), but presumably the margin is, which is to say that United's redemption costs are about half the cost at which they sell miles, based on their math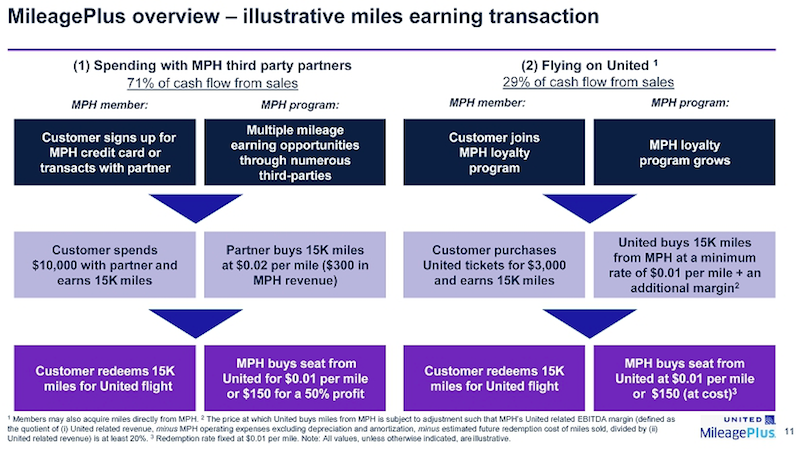 United probably isn't selling miles to partners for $0.02
I suspect that the above numbers must be way off (unless United has the sweetest agreements ever) in terms of how much they're selling miles to partners for. There's simply no way they're selling miles for $0.02 each on average:
United often sells miles directly to consumers for under two cents each, so you'd expect they'd have lower prices when third parties buy in bulk
Presumably not all partners are paying the same costs; I would assume Chase has among the most attractive pricing, given co-branded credit cards and the Ultimate Rewards program
I know that at least some other programs are compensated in the range of 1.0-1.5 cents per mile through transferable points currencies, but I've never heard of a program getting more than 1.5 cents
If these numbers truly are only illustrative, then I'd guess United is actually selling miles for closer to 1.5 cents each. If that's the case, I guess you could also assume they're internally accounting for redemptions at about half that cost, which is significantly less than a cent per mile.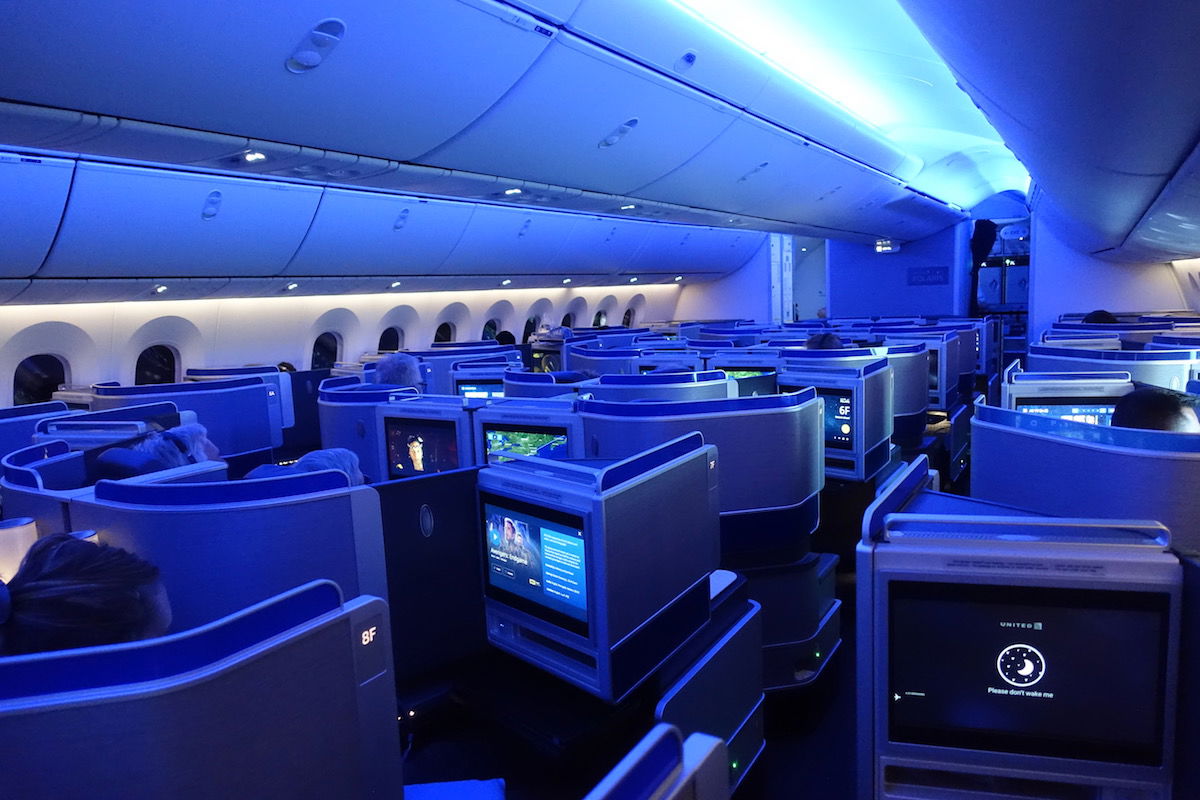 Is United charging credit card partners two cents per mile?!
Bottom line
United has secured an additional $5 billion loan thanks to MileagePlus. That's great and all, but the amount of info in the 8-K filing about MileagePlus is unlike anything I've seen before, and I find a lot of it to be super interesting.
I don't think United is actually charging partners two cents per MileagePlus miles, because that seems on the (way) high side. However, it does seem that in general United's redemption rates are about 50% of the cost at which they're selling miles to partners.
Perhaps the way United is internally billing for redemptions also explains why the program is increasingly moving revenue based.
What details of this filing do you find to be most interesting?