If you've been on a plane or under a rock, you might have missed the story of the two young women who were denied boarding a United flight from Denver to Minneapolis yesterday. I get that manufactured outrage and hot takes are a way of life in 2017. I don't love it.
The news cycle is driven by these stories, and outlets often have no choice but to participate in the frenzy or be left behind. I mean, I really would rather be spending my day writing my overdue report on Swiss First (sneak peek: it was amazing, and they had fondue onboard), but even here at OMAAT we're being inundated with questions about this story.
Which wouldn't even be a story, if folks could acknowledge that they might not have had all the facts initially, and would stop perpetuating a false narrative and witch hunt. Just as United apologized for their initial tweets, Shannon Watts and others should retract theirs, or at the very least recognize that they didn't have their facts straight.
And as so often happens, the more attention this story gets, the murkier the facts become, and the details are obscured by sensationalism.
Sadly, the facts of the matter aren't even that complicated, and it seems that certain individuals are avoiding the facts in order to further their own narrative.
I can't believe we as a nation are still talking about leggings, but this story seems to be picking up steam rather than going away. If you're over this story please skip this post — I certainly won't be offended. If you're surprised to hear that there were two young women denied boarding, not three, and that they were on employee tickets, not paid tickets, and that the rules are thus different… well — this post is for you.
What actually happened?
Matthew at Live and Let's Fly did a brilliant job summarizing the timeline, which I'll just recap briefly here, with some formatting emphasis:
A group of three United Airlines pass riders (family/friends of an employee) were attempting to travel from Denver (DEN) to Minneapolis (MSP) on UA215, leaving at 7:55AM
Gate agent noted that two of the pass riders (teenage girls) were wearing leggings, in violation of United's pass rider dress code policy
United's dress code for non-rev flyers states "form-fitting lycra/spandex tops, pants and dresses" are prohibited
The girls were asked to change clothes in order to board the flight
Another family, traveling as revenue (paid, not pass riders) customers was in line to speak to the gate agent and witnessed the incident
Their young daughter was wearing leggings
They were unaware that the dress code was only for pass riders and assumed the policy applied to them too
The family had a dress for the young girl in their hand baggage and placed it on her, without consulting with the pass riders or the gate agent
Another passenger (Shannon Watts), traveling on a different United flight witnessed part of the incident and tweeted about it, accusing United of being sexist against women
She quoted the agent as stating, "I don't make the rules, just follow them"
United's Twitter team responded promptly, defending the action of the gate action and referencing the §21 of the company's Contract of Carriage, stating that passengers can be denied boarding for being "barefoot or not properly clothed".
The tweet and United's response went viral
United soon realized that the two women denied boarding were pass riders and confirmed that via Twitter
The family with the little girl traveled to Minneapolis as planned on UA215
The two pass riders traveled on a later flight to Minneapolis
So ultimately, two humans traveling on free staff/employee passes were not compliant with the terms of their travel agreement. They were asked to change clothes so as to adhere to the dress code.
That's a reasonable request by the gate agent — they are responsible for enforcing corporate policies.
The fact that this happened in earshot of a paying group of customers, who then felt compelled to have their daughter change is problematic.
But it's outrageous to say United is engaged in discriminatory wardrobe polices towards their customers. They could, however, revisit the policy and see if their non-rev policy is sexist, as Ben and I tend to think.
The media reaction is ridiculous
We understand better than most how easily things can be mangled and taken out of context (anyone who was reading in the summer of 2015 will know what I'm referencing), so I have some sympathy for the well-written stories that were given sensationalist titles. But these are the kinds of headlines going around:
And on and on and on.
Keep in mind, of course, that no 10-year old was hassled. The parents of the 10-year old overheard the conversation between the gate agent and the non-revs, and had their daughter change on their own initiative. The only mainstream reporter I've seen state this clearly is, unsurprisingly, AvGeek Extraordinaire Jon Ostrower at CNN. And Snopes gets it right, as usual.
Nearly everyone else needs to stop, update, and in many cases retract their commentary.
Shannon Watts is even more ridiculous
I hate calling someone out directly, but in this case I think it's warranted. Shannon was the bystander at the Denver airport, and essentially manufactured this drama with a series of increasingly polarizing tweets. Despite the apologies and clarification from United, and the insights from hundreds of people who have flown on staff travel passes or interacted with non-revenue flyers, Shannon has maintained her rancor and unbridled antagonism towards United.
After a day of reflection, she went so far as to publish a post on Medium once again condemning United for "sexualiz[ing] teenage girls" and placing "an undue burden on…female customers." Not only does she refuse to acknowledge that these were not customers, she ends by shaming everyone involved for paying attention to her dramatic tale, rather than focusing on the other important issues she champions. The hypocrisy and intransigence is stunning.
She also continues to push the false equivalence of a man (whom she sometimes claims was the father of the teenage non-revs, but others say the only dad involved was that of the 10-year old paying passenger), wearing shorts — which are specifically allowed for everyone:
.@tebfunk United has said that. Why does that make it ok to prevent three girls in leggings to fly, but let their dad on wearing shorts?

— Shannon Watts (@shannonrwatts) March 27, 2017
And the continued insistence that the leggings issue is a customer-service problem is flabbergasting (I agree that United's initial response was not customer-friendly, but this was hours later):
.@tebfunk It's a bad, gender-specific policy and a customer service fail.

— Shannon Watts (@shannonrwatts) March 27, 2017
We could go point by point through her tweets and interviews all day to fact-check (even though she has now blocked both Ben and me), but the underlying problem is this: Shannon is either purposely misrepresenting the facts, or lacks the basic comprehension required to understand the difference between things like employees vs. customers, or shorts vs. leggings.
What bothers me the most is that she is deflecting all criticism as "mansplaining," "sexism," and "misogynist," even when it comes from other women (though I don't think that should matter).
And I get that instinct, I really do. Being a woman is tough, and being a Woman On The Internet can be impossibly difficult sometimes. A lot of the criticism out there is gender-driven, and can be horribly mean. But rejecting facts and thoughtful feedback isn't helpful — not for this story, or for discussing inequities in general.
I'm beginning to suspect that this is a case where to a hammer, everything looks like a nail, and facts that don't fit a certain narrative are just going to be dismissed. Which is unfortunate for everyone.
Is there a valid point buried in all this?
Of course, and there nearly always is. Airlines sometimes (or often) have policies that need to be addressed and changed — the nonsense with British Airways not allowing their female flight attendants to wear trousers is an example of the kind of sexist BS I've called out here in the past. Ben also did a lengthy post earlier on how some elements of the dress code policy may be sexist, and I'd suggest reading that if you haven't already.
But the hysterical sensationalism is out of control.
While it's possible that United will update their non-rev dress code as a result of this cluster, it's an almost certainty that at least two employees were reprimanded today, and a third might be losing their travel benefits. That's just so unnecessary for a situation that could have been easily remedied if it hadn't been blown out of proportion by people who had no clue what they were talking about.
Could United have done better?
Oh, abso-freaking-lutely. United has historically had the worst social media team of any U.S. airline, but it's a tough gig. Employee performance is based on response time, airlines generally suck at training their customer-facing staff, and it was early on a Sunday morning. None of that is an excuse, but anyone who has ever had a job should be able to understand how this kind of mistaken response could be given.
Seth summed it up well, I think:
What did United do wrong today? Let someone (two reps, actually) reply to a tweet. That was the mistake. #leggingsgate

— Seth Miller (@WandrMe) March 26, 2017
Of course, by the time the crisis communications people were called in, it was too late, and Twitter was assembled with torches and pitchforks ready to #BoycottUnited or some such. United's Tweets continued to fall a bit short, and made it seem like customers were also subject to dress code rules, but their full statement is very clear.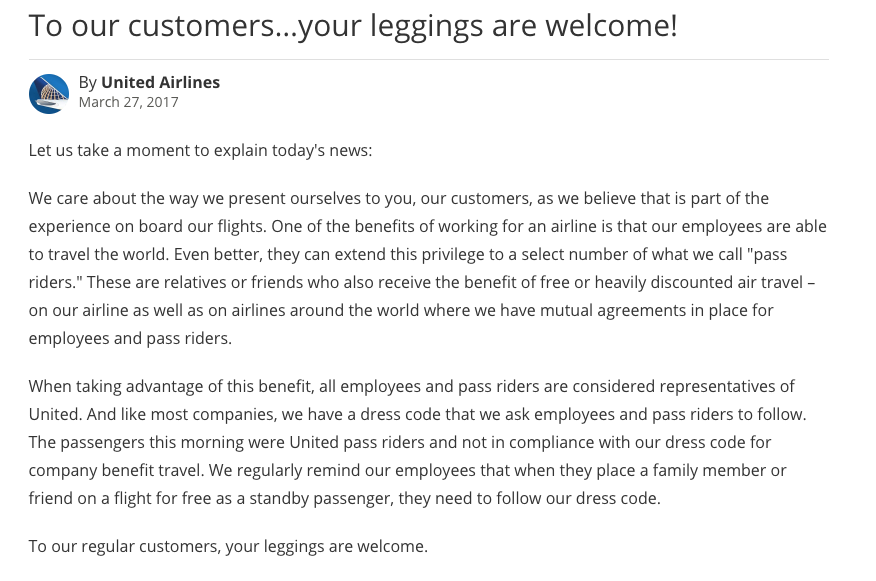 If United's eventual response had been their first response, (or if the original employee had said a simple "Hmm, let us look into it!"), we could have all spent our time doing something less ridiculous.
Bottom line
I see non-revenue passengers asked to follow different rules nearly every time I fly — you probably do too. Nothing about two non-revs being asked to change clothes and/or take a later flight is shocking or newsworthy or even interesting to anyone with an ounce of perspective.
Thoughts? Feel free to join the fun on Twitter as well!