Late last week, female members of British Airways' Mixed Fleet cabin crews won the contractual right to have trousers as a uniform option.
The distinction of "Mixed Fleet" is important here, because the female employees in British Airways' Worldwide crews already had slacks as a uniform option.
If you're not familiar with the labor relations history at British Airways, the key thing to know for purposes of this discussion is that BA has two flight attendant contracts. The Worldwide flight attendants are the more senior, and no one has been hired under that contract since 2010. The Mixed Fleet crew was formed as a response to deteriorating negotiations between Worldwide and management, so they have a completely different set of work rules, salaries, etc.
And apparently part of that has involved some contention over wardrobe.
Given that we're talking about a Western airline in 2016, this seems like the obvious eventuality, so I was a bit shocked when I scrolled past "British Airways Flight Attendants Win the Right to Wear Pants! Is That a Good Thing?" in my Twitter feed.
It's a loaded question
I respect Gary tremendously, and I'm sure this wasn't intended this way, but asking if women having the right to wear pants is a good thing, is to my mind, a question wrongly put.
(And that's not even getting into the British use of the word "pants.")
The only meritorious question is why the hell did it take so long? Or possibly pondering if British Airways truly has nothing better to do with their time? This isn't a carrier that wardrobes its crews in an iteration of "national dress" or one that has built marketing campaigns on the physical appearance of their flight attendants.
It's British Airways. And other female flight attendants (in the Worldwide crews) have been allowed to cover their legs since Julien Macdonald designed new uniforms for the airline in 2003, "that both male and female staff would enjoy wearing, because it felt good and made them look good."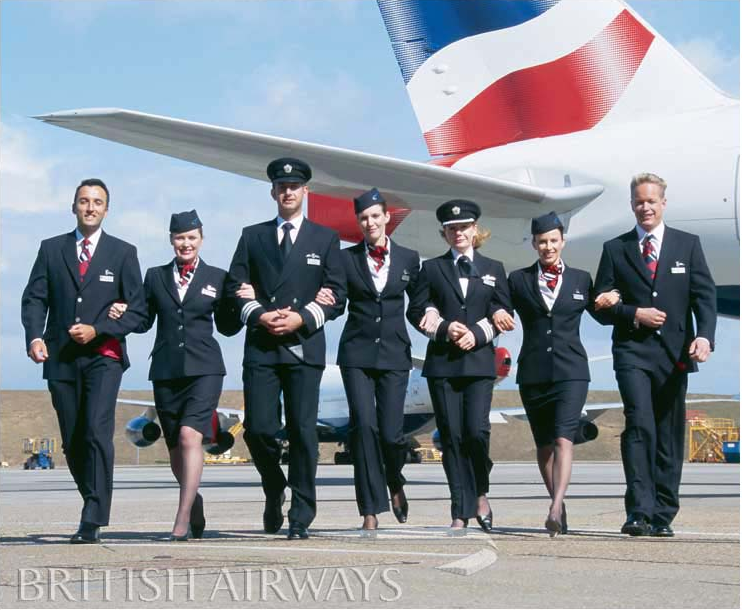 The Julien Macdonald uniforms for British Airways, including women's trousers
I don't know the exact details on the demographic split amongst British Airways crews, but for the sake of easy math argument let's say it's a 50/50 split between Mixed Fleet and Worldwide crews, each of which are equally divided between males and females.
What kind of incompetent and out of touch management spends two years and the legal and financial resources of their company to preserve their contractual right to discriminate against 25% of one working group?
Over trousers!!!
And of course, Gary goes on to explain a bit of the history of flight attendants, and the evolving perception of the role, and he's spot-on in noting that expectations have changed over time. I absolutely agree with his assessment that British Airways Mixed Fleet crews provide a great service on a more consistent basis than their Worldwide counterparts.
Where I take issue, however, is with the inevitable conclusion drawn by the leading question in the headline, and the corresponding implication that skirts and service levels are even tangentially related:
"A sharp look, that sets the tone for friendly and professional service, is what makes sense in the modern North American and European market. So it's great for BA cabin crew that Mixed Fleet female flight attendants can wear trousers like Worldwide fleet flight attendants can. The key is for mixed fleet service not to degrade to the point of worldwide."
I'm sorry, but the insinuation that one crew is providing better service than the other because their female contingent is showing more skin is asinine.
Wearing the pants
Have you ever seen a female pilot wearing a dress? How about a police officer?
For a bevy of reasons, Western culture has a societal expectation that individuals wearing pants are in a position of authority.
Airlines simply cannot expect passengers to believe that "flight attendants are primarily there for safety" if a portion of the crew is also expected to display their bodies for the visual gratification of said passengers.
A woman can look "put together" in slacks, just as much as a man can. A woman can look professional without makeup, just as much as a man can. It's about the attitude, not the trimmings.
If nothing else, outfitting your female cabin crew in such a way that requires them to abandon or modify their wardrobe in order to participate in, much less coordinate, an emergency evacuation seems ill-advised.
So why is Mixed Fleet better?
As someone with a bit of background in management and training, I can confidently say the difference in service between Mixed Fleet and Worldwide Crews is more to do with the rigorous and comparatively recent training of the former than with any wardrobe differences.
If you've seen the documentary A Very British Airline you might remember a scene wherein a training manager is going over the importance of timeliness, and explaining that the plane isn't going to wait for late crew. To the casual observer, this might seem either pedantic or concerning. After all, adults shouldn't need to be told to be on-time to work. And if they do, perhaps they shouldn't be in charge of evacuating an aircraft.
But that's the key point — with a few exceptions, Mixed Fleet crews weren't "adults" on their start date. In talking with crew, many of them had only one or two jobs prior to signing up for British Airways. And these weren't aviation careers, or even hospitality jobs, but rather generic low-paying service-industry hourly gigs.
Tesco. Topshop. Zara. Nando's. You get the idea.
So the training teams at BA essentially had a blank slate. They were able to set whatever standards they wanted for their new generation of flight crew, and mold their new hires accordingly. And for a group of impressionable and star-eyed people who were enamored with the idea of seeing the world, those messages are powerful, and the pride and joy Mixed Fleet crews take in their role is palpable.
Worldwide crews aren't going through that same type of intensive training on a consistent basis. They get periodic updates on procedures and requirements, of course, but that's not at all equivalent to an immersive experience that builds camaraderie and inspires passion.
Many of the Worldwide crews have also been in their roles for some time, and much of that time has been embroiled in downright hostile negotiations with management. There is a lot of bitterness on both sides, and that obviously spills over into the general work environment. And even if that weren't the case, folks get bored, or set in their ways, and as novelty fades to routine enthusiasm wanes.
It shows a deficit of leadership, but is not otherwise unexpected.
Implying that service standards are better on Mixed Fleet flights because the women wear skirts suggests the inverse is also true — and arguing the myriad and pervasive service problems with British Airways would be resolved by reintroducing pantyhose to female crew members is laughable.
Bottom line
Ultimately, a crew member, (or any employee in any industry, really) that looks "sharp" is more likely to provide great service not because of the wardrobe requirements of their role, but because they take pride in their work and are happy in their job. That's what makes someone get up five minutes earlier to groom their eyebrows or carefully hang their uniform versus throwing it on the hotel sofa. There are myriad ways to inspire pride and job satisfaction that don't require the sexualization of the workforce. And enabling the romantic male gaze of passengers doesn't magically ameliorate leadership deficits.
Regardless of your thoughts on the importance of gender equality, I think we can agree that airlines (and all companies) should fight the right battles. And skirts probably aren't one of them.
Case in point, I'm writing this on board a flight with an all-male crew, none of whom look like they'd recognize an iron if one dropped on their heads. The pre-arrival cookies were delivered on a tray with the rest of the meal (including the nuts!), and the crew has spent the remainder of the flight in the galley doing their damnedest to avoid interacting with passengers.
Ask yourself: would they be providing better service in skirts?
If you'd like to pour a glass of wine and join me in the comments to discuss the impacts of everyday sexism in the aviation industry, please do!