United hilariously released their Polaris Cookbook a few weeks ago, because we clearly all want to replicate tasty partially-frozen paninis and other such delicacies in the comfort of our own kitchens.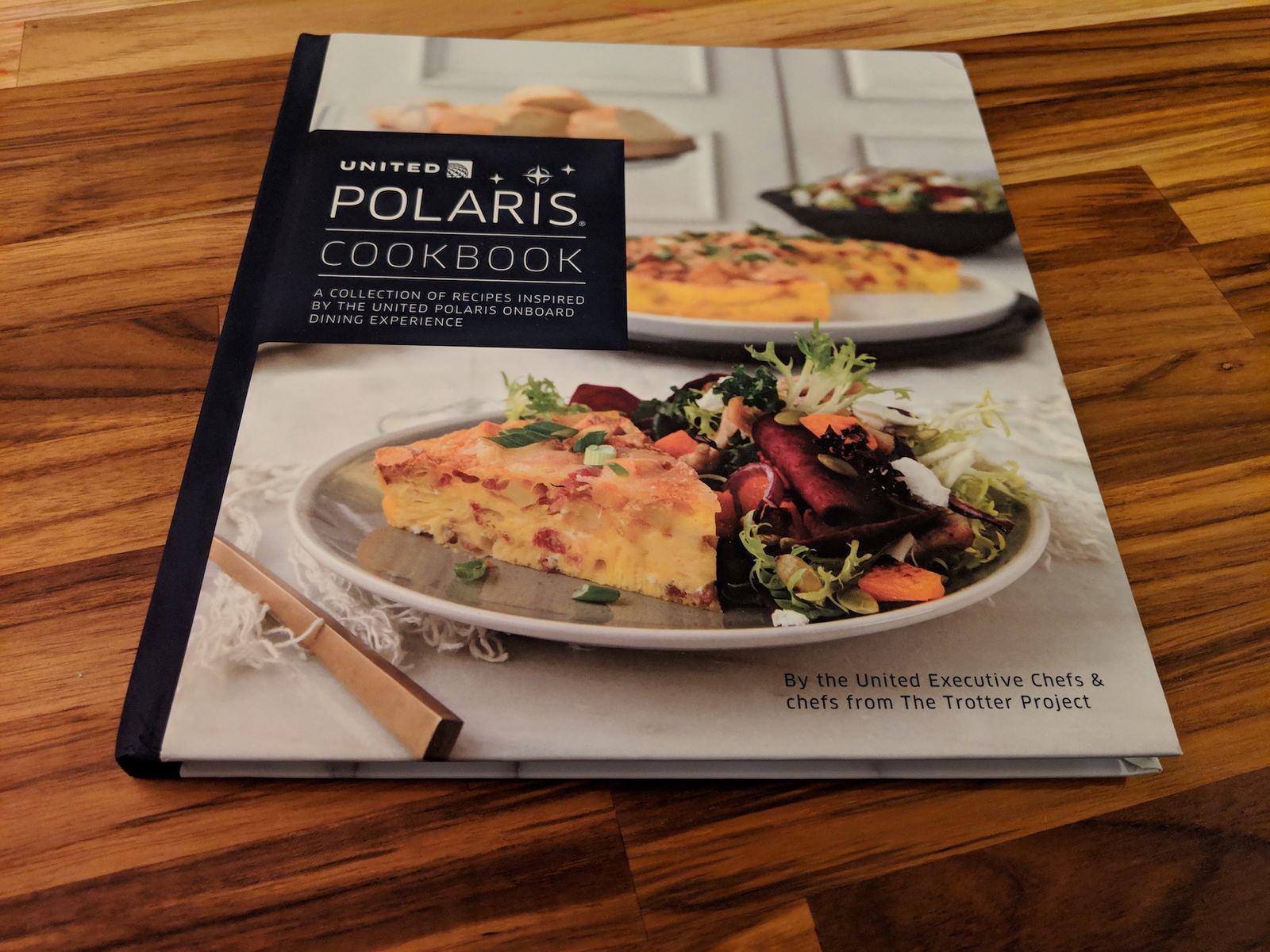 Joking aside, this is actually a decently organized and beautifully photographed cookbook, and many of the recipes look delicious. The introduction from United's Executive Chefs notes:
We asked our participating chefs to dream up hundreds of concepts for dishes, free from the limitations of sourcing, plating, packaging and other considerations that have to be made when serving food on board an aircraft. From there, it was our job to find a way to transform their final dishes into inflight meals.
So it's not entirely clear whether these recipes are in fact "inspired by the United Polaris onboard dining experience", or if the obverse is true, and the inflight meals are simplified imitations of the concepts created by the chefs at the Trotter Project. But we know what the end result often is.
I consider myself to be a competent cook, in the way that anyone who has planned and prepped a dozen or so meals every week for a decade might be, though not necessarily a technically skilled one. My specialties are things like making do with what's thawed or on sale, and carefully timing Thanksgiving so that twenty dishes come out hot at the same time — not stuff like fancy reduction sauces or anything that requires a food mill.
Meanwhile, I'm not sure Ben has even assembled a meal from the Whole Foods salad bar.
So the obvious, obvious, thing to do is to have his first attempt at cooking be airline-related.
Besides, these meals are ostensibly designed to be served from a tiny galley kitchen, so how hard can they be? 😉
The plan is to make and prepare a full, four-course meal, straight from the United Polaris cookbook. And of course we'll be blogging (and maybe videoing) the whole production.
We'd love for y'all to choose the dishes (more on the voting process at the end of the post), so here is a mildly-curated selection of potential recipes, with blurbs from their descriptions in the book. And perhaps a bit of color-commentary.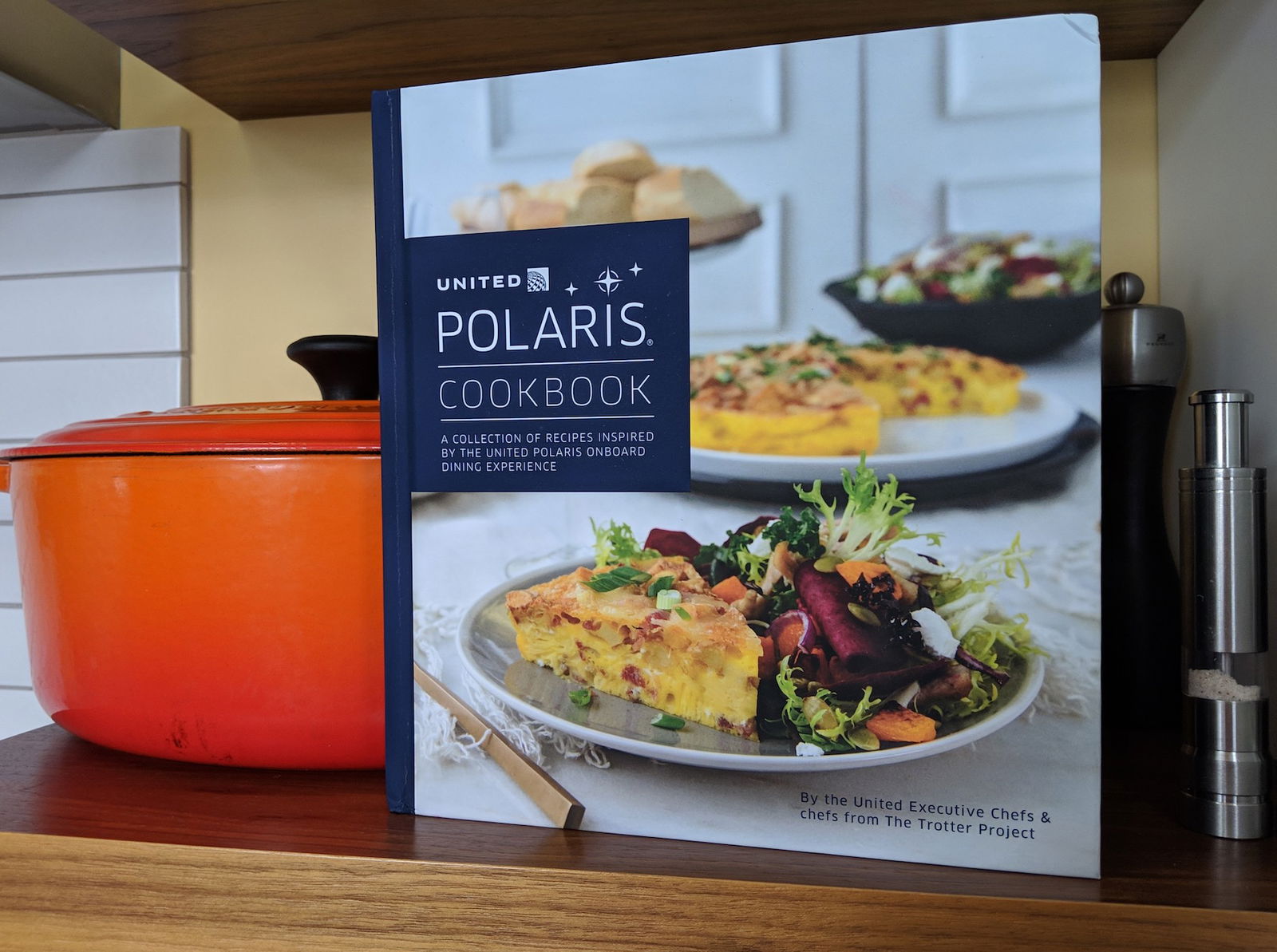 Appetizers
Ricotta Toast
"Making a chipotle orange marmalade from scratch may seem like a labor of love, but the results are completely worth it. The spicy, candied orange condiment has a sweet, smoky heat that contrasts incredibly with the creamy, lemon-spiked whipped ricotta."
I can't imagine having the kind of life that allows for spending 2-3 hours preparing an appetizer, but okay.
Crispy Brussels Sprouts with Lebni, Saba, Hazelnut and Dill
"Brussels sprouts get a crunchy makeover in this adventurous starter. Quartering the sprouts allows them to fan out and achieve maximum crispness when fried, and dousing them in a few shakes of sweet Saba makes for the ultimate salty-sweet-sour bite."
This recipe calls for both a candy thermometer and a deep-fryer, both things commonly found on planes that definitely produce easily-reheated meals.
Grilled Prawns with Sweet Corn, Tarragon Pesto and Vidalia Onions
"Tarragon proves to be a surprising swap in the pesto that complements the sweetness of the prawns and adds the slightest anise-flavored foil to the bright sweet corn and peppers."
This actually looks like something I would make normally, though there is a 100% chance of my starting with a bag of frozen corn rather than shucking six ears worth off the cob (obviously Ben should get the full experience though).
Lemongrass Shrimp and Green Papaya Mango Wraps
"If you're looking for a light, bright, and interactive first course, this Thai-inspired dish packs the perfect punch."
Nearly five hours of prep time, and thirty-one ingredients. No sweat.
Crispy Octopus, Avocado, Pickled Pearl Onions, Cilantro, Chicharron spices
"Though this dish might seem involved, the components come together easily while the octopus roasts. Together, they create vibrant color and flavor combinations that are not to be missed."
I mean, compared to the previous recipe this seems downright basic, though I'm not sure how easy it will be to find octopus here.
Salads
Beet Panzanella with Sprouted Quinoa, Shaved Radish, and Rye Croutons
"This colorful take on a classic panzanella features a range of flavors and textures thanks to earthy beets, crisp rye croutons, spicy radishes and punchy vinaigrette."
In the photo this doesn't look like panzanella at all — just a basic salad with large croutons. So we might be able to pull it off.
Quinoa Chopped Salad
"A savory ginger dressing and crisp homemade sesame rice crackers make this hearty Asian-inspired salad fresh and satisfying."
Another recipe that requires a deep-fryer. Would just buying crackers be horrible?
Chilled Soba Noodles with Charred Kale, Pickled Chilies and Dashi Dressing
"Seattle native Michael Armstron's first childhood cooking experiment — a riff on ramen noodles — still resonates with him today, even as he helms New York's glam TAO club-restaurants. Here, he offers a lively yet comforting dish of chilled noodles, offset by quick-pickled chilies, a bounty of vegetables and an interesting finale: tahini and crushed wasabi peas for crunch and heat."
I can almost guarantee that Polaris flight attendants are not going to "brush each of four individual serving plates with tahini."
Confit Chicken Salad with Roasted Butternut Squash, Pickled Beets, and Goat Cheese
"Featuring rich confit chicken, sweet roasted butternut squash, toasted pipits and creamy goat cheese, Chef Alan Mathieson's already breathtaking salad is brightened with tangy, pickled beets and tied together with bracing sherry vinaigrette."
This 20-ingredient salad requires a full day of prep work, including rendering chicken fat, but also looks delicious.
Coconut Milk-Poached Shrimp with Green Mango Salad
"This refreshing salad highlights coconut cream-poached shrimp atop a bed of crisp green mango salad that's stippled with chilies, lemongrass, lightly toasted coconut and wisps of Thai lime leaves."
The last instruction here is "serve immediately", so that should end well.
Green Papaya Salad
"Bracing and bright, crunchy and funky, Chef Bill Kim's class green papaya salad transports you to Southeast Asia, sans flight."
This is more a shopping challenge than a cooking challenge, really.
Mains
Grilled Rib-Eye with Jaew and Asian Herbs
"Jaew is a bracing, smoky Thai dipping sauce that really makes this meal sing. For even more authentic results, add 1 1/2 tablespoons of ground, toasted rice powder — you can make this by toasting and finely grinding raw Thai glutinous rice."
Needless to say the bit about grinding rice powder seems ridiculous, but this looks good otherwise.
Oven-Roasted Beef Brisket
"Not a barbecue pit master? This savory centerpiece gives you the barbecue flavors you crave, but skips the smoke by sneaking in some liquid smoke with the braise instead."
The acknowledgement that Boeing doesn't typically include smoke pits in the galley might be the most reasonable accommodation in this book.
Five-Spice Braised Short Ribs with Fried Black Rice
"In this recipe, short ribs are gently braised with an intoxicating blend of warm spices and eep umami flavors to create an intensely complex yet comforting dish."
Includes soaking, cooking, and then frying the black rice. Super practical.
Pomegranate Glazed Duck Breast with Steamed Jasmine Rice
"This Asian-inflected dish yields not one, but two seemingly magical elixirs: the addictive, sweet-tangy pomegranate sauce and the rendered duck fat from searing the duck breasts."
This looks delicious, nothing snarky to add here.
Jerk Chicken with Mashed Sweet Potatoes and Minted Mango Salsa
"This authentic jerk chicken packs a peppery punch with its herbaceous marinade. Delivering a balance of heat and aromatics, salty-tang and sweetness, its flavor permeates the poultry over time — so be sure to plan ahead."
Another one that requires prepping a day ahead, with over two dozen ingredients.
Salmon Curry with Tumeric and Coconut
"Throw out that takeout menu. This beautiful, bright, and surprisingly easy curry comes together in the same amount of time it takes for the delivery guy to arrive."
Yet it lists 90 minutes of prep time…
Meyer Lemon and Thyme-Scented Sea Bass with Minted Red Quinoa
"Seared and then finished in the oven, the fish is complemented perfectly by herby red quinoa and garlicky green beans."
The process of searing and then baking later seems like this would actually translate well to an airplane galley.
Trio of Mac and Cheeses
"Gooey, creamy mac and cheese is perfect for feeding a crowd or simply indulging on a weeknight. This trio of classics — two topped with panko, another finished with cheddar cheese — offers options galore."
This New-Year-Resolution buster is the only two-page recipe in the book.
Japanese Mixed Grill
"It's hard to pick the star of this bountiful dish: the umami-packed red miso sauce makes a perfect base for dipping and dredging the grilled vegetables and tofu, but the delicate braised eggplant adds a wonderful texture to the charred flavors."
I'm sure that delicately-braised eggplant rewarms beautifully.
Miso-Glazed Cod with Braised Baby Bok Choy
"Michael Armstrong of New York's Bodega Negra at Dream Downtown marinates ultra-fresh fish for up to 36 hours to prepare this dish. This abbreviated version cloaks meaty black cod in the caramel-like glaze before it's baked in the oven over moderate heat and finished off at a high temperature to capitalize on caramelization."
Does not include suggestions on starting with frozen Sysco-sourced fish.
Desserts
Affogato "My Style"
"An affogato is already the epitome of a simple pleasure: creamy, cold, thick ice cream in a sudden wash of hot, bracing espresso. This recipe retains the classic dessert's perfect simplicity but gives it a Southeast Asian twist by using sweet coconut sorbet and finishing the whole thing with a shot of dark rum."
I am not buying an ice cream maker for this project, so thankfully the recipe "allows" store-bought sorbet to be used.
Black Sticky Rice with Fresh Mango and Sweet Coconut Cream
"This fresh riff on classic rice pudding might actually beat the original in terms of both look and flavor. Deep purple sticky rice and bright, smooth orange mango combine under a drizzle of coconut cream for a colorful sweet treat that's downright dreamy when fresh and warm, and refreshing when served chilled."
It's interesting that both dessert recipes in the book rely on coconut and Asian flavors.
Help us choose!
As much as I'd enjoy having you all over to cook in my kitchen, that probably isn't practical, but we obviously want to include y'all in as much of this fun as possible.
So we'd love for you to choose the menu!
Polls will be open until 12PM Eastern on Wednesday, so that we have time to procure ingredients (and it's Spokane, in winter, so that may mean going to seven different stores to find papayas or something)
Given the potential for ingredient scarcity, we might have to make some adjustments, so please feel free to choose your top two appetizers, salads, and entrees below (there are only two desserts in the book, so just choose one of those)
[poll id="90″]
[poll id="91″]
[poll id="92″]
[poll id="93″]
Thanks for voting and following along — this should be an adventure, at a minimum, so if you have any suggestions to get more from the experience we'd love to hear them!