Boy, I really wish I could prepare that meal I had on United Airlines at home…
…said no one ever.
Well, apparently United disagrees, as the United Shop is now selling the United Polaris Cookbook. It can be had for $29.99, and is the perfect Christmas gift for someone you don't really like.
Here's how the cookbook is described:
The United Polaris Cookbook features a collection of mouthwatering recipes inspired by the United Polaris onboard dining experience. With over 40 recipes from United's Executive Chefs and chefs from The Trotter Project, you're sure to fall in love with the ingredients, techniques and flavors of these culinary creations.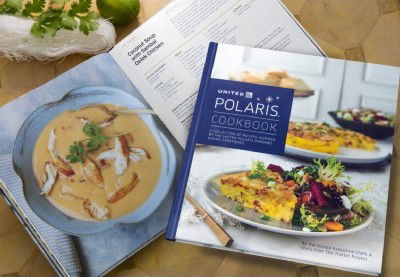 I mean, I would be sort of curious to read the cookbook:
When it talks about ingredients, does it recommend buying the absolute lowest quality meat possible?
Does it have a recipe for a "seasonal salad," which just happens to be the same in every season?
Does it come with a recommendation to be unnecessarily loud in the kitchen, and when your guests ask what you've made, you just stare at them blankly?
Does it suggest announcing to your guests at a dinner party that you're primarily there for their safety?
😉
In all honesty, the United Shop actually has some good stuff. For example, I love the Polaris blanket, and have bought a couple of them.
But I've gotta say, I don't think this cookbook is among the gems to be found in the United Shop, unless you're looking for a gag gift…
(Tip of the hat to View from the Wing)