South America has never been the Star Alliance's strong point, but it's even weaker now than before. Previously TAM was in Star Alliance (not that they released much award space), but due to their merger with LAN, they transitioned over to oneworld.
Now they have Avianca and Copa. Copa doesn't exactly have a great product, but does have a useful route network. They have a hub in Panama City, which means you're basically two 5-6 hour flights away from anywhere in the US to anywhere in South America. I've also always wanted to visit Panama City, so it's a good opportunity for a stopover there.
Award space on Copa is generally excellent as well, in both business and economy class.
I'm not sure if it's new or not, but reader Jason pointed out that united.com is no longer displaying Copa award space. That used to be the easiest place to search Copa award space, especially since it would easily show you connections and availability on a calendar display.
Interestingly all the other websites that previously showed Copa award space still do.
You can use the LifeMiles website to search Copa award space:

Or the Aeroplan website: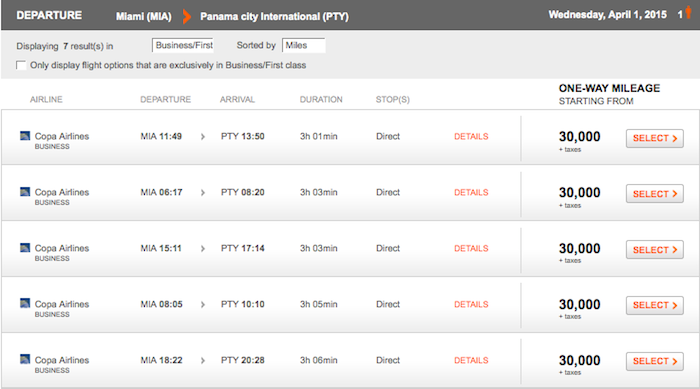 Or the ANA website:

I do wonder whether united.com not showing Copa award space is intentional or a mistake. For example, united.com doesn't show Brussels or LOT award space either, and that ends up being a blessing, since it means those two airlines generally have more award space (I don't think that can entirely be attributed to the space not showing on united.com, but I'm sure it contributes).
On the other hand, United intentionally stopped displaying Singapore award space late last year. United claimed it was a decision both airlines agreed to, though Singapore claimed they had no part in it. My guess is that United wasn't wanting to pay Singapore's award reimbursement rates, and as a result wanted to do everything they could to limit redemptions. Or it could be something completely different.
Hopefully united.com shows Copa award space again soon.