While most of the attention today has been on US Airways, given that they've officially left Star Alliance and become affiliated with OneWorld, it's worth noting that TAM did exactly the same thing and is also a OneWorld member airline as of today.

The past few months have been fascinating as far as TAM is concerned. For years they haven't released any premium cabin award space whatsoever, though beginning in February they've had wide open availability in First and Business class on their routes to the US. I had the chance to fly them from Sao Paulo to New York in first class last week, and really enjoyed my flight.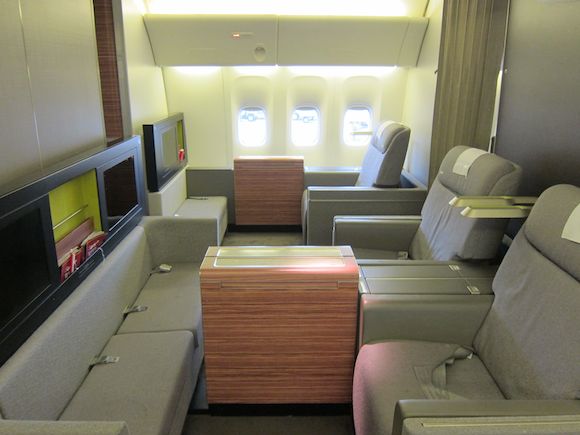 TAM 777-300ER first class cabin
This abundance of award space certainly came as a surprise, and I honestly didn't expect the availability to last more than a few hours. Instead, we've had nearly two months where almost every first class seat has been available for award redemption.
Gary suggested the glut was related to TAM's merger with LAN, and corresponding change of alliance:
This is purely speculation, but my hunch is that the massive release of award seats is related to TAM's impending exit from Star Alliance, entry into oneworld, and realignment of booking classes.
I'm always inclined to agree with Gary, and this may indeed still be the case.
In the meantime, however, British Airways has added TAM inventory to their award search tool, and availability in first at least still looks fantastic: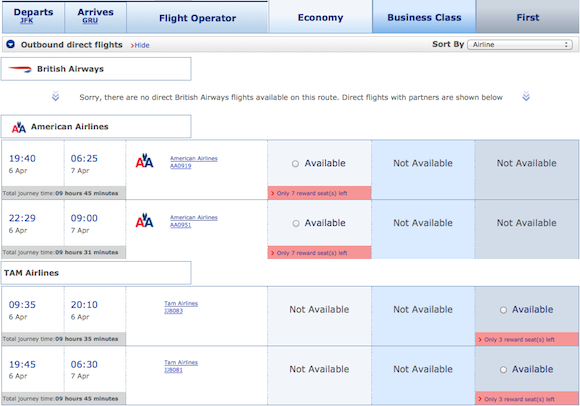 Economy on American or first on TAM? Hmmmm….
This also means you can now redeem British Airways Avios for flights on TAM, and the price will be the same whether you're flying from New York or Miami. It's worth noting that since TAM doesn't impose any fuel surcharges (due in part to Brazilian law), British Airways won't either.


In general, I think you're likely better off redeeming American AAdvantage miles (62,500 miles one-way) or US Airways Dividend Miles (125,000 roundtrip). With either of those programs you'd be able to add flights from your home city for no additional miles, and longhaul flights aren't typically the best use of Avios anyways.
If you were previously using the ANA tool to find award availability on TAM, keep in mind that ANA will no longer display TAM inventory now that TAM has left the Star Alliance. The British Airways tool is the best option at this point in time.