One of the more obscure features of United Airlines is the united.com Club. No, I'm not talking about the place where you can load up on snacks and drinks before your flight — that's the United Club — but rather their almost-secret frequent buyer program where you get rewarded for flights you book, rather than those you actually fly.
Subtle, eh?
This program is an artifact of Continental where it was called the equally bland The Travel Club, and came over with the merger.
Sort of like that saggy futon you inherited when you married your spouse, the new United doesn't seem to give a crap about the united.com Club. I mean, they don't promote it at all, and haven't even updated the website once in the last five years. But they also don't seem to want to get rid of it for fear of upsetting someone. So instead, they just don't talk about.
I mean, we all know how it is.
Anyway, the united.com club still exists, and it's actually a pretty good deal. Here's what you need to know.
Joining the united.com Club
The united.com Club is a membership club. It costs $25 per year to join, and then you earn a $5 travel credit for each flight you book on united.com. It's really that simple.
Each of the $5 rebates is deposited into your TravelBank account and can be used to pay for future United flights.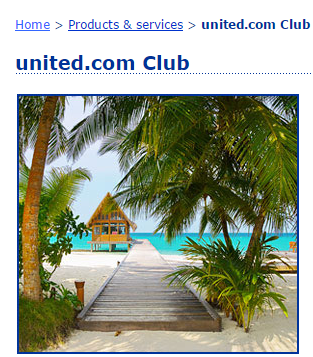 To join the united.com Club, you must first be a member of the United MileagePlus program. Other than that, the enrollment process is fairly straightforward.
Earning united.com Club credits
Once you join the united.com Club, every trip you book on united.com earns a $5 rebate.
It doesn't matter if the trip costs $100 or $1,000. It doesn't matter if the itinerary is for you, for your son, for your grandma, or for your brother's first-grade teacher's uncle who lives 8 states away. It doesn't matter if it is a one-way, round-trip, or multi-city itinerary. And it doesn't even matter if it's an revenue ticket or an award flight.
You earn $5 for each ticket booked while logged into your account and issued on 016 stock.
Redeeming united.com Club credits
The credits that you earn by being a member of the united.com Club show up in your Travel Bank account. I've generally found the credits to post quickly.
There used to be some bugs with this — like if you had multiple passengers on a single reservation, only one credit would post, for example — but for the most part, I think it works pretty well now.
You also get a kind of cool ledger of all the tickets you've ever booked on the United website. Here's what mine looks like at the moment.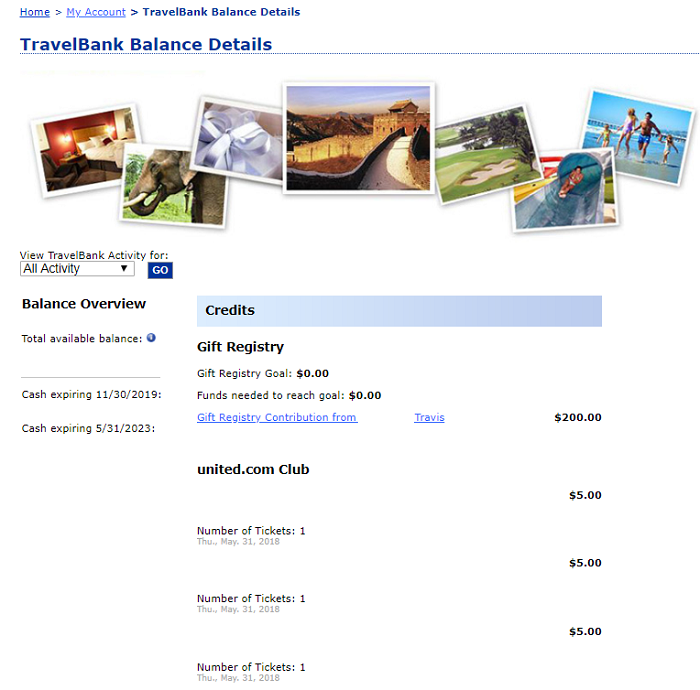 Once the funds are in your Travel Bank account, you can choose to apply them to any trip you book on the payment page.
You simply search for flights on united.com just as you always do, and then when you get to the payment screen, you will have the option of applying Travel Bank funds to the purchase price. Clicking "Apply" will reduce the amount owed appropriately.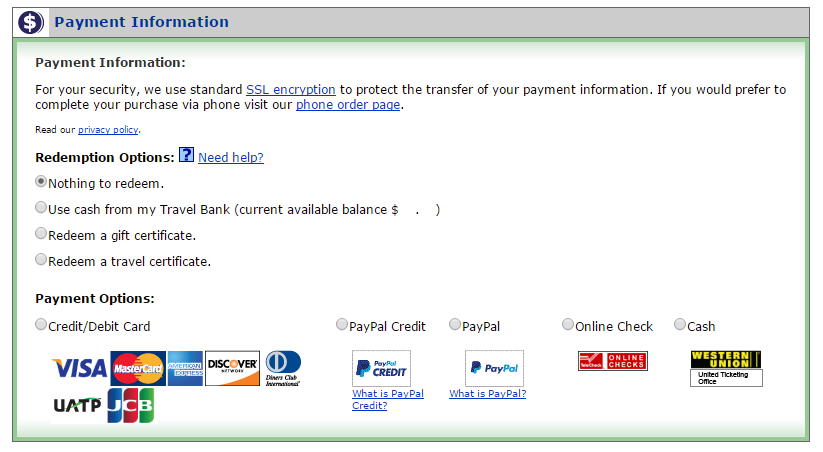 Travel bank shows up as a payment option
Travel Bank funds are treated the same as cash, and this is significant because it allows you to earn Premier Qualifying Dollars (PQDs) on the full amount of the ticket, including the balance covered by Travel Bank.
It also means that if you refund the ticket, the funds go back into your Travel Bank. It is worth noting that you can no longer combine Travel Bank funds with Electronic Travel Certificates.
Is the united.com Club a good deal?
A one-year membership in the united.com club costs $25. And you earn $5 for each ticket you book. Simple math shows that if you book more than five tickets per year on the United website, then this is a good deal, and can add up to a substantial discount on United flights.
If you, like me, are the de facto travel agent for a slew of family and friends, and you sometimes wish that they'd at least buy you a drink as a thank you for your efforts, well, here you go. (Whether you should book your family and friends on United is outside the scope of this discussion!)
The trade-off of course is that by booking directly with United you can't book through an online travel agency (OTA) or earn bonus rewards points by booking through a portal. Essentially United is offering you some of the commission that they would have paid the OTA. I prefer to book directly with the airline anyway, so to me, this is a no-brainer.
How to maximize your united.com Club membership
Earning travel credits with the united.com Club is pretty straightforward but there are still a few things you could consider.
First, only one person in your family needs to have a united.com membership. That means that even if you and your spouse fly separately for work or whatever, you still only need one membership. You can just book their tickets while logged into your account or vice versa. The tickets will still show up in their reservations, but you'll be able to see them too, which is handy if you help manage their travel.
Next you might consider booking trips as one-way tickets, rather than round-trips, at least when the price is the same. That way you'll earn two $5 credits, instead of one. And remember, you earn the same $5 credit no matter the cost of the ticket — and that includes cheap basic economy tickets too.
Of course, if you think you might change or cancel the ticket, you might prefer booking as a round-trip, since you'll end up paying the change fee twice if you booked two one-ways. Then again, I usually fly on cheap fares where the change fee is more than the value of the ticket, so I'm generally fine with this risk.
Bottom line
If you book more than few tickets a year on the United website, you should definitely join the united.com Club. Since I manage travel for lots of family and friends, I easily earn several hundred dollars each year in credits. It's not insanely lucrative, obviously, but if you were going to book these tickets on the United website, you might as well get the easy rewards.
Even if your family of four only flies just once pear year, you might come out ahead if you can book the tickets as one-ways, and thus earn 8 x $5 = $40. That more than recoups the $25 membership fee.
Are you a member of the united.com Club? How has the program worked for you?