Update: United is extending elite status by 12 months, and making it easier for others to earn status.
A couple of weeks ago United Airlines introduced PlusPoints, their new system for awarding upgrades. That seemed like a positive development, so some of us wondered what the catch was, since it's not often that airlines make positive changes to frequent flyer programs.
Well, the other shoe has now dropped, and United Airlines has announced massive changes to how you earn MileagePlus Premier status… and these changes are pretty terrible and confusing.
United Premier Status Changes For 2020
The way you earn United Airlines Premier status will be changing radically in 2020.
Currently, you earn elite status based on a combination of Premier Qualifying Miles or Premier Qualifying Segments, AND Premier Qualifying Dollars. In other words, you currently earn status either through how many flights you take or how many miles you fly, plus how much you spend.
With the new program, the distance you fly doesn't matter at all. This is pretty radical as far as frequent flyer programs go.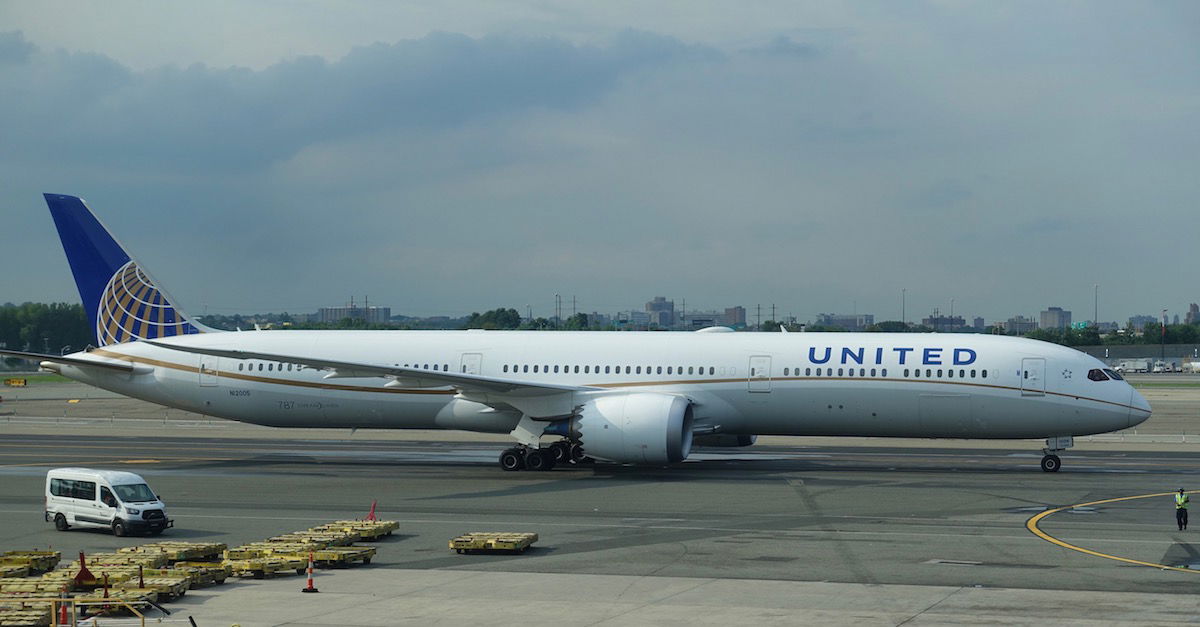 It no longer matters how far you fly
Distance Flown No Longer Matters
Starting in 2020, MileagePlus elite qualification will be based on a combination of Premier Qualifying Points and Premier Qualifying Flights. Yes, those are both new terms.

What Are Premier Qualifying Flights (PQF)?
Every flight you take gets you one PQF. That refers to one takeoff and landing. It no longer matters what kind of a ticket you're on, meaning that if you're traveling in first or business class you don't earn any more PQF than in economy.
The exception is that basic economy tickets won't be eligible to earn PQF.
What Are Premier Qualifying Points (PQP)?
Going forward you'll earn one PQP for every USD you spend. As before, only the base fare earns PQP, so taxes and fees don't count towards that spending requirement.
While the spending requirement is changing, there are more things that will qualify towards the requirement as well.
As before, the following will count towards the spending total:
Base fare plus surcharges
Economy Plus seating or subscriptions
Preferred seat purchases
With the new program, the following will additionally qualify towards your spending:
MileagePlus Upgrade Award co-pays
Paid upgrades
Flights ticketed and operated by Star Alliance partners
How Many PQF & PQP Do You Have To Earn For Status?
Starting in 2020 you can earn MileagePlus elite status either exclusively through PQP (how much you spend), or through a combination of PQF and PQPs (how much you spend and how many flights you take). Again, the distance flown is no longer a factor in any way.
With the new program:
Premier Silver requires 12 PQF and 4,000 PQP, OR just 5,000 PQP
Premier Gold requires 24 PQF and 8,000 PQP, OR just 10,000 PQP
Premier Platinum requires 36 PQF and 12,000 PQP, OR just 15,000 PQP
Premier 1K requires 54 PQF and 18,000 PQP, OR 24,000 PQP

As a point of comparison, in 2019 the revenue requirements (PQD, which stands for Premier Qualifying Dollars) for earn tier was as follows:
Silver members needed to earn 3,000 PQD
Gold members needed to earn 6,000 PQD
Platinum members needed to earn 9,000 PQD
1K members needed to earn 15,000 PQD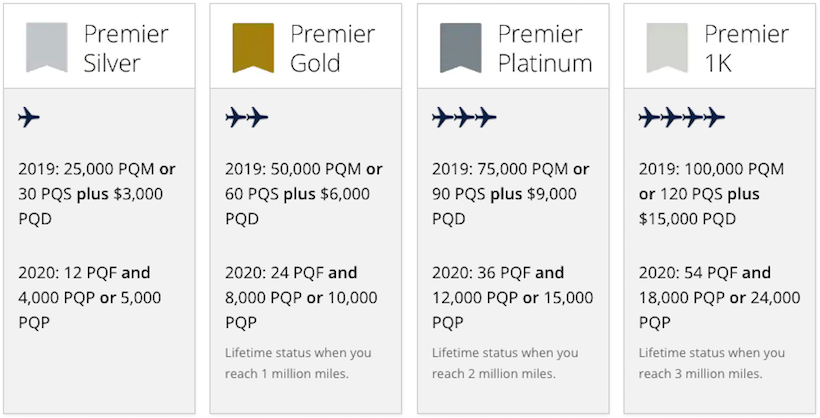 How Does PQF & PQP Earning On Partner Airlines Work?
Previously if you flew on a Star Alliance airline and your flight wasn't ticketed by United, you couldn't earn PQD. With the new program, you'll receive credit for those flights.
Going forward:
Your PQP will be equal to award miles earned divided by five if traveling on a preferred partner
Your PQP will be equal to award miles earned divided by six if traveling on another partner

For example, if you earned 500 award miles for a flight, you'd receive 100 PQPs on a preferred partner, or ~83 PQPs on another partner.
Note that as of July 1, 2020, United is adding restriction to partner mileage earning.
What Does This Mean For United Airlines Credit Cards?
Starting in 2020, changes are also being made to how spending on a MileagePlus credit card will qualify towards status.
Currently, you can receive a full waiver on the PQD requirement by spending $25,000 on a United card (at least for Silver, Gold, and Platinum members), and having the card can also waive the four-segment minimum for members to earn status. Neither of those things will be the case anymore.
Instead, starting in 2020 there will be other opportunities for spending to help you earn MileagePlus elite status:
The United Explorer Card, United Club Card, United Explorer Business Card, United Club Business Card, United MileagePlus Awards Card, United MileagePlus Card, and United MileagePlus Business Card, will earn 500 PQP for every $12,000 in spending, up to a maximum of 1,000 PQP in a calendar year, which can be applied up to Platinum status
The United MileagePlus Select Card and United MileagePlus Platinum Class Visa Card will earn 500 PQP for every $12,000 in spending, up to a maximum of 3,000 PQP in a calendar year, which can be applied up to 1K status
The United Presidential Plus Card and United Presidential Plus Business Card earn will earn 500 PQP for every $12,000 in spending, up to 10,000 PQPs in a calendar year, which can be applied up to 1K status
What About Lifetime Status?
United awards lifetime status based on how many lifetime miles you've earned with them. That's not changing. Lifetime status will still be awarded based on how many miles you fly.
Are There Changes To Earning Redeemable Miles?
No, United will continue to award miles as before, based on how much you spend. You earn anywhere from 5-11x miles per dollar spent, depending on your status.
Why Is United Making These Changes?
Here's how United describes why they're making these changes:
As the MileagePlus Premier program evolves, we want it to be relevant for all types of travelers. For this reason, distance will no longer be used for qualification in 2020, and members will instead qualify based on the value of tickets purchased and the number of flights taken. We're introducing these changes to align the way members qualify for status and to better deliver Premier benefits to our most loyal members.
Will This Decrease The Number Of MileagePlus Premier Members?
United addresses the impact they think this will have on their elite numbers in their FAQs. United claims that they expect the total Premier population to grow based on these changes, though they expect a realignment of elite tiers. Notably, they expect more members at the lower elite tiers and fewer 1K members.
My Take On These MileagePlus Changes
What the heck, United?
We've seen such changes to how airlines award status in the past few years. Most significantly, we've seen airlines add revenue requirements for earning status, though this is really next level.
The distance you fly no longer counts towards status at all. Not in any way. I can't think of another major frequent flyer program in the world for a global airline where distance doesn't factor into earning status (someone correct me if I'm wrong).
Rather oddly, this seems to be punishing international travelers, so I'm not fully sure I get the motive there. If the distance people fly doesn't matter, why does the number of segment someone flies matter? Why not make it a straight spending program at that point?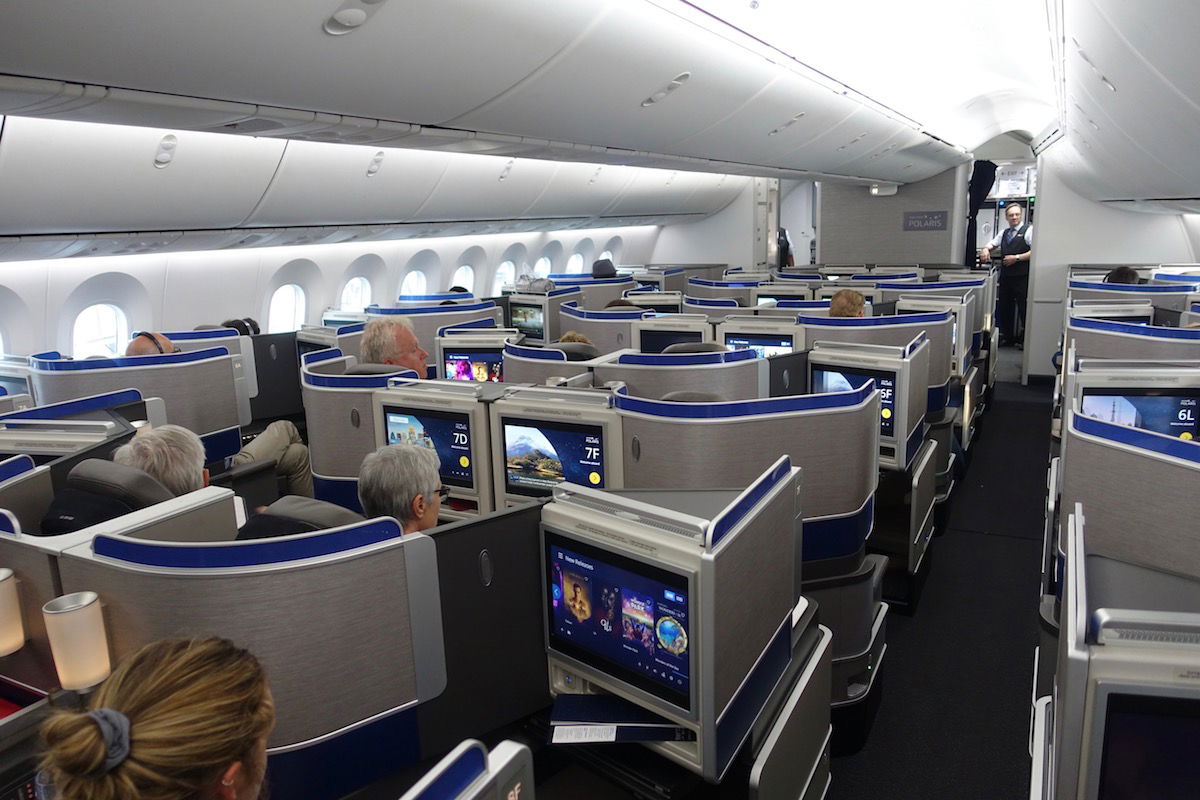 These changes are bad news for many international travelers
Furthermore, I just can't help but feel frustrated by the constant pace at which airlines make changes to their elite programs. Many customers want to choose an airline to be loyal to long term, but then every year they find a way to significantly change the goalposts and make it worse.
Will American & Delta Follow?
Usually among US airlines we see Delta making changes, and then American and United follow. So it's interesting to see United take the initiative here.
In this case it seems highly unlikely that Delta will follow. That's because they just renewed a multi-billion dollar contract with Amex, and as part of that they redesigned their cards with new goalposts for earning status.
So coming so shortly after a card redesign it seems highly unlikely they'd change their program like this.
As far as American goes, we'll have to wait and see. It seems most likely that they'd follow Delta on any changes rather than United, but who knows…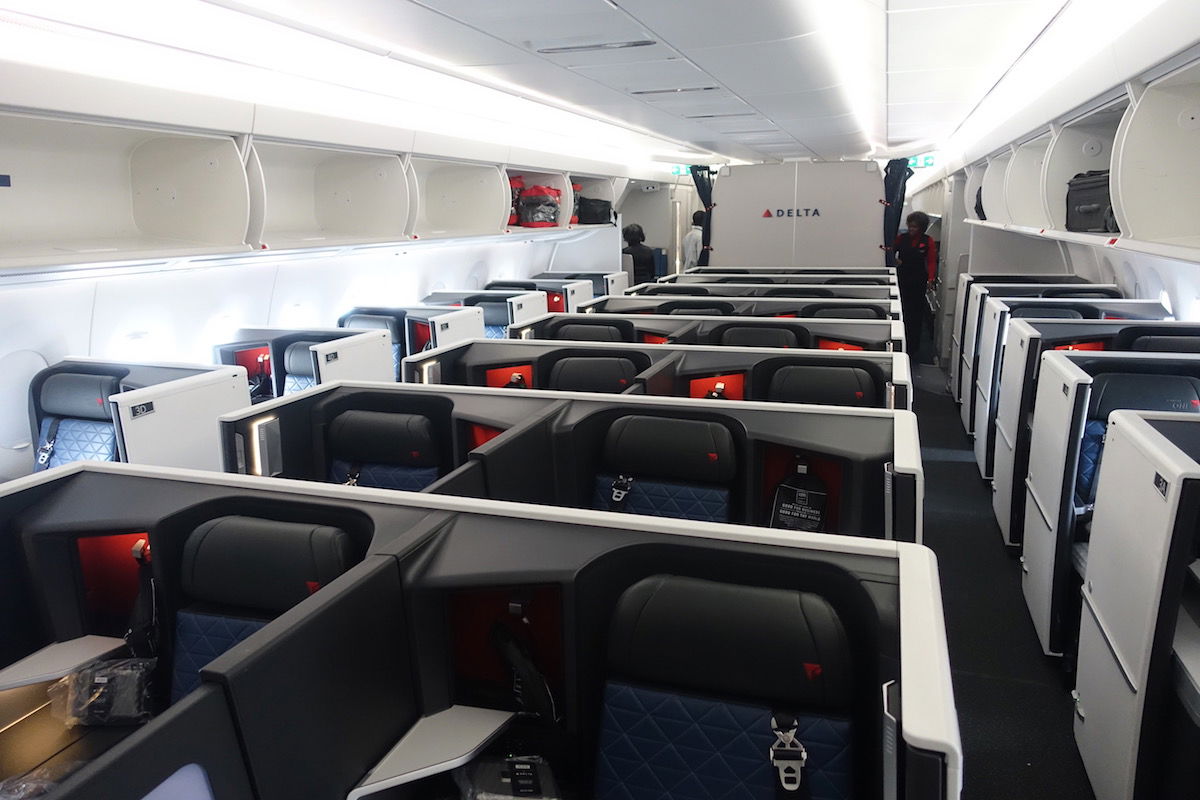 I don't think Delta will follow United's lead
Bottom Line
As of 2020 huge changes will be made to how you earn MileagePlus Premier status. Distance flown will no longer be a metric for earning status, but rather they just care about how many flights you take and how much you spend.
Not only that, but in the process they're significantly increasing the revenue requirement, and It's no longer easy to get a waiver of that requirement through credit card spending.
What do you make of these MileagePlus changes?