Several weeks ago United Airlines revealed some new long haul flights, including to Africa, India, and Hawaii. So far United has put its new flights to Bangalore, Johannesburg, Maui, and Kona, on sale, and now the airline is opening reservations for yet another one of its new flights.
United Airlines' Washington to Accra flight
As of May 14, 2021, United Airlines will launch 3x weekly flights between Washington Dulles and Accra. The route will operate with the following schedule:
UA996 Washington to Accra departing 6:05PM arriving 8:40AM (+1 day)
UA997 Accra to Washington departing 11:45PM arriving 6:35AM (+1 day)
The flight will operate eastbound on Sundays, Wednesdays, and Fridays, and westbound on Mondays, Thursdays, and Saturdays.
At just 5,282 miles in each direction, this is one of the shorter nonstop flights between the US and Africa. The flight is blocked at 10hr35min eastbound and 10hr50min westbound.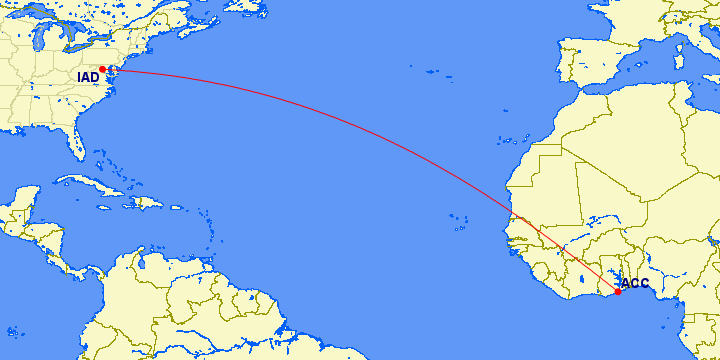 For some context on this route:
United's Boeing 787-8
United will use a Boeing 787-8 for the Washington to Accra route. United is in the process of reconfiguring these planes with new Polaris seats and Premium Plus seats. Here's how the two configurations differ:
United's "old" 787-8s feature 219 seats, including 36 Polaris (business class) seats, 70 Economy Plus seats, and 113 economy seats
United's "new" 787-8s feature 243 seats, including 28 Polaris (business class) seats, 21 Premium Plus (premium economy) seats, 36 Economy Plus seats, and 159 economy seats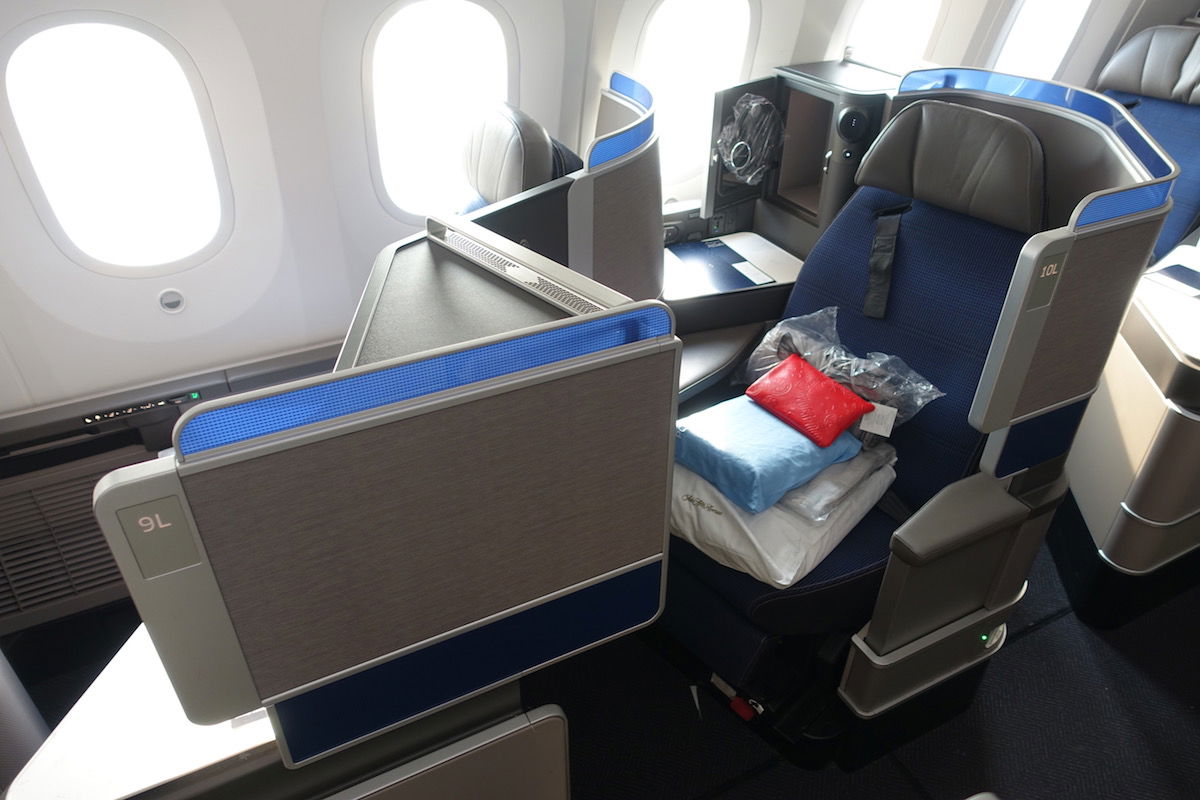 United is installing new Polaris seats on 787-8s
Why the terrible aircraft utilization?
As you can see, in the case of the Washington to Accra route, this is pretty bad aircraft utilization:
The plane sits on the ground in Accra for around 15 hours
The plane is away from "base" from 36hr30min, and is "only" flying for 21hr25min
Let me be clear — I obviously don't work in network planning, and I also think United has some of the brightest people working in international network planning. I'm sure United has good reasons for the schedule it chose, though I'd be fascinated to know all of the thought that went into this. The advantages of this schedule are obvious:
By departing late at night and arriving early in the morning, the intent is to maximize connectivity on both ends
This is also great for passengers (particularly business travelers) in terms of "wasting" as little time as possible by not flying during the day
Will United crews be turning directly around, simply resting for the 15 hour daytime layover, which would save on hotel costs?
But let's imagine for a moment that the schedule were shifted by 12 hours on the return, so that the utilization was instead as follows:
UA996 Washington to Accra departing 6:05PM arriving 8:40AM (+1 day)
UA997 Accra to Washington departing 11:45AM arriving 6:35PM
What exactly goes into the thought process not to schedule the flight like that?
Is the poor aircraft utilization at least partly because United has excess planes right now, so efficient utilization isn't a priority? As more flights are brought back, could we see the schedule adjusted?
Is United scared it would limit connections on either end for the westbound flight, because not all flights get to Accra well before 11:45AM, and not that many flights depart Washington well after 6:35PM?
Is United scared it would lose travelers who don't want to travel daytime on the westbound?
It seems like United has greatly decreased its late night bank of flights at Dulles Airport, so I'm guessing all of this comes down to lack of connections at Dulles if the flight were to arrive around that time.
So that makes me wonder why the flight isn't scheduled more like this, shifting the outbound forward by a few hours, and shifting the return forward by around 15 hours:
UA996 Washington to Accra departing 4:05PM arriving 6:40AM (+1 day)
UA997 Accra to Washington departing 8:45AM arriving 3:35PM
Obviously that would make connections in Accra challenging, but then I guess it depends to what extent this flight will rely on connections within Africa.
Anyway, we could go in circles all day long here, but it's interesting stuff, no?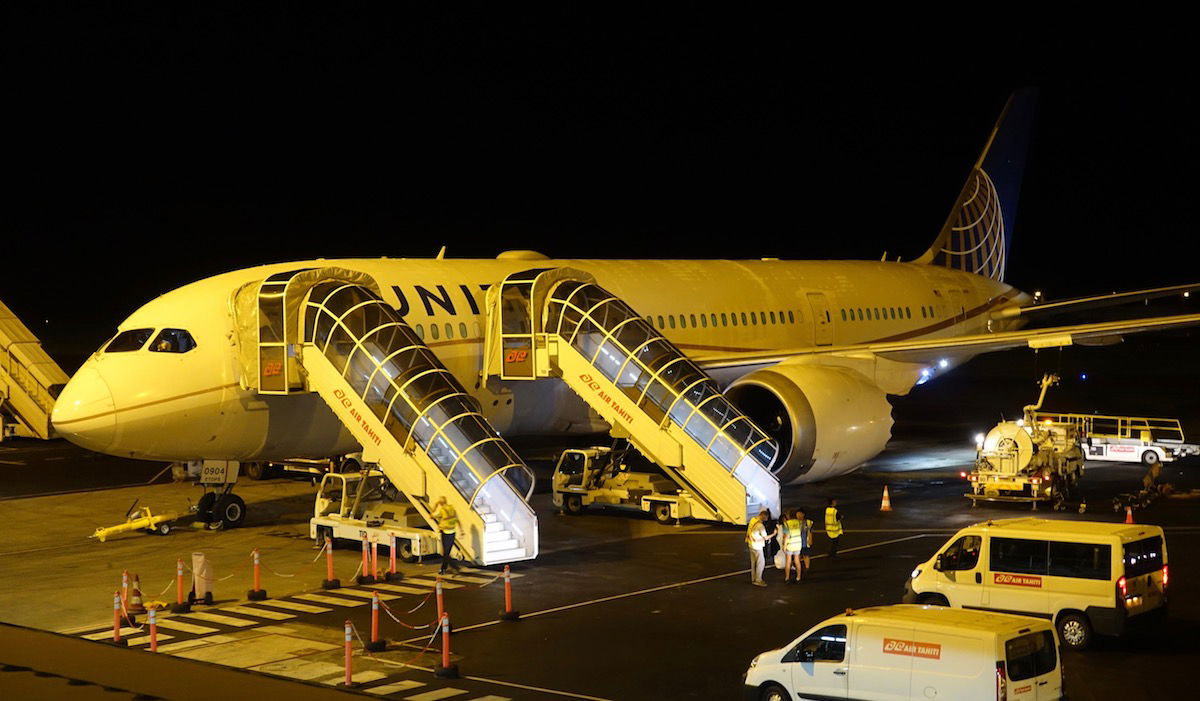 There will be a lot of downtime for United's 787 in Accra
United award seats to Accra
If you're interested in booking an award seat on United's new Washington to Accra flight:
Economy award seats are readily available for 45,000 MileagePlus miles one-way (some days it prices at 46,000 miles, which sure is odd dynamic pricing)
Business award seats are available some days for 70,000 MileagePlus miles one-way

Bottom line
It's cool to see United Airlines' growth in Africa, as the airline plans to fly to Accra, Johannesburg, and Lagos. Two of those three flights are now on sale, with the Accra flight being the latest addition.
Since this represents a route resumption for United, I wonder how it will perform this time around. Only time will tell if this sticks around in the long run, especially given South African Airways' demise, or if this is just the best use of a plane for the time being…
What do you make of United's new Washington to Accra flight?