Some passengers are out of control. Just over a week ago an American Airlines passenger handed a flight attendant a vicious note, calling her a "gloried maid," "4 eyed c*nt," and saying that if it wasn't for this job, she'd be "cleaning motel rooms for $2 tips and meth." Fortunately American Airlines acted swiftly to ban this passenger.
Well, now another flight attendant is reporting that she received a note from a passenger…
An unhappy (or drunk?) American Airlines first class passenger
On Facebook an American Airlines flight attendant shares what happened on a flight she worked yesterday from Tampa to Dallas. As she describes it from her perspective:
She was on standby, and was called to work the flight at 4:15AM, and the entire crew working this flight will be furloughed in a couple of weeks (this is more for background than anything else)
The flight attendants did the full service in first class, including handing out snack bags during boarding, and serving drinks throughout the flight
Upon exiting the plane, one passenger handed one of the flight attendants a note
This man had four alcoholic drinks on this fairly short flight
Five minutes before the crew prepared the cabin for landing, the man came to the galley to ask for another Jack and Diet
The crew explained to him that they're about to prepare for landing, but they still served it to him though said that he'd need to finish it quickly
So, what note did the passenger write for the crew?
"YOU USE COVID TO JUSTIFY BEING LAZY AT A TIME WHEN YOU SHOULD DO THE OPPOSITE"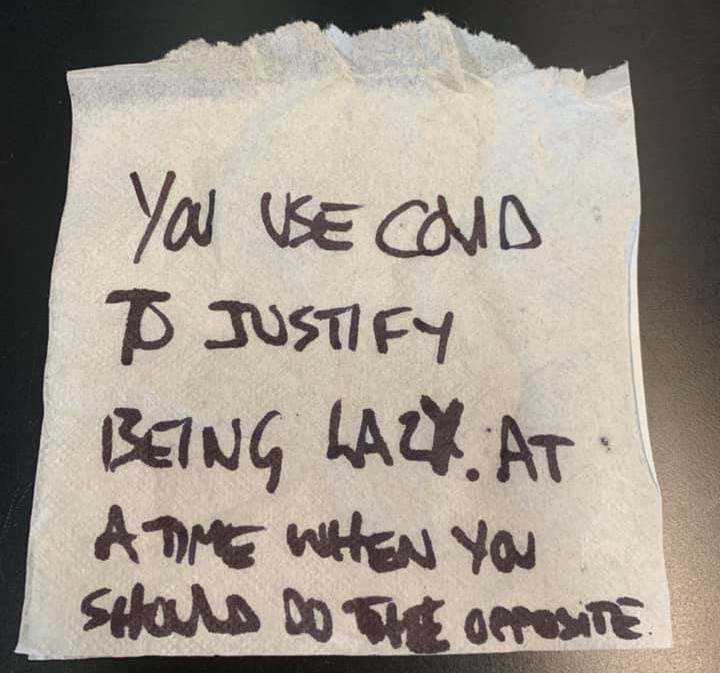 As the flight attendant concludes:
"My heart hurts because here we are getting furloughed and trying to enjoy our last 2 weeks of flying and people are so hateful!"
My take on this situation
While this wasn't quite as bad as the last note left for an American Airlines flight attendant, this was completely inappropriate and uncalled for. If someone was served multiple alcoholic drinks on a roughly two hour flight, they have no grounds for calling a flight attendant "lazy."
Any frustration the passenger had should be addressed to management rather than flight attendants. Maybe the passenger wasn't happy about the lack of a proper meal service? Obviously that's not the flight attendant's fault.
I almost wonder if the problem may have been that the guy was served too much to drink, if he had four drinks on a two hour flight with little to no food? In that case, I'd say the crew was providing too much service, rather than being "lazy."
It almost reminds me of when I flew Emirates first class from Los Angeles to Dubai, and the guy seated in front of me was drunk beyond belief, and then still complained to the purser that the alcohol selection wasn't any good (if there's one thing Emirates has, it's a good alcohol selection).
Lastly, not that it really matters, but what exactly is this note written on? It doesn't look like American's standard cocktail napkin, which is square and branded. Is it a piece of toilet paper? And was the guy traveling with a permanent marker?
Bottom line
C'mon, folks, treat people with respect. That's something that should be done in general, and in particular something that should be done right now, when people are going through a tough time.
It doesn't sound at all like this crew was "lazy." If you have issues with American's limited service then address that to management, and not to flight attendants. But please let's not make a trend of handing flight attendants notes with messages, unless those messages are to thank them for working and encourage them to hang in there…
What do you make of this passenger note?
(Tip of the hat to View from the Wing)