In the interest of full disclosure, OMAAT earns a referral bonus for anyone that's approved through some of the below links. These are the best publicly available offers (terms apply) that we have found for each card. Opinions expressed here are the author's alone, not those of the bank, credit card issuer, airlines or hotel chain, and have not been reviewed, approved or otherwise endorsed by any of these entities. Please check out my advertiser policy for further details about our partners, and thanks for your support!
I think both Virtuoso and American Express Fine Hotels & Resorts are among the most overlooked programs when it comes to adding additional benefits to your hotel stays at no additional cost. As some of you may recall I was temporarily a luxury travel agent with access to Virtuoso properties, though I had a bit too much on my plate and in the end wasn't able to do it justice while keeping up with my other obligations. I don't for a second regret having done it, though, since I learned a ton about the travel industry, and hopefully in turn I can use that to provide you guys with an unbiased opinion about the programs.
So what are Virtuoso and American Express Fine Hotels & Resorts? Basically they're both booking channels through which you can get additional benefits for stays at select luxury hotels that belong to both groups while not paying more than the prevailing/flexible rate (it's worth noting that you can't get these benefits on points stays, corporate rates, discounted rates, or advance purchase rates). In some instances booking through Virtuoso or American Express Fine Hotels & Resorts is even cheaper than booking directly through the hotel (I specifically remember this being the case at a couple of InterContinental hotels in Europe), though that's more the exception than the norm. The benefits typically include free breakfast, a room upgrade upon availability (typically one category), late check-out, and an added amenity that's valued at about $100 (resort credit, spa credit, food and beverage credit, free lunch/dinner/afternoon tea, etc.).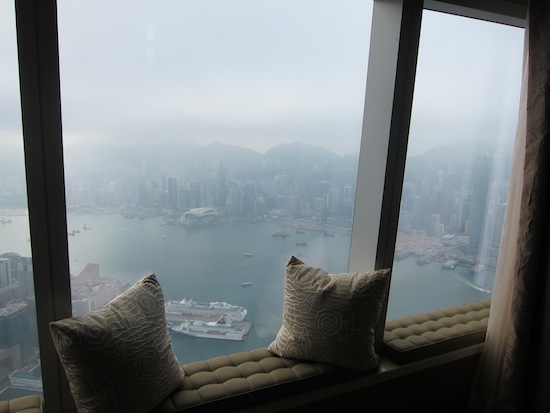 View from the Ritz Carlton Hong Kong
The two programs are very similar, though there are a few distinctions that should help in your decision making process.
It's worth noting that regardless of which program you book through, you can still earn points and elite credit if the hotel you're staying at belongs to a loyalty program. For all practical purposes it's like booking directly through the hotel. With that in mind, let me break down the basics:
How do you book through the programs?
American Express Fine Hotels & Resorts
American Express Fine Hotels & Resorts is open to all The Platinum Card® from American Express and Centurion card members (in the interest of full disclosure I do receive a referral credit for anyone that applies through that link). While you don't have to settle your bill with your Platinum/Centurion card, you do have to use an American Express branded card.
Virtuoso
Virtuoso hotels can be booked through any travel agency with a Virtuoso affiliation. Typically these are the top agencies since being a member isn't cheap/easy. Many Virtuoso agents don't charge service fees, so as a consumer you shouldn't have any issue finding a Virtuoso agent willing to work with you.
How do you search rates and benefits?
American Express Fine Hotels & Resorts
If you're a Platinum or Centurion card member you can go to this page to search for affiliated hotels. Once you log-in and select your preferred city or hotel, both the price and benefits will be displayed. Like I said earlier, in 90%+ of cases the rate will match the flexible/best available rate displayed on the hotel's website directly.

Search page

Benefits page

Pricing page
Virtuoso
While Virtuoso won't let you search rates online, they will let you search the hotels and benefits. Simply go to virtuoso.com, click on "Exclusive Offers," and then click on the "Properties" tab, which will bring you to this page. From there you can either search by the property's name in the "Keyword" section, or narrow down the hotels by region.

Search page
For example, when searching for Florida, here are some of the results that are returned:

Results page
Once you select a specific hotel you'll be brought to a page which displays a lot of information about the hotel. If you scroll all the way down you'll see the "Virtuoso Exclusive Benefits." In the case of the Four Seasons Miami, for example, they're as follows:

Benefits page
How do the benefits differ?
American Express Fine Hotels & Resorts
For reasons I really can't understand, American Express really has their affiliate hotels by the you-know-what. They have the exclusive rights to offering guaranteed 4PM late check-out at their hotels. So while you may get 4PM late check-out subject to availability through Virtuoso, they're not technically allowed to offer it on a guaranteed basis.
Virtuoso
While American Express Fine Hotels & Resorts offers continental breakfast, Virtuoso typically offers full breakfast.
Customer service
American Express Fine Hotels & Resorts
It's rather convenient to be able to make bookings online, though at the same time you typically don't have a dedicated travel agent like you'd have if working with a Virtuoso agent.
Virtuoso
The beauty of Virtuoso is that if you have a good agent they can work wonders for you and really customize your stay. At the end of the day if you're a good customer of their's, they can make just about anything happen if they have the right contacts at a hotel.
While mildly unrelated, let me say this as an onlooker: understand that for the most part your agent is working on a commission, so the more money you spend on hotels, the more the agent will want to go out of their way to take care of you. Along the same lines if you're working with an agent for the first time and making a one-night booking at a mid-range hotel, don't expect them to secure you a suite upgrade at the time of booking or anything like that. At the end of the day they have to leverage their relationships to make "one time exceptions" happen, and it isn't fair to do that to them if you're a first time customer. But by building a relationship with a Virtuoso affiliate agent they usually will go the extra mile for you over time.
Other random observations
American Express Fine Hotels & Resorts seems to have more properties. In the past six months I've used Fine Hotels & Resorts more often than Virtuoso due to the fact that they have a lot of properties that Virtuoso doesn't, including the Westin Grand Frankfurt, Le Meridien San Francisco, St. Regis Bangkok, etc. Keep in mind that participation in both programs is reviewed annually, so it could be that they'll still be added to Virtuoso, or they might not meet their "standards." So while there is a lot of overlap, there are some properties unique to each program.

St. Regis Bangkok
Always compare the benefits. The obvious benefit that sets apart Fine Hotels & Resorts is the guaranteed 4PM late check-out. The obvious benefit that sets apart Virtuoso is the full breakfast (instead of continental breakfast). While everyone places different value on those things, always compare the other benefits. Typically the "added amenity" is about $100 of retail value, though one program might offer a $100 spa credit while another offers a $100 food and beverage credit. Depending on which you prefer, that could make a huge difference in the value you get out of the program, and for me is often the deciding factor when choosing which program to book through. For example, I'd rather have a $100 food and beverage credit than afternoon tea.
Added amenity is on a per stay basis. While the room upgrade and breakfast are benefits applicable throughout the entire stay, the "added amenity" is only offered once per stay. That's why it's often advantageous to book just one or two night stays, since a $100 resort credit (for example) goes a lot further on a one night stay than a five night stay.
Make your life easier by looking up rates first. Rather than findind a Virtuoso agent and waiting to hear from them with rate quotes, you can cut out a lot of the communication lag by looking up rates on your own first. For example, if you want to stay at the Four Seasons Seattle, go to their website and type in your dates. The first rate displayed will be the best flexible rate.

Rates on fourseasons.com
Combine that with searching the Virtuoso website and American Express Fine Hotels & Resorts website for the benefits, and you have as much information as the agent does.

Virtuoso benefits

Fine Hotels & Resorts benefits
Nothing makes an agent's day quite like getting a request from a client that knows exactly what they want.
Free night promotions. I saved among the best for last here. One of the other huge benefits of these two programs is that they're often running third or fourth night free promotions. Sometimes both programs are running overlapping promotions, while at other times they're not. For example, back in January I stayed at the Park Hyatt Shanghai on a fourth night free promotion through American Express Fine Hotels & Resorts, since Virtuoso wasn't offering the same promotion. At the same time I'll be staying at the Four Seasons Dublin next month on a Virtuoso booking, since both American Express Fine Hotels & Resorts and Virtuoso were offering the third night free.
You can find these promotions on the Fine Hotels & Resorts website by the gold stars that display next to the hotels with the words "SPECIAL OFFER."

Special offer listings
As you can see in New York, just about every hotel is offering the third or fourth night free. By clicking on "View Details" you can see the eligible dates and fine print of the promotion.

Mandarin Oriental fourth night free
Anyway, hopefully this was at least a useful explanation of the basics. If you have any questions about either program please let me know in the comments below!
Later today I'll have a post explaining the benefits of the Visa Signature Luxury Hotel Collection, which is a more mild version of these programs offered to Visa Signature card members.