Earlier this week I was pointed to a Tweet from Yashar Ali calling out the vast amount of "Unclaimed Property" that has been turned over to state treasuries for one reason or another:
Apparently this can include everything from undeposited paychecks and other uncashed checks, to refunds from businesses, to unspent gift card balances, to stocks and securities, to safe deposit box keys, and more.
I didn't even know this was a thing, and most folks on our Happy Hour a couple of days ago hadn't heard of it either. And given that OMAAT readers tend to love both deals and treasure hunts, I figured it was worth passing along.
How much Unclaimed Property are we talking about?
There are billions and billions of dollars being held by various state treasuries. There are substantial deposits in some cases, but for most of us it's probably a much smaller chunk of change. Because it's such a broad range, I'd suggest looking for yourself and your business in any states you've worked or done business in, just in case.
Overall, I found ~$200 worth of random unclaimed amounts, my sister found a few hundred dollars for her family (including an old elementary school lunch account for my now 22-year old niece), Ben found ~$150 in utility deposits, and half of my husband's coworkers found at least $50.
So YMMV, but might as well take a look.
Some of the amounts are realistically not worth the time/hassle/postage to claim: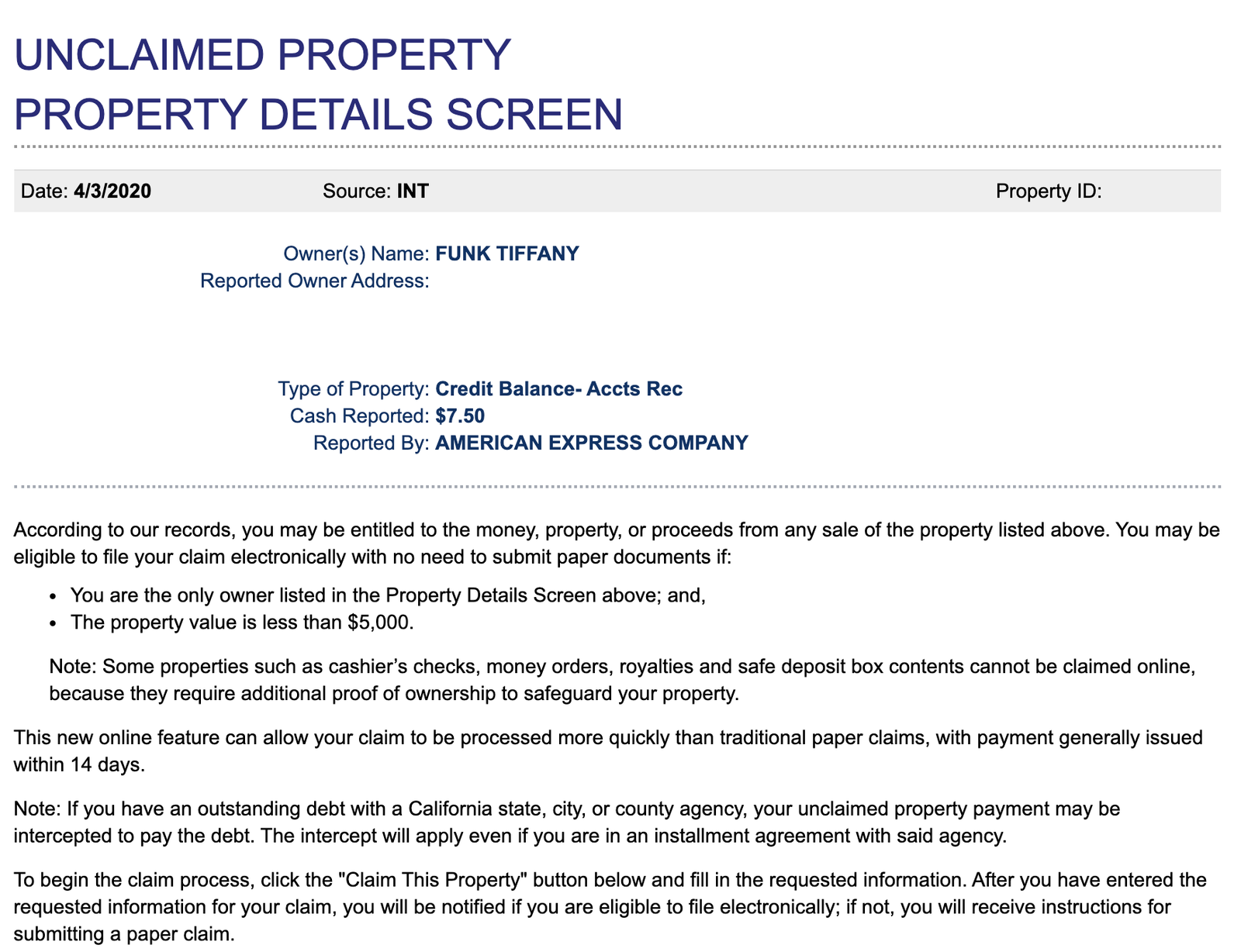 While others, like the utilities deposit from our first apartment together, probably are:

In skimming through, unclaimed utility deposits seem to be pretty common. I mentioned this to my mom (who used to work for a utility company) and her instant response was:
"Oh! So that's how that works! Our accounts payable person used to just forward all deposits to the State automatically, said it was less expensive."
So there's that.
Finding Unclaimed Property by State
There are many services that purport to handle this for you, but I can't speak to the value of them. You can search for free in every state, and based on my sampling (of the seven states I've lived or worked in as an adult), the sites themselves are pretty usable:
The processes for claiming the property seem to vary by state and type/amount of property, and some may require you to send in additional paperwork. Others may not be able to be finalized until we're out from under stay-at-home restrictions. But you can at least look.
Bottom line
Is this the most fun you can have on the Internet? No. Is it likely to be highly lucrative for most people? Also no.
But since at this point many of us have already organized our spice drawers, watched everything on tv, and need a short break from trying to figure out what is even going on with the small business recovery packages, it's a way to spend a few minutes that is at least somewhat interesting, and potentially profitable.
Besides, you might be able to end your version of this story with "and then I found $5." 😉
Please share what (if anything) you're able to recover in the comments!