I've gotta be honest, I've intentionally been putting off staying at Aloft hotels. For those of you not familiar with Aloft, it's basically Starwood's budget W Hotels brand. As a matter of fact all the signage at the hotel reads "A Vision of W Hotels." Now, I don't like W Hotels, so I figured I sure as hell wouldn't like their "vision" either.
But I just spent the afternoon at the Aloft San Francisco Airport, and I loved it, even though I came in with a negative attitude expecting I wouldn't like it, which makes it all even more surprising.
The front desk associate was extremely friendly, thanked me for being a Platinum guest, and assigned me a courtyard view room (considered to be the "premium" room, since the property doesn't have suites). I instead asked for an airport view room, and got a room that quite possibly has the best airport view I've ever had.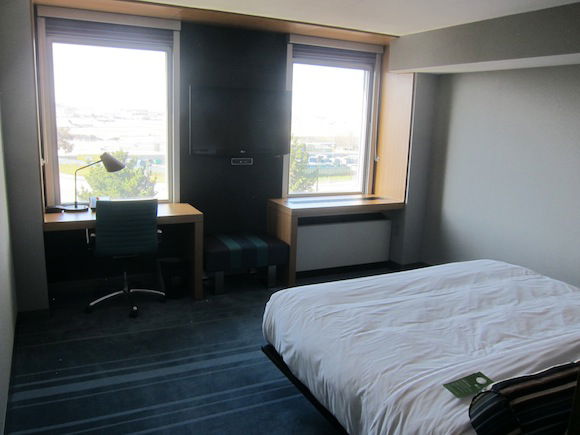 Room with a view
It's overlooking both sets of runways and the terminal, so I've seen everything depart from Lufthansa, to Emirates, to Japan Airlines.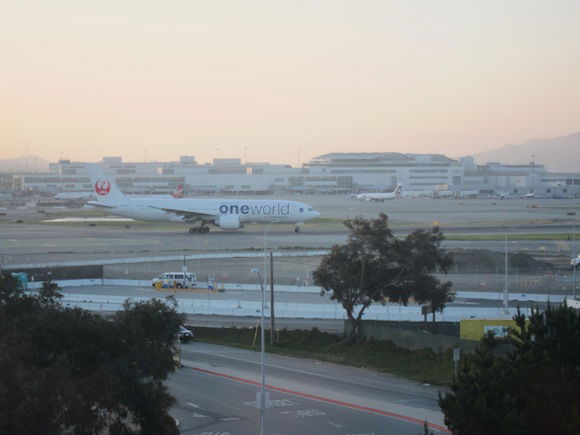 Airport view
Then I had a snack at the WXYZ Bar, which was so much less pretentious than the XYZ Bar at W Hotels. The waitress was so friendly that I left a $10 tip on an $11 bill. She was extremely attentive, always smiling, and even offered me a Diet Coke to take back to my room.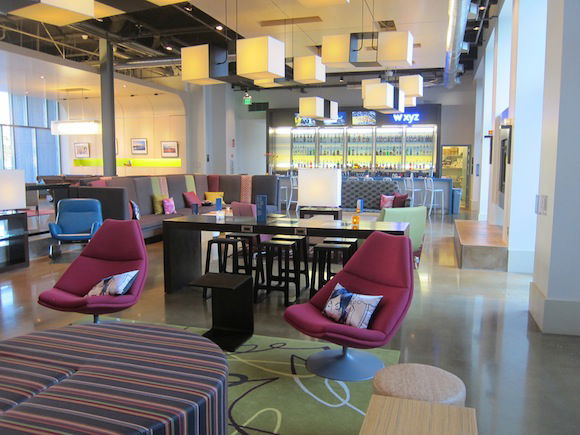 WXYZ Bar
I'm literally overjoyed by this hotel and I can't quite figure out why. As I put some thought into it, I've come to the conclusion that this hotel (and perhaps the brand as a whole) is just really good at managing expectations. There are no suites so there's nothing to get upgraded to. The front desk associate did everything she could to recognize my status, though, by thanking me for being a Platinum member, giving me a coupon for a hot beverage, and proactively offering me my Platinum amenity, all in an extremely friendly way.
The room is very simple, though smells fresh and is in immaculate shape. Admittedly this is a new hotel, but still, I was impressed by the simplicity, and I found everything to be extremely easy to use and designed with the frequent traveler in mind.
And then the service in WXYZ Bar was amazing. They don't serve any "real" food but rather just drinks and appetizers. I found what I ordered to be extremely good, better than what I'd expect from something that probably came out of a microwave.
Anyway, I'll be switching from going out of my way to avoid Aloft properties, to going out of my way to stay at them. Kudos to Starwood on the brand.
By the way, as I mentioned above I didn't actually stay at the hotel overnight, but rather just spent the afternoon here. I had a midnight flight out of San Francisco Airport and could only get availability from Seattle on a flight that got me into San Francisco at around 4PM, so faced with an eight hour layover I had two options:
Option 1) Eat the equivalent of 23 servings of snack mix in an airline lounge
Option 2) Go to a hotel and work from bed in my pajamas
And I actually think the numbers work out fine as well. I value an elite night credit at around $60, because at the end of the year I'd probably otherwise have to mattress run. This stay cost me $100, so at that price I'm more than happy to pick up an elite night credit and essentially pay $40 for a comfortable place to relax for the afternoon and evening.
Anyone else love Alofts?