It was wonderful to meet so many of you in person in London last week at our reader drinks. We had a good turn-out, and a great mix of people with all sorts of different interests, experiences and expertise in award travel.
I asked everyone I met if they had any topics they would like to see me write about, and will be featuring some of these over the next few weeks. The first is one is from Cobi, and I didn't actually believe it until I researched it myself.
Turkish Airlines Miles & Smiles
Whenever I hear 'Miles & Smiles' I automatically think of Lufthansa Group's loyalty program, Miles & More. While Turkish Airlines is a Star Alliance partner of Lufthansa, Miles & Smiles is a completely separate program for Turkish Airlines and their customers.
Turkish Airlines hasn't received a lot of coverage in the frequent flyer world, mainly because of how difficult it has historically been to earn miles in their program without flying (a lot). However Turkish is a transfer partner of CitiThankYou since last year, meaning you can transfer points from cards like the Citi Premier℠ Card at a rate of 1:1, which may make the program a lot more attractive to readers in the US.
Turkish uses a region based award chart, which is not at all unusual. You can book one-way awards of up to four segments, or round-trip awards of up to eight.
One of the weirder/frustrating award rules is that you cannot mix carriers on inbound or outbound legs. However, given you can book one-ways, you could book one-way on Asiana and one-way on ANA, for example.
On a round-trip redemption you can choose any one of the following:
an open jaw
a stopover in Istanbul if flying Turkish Airlines
a stopover anywhere if flying a Star Alliance carrier where the award costs at least 60k/90k/135k miles return for economy/business/first, respectively
Unfortunately mixed-cabin awards are not allowed. Miles & Smiles does impose fuel surcharges.
What is unusual is both how low some of the redemption levels are, and how they have zoned some airports.
Here is the Miles & Smiles award chart in round-trip amounts (larger PDF version here):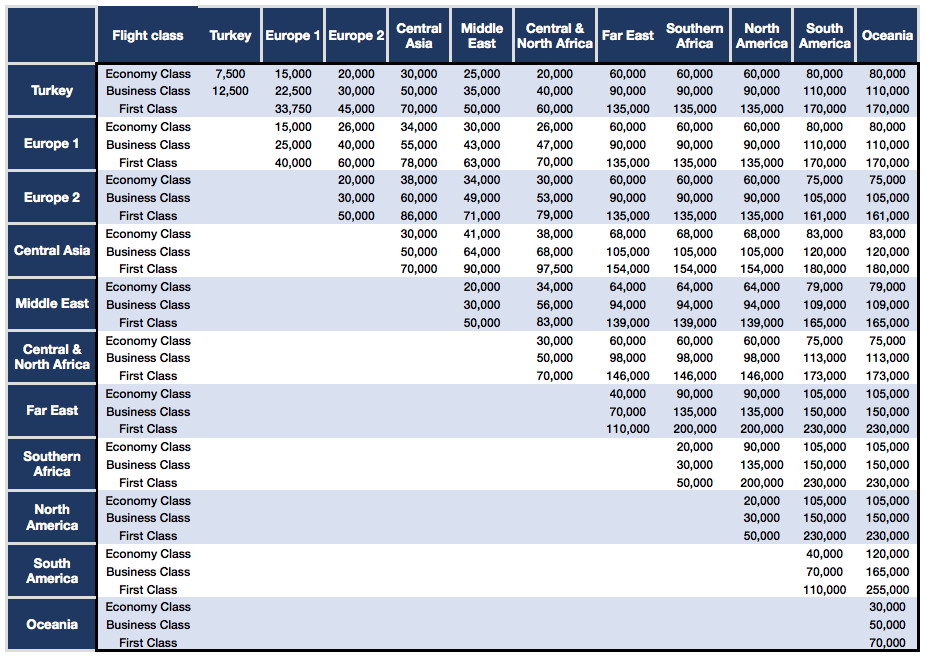 And now to some sweet spots!
Hawaii to Australia/New Zealand
I've told you before about how the US Airways Dividend Miles award chart zoned Guam in 'South West Pacific,' which led to me visiting Guam three times in eighteen months for no apparent reason.
Miles & Smiles doesn't just zone Guam and the surrounding Pacific islands as Oceania — it also lists Hawaii in Oceania.
Miles & Smiles charge just 25,000 miles each way in business class between Hawaii and Australia, for example. Air New Zealand via Auckland is the most logical routing. You could even open-jaw on a round-trip ticket, flying into Sydney and out of Auckland. While you can back-track, you cannot connect twice through the same city on the same itinerary.
You are technically not allowed to transit a more expensive third region (just like AAdvantage), which would rule out taking an Asian carrier that flies to Hawaii, like ANA or Asiana via Asia, but I don't know how strictly this is enforced.
Given business class availability on Air New Zealand can be difficult to get, you could consider an economy redemption for half the required miles — just 15,000 miles each way — and availability should be easier to come by.
That means something like Perth to Tahiti return would be only 30,000 miles on Air New Zealand, versus $1,200+ for these same flights.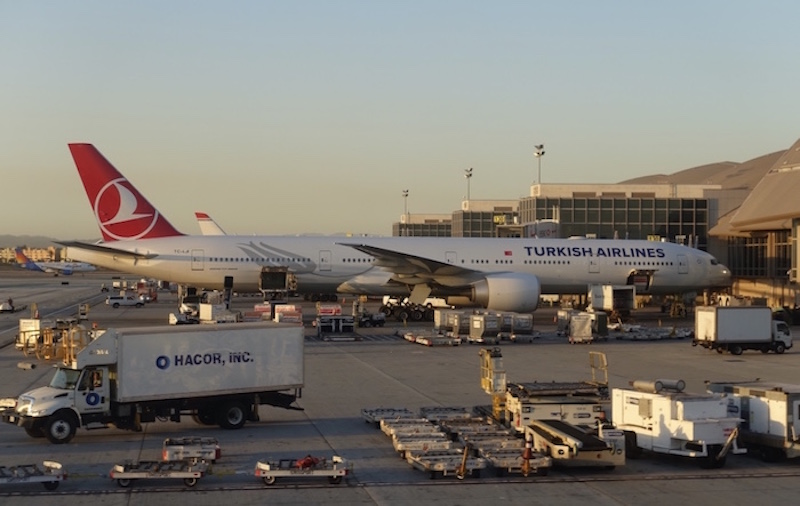 Europe to Oceania
At just 52,500 to 55,000 miles each way in business class this has to be one of, if not the cheapest premium redemptions between Europe and Australia/New Zealand.
Turkish splits Europe into two groups in their award chart:
Europe 1 (55,000 each way): Albania, Armenia, Bosnia and Herzegovina, Bulgaria, Croatia, Cyprus, Georgia, Greece, Hungary, Kosovo, Macedonia, Moldova, Montenegro, Romania, Serbia, Slovenia, Ukraine

Europe 2 (52,500 each way): Austria, Azerbaijan, Belarus, Belgium, Czech Republic, Denmark, Estonia, Finland, France, Germany, Iceland, Ireland, Italy, Latvia, Lithuania, Luxembourg, Malta, Netherlands, Norway, Poland, Portugal, Russia, Slovakia, Spain, Sweden, Switzerland, United Kingdom
While at first glance it seems like Europe 1 is Eastern and Southern Europe and Europe 2 is Western and Northern Europe, there are some odd choices. Azerbaijan is geographically further east than Turkey, while Slovenia is further west than Poland.
There are loads of Asian Star Alliance airlines flying between these two continents, and availability on Thai Airways especially is excellent.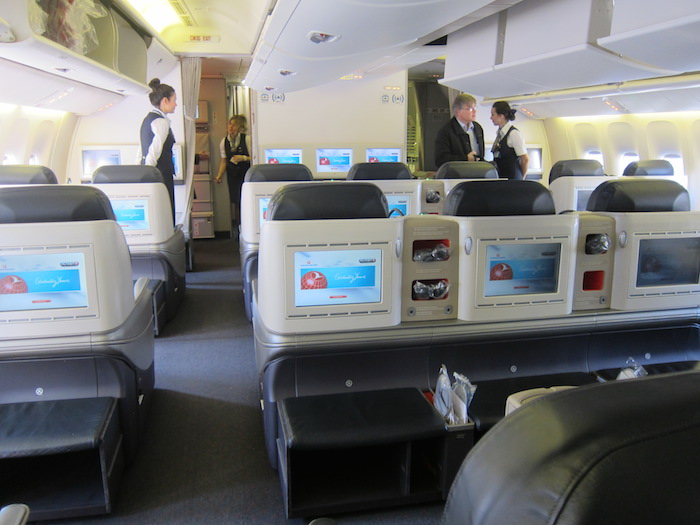 North America to Europe
While not quite as astonishing as the Oceania examples, compared with the usual Star Alliance suspects like Aeroplan and LifeMiles charging 55,000 to 63,000 each way in business class, Miles & Smiles only charges 45,000 miles each way to both Europe regions, as well as to Turkey.
According to their rules, backtracking is allowed provided you don't go through a more expensive region, and you can book two one-ways, so something like Swiss from Los Angeles to Paris (via Zurich), and back on SAS from Brussels to San Francisco (via Copenhagen) should be allowed.
The catch
Miles & Smiles does impose fuel surcharges, which is not unusual. What is unusual is the booking process, which is complicated. Fortunately, for redemptions on Turkish Airlines metal only, you can book awards online and Turkish Airlines really is one of the best airlines in Europe.
For those awards involving a Star Alliance partner, unfortunately, while you can call to put the award on hold, tickets need to be issued in person at a Turkish Airlines sales office. Their U.S. sales offices are in the following cities:
Miami
Atlanta
Seattle
Chicago
Boston
Houston
Los Angeles
New York
Washington DC
In the UK they have sales offices in:
London
Birmingham
Manchester
Edinburgh
Amazingly, even though they don't fly to Australia, Turkish also has a sales office in Sydney. They have apparently been considering flights to Sydney for years, although with their current fleet it would require a stop in Asia somewhere along the way (unless they flew to Perth), and I don't think they've quite decided which Asian flight to extend onto Sydney (my guess would be Jakarta or Bangkok).
There are some reports on FlyerTalk that the Toronto sales office is willing to ticket by email.
If anyone has or is planning to ticket an award booking at one of these sales offices I would LOVE to know how you get on. I would expect the sales staff to be quite confused at the process as I can't imagine they do it very often!
Bottom line
If you want a Star Alliance program with instant ticketing and online redemptions, then stick with Aeroplan, LifeMiles and so forth.
But if you like a bit of a challenge and the idea of potentially getting a very cheap redemption, then certainly consider the Turkish Airlines Miles & Smiles program. I can't confess to know just how severe the fuel surcharges will be, because there is very little data on experiences, but you should be able to get a sense from ITA Matrix.
While the 'in person' ticketing requirement, fuel surcharges, and no mixed cabins are all negatives, I think this is fairly equally balanced out by the lack of Maximum Permitted Mileage restrictions, and the options for one-ways and stopover/open jaws.
And that is before you even get into the low rates in the award chart.
If you live in a city with a Turkish Airlines office, you could at least pop in to see what they can and can't do, before deciding to transfer any miles into their program.
I wouldn't recommend transferring the miles until you're sure you can book what you want to.
Have you ever used Miles & Smiles for a redemption?