A few days ago I wrote about why I decided to abandon Tumi, and instead made the switch to Briggs & Riley. I felt good about my decision, and the email I received yesterday further reinforces that decision.
My Tumi store experience
Last weekend I went to a Tumi store in Miami for two reasons:
To get my current bag fixed (and then give it to my dad)
To find a new bag
Unfortunately Tumi's selection just didn't impress me, and I didn't end up buying a bag.
But what I found equally strange was the process of trying to get my bag fixed. My bag had several missing zipper pulls, as well as a very squeaky wheel. So when I explained this to the person in the store they said they could fix the zipper pulls in store, but they'd have to send it in for me if I wanted the wheel fixed.
Since I am done with the bag anyway, I figured I might as well have the wheel fixed as well. They asked me to write down my name and mailing address.
The store employee charged me a $26 "processing fee" to get started, and then explained I'd receive repair updates by email.
"So I'm all set? That's it?"
"Yes."
"And I don't have to pay anything for the repairs? These repairs are within warranty?"
"You just pay the processing fee."
"And they know what needs to be fixed?"
"Yes, you will get updates by email."
Works for me!
The email I received from Tumi
Yesterday I received an email from Tumi informing me that my repair "has been determined to be non-warranty," and they provided me a cost estimation for getting it fixed.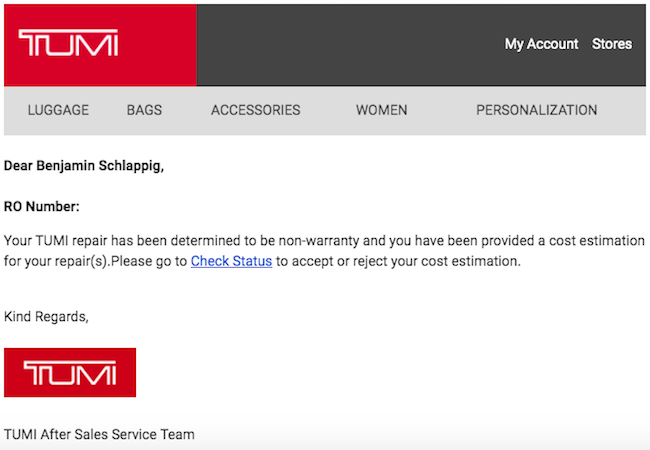 They want $152 to fix my bag, plus a further $25 to ship it back for me, for a total of $177. That doesn't include the $26 "processing fee" I paid to send it to them, meaning they want over $200 to fix it.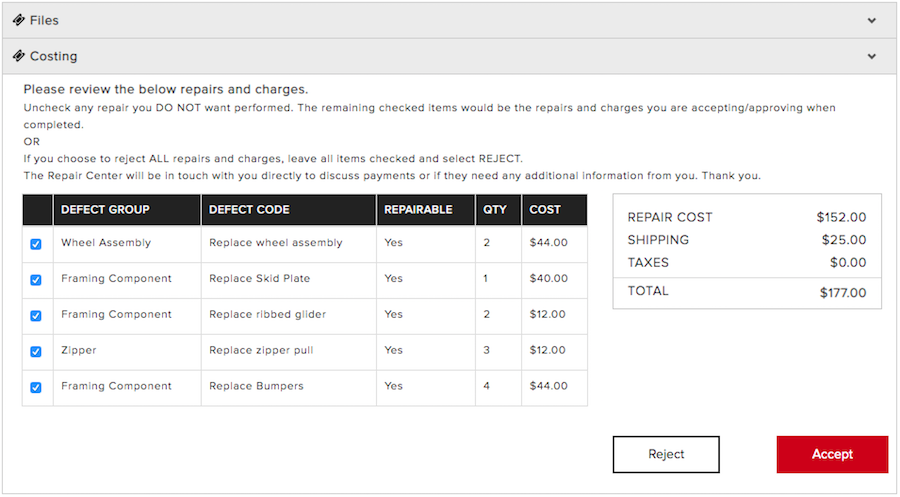 The way they handled this is frustrating, to put it mildly. I specifically asked the Tumi store employee if it would cost anything, and she explained it was covered. I figured the processing fee was all I had to pay.
The fact that they're even trying to charge me for replacing the zipper pulls, which they said they could do in the store for free, is probably most annoying.
There's an option to "reject" the quote, so I selected that, and was prompted to enter a reason.

Here's what I wrote:
In the store I asked how much this would cost, and was told I just had to pay the processing fee and that was it. So to find out I'm supposed to pay $177 plus the $26 processing fee is ridiculous. That's fine, though — I'm done with Tumi, and just bought a Briggs & Riley, as they have a much better warranty. Please just go ahead and donate this bag to charity. I don't need it anymore, and certainly don't want to pay $50+ to have it shipped roundtrip for no reason.
But wait… there's more!
Think that will make them respond better? Here's the follow-up email I received from Tumi, clearly showing they didn't even bother to read what I wrote:
Tumi would like to take this opportunity to thank you for being a loyal Tumi customer by extending to you an accommodation offer of $300.00 towards the purchase of any Tumi product of your choice. Also, by accepting this offer you are giving us permission to discard your item we currently have at our facility.

You may view our current products on our website at www.tumi.com, or in person at your local Tumi store. Once you have selected a product, simply call us with the style number and we will process the order. We accept Visa, Master Card, and American Express. Please keep in mind that the purchase must be made through our Consumer Affairs Department. This correspondence will not serve as an in-store or online credit.
Was my bag actually within the Tumi warranty?
While Briggs & Riley has a fantastic lifetime warranty, Tumi's warranty isn't nearly as good. With Tumi's warranty, your first year of ownership is "worry free." They describe this as follows:
With limited exceptions, if your TUMI product is damaged during the first twelve (12) months you own it– including damage caused by normal wear and tear, airline handling, or other transit damage–TUMI will cover all repair expenses, including shipping costs to and from our repair facility.
For years two through five, they offer the following on bags:
From the second through the fifth year you own your TUMI travel item, business case or other bag, and for the second year for wallets or accessories, TUMI will repair any item that is damaged due to normal wear and tear, or defective in materials or workmanship, including any structural defects (such as defective handles, zippers, or locks).
So, when did I get my bag? I'm not actually sure, and I'm trying to figure that out. I feel like I've only had it for 2-3 years, but in looking through my email inbox I can't figure out when I actually bought it.
I know I bought a Tumi in late 2013, though I feel like that was two bags ago. I could be mistaken, though.
If that was in fact the case, then it's fair enough they're denying me the warranty. What annoys me is that I was given misinformation in the store, and would have never sent it in. Furthermore, if they told me they were going to replace the zipper pulls for free in the store, they shouldn't now be charging for it when I send it in.
Bottom line
As you can see, I have two issues here — the misinformation I (apparently) got at the store, and the fact that Tumi's warranty just isn't good. In the store they assured me this wouldn't cost anything, but obviously that wasn't the case.
On top of that, Briggs & Riley has a true lifetime warranty. They wouldn't have charged me a penny for this repair, and I would have only been on the hook for shipping to them (they pay for return shipping).
No thanks…
If you are or have been a Tumi customer, what has your experience been with their customer service?