A couple of days ago I explained why I'm finally dumping Tumi, after being a customer for years. Simply put, they no longer offer bags that meet my needs, so there's no reason to pay top dollar for mediocre luggage.
I desperately needed new luggage, though I decided I was done with Tumi before deciding on a replacement. I was with Tiffany and Ford in South Beach, and after walking out of the Tumi store we looked for other luggage stores nearby.
Tiffany found one nearby, though when we walked in I first thought to myself that I was in Times Square, and wondered if this was all knock-off stuff and if a grown man in an Elmo costume was about to pop out from somewhere.
Despite the store's initial appearance, the manager of the shop was super helpful, and within 15 minutes I bought both a carry-on and a backpack that I'm thrilled with.
My Briggs and Riley 21″ carry-on
When I asked you guys for luggage advice, there were two brands that readers recommended more than any others — Rimowa and Briggs & Riley. While Rimowa is great, it doesn't meet my needs, since I like two wheel luggage.
The first bag I looked at was the Briggs & Riley 21″ carry-on. In the past I was hesitant about Briggs & Riley for two reasons:
Their "signature" color seems to be olive, which I personally find hideous for luggage
I don't like that their handle bar "sticks out" on the back, rather than being integrated into the interior of the suitcase, since it seems to me like that doesn't maximize carry-on capacity
Well, I managed to overcome both of those concerns, and ended up buying this bag and loving it.
First of all, I managed to get the bag in black. I think the bag looks nice — it's not the most stylish bag out there, but I don't think it's any less stylish than a Tumi.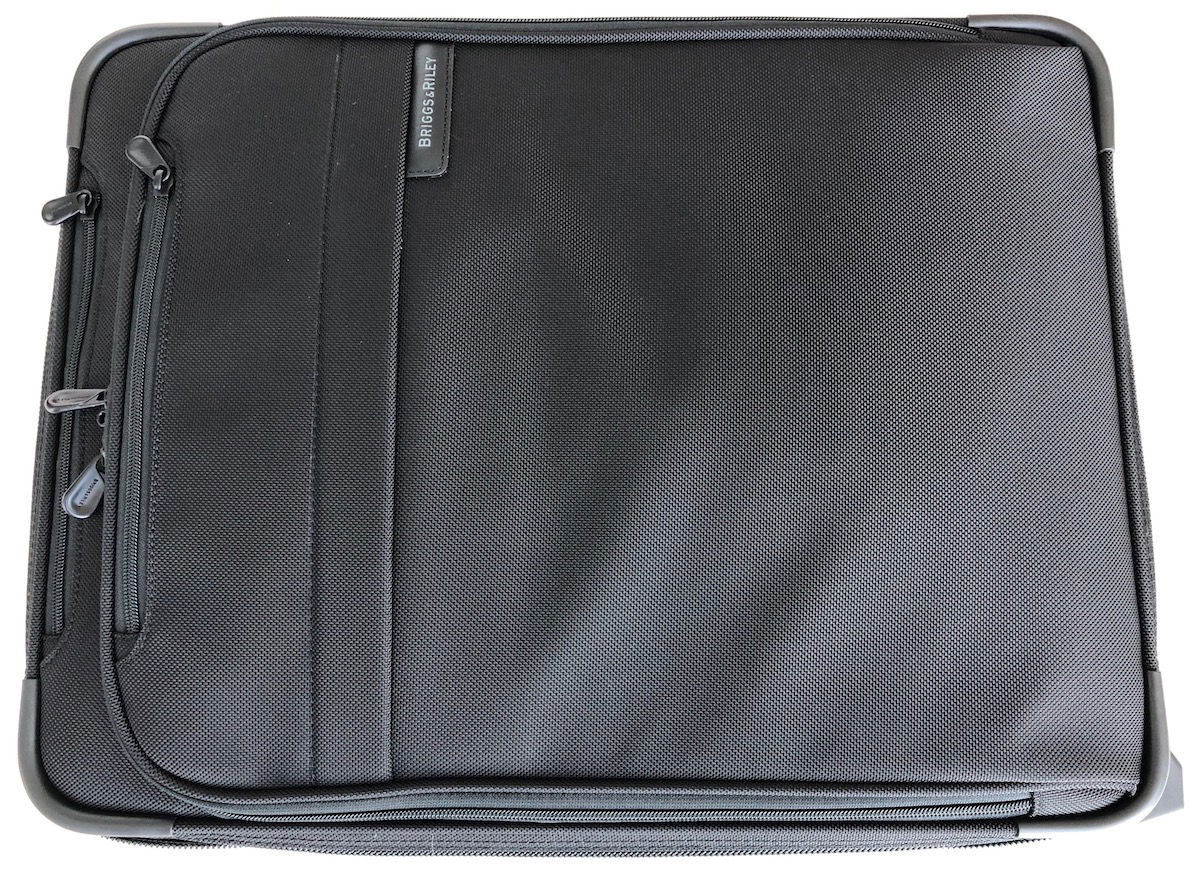 The main reason I didn't like the handlebars not being integrated into the interior of the bag is because I figured it didn't maximize carry-on capacity, but as it turns out there's another trick that Briggs & Riley has to help you maximize your space.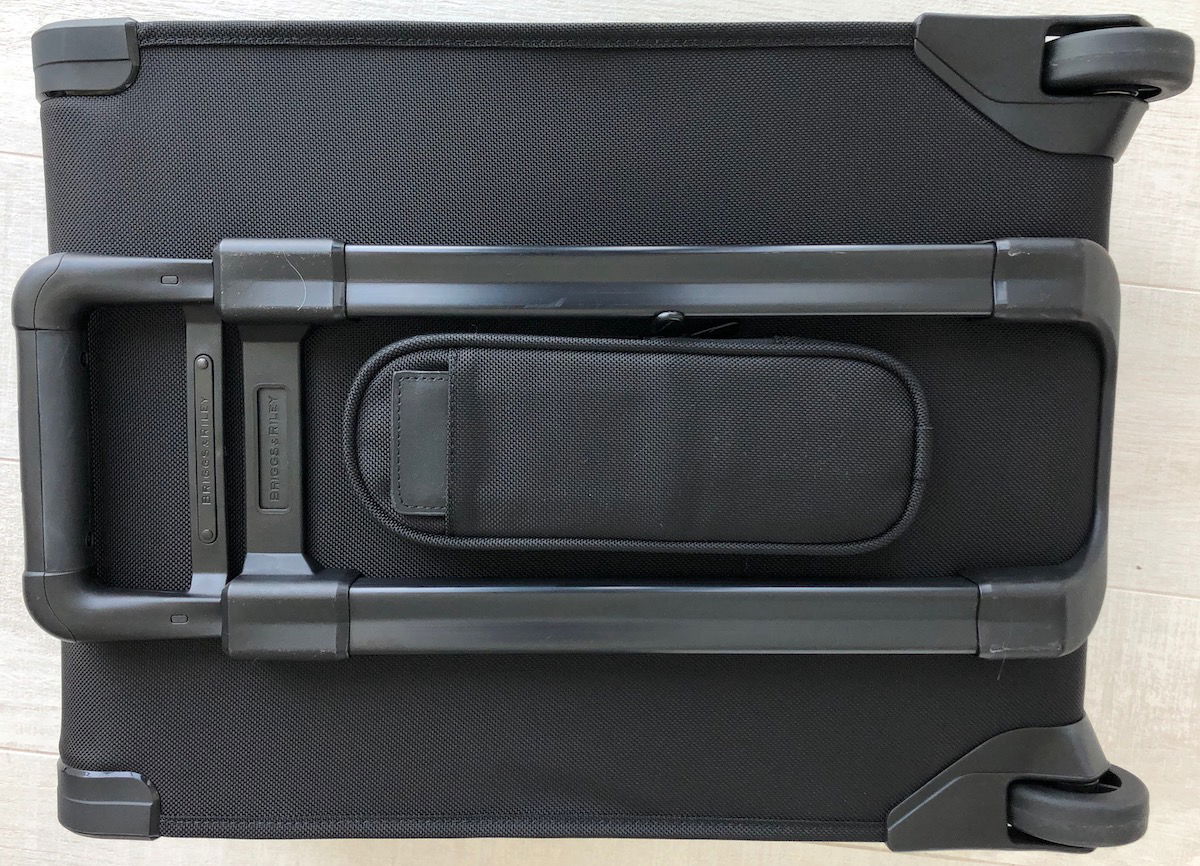 The interior of the bag is spacious, and has some "nets" so that you can pack in separate areas. Some of these can also be removed.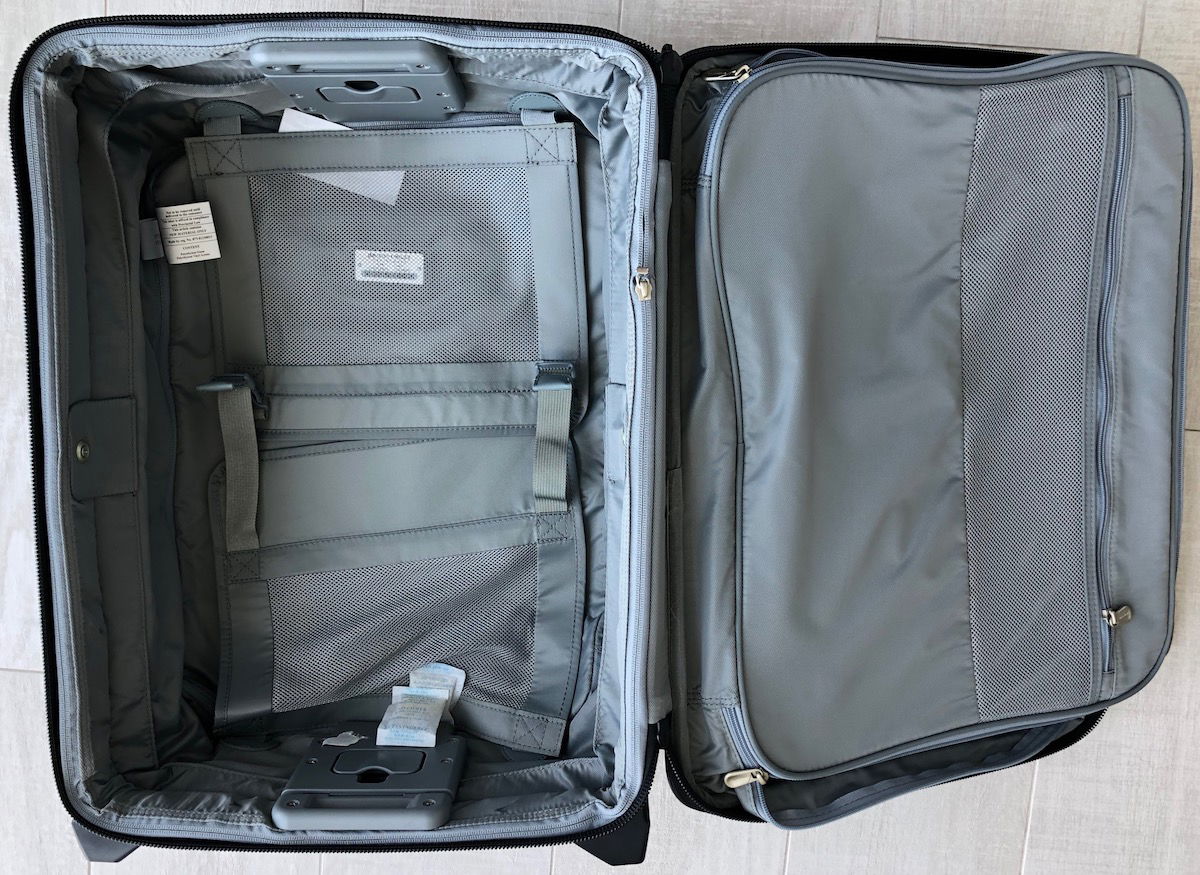 What makes Briggs & Riley unique is their compression-expansion technology. I wasn't aware this was a thing and at first was skeptical, but am happy to see that it works.
On the top and bottom of the bag are things that can be released to "expand" the bag. So it goes from looking like this: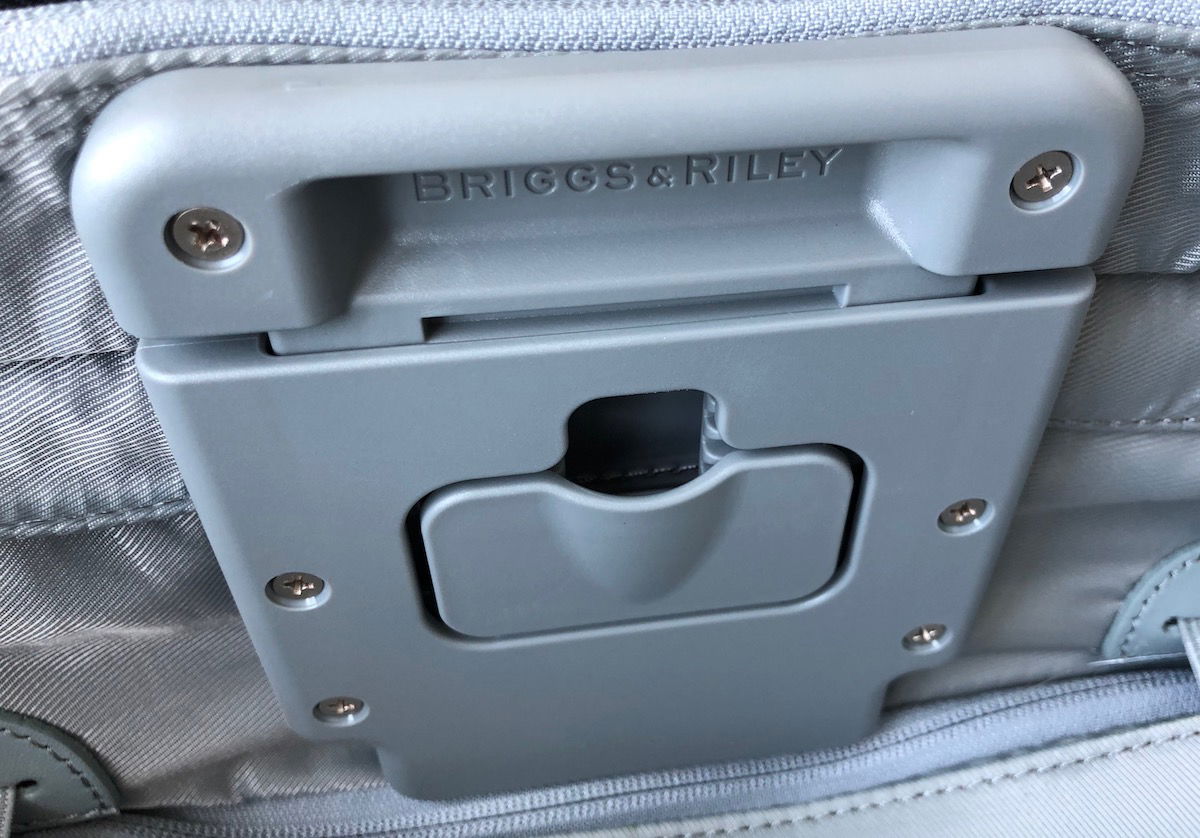 To looking like this: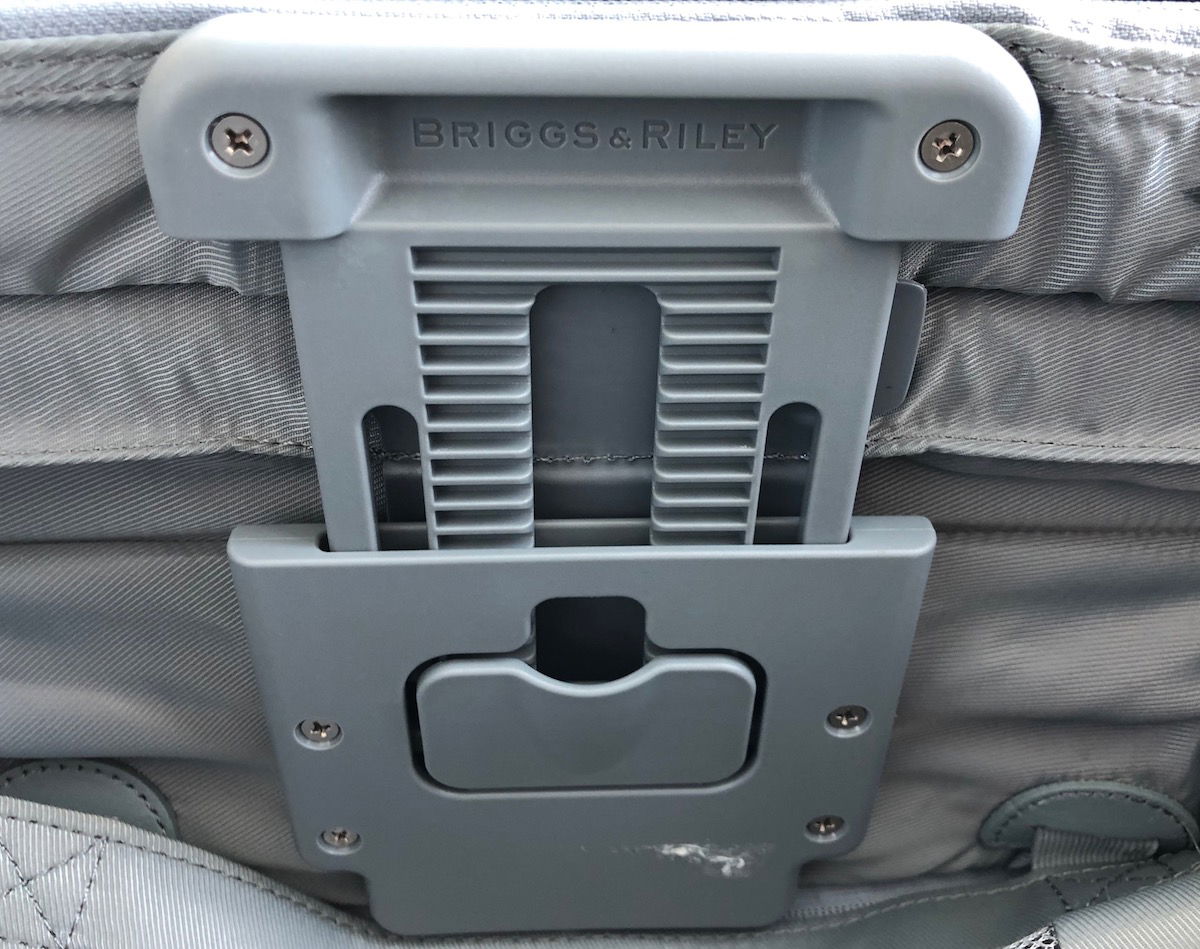 So you can pack the bag full to the expanded capacity, then you close it up, and then you just push down on the bag, and those things on the side go back down. Much to my surprise it actually works, and I was able to pack a lot of stuff in the bag using this method.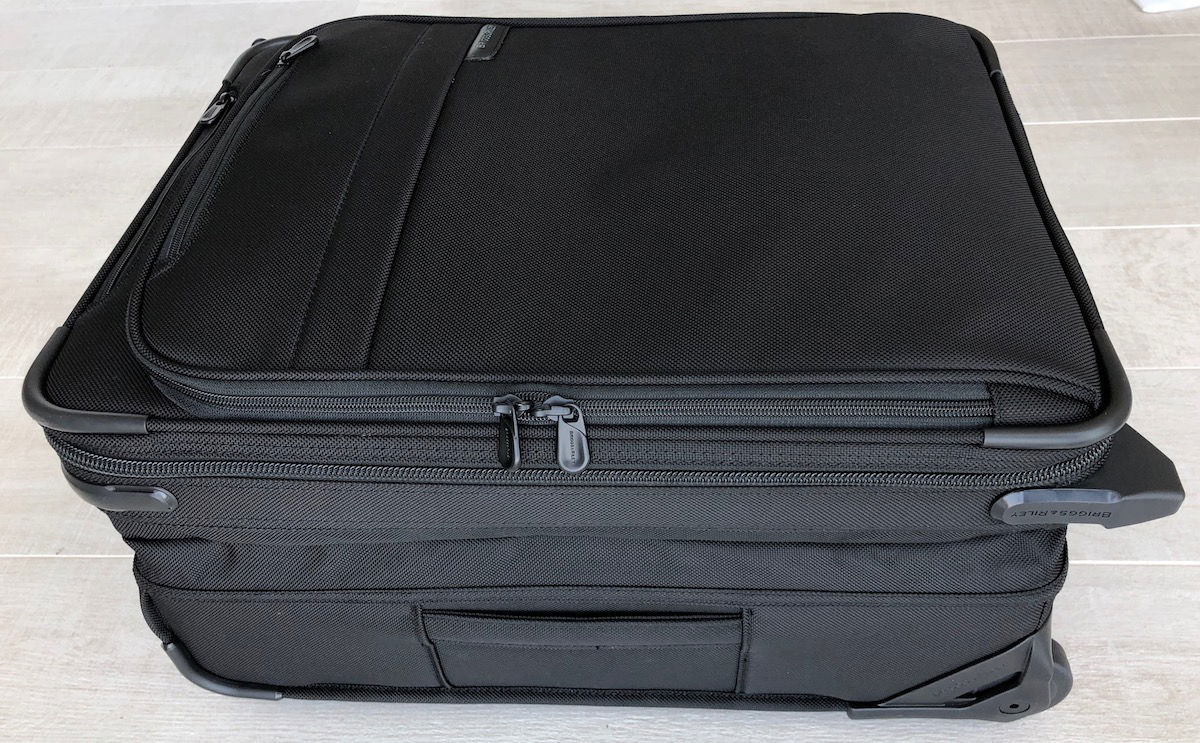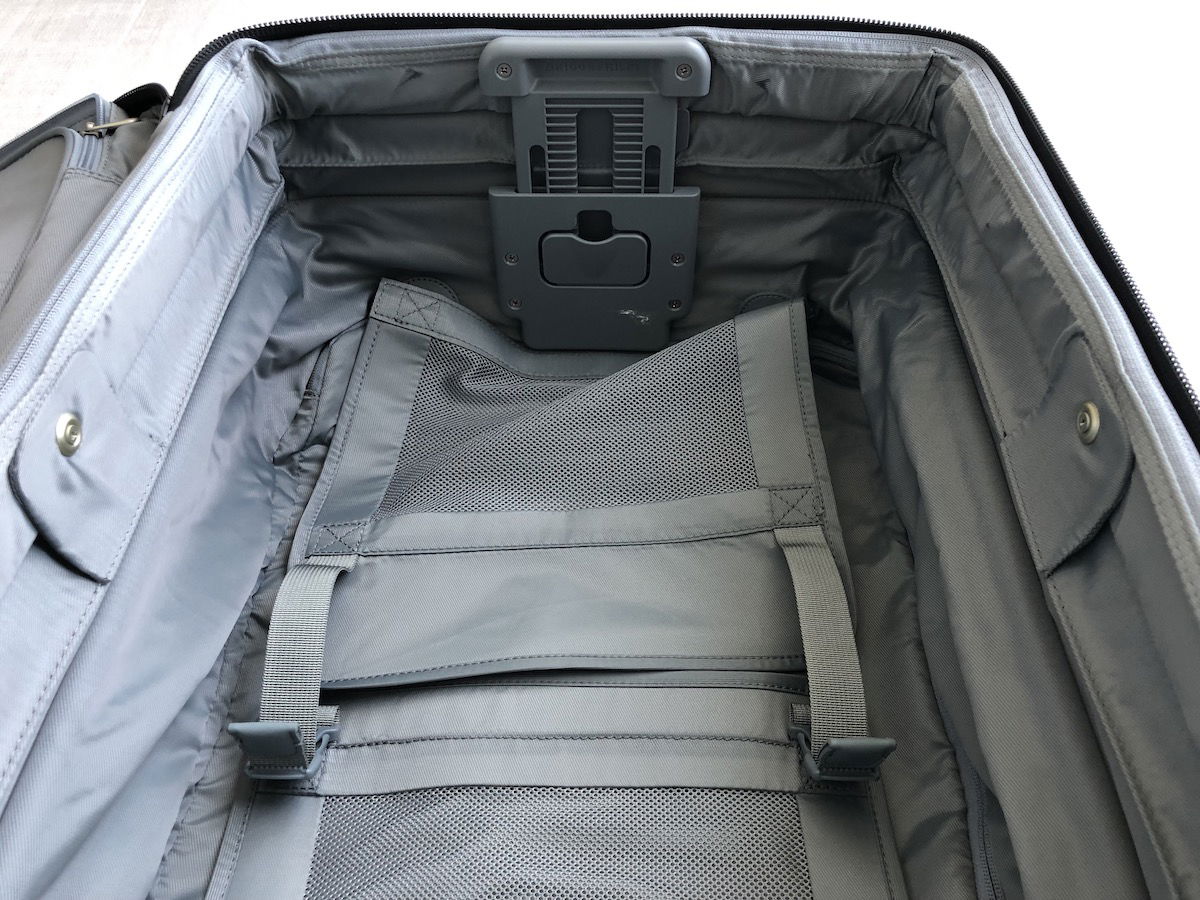 The bag also has a large front pocket.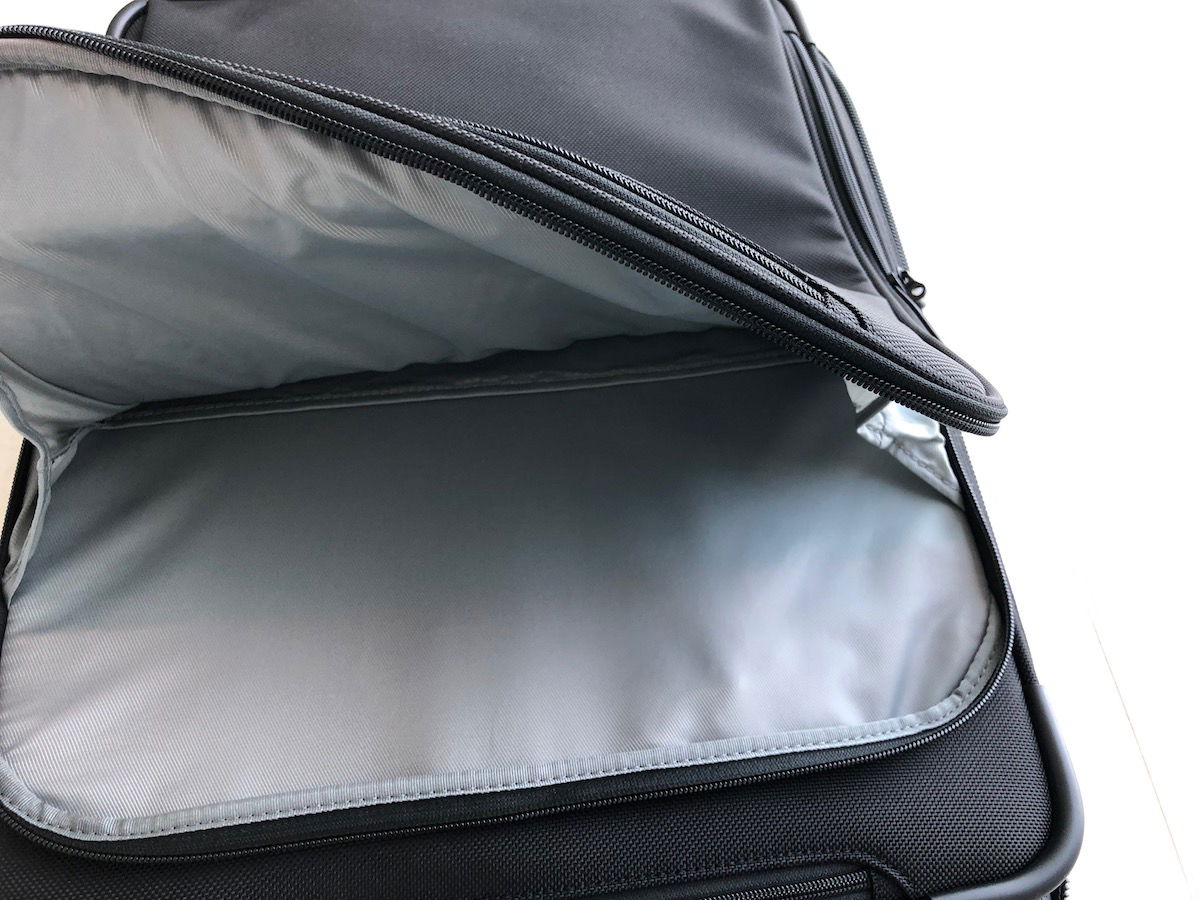 One of the key features that was important to me is that the bag has a clip included, so that you can strap something onto the bag.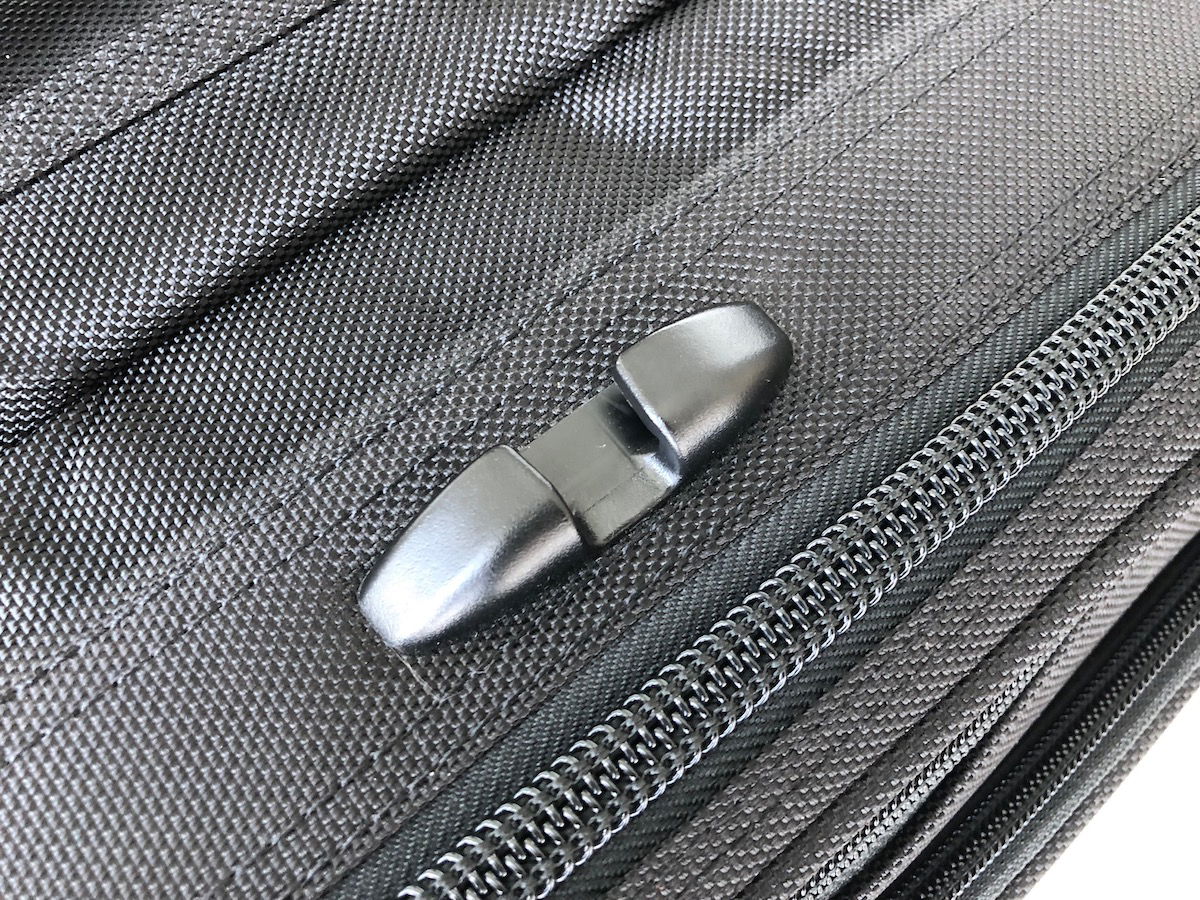 This is something I really value, and which Tumi has done away with. Below I'll show just how practical this can be.
My Briggs and Riley backpack
I was happy with my new carry-on and was just going to buy that, but then we decided to look at backpacks as well, given that we were on a streak. I can't say that I found any of the Briggs & Riley backpacks to be that cool-looking, though I did play around with one, and found it to be incredibly well designed.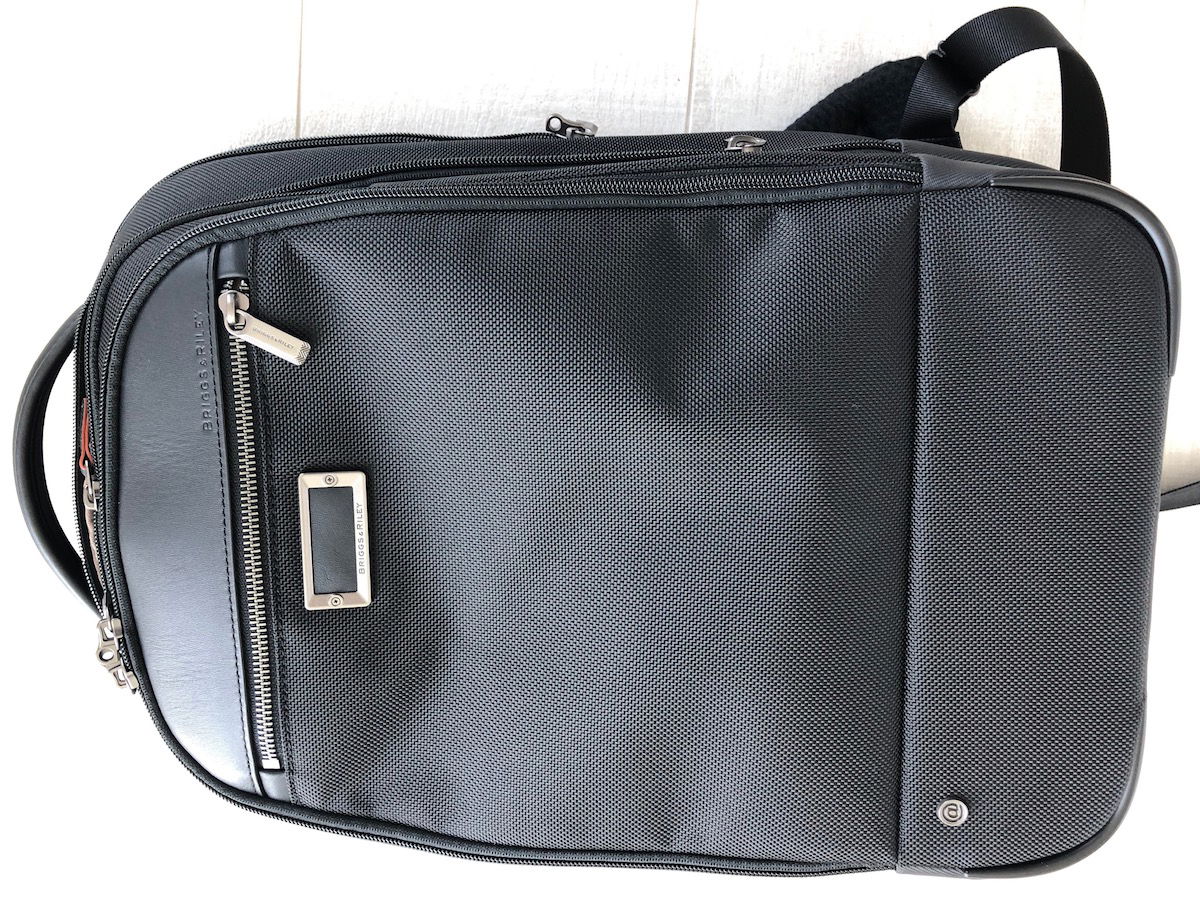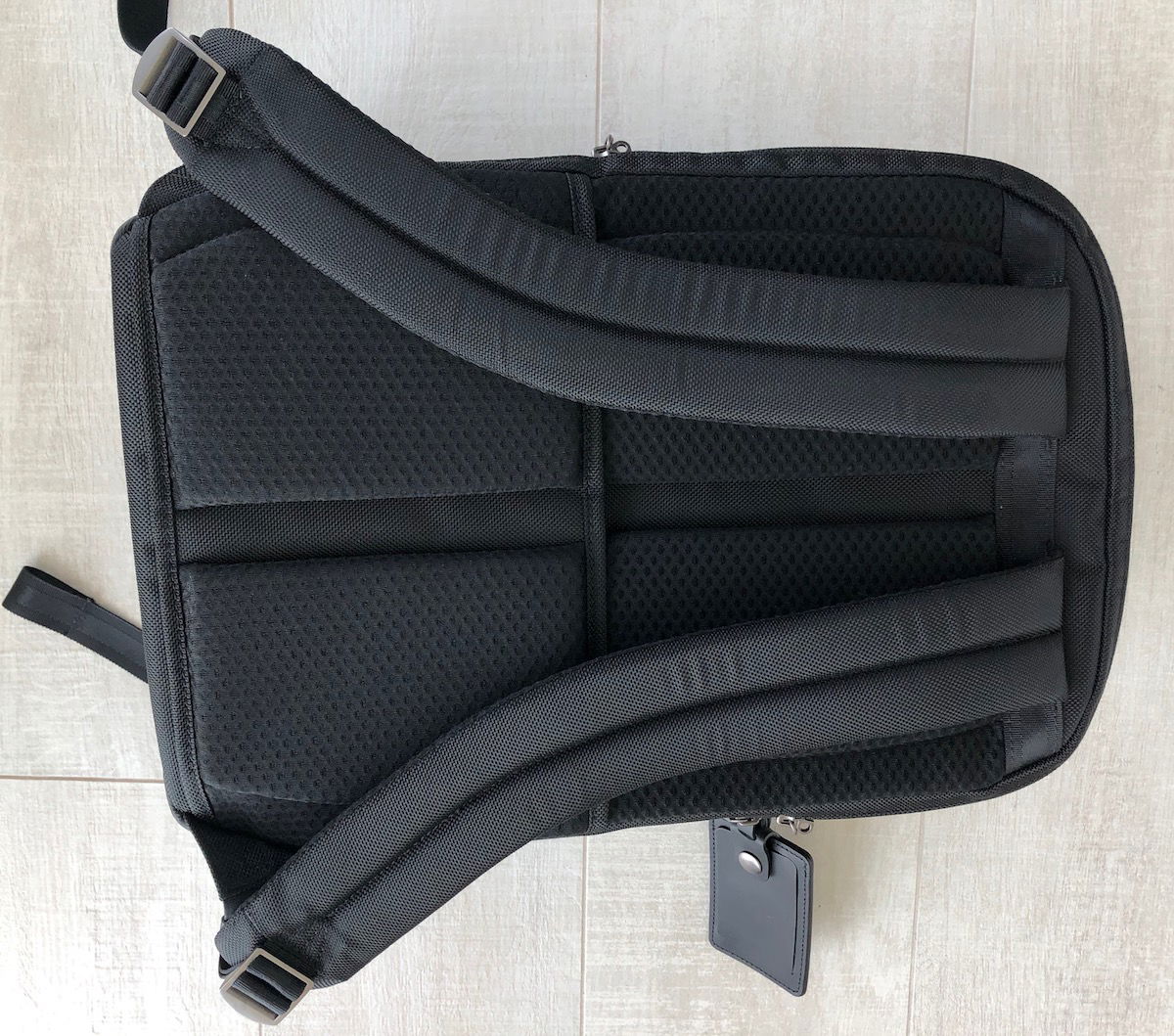 My issue with many bags and backpacks is that I feel like they're designed by people who are focused on fashion but not on practical design. I felt like this backpack was perfectly designed for someone who travels like me.
The storage space in this bag is spectacular. There are four different compartments, including one with two laptop sleeves, as well as three more compartments that can fit virtually anything you could want to put in your bag.
Seriously, this bag is so incredibly well designed, and I felt like there was a pocket for everything.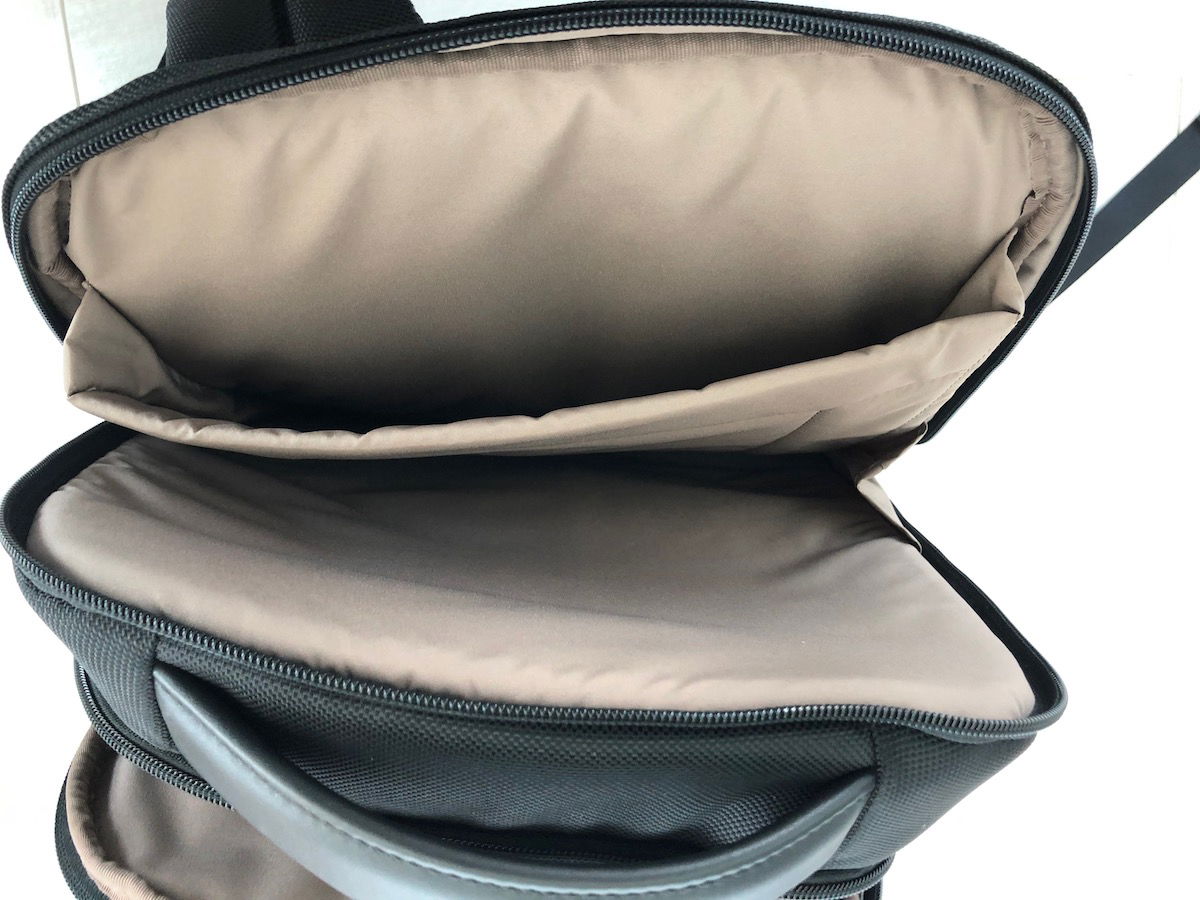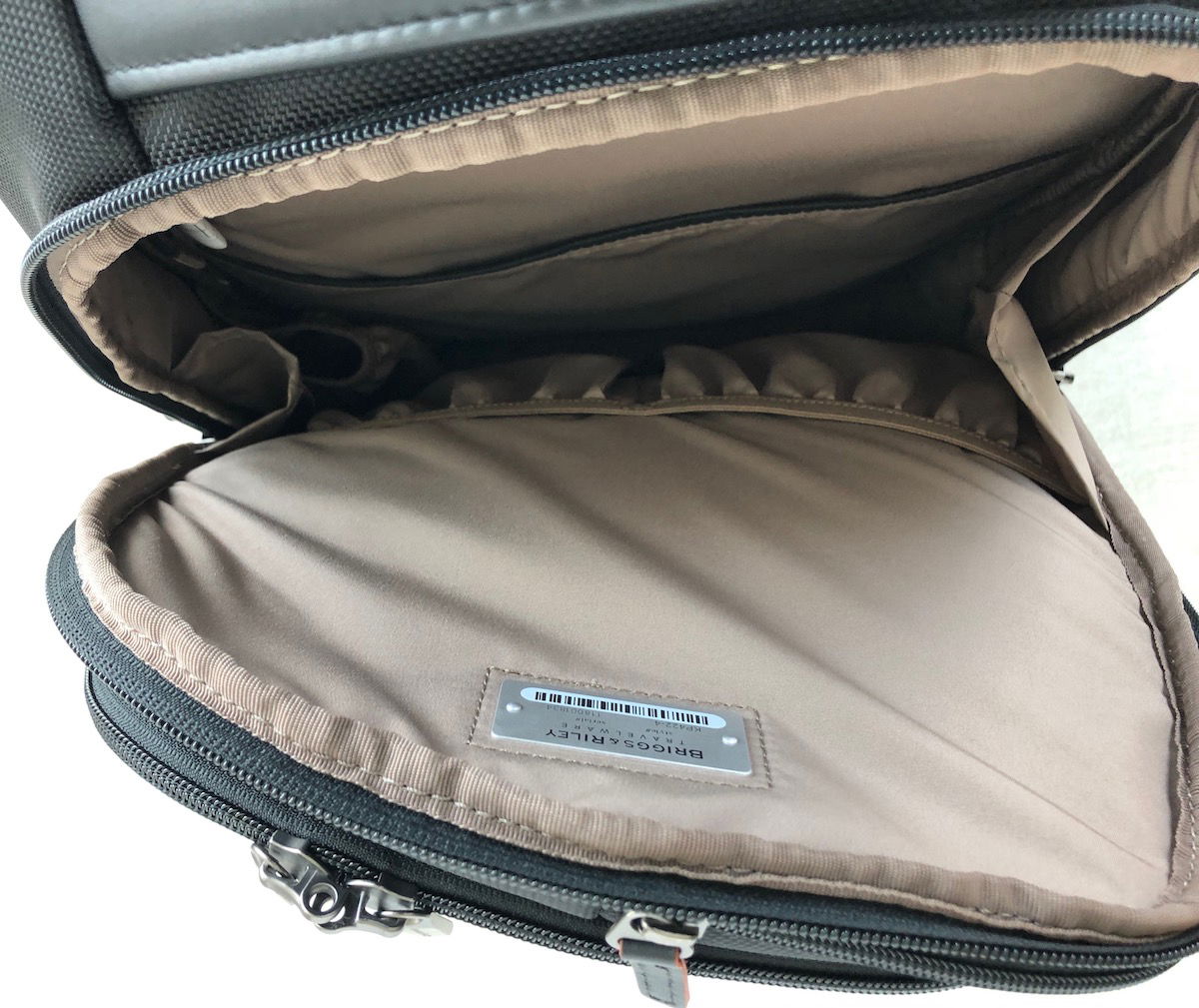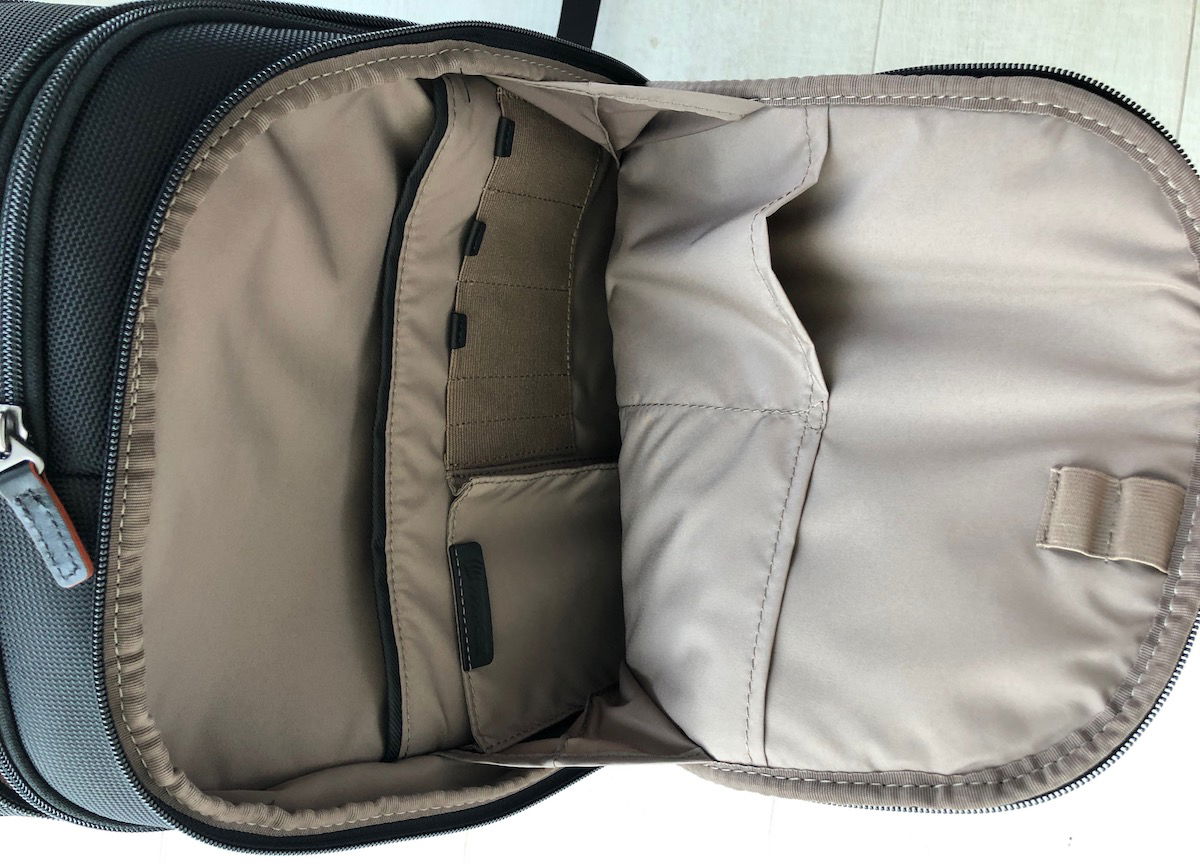 Even Winston was (initially) enthusiastic about the bag.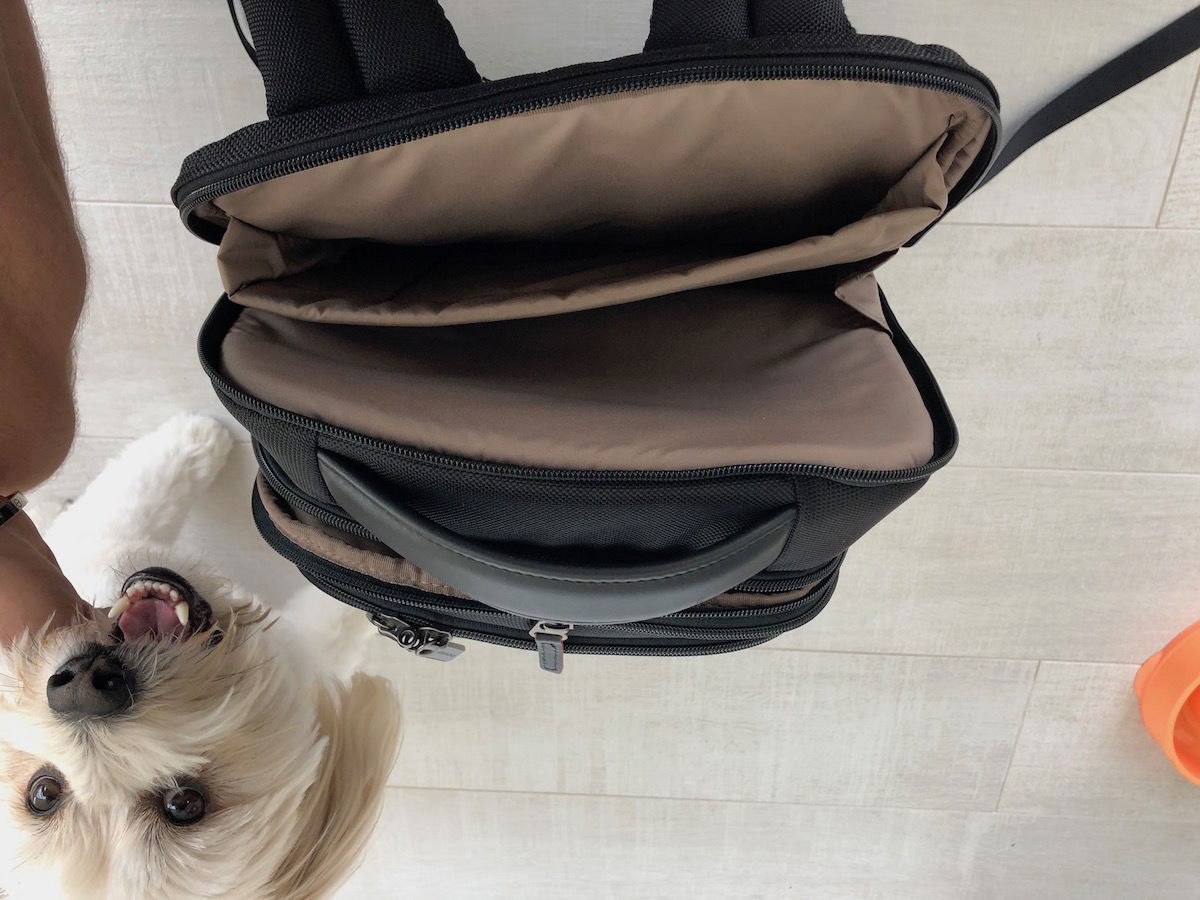 My "strapping" system
I know a lot of people are confused about why I prefer two wheeled bags so much. For me the goal is to minimize impact on my wrists, because I suffer from wrist pain, probably partly because I type all day.
I know people say that with four wheel bags there's no wrist pain, but I don't find that to be the case:
Often I have to roll the bag across carpet, and the friction means you have to push hard with a four wheeled bag
I always travel with a second bag, and it can be tough to figure out what to do with that
For example, one reader commented this:
You have no idea how body mechanics work, using a 2 wheeled bag means to load the weight onto your wrist. At least with the 4 wheeled bags, if you just pushed it in front of you slightly, the force will come from the shoulder.
So let me explain my system. I understand having a two wheeled bag as such doesn't minimize tension on my wrists. For me the key is to strap my second bag to the back of the carry-on, because this counteracts the weight. So it goes from feeling like I'm pulling a 30 pound bag to feeling like I'm pulling a bag that weighs almost nothing. The bag feels so light that I can pull it with one finger.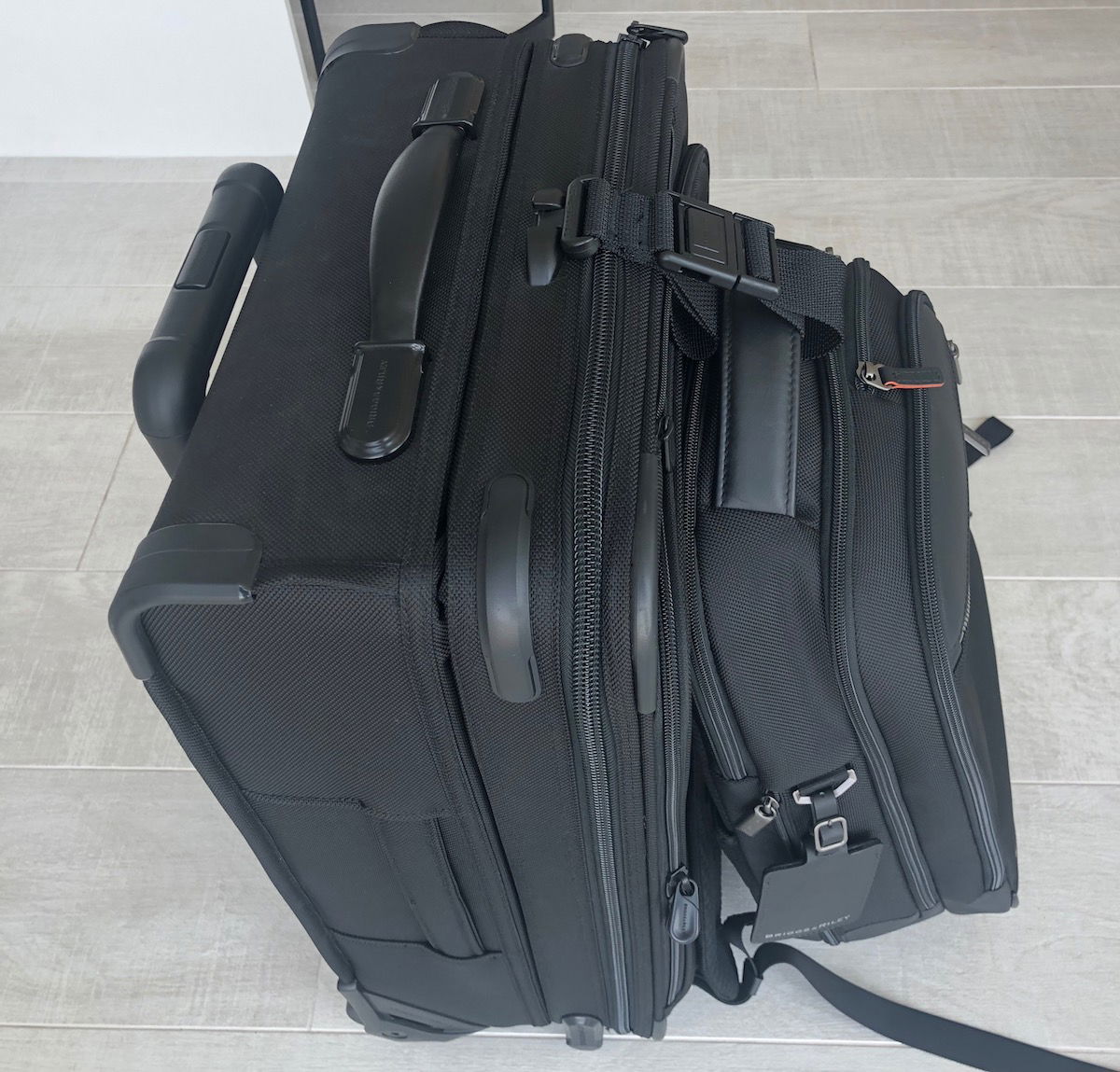 Briggs & Riley warranty
Over the years Tumi has watered down their warranty, which sure is a shame. Briggs & Riley, on the other hand, probably has the most impressive warranty policy of any luggage manufacturer.
Our simple as that guarantee covers the repair of all functional aspects of your Briggs & Riley bag for the life of your bag. Naturally, our warranty does not cover cosmetic wear or cleaning, nor does it cover damage of contents, or the replacement of lost or stolen bags and/or its contents. If your bag or its contents are damaged by an airline and you wish to hold them responsible, we suggest that you file a claim with the carrier before leaving the airport. If you choose not to do this and instead wish for us to repair your bag, we will be happy to do so at no charge.
So the Briggs & Riley warranty covers all functional aspects of the bag for life, and even covers airline damage. Now that's impressive.
Funny enough, as I'm writing this post I just received an infuriating message from Tumi, which I'll cover in a separate post, and which further reinforces to me just how bad their customer service is.
How much did I pay for my Briggs and Riley bags?
The Briggs & Riley 21″ carry-on retails for $569, while my Briggs & Riley backpack retails for $319. As luck would have it, both were on sale for 20% off in the store I was shopping at. So I paid $710 for both, which is about the same amount Tumi would have charged just for the carry-on.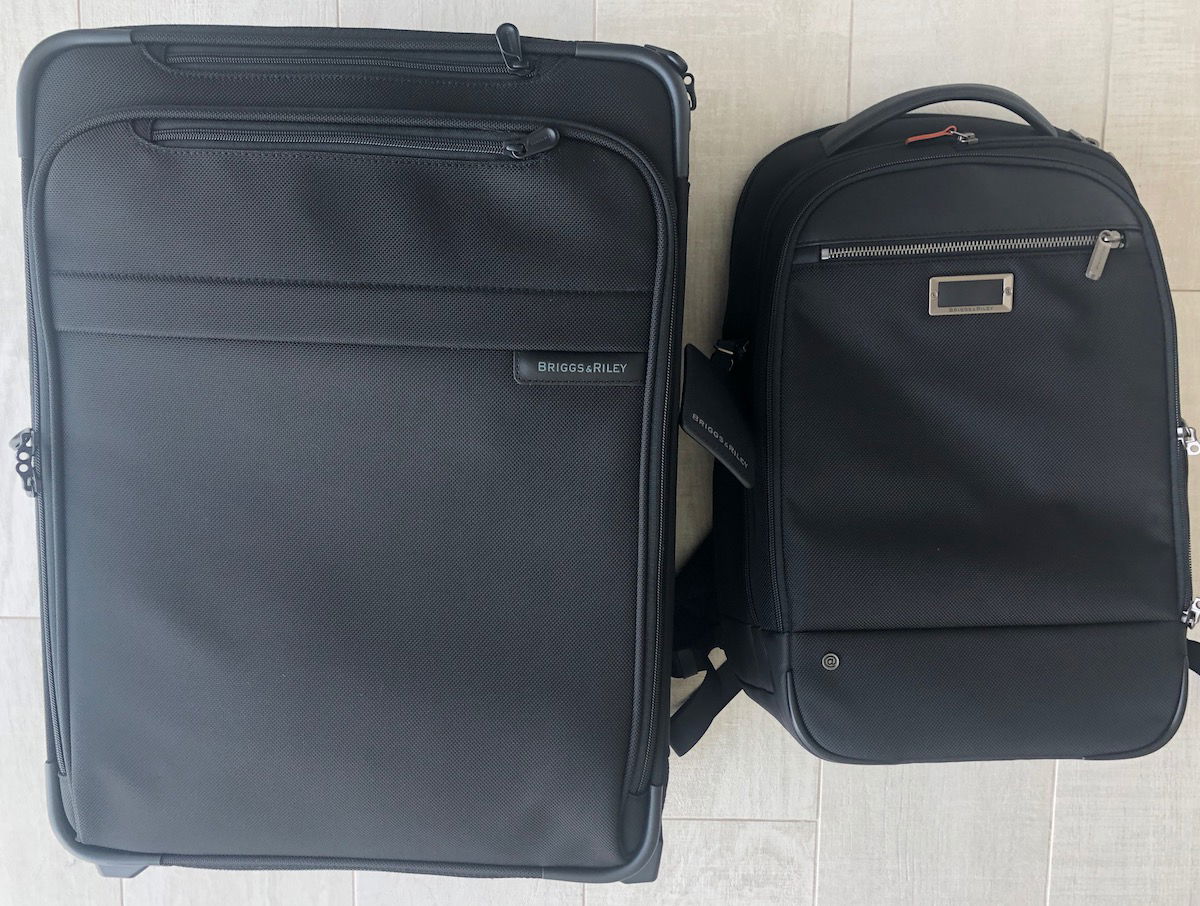 Bottom line
I'm so happy to have made the switch to Briggs & Riley. While the luggage isn't cheap, they offer a truly excellent warranty, and I find their bags to be extremely well designed for the frequent traveler. The carry-on and backpack I bought perfectly meet my needs.
Thanks to Briggs & Riley's superior warranty, better design, and lower pricing, I don't think I'll ever be buying a Tumi again.
Thanks to everyone for the great tips. There are no doubt other great bags out there, though I'm very happy with my selection.