Several days ago I wrote about how I was desperately in need of a luggage makeover. You guys had a lot of amazing suggestions, which I really appreciated. As I explained, I needed to make a decision by this past weekend, not just because both my bags needed to be sent for repair, and I have too much upcoming travel to be bagless, but also because I've spent the past year complaining endlessly to Ford and Tiffany about my luggage trying to decide how to fix my luggage situation.
I can't tell you how many hours I've spent looking at options, getting frustrated, and then giving up.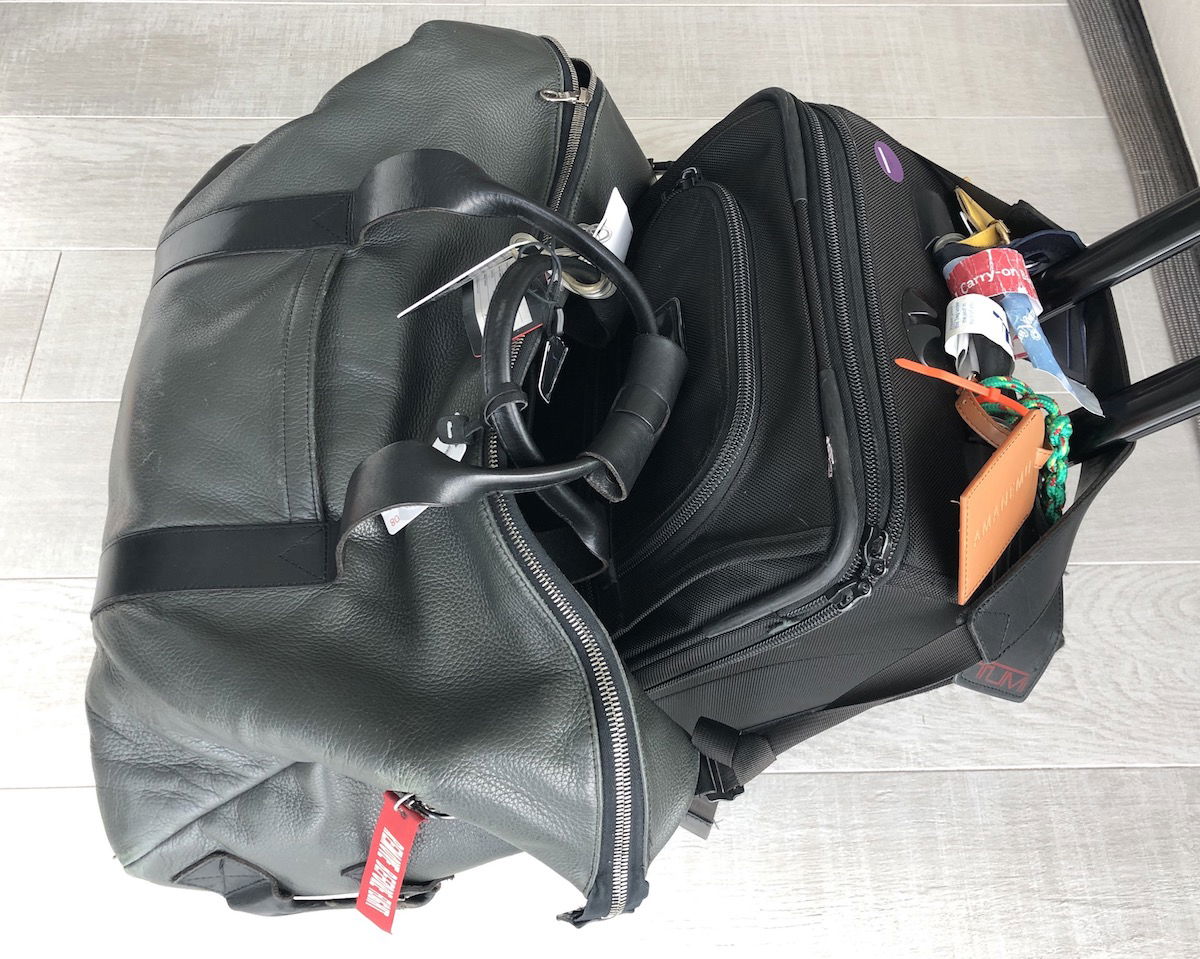 Well, I have some good news — I have some new luggage, and I've also finally dumped Tumi. I'll share this in two separate posts, because there were two unrelated decisions here — I decided I was done with Tumi before I actually knew what I was going to replace it with.
I've been a Tumi customer for years
I've had Tumi luggage for a long time… probably about 15 years? I've had various bags from them, and overall I've found the bags to be decent quality.
Do I think they're the highest quality and most stylish bags out there? Nope, but for the most part they've been good enough. I've also been able to score some great deals on their bags over the years, thanks to sales and other promotions.
I'm not leaving Tumi, Tumi is leaving me
This weekend I went to a Tumi store in Miami. My old Tumi had issues (including broken zippers and a broken wheel), so I wanted to get those things repaired regardless. But I walked into the store with the intention of buying a new bag, and then would give the repaired suitcase to my dad (since he also needs a new bag, but doesn't travel nearly as much as I do).
Inside the Tumi store I noticed a quote on the wall — "Innovation Is Our Obsession." Unfortunately I didn't actually see that reflected in their lineup of bags… at all.
To be fair, I travel a lot, and that's probably also the reason I take my luggage choices so seriously. To me a bag is almost like a travel companion. I also have different needs in a bag than many (or even most) consumers, as my lifestyle is pretty hard on luggage, so I need things that are durable, but also have these bags with me nearly 24/7, so I want them to be decently attractive when possible.
As I played around with bag after bag after bag, I couldn't help but think "man, these really aren't for me."
Regardless of the style/collection, I couldn't help but feel like Tumi's bags are being designed by people who don't actually travel frequently — it's sort of like the trend of hotels building "millennial" hotel rooms, with no focus on details or practical design.
Spinners are great for some, but not everyone
I have a strong preference for a two wheeled bag rather than a four-wheeled bag. That's not because I think they're universally better, but because they're better for me. Why? Because I try to minimize impact on my wrists, rather than impact on my shoulder.
The sideways motion of pulling a four wheel bag is rough on my wrists, and every spinner I've tried puts too much strain on those joints in my case.
You know how many two-wheel suitcases Tumi has, at least that aren't duffels?
One.
O-N-E.
That's the Tumi Alpha 3 International. This wasn't just the case of the store not having proper inventory, but the website confirms that this is literally the only carry-on with two wheels rather than four.
And even getting that one bag was a challenge. It wasn't on display, but rather they had to reluctantly get it from the back, after the salespeople gave up on explaining why a spinner bag was definitely the better choice.
Other feature changes
The new Tumi Alpha 3 has stuff like combination locks, a pouch to insert a battery pack and loop cables through, and other more "modern" touches. Those are probably useful features for some, but to my mind they just add weight, and take away space from the things I do value in a bag.
For example, the old Tumis had "hooks," so that you could strap a second bag to them. This is something I really value, since it makes the bag setup feel much lighter, and helps to minimize the impact on my wrists. When I asked about it, the salesperson responded:
"We stopped doing that a long time ago, but you can slide a backpack on the handlebars."
I feel like the people designing Tumi bags nowadays don't actually use bags. There's a reason for the clip — clipping something on the back of the bag balances it, and minimizes the weight you feel like you're pulling. With how I set up my carry-on, I can drag it with literally one finger and no impact on my wrist. You'll often see flight crews with their bags looped this way as well, as it's a pretty practical way to balance the weight of two bags.
Why is Tumi so expensive?
While I was frustrated about the suitcase situation, I was still thinking I might be able to make it work, so started looking around at Tumi backpacks.
And wow, I couldn't help but feel like they were so poorly designed. The zippers weren't smooth, the hardware had shiny metal finishes that seemed like they'd scratch and dent the first time a bag was stowed under the seat, the fabrics felt cheap, and the pocket allocation was awkward.
Finally I found one Tumi backpack that seemed decent, in that it had enough organization to be useful without being overwhelming. I didn't actually think it was stylish or even that well designed, but I figured it was good enough.
Then I looked at the price, and this "meh" bag was priced at $725!
In that moment I concluded that Tumi is no longer the brand for me. Maybe Tumi bags work for some, but they don't work for me anymore. I theoretically wouldn't actually mind paying $725 for a bag or backpack if it was amazing, and perfectly met my needs. I get a lot of use out of travel bags, and use them nearly every day, so a durable bag is not that much of an investment when that's all factored in.
My well-loved Killspencer leather weekender was about $500 when I purchased it in 2014 (it's also listed for $725 now), and it felt like a splurge at the time, but that bag has flown over 2.5 million miles with me since then, and has been worth every penny. Sure, the zipper needs to be repaired, but otherwise the quality and craftsmanship have been incredible.
However, I'm not going to even consider paying top dollar for something where I basically say "well, I guess this doesn't suck that much," and where the new bag is a significant downgrade from my old one.
Bottom line
I walked out of the Tumi store frustrated. I desperately needed new luggage, and at that point I didn't have a suitcase at all, since my old one was being repaired (for which Tumi charged me a $26 "processing fee" up front).
However, I had decided whatever I was going to get, it wasn't going to be Tumi.
I'm not sure if quality has just decreased since Tumi was acquired by Samsonite luggage, or what.
I'm not even saying their bags suck for everyone. But I have what I think is a very realistic and basic need, as a frequent traveler. I need a bag and backpack combination that doesn't put weight or torque on my wrist. A lot of Americans have wrist pain, other limitations, or even just preferences, and you'd think a mass-market brand like Tumi would try to cater to a range of needs, rather than "innovating" everyone into a single bag style.
The fact that in their entire lineup Tumi doesn't have a single combination that works for that tells me that the brand simply isn't for me anymore.
Adios, Tumi!
On the bright side, while I didn't think I'd actually find a replacement that would actually make me happy, my gosh am I thrilled with what I bought 30 minutes later.
For the Tumi fans, what is it you love about their bags that you feel is unique from other brands?