For the past several years I've had the Tumi T-Tech as my primary carry-on. It's by no means a fancy bag, but given the price it has lasted me well. Back in 2010 I actually had some issues with my Tumi T-Tech, though since getting it replaced it has lasted me for well over three years and over a million flown miles.
Anyway, last week I started having issues with my bag again, and the handle won't slide in anymore. Here's the lowest it'll go: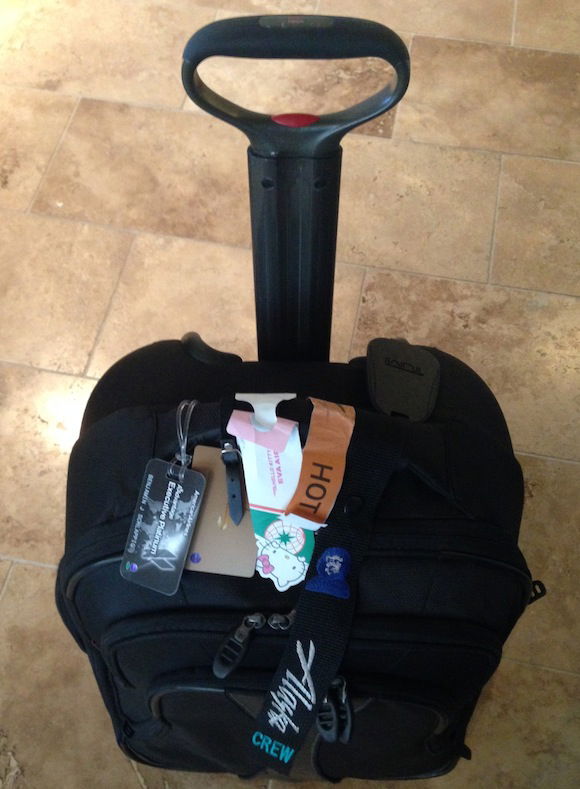 I've now made progress on my plan to live in hotels full-time (stay tuned for an update on that shortly), and it's time for a new bag.
I know a lot of people recommend just buying a sub-$100 throwaway bag, but the truth is I don't mind spending a bit extra on a nice carry-on. I'm not much for material things — I'd much rather spend money on experiences — but as ridiculous as it sounds a carry-on is one of the few material possessions that I consider to be part of "me." I know it sounds silly, but even when I'm at home I live out of my carry-on.
So I've been looking at suitcases and am looking at getting a Tumi Alpha. I really should have bought it a few weeks ago when eBags was offering 35 American AAdvantage miles per dollar spent, but unfortunately it wasn't on my radar at that point. I want to be sure the next time there's an amazing promotion I'm ready to go, so I'm trying to figure out which bag is best now.
There's the Tumi Alpha Frequent Traveler 22″ Zippered Expandable Carry-on (dimensions are 24″ x 14.75″ x 10.5″) and the Tumi Alpha International 20″ Zippered Expandable Carry-on (dimensions are 21.75″ x 13.75″ x 9.5″). Isn't it refreshing to see a lie about size by two inches in the other direction for once?
The challenge if you're basically living out of a carry-on is that you want to have as much space as possible, but also don't want it to be so big that you have to check the bag.
It would seem to me that even though the Alpha Frequent Traveler is advertised as being 22″ it actually exceeds the carry-on limit, while the Alpha International, which is only advertised as 20″, actually goes up to the carry-on limit.
Does anyone have any experience with either bag, and specifically with carrying them on, both on domestic and international flights? Have you been able to use the Tumi Alpha Frequent Traveler internationally without problems, or have you had to check it?