---
While Ben keeps apologizing for being sick on two of our trips in a row (which suggests that either we need to go on trips more than every other year, or he needs to start taking advantage of the miracle of modern medicine that is vaccinations), I still had a lovely trip. The warmth of Bangkok and Hong Kong was a welcome relief from the Spokane snow, and Ben was surprisingly pleasant for someone who obviously felt poorly.
Fortunately, while he has sweetly reiterated how much care I took of him, there's really not that much care required when someone is sleeping 18-20 hours a day.
I spent that time taking advantage of the timezone to get work stuff done without distractions (including starting our contributor search), but still had plenty of time to wander in Bangkok, which was especially enjoyable during the cooler evenings. The city was in a festive mood with all the Chinese New Year celebrations, including a lovely delivery of chrysanthemum tea from the hotel.
https://www.instagram.com/p/BfSHcslBDtY/?taken-by=tebfunk
Our immediate neighborhood in Hong Kong, by contrast, felt pretty dead (though other parts of the city were bustling when I went exploring). The Grand Hyatt has a convenient location if you're in town for business, but it's not in a particularly lively area outside of business hours. Or, at least, not on a weekend that is flanked by national holidays.
On Monday things picked up a bit, but the majority of shops and restaurants in the area were closed during our stay. Which is a little inconvenient when you're out looking for a pharmacy.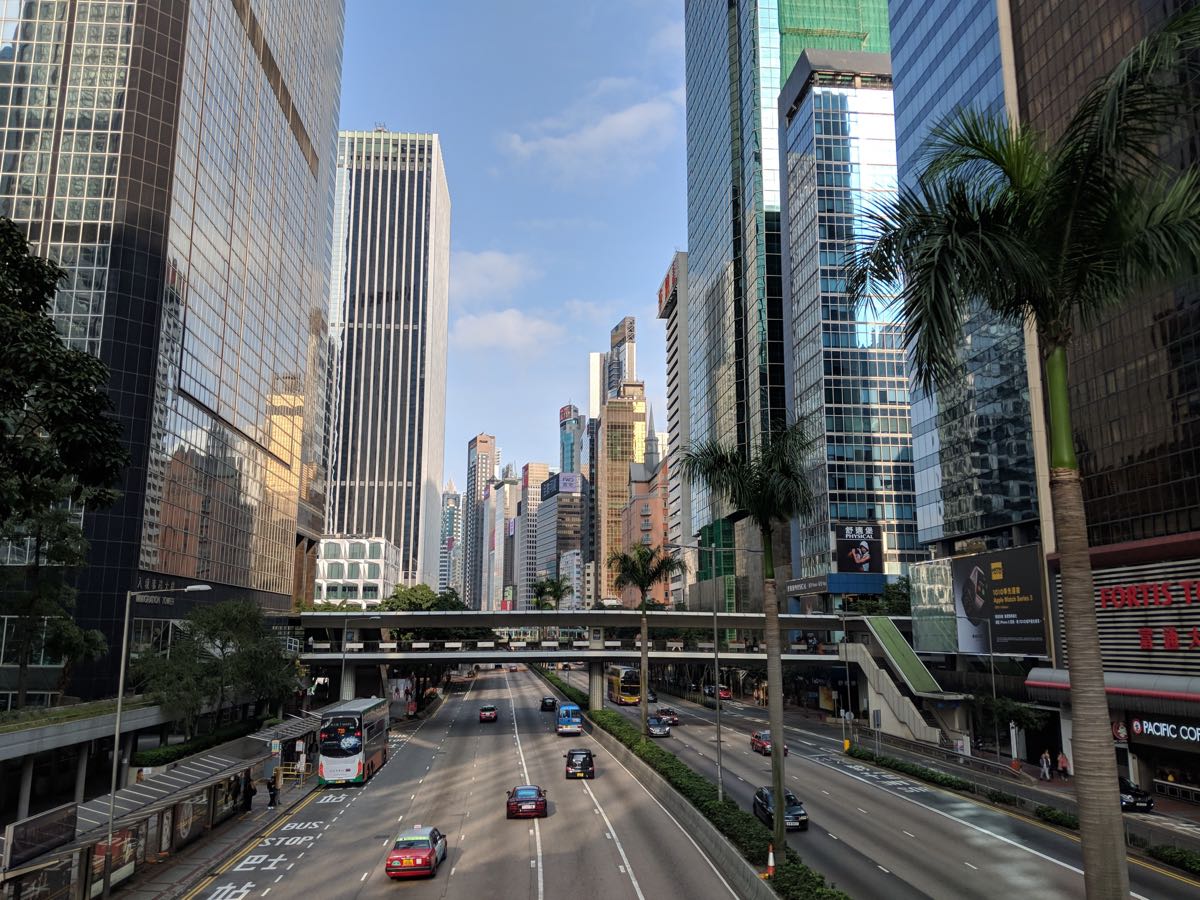 Once doctors confirmed that Ben legitimately had the flu, we knew we'd have to change our tickets, though since we didn't know when it would be okay for him to travel we held off on making any changes until the day before we were originally due to depart.
Several of you have asked about the costs and processes for changing all these tickets, so I thought I'd go through that a bit.
Changing the (edited) original tickets
As you may recall, we had intended to fly from Hong Kong to Beijing on Cathay Dragon, to connect back up with the return of our Delta One trip to/from Toronto. We also had separate tickets back from Toronto to the West Coast, because of course we did.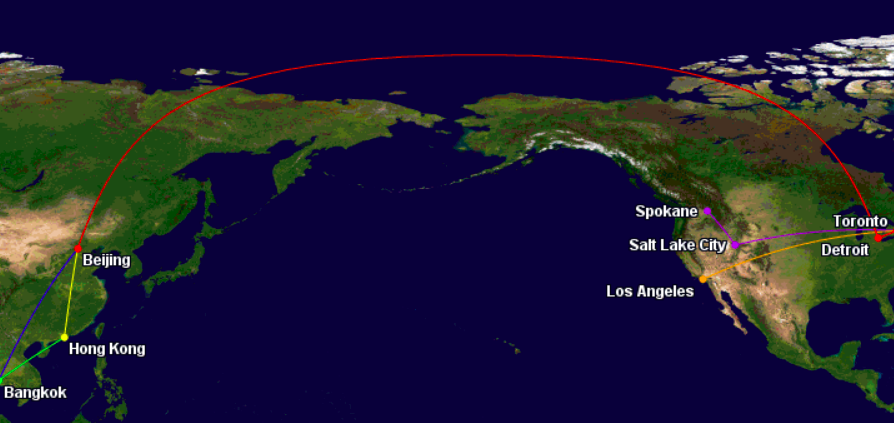 So in terms of tickets, the breakdown was as follows:
Cathay Dragon from Hong Kong to Beijing (issued through British Airways for 40,000 Avios + ~$100 each)
Delta from Beijing to Toronto via Detroit (return of ~$2000 revenue tickets)
My Delta ticket from Toronto to Spokane via Salt Lake City (~$180)
Ben's American ticket from Toronto to Los Angeles (~$230)
Even once Ben was finally given the all-clear to travel, it didn't seem necessary or wise to subject him to four segments when we could get back to the U.S. in one, so I set about trying to see what miles and dollars could be salvaged from our non-refundable tickets.
Delta
Both Ben and I are Platinum Medallions, and I was calling in reference to a paid international business class ticket (albeit an inexpensive one!), so I was expecting this to be a reasonably easy call. The agent I spoke with was incredibly sympathetic, said she'd been ill once on a trip and that it was the worst thing ever, and was honestly more concerned about how we were going to get home if we canceled our tickets than the fare rules.
She ultimately gave me two choices:
Rebook us on our same itinerary for a few days or a week later, without paying any change fees or difference in fare
Cancel out the remaining coupons, and issue each of us a voucher to be used within a year of ticketing for the unused segments, with all change fees waived
These were both above and beyond options. Typically the change fees at least would still be levied (at least until the medical documentation is submitted), so for her to offer to waive them was extremely kind, and a good example of treating elites well.
Since we didn't know when we'd be traveling, and four segments seemed unwise, I chose to receive the vouchers. The credits ended up being ~$1400 each, which was more than I was expecting (though made more sense once I looked at our minimal MQD earnings for the flown segments). She also proactively offered the voucher treatment for my ticket back to Spokane, which she saw in my account without my mentioning it.
Very impressive, and an overall great experience. Delta elites often rave about the service they get from the Medallion desk, and if this is standard treatment I can certainly see why!
American
Ben is also still an Executive Platinum with American, though since "going for great" doesn't seem to mean "go out of our way to help our best customers" anymore, I wasn't expecting a similar waiver of rules and fees. Still, I wanted to let them know he wouldn't be flying so that they wouldn't be blocking a seat or giving an upgrade to someone who wouldn't be making the flight.
I explained the situation, acknowledged that it absolutely wasn't their problem, and asked what the options were. The agent said she could cancel the ticket, but that in order to waive any fees we'd have to submit documentation to customer relations asking to waive the change fee. Regardless, Ben would get a voucher for the residual value, which he could apply to a future trip.
This is the more typical treatment of a canceled ticket, and right in line with my expectations. If we had changed the flight rather than canceled it, we would have paid the change fee and any difference in fare, then the change fee could have potentially been refunded after customer relations reviewed the doctor's letter. This is likely what you could expect in a similar situation.
British Airways
I saved the best for last here, because while British Airways has generous change policies for award tickets, those end once you get within 24 hours of departure. In retrospect, it would have been smarter to cancel these tickets as soon as Ben was diagnosed with the flu, but I was preoccupied with meandering through Kowloon and calling TAAG Angola, so didn't think of it.
So, expecting nothing, I called BA, explained the situation, and asked if an exception could be made or if there was any way to have the Avios refunded. To my absolute shock, the friendly agent Niall said he could cancel the tickets, and we'd receive a refund of the Avios, and the taxes less the $55 cancelation fee.
Unfortunately, if something sounds to good to be true, it usually is. There has been no refund of Avios, nor of taxes, and every agent I speak with at British Airways is flummoxed as to why, and can do nothing about it. Some say that tickets can't be refunded within 24 hours (true!), or that redeposits are instant (also true!), though no one seems to know what to do when an exception is supposedly made, but not followed through on. Executive Club says to email Customer Relations, who then responds saying to contact Executive Club, and back and forth.
At the end of the day, it's fortunately not a huge deal. We're not entitled to a refund based on the ticket terms, and if I'd been told that in the first call I would have been fine with it. And I still haven't been told that a refund isn't happening, just that I have to complete some new task, which is a bit tedious.
The Grand Hyatt
While we didn't have anything to cancel here, I have to emphasize how incredibly kind and hospitable the staff were at the Grand Hyatt Hong Kong.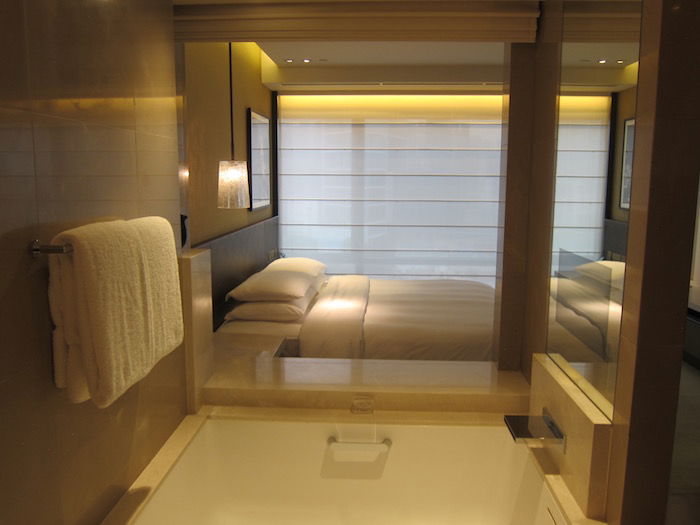 They helped me find a doctor who would come to the room when Ben literally couldn't stand (and paid him directly, adding the charges to the folio), made it easy to extend our stay, sent up cases of water and Pocari Sweat, made plates from the Club Lounge for me to take down to him, and were just generally amazing. Everyone I interacted with seemed genuinely concerned, all of which made a pretty rough experience much more manageable.
Booking new tickets
This was so easy that it almost doesn't warrant a section of its own, but I know some people are curious.
Once everything was canceled, and after doctors in both Hong Kong and the U.S. confirmed that it was fine for Ben to fly, I called Alaska Mileage Plan. I got a great agent in Seattle, and asked when the next Cathay Pacific flight to the U.S. was where they could see two seats in first, or one in first and one in business. He was familiar with how Alaska can't always see Cathay Pacific space, and quickly found two seats the following afternoon to Los Angeles for 70,000 miles each and ~$88 in taxes.
At this point he remembered that there was a newly-imposed 72 hour restriction on Cathay tickets, but when I told him that had been revised he placed me on hold and went to look for the new memo.
Still, it took less than ten minutes to get these tickets issued, which was a relief.
Bottom line
I tend to take a pretty zen approach to travel. I figure that I'm plenty smart and have more resources in this space than most, so pretty much anything that comes up can be dealt with in one way or another. That calmness came in handy here, not just with reassuring Ben's anxious parents, but also with getting the help that was needed from various people and companies without causing drama.
We were also fortunate to be in a major city with fantastic health care, and to have the option to FaceTime a physician back home — this would have all been much more complicated if he'd fallen ill in a rural, developing, or less-connected area, though we both have a modicum of medical evacuation coverage through the Amex Platinum. And being able to get a direct award flight home of course made repatriation much easier, as we didn't have to deal with trying to change our original itinerary during a busy travel time.
This experience was also a good reminder to make sure you know your coverage options when traveling. Many cards offer some form of travel insurance (and I'll try and cover that in a future post), but you need to carefully read the terms to know whether things like medical expenses and change fees on award tickets are covered, along with what documentation you'll need to provide in order to be reimbursed.
In general, award tickets are more flexible if you need to cancel. The specific change polices of revenue tickets depend on the fare purchased, though in this case we lucked out with our Delta status and a friendly agent. In most cases, you'll be liable for a change fee that can potentially be waived or reimbursed after sending in your documentation, so be sure to keep track of any doctor's notes.
Have you had to change tickets due to illness? How did it go?