There are very few international first class products I haven't yet flown. By my count, there are just six airlines remaining that I haven't flown in first class, the biggest of which is Air China.
Air China is a huge airline, and something interesting always seems to happen to me on Chinese airlines, so a review is long overdue. My plan for this was coming week was to finally try Air China's first class.
As an aviation geek, there's an additional "treat" here. Air China is one of only three airlines in the world to operate the passenger version of the 747-8. I've flown the Lufthansa 747-8 and Korean Air 747-8, so this is the last one for me to try.
However, Air China has a bizarre layout on their 747-8. Rather than putting first class in the nose like Korean Air and Lufthansa did, they put it behind business class and in front of economy, on the main deck. Truly strange. If you'd like a better sense of that, let Mr. Panda give you a tour of the Air China 747-8:
I booked this using Air Canada Aeroplan miles, now that they've restored relations with Air China.
My plan was originally to just turn around in Beijing, but I started looking into possible destinations of interest. Since it didn't cost any extra miles, I decided to add a flight from Beijing to Ulaanbaatar, Mongolia, on the same award. Mongolia has long fascinated me, and while I won't spend as much time on the ground as I'd like, it's better than nothing.
Then out of Mongolia I of course had to book MIAT Mongolian to Frankfurt. MIAT has been on my mind since I first saw one of their planes in March at Incheon Airport, so I'm happy I'll finally have the opportunity to fly with them. Their business class fares from Ulaanbaatar to Frankfurt are pretty reasonable, at ~$1,000 one-way.
There's very little about MIAT Mongolian online, though it looks like their 767 business class product is in a 2-1-2 configuration, with seats that look very similar to Asiana's business class.
So my routing for this trip looks as follows: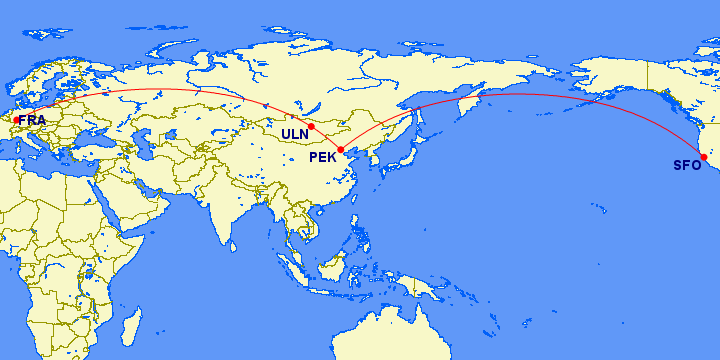 I'm still not exactly sure how I'll get from Frankfurt back to the US. I was thinking about maybe flying Condor business class, or Air India business class (London to Newark), or Air Europa business class (Madrid to Miami), or something. If anyone has any ideas, I'm of course open to them!
Bottom line
The planning for this trip simply started with wanting to review Air China's 747-8 first class, though if it doesn't cost anything extra, I figured I might as well add on a visit to Mongolia. Live and Let's Fly and I plan on going to Mongolia later this summer via another interesting route, so I hope to do that as well. But in the meantime, this seemed like a fun enough trip idea.
Has anyone been to Ulaanbaatar? Without enough time to spend a week in the desert, any tips on what to do in the city, or in nature that's not too far from the city?