I've published over a thousand reviews here on OMAAT, which I'm very proud of. Hopefully my trip reports have improved significantly over the past nine years, or else I'm really in trouble. 😉
Of course I'm not the only one on the internet who enjoys writing trip reports, though I often get asked if I have any tips for those just starting out. I figured I'd share some tips based on my experiences, which some of you will hopefully find interesting or helpful. These apply whether you're publishing them on a blog, forum, or wherever else:
1. Understand that writing trip reports is very time consuming
Trip reports are a huge time investment. You first have to document your trip, then you have to select pictures, then you edit and resize the pictures, then you write the actual report, and then you have to format everything. Trip reports can look pretty effortless, but they're the most time consuming things I write on the blog.
So when people try writing trip reports for the first time, their biggest takeaway is typically how time consuming it is. Be prepared.
2. Decide what your goal with writing reviews is
There's no right or wrong way to write a trip report, whether you want it to be 200 words or 4,000 words. However, if you're just starting out with trip reports I'd recommend deciding beforehand what kind of a strategy you want to take, and staying consistent.
For example, while I've long writing detailed trip reports, for a while I've been adding "10 picture" posts which I publish shortly after my flights, which are intended as a teaser to share my initial reactions. Much to my surprise, in many cases they get as much traffic as the longer reviews. That's not just a way to boost traffic, but more importantly it's something many people find useful. Some people are bored out of their minds by my 3,000+ word flight reviews but love the 300 word teasers, while others like the teasers while they're waiting for the more detailed trip reports. Then there are others who hate all of them.
3. Take notes while traveling
My general strategy is to take notes in my iPhone "Notes" app during the travel experience, rather than actually writing in a Word document at that time. I write down the things I'd otherwise forget — how full the flight was, how long it took for the meal to be served, anything that was unusual, etc. I write all of this in shorthand, so I doubt anyone else could even figure out what my trip report notes mean.
That way my memory is jogged when I sit down to write the full review.
4. The smaller the camera, the better
Others will disagree with me on this, but personally I find it useful to have a small camera. I even take pictures with my iPhone sometimes. That's because you want to fly under the radar as much as possible. While I doubt you'll get any questions on Cathay Pacific or Emirates about a bigger camera, on some more random airlines that could sometimes cause a problem. Airline employees react differently if they think you're just trying to document your trip so you can share it with Facebook friends, vs. documenting it so you can publish it publicly somewhere.
As far as cameras go, I use the Sony RX100.
5. Most of the stress is before takeoff
I wrote about this in a previous post, but for me the main stress with writing trip reports comes before takeoff. Why?
I want to be first on the plane, if possible, so I can get a picture of the cabin when it's empty (which often requires being "that person")
Boarding is the moment of truth where you'll find out if the crew is friendly and open to you taking pictures, or if they're going to be a pain about it
If I can get great, crisp pictures of the cabin, seats, etc., before departure, then I can approach the rest of the flight with more ease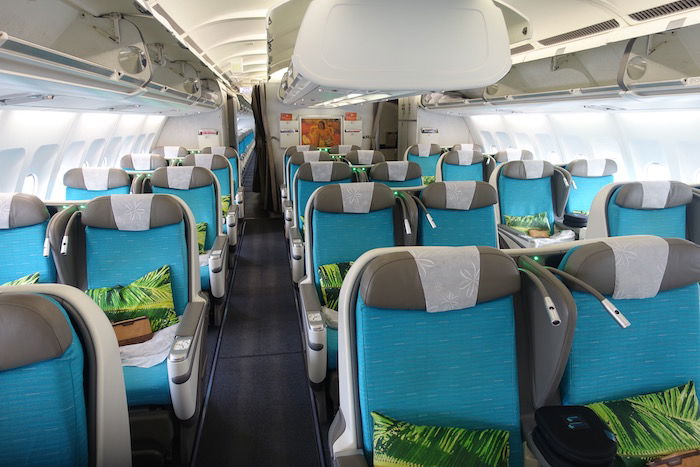 6. Get an empty seat next to you if you can
It can be really awkward trying to document every aspect of the experience when sitting next to a stranger. They'll look at you like you're crazy when you try to take pictures of the TV screen, 17 pictures of the meal, etc. So whenever possible I try to select a seat that has the best odds of having an empty one next to it. In business class that typically means I book the last row when possible, and then on the day of departure I'll look at the seatmap and try to adjust my seat as necessary.
Of course if a flight is sold out in business class it's a moot point.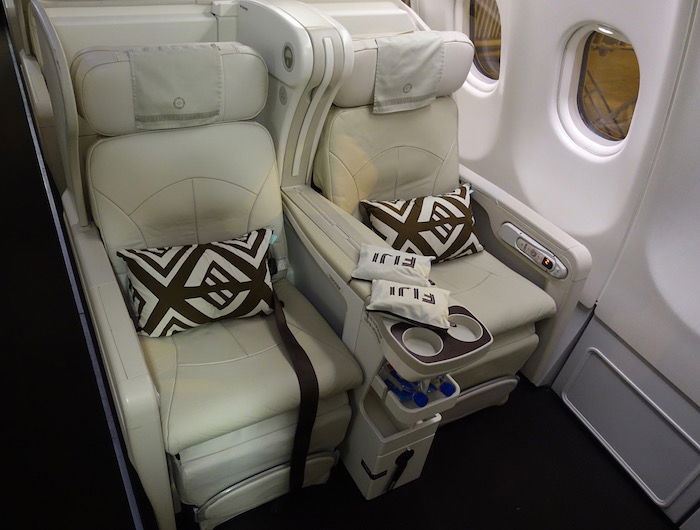 7. Embrace that you may be treated like a newb
If I board a flight and am concerned they might have issues with me taking pictures, I'll usually right away smile and say to them "this is a beautiful cabin, can I take some pictures of the seats?" I'll do that even if the cabin isn't actually beautiful. For that matter, just photographing every aspect of the experience may make it seem like you've never been on a premium cabin before.
Often I'm asked "is this your first time in business class?" At a minimum, I'm sometimes treated like a super inexperienced flyer. I used to try and explain myself, but nowadays I just embrace it. If anything, it'll make the crew happy to see that someone is excited about their service.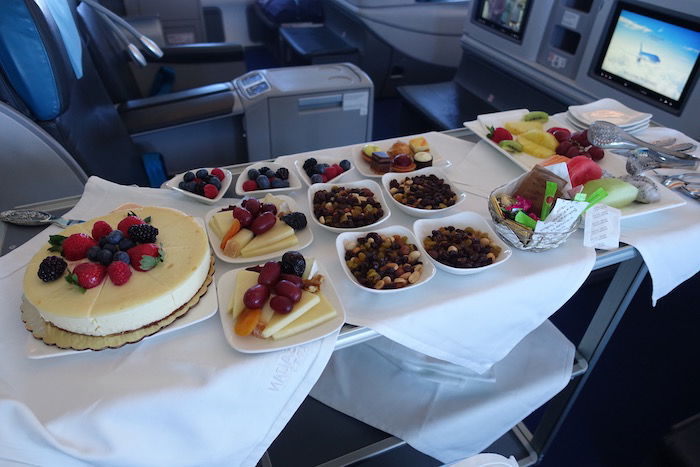 8. Don't procrastinate
So you've taken the flight, you've taken pictures, and you've taken notes. Don't procrastinate on the rest of it. My general strategy for staying motivated with actually following through on publishing trip reports is as follows:
I start selecting, editing, and resizing pictures on the actual flight, or right after the flight, when I'm in a car or train to the hotel
The second I get to the hotel I'll already upload the pictures to WordPress
That way I "only" still have to write the text for the review. It makes me feel like I accomplished the cumbersome part, and keeps me motivated.
9. Writing trip reports can be satisfying in and of itself
Back in the day I used to fly the same first class products over and over, and that was fun. In a way it's tough to go from flying the world's best first class products to in some cases flying some pretty crappy business class products (I know, first world problems).
However, I've found that the process of documenting and sharing the experience of a new product can be fun in and of itself, and adds a new dimension to flying.
When I fly an airline I thought would suck, and it turns out it's actually great, I'm excited to write about it. When a flight really underwhelms me, I'm excited to write about it. When a product is just plain sad, I'm excited to write about it.
Bottom line
Those are my top tips for writing trip reports. I guess to sum it up, the most important parts are to recognize that it's going to be really time consuming, decide what your goals are, and don't procrastinate.
To fellow trip report writers, do you have any other tips to share? Do you agree or disagree with the above?