I love trying new airlines, and I love writing airline trip reports. While I loved the years of flying first class on Cathay Pacific, Emirates, Etihad, Lufthansa, etc., over and over, I've been having a blast trying new airlines this year in business class.
While I enjoy the flights themselves, equally I enjoy being able to write about the experiences on the blog. It's so fun to make these experiences interactive, and to have a reason to pay attention to every little detail of the service.
One comment I get all the time from others who write trip reports for the first time is "oh my gosh, it's time consuming." It's true, writing trip reports takes a lot of time. First you have to select the pictures you want to use, then you have to edit and resize them, then caption them, and then starts the process of actually writing the report.
It's a labor of love, though I enjoy it, despite how time consuming it is.
On the trip I'm currently taking I'm trying four new types of business class products, and am also only flying each type of plane once. So I have one flight to get my review of each product right.
Once I'm actually seated I love the process of documenting every aspect of the journey. But there's one part of writing a good trip report which I don't enjoy, and it actually makes me sort of anxious.
Specifically, I'm talking about wanting to be the first passenger to board.
That's not something which is generally in my nature. Left to my own devices, I'll be the last person to board a plane, and instead maximize my time in the lounge (when flying domestically within the US it's a bit different, since carry-on space is limited, and I don't want to check a bag). However, when I'm reviewing a flight I want to be the first aboard so I can get pictures of the entire cabin empty.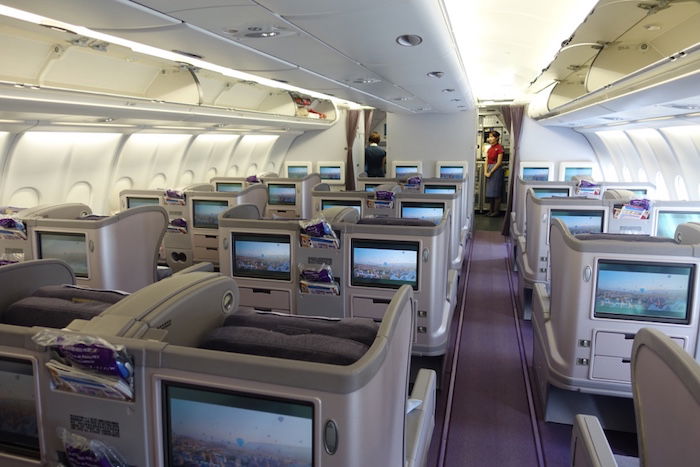 I know some other bloggers inform the airlines they'll be writing a review so they can board a bit early, which I suppose is one solution. That's not something I want to do, since I want to fly under the radar and get the real experience, and I feel like letting the airline know I'll be writing a review in advance would take away from that.
The challenge becomes being the first person aboard without being that person. You know, the person who shows up at the gate 30 minutes early and camps out at the priority boarding sign.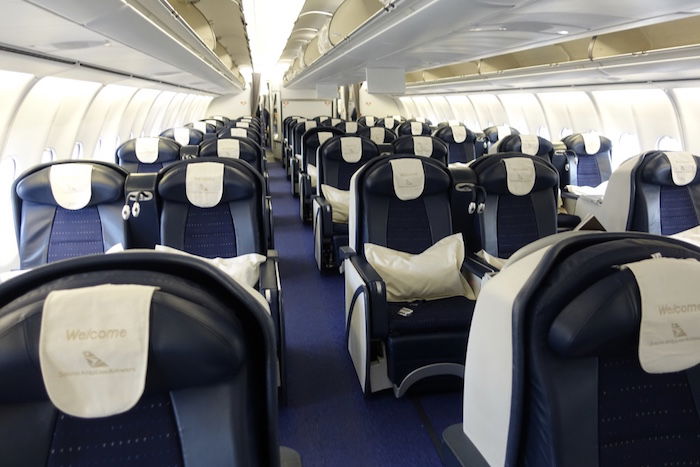 So what's my strategy?
When reviewing an airline for the first time, I usually get to the gate about 20-30 minutes before boarding is scheduled to start
I take a seat, but as close to the priority boarding lane as possible
I scout out my fellow passengers, and will rush to the priority boarding lane if I see another passenger who looks like they're about to line up there; in practice that usually means I'm being that guy, and standing at the priority boarding lane 5-10 minutes before boarding actually starts (yes, that makes me really uncomfortable)
The moment my boarding pass is scanned I jog to the door of the plane, so that I have a further 10-15 second advantage over the next person; that's really all I need to get a couple of good cabin pictures
This all has to be balanced with not startling the crew, because you don't want to show up breathing heavily with your camera already out to snap pictures of them; so I usually first say "hi, how are you?" and then ask if it's okay if I take a couple of cabin pictures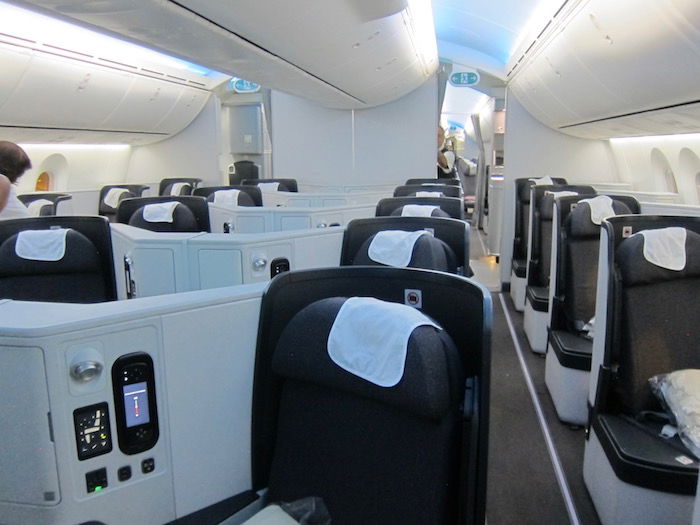 Speaking of the jogging to the plane part, I realized how strange this looked at LAX the other night. When I jog towards the plane I only do so when there's no one else in sight, since I don't want it to look suspicious. Once my boarding pass was scanned I saw no one in the jet bridge area. Then someone suddenly appeared out of nowhere and sort of said "whoa, slow down, let me see your boarding pass." Then he proceeded to look at it for about 10 seconds.
Anyway, I'm sure everyone has different methods, but I figured I'd share my "trick" to usually being the first person aboard. The process as such makes me uncomfortable since I don't want to be the guy standing at the gate way in advance, but having a 10-20 second head start in front of other people really makes a big difference, and it's a small price to pay for good cabin pictures.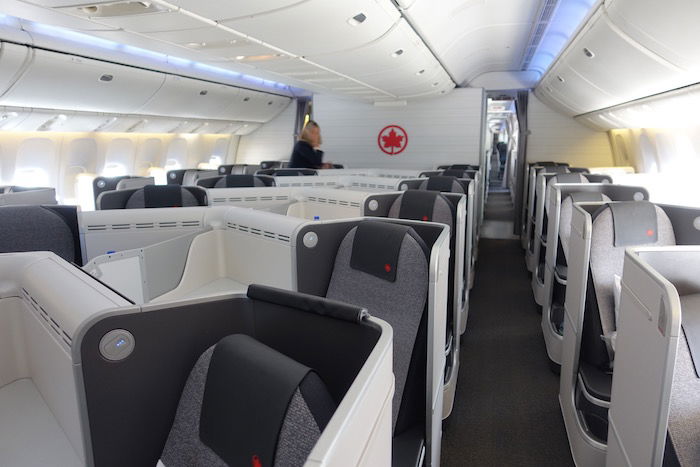 To those of you who write trip reports/like to take cabin pictures, what's your trick to getting pictures of cabins as empty as possible?