We get a lot of questions about what blogging is like, and even more questions about writing trip reports. Having just wrapped up an extremely lengthy series on my trip to Vietnam, Laos, and Cambodia, the process is pretty fresh in my mind, so I thought it would be a good time to share some of what goes into something like this.
This last series ended up being 19 segments and over 40,000 words, making it longer than The Wizard of Oz. That's with skipping reviewing the longhaul flights and lounges, which could have added another 10-12 posts. Granted, this was a long trip, and even attempting to do any kind of justice to a destination almost requires a lengthier post.
But even "quicker" reviews are still very different from other blog posts or tutorials, in some pretty significant ways. So let's pull back the curtain a bit (yes, that idiom choice is intentional given the above-referenced novel), and talk about some of them. It should go without saying that none of this construes a "complaint" or anything like that — and while some people like to hear about the mechanics of the site, others definitely don't, so if you fall in the latter camp please feel free to skip this post.
Time spent on the trip itself
Obviously in order to review any aspect of a trip, you have to document it. That includes making notes about the experience and the atmosphere, along with jotting down any anecdotes that might be fun to share later, and then taking photos.
Lots, and lots, and lots, of photos.
Even the most snap-happy travelers probably don't take half as many pictures as are used in an OMAAT review (though one could argue that we could use 50% fewer photos and still tell the story, which would be fair, but house style is house style). And this isn't just stuff like taking pics of every corner of a lounge, it's also taking multiple photos of things that might get mentioned in a review.
I don't care how much you love your hotel bathroom; you're likely not taking seven shots of the toiletries in hopes there's at least one with non-blurry text and not too much glare, or awkward reflections in the mirror.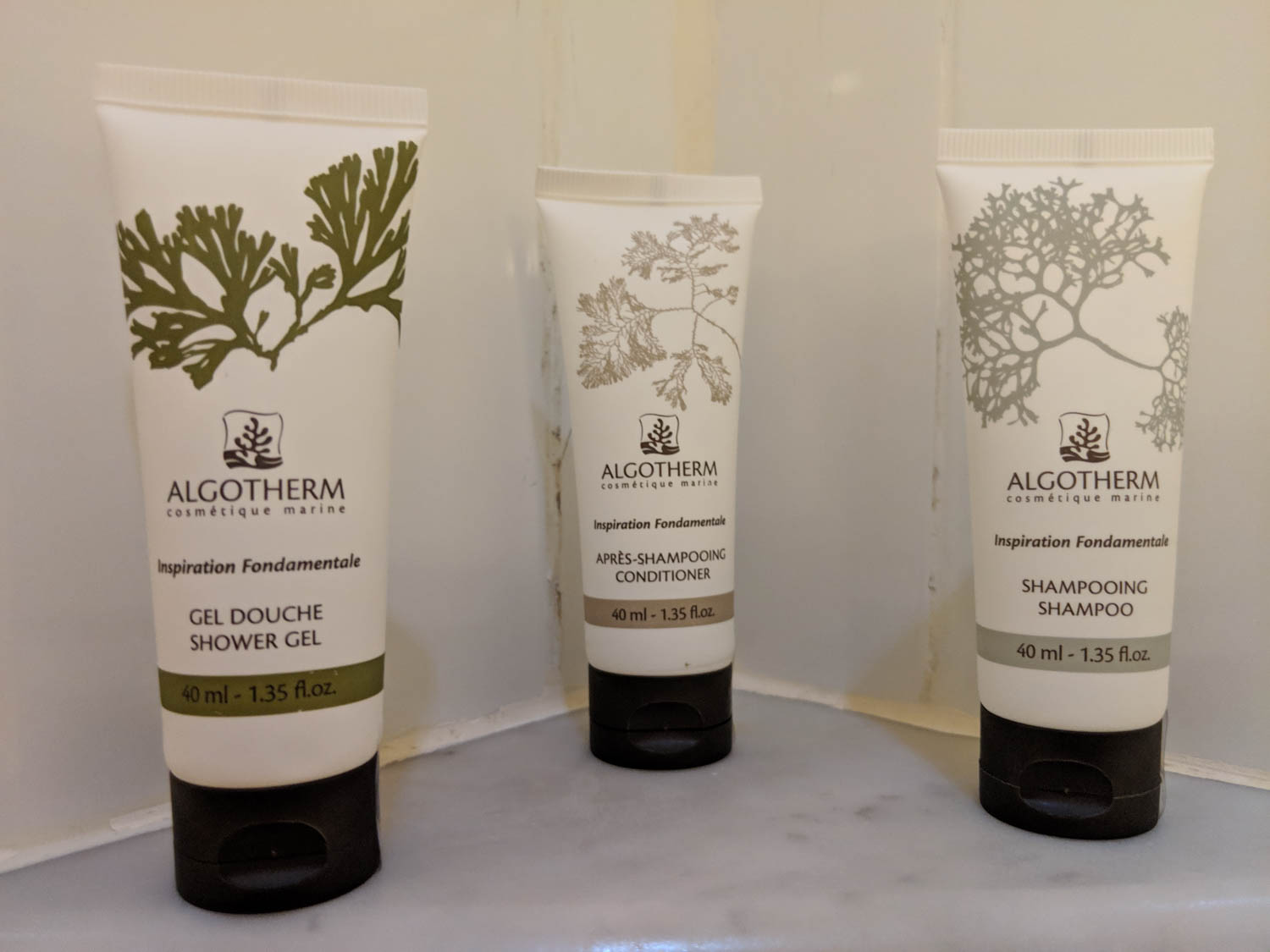 Hotel bathroom photography sometimes means literally bending over backwards
Knowing something is a "review trip" influences the itinerary too, and not just in the choices of flights or hotels. It sometimes means extra time at the airport, queuing up to board a flight long before boarding starts, or having drinks or a meal at the hotel for the sake of being able to report back on the experience. And then there's setting alarms for 4:30AM in order to take pictures of the gym when it's not full of people, or to see the breakfast spread before it's demolished, and so forth.
Plus there's the fun of making your travel companions stand in the hallway while you photograph a room after your 11PM arrival, which my family at least is a great sport about, but still makes for some awkward moments.
So while none of that takes a ton of time, if I had to ballpark it I'd say it's about an extra hour per review post, in addition to whatever time is spent organically at the airport or hotel.
Writing trip reports is different too
When the trip is done, and experiences have been reflected upon, the actual "work" starts. As opposed to a post about something happening in the news, or a tutorial of something, or a post on card features, there's much more narrative creation when it comes to the trip reports.
Photo editing, sorting, and filtering
During this last trip, I only took my Pixel 3, which was annoying when it came time to take wideshots, but was amazing for sorting purposes. Generally getting photos from multiple devices sorted into folders for each "segment" of a trip report is a pretty miserable process. This time around, I sorted everything on my phone as I went (rather, on all the short intra-Asia flights with no Wifi), then was able to pull everything down from Google Photos in one shot.
As you can probably tell, there isn't a tremendous amount of post-processing that happens with OMAAT trip report photos. Views are often cropped, and horizon lines are straightened, but given the guerilla-style of the photography to start with, it's not like there's much point in extensive editing.
Going through and deciding which photos to include does take a large chunk of time though, and then files have to be resized, renamed, and exported in a web-friendly format (which is fortunately something that only takes a minute or two).
The actual writing
Contrary to what you might expect, there isn't a template or something that content just gets dropped into. Life might be easier if there were (or if we had dozens of people on staff, I suppose).
While there are certainly things that are common across reviews, and we try and format them consistently, each flight or hotel stay is unique, and there's quite a bit of thought that goes into telling the story. There's also some time spent researching or going back through notes (e.g. "wait, how much was that fare to/from the airport?"), deciding what elements to include or exclude, and so on.
Writing about destinations is particularly difficult, we've realized, because there's no right answer when it comes to how much to include. There's often such a huge difference between "this is the stuff I did" and "this is the stuff I wrote about" (unless one wrote about everything one did, which would likely not make for an enjoyable read), and deciding what to edit out is tricky. I like sharing enough details to show a sense of what a place felt like to me, or inspire someone else to visit, without it feeling like an attempt at being an authoritative guide.
https://www.instagram.com/p/BtpcrwvFA4b/
Still, these posts are by far the hardest to write — for this last series, the seven posts on our ground experiences each took between 6-8 hours to put together.
Finalizing the post in WordPress
Before a post can actually be published, there's an assortment of things that have to be done on the backend. None of this is terribly interesting, and for most posts it takes less than five minutes to set the featured image, choose appropriate categories, make sure the appropriate disclosures are there, and queue things up for social media.
Trip reports require some extra tagging to make the map work, and then the little index at the top of each post in the series has to be updated. It's maybe an extra five minutes (which I guess means it doubles the normal amount of time).
Timing a review post
When I sat down to write up the Raffles Phnom Penh review last weekend, it was under truly optimal blogging conditions. Like, it was a Saturday afternoon where I wouldn't have to pause for calls, meetings, or urgent emails; my husband was off making some repairs to my aunt's house across town; the doggy was worn out from a morning hike and happily chewing a marrow bone; and Ben was asleep in Asia.
Perfect, distraction-free writing time.
So I decided to time it. This was a relatively straightforward post (just a one-night stay at a city hotel with fewer amenities than a large resort), and the potential photos were already sorted into a single folder. I sat down at my desk at 1:15PM:
Choosing, sorting, and lightly editing photos (I started with 134; 62 made it into the review) — 45 minutes
Resizing, compressing, exporting, and uploading said photos — 10 minutes
Writing the actual ~1600 word post — 1 hour 35 minutes
Fussing with WordPress and setting the post up to be published — 12 minutes
With no interruptions, I marked the post as done at 3:57PM, so just about 2 hours and 45 minutes from start to finish. But this was a comparatively short and basic post for a trip report. The review of the Park Hyatt Siem Reap, for example, was twice as long, and took a commensurate amount of time. In surveying Ben and Steph (she has a trip report coming soon, and you'll love it!), their time estimates are in line with mine, at about one hour per 500 words for review posts.
In comparison, a ~1500 word tutorial or news post would typically take less than an hour (more like 45 minutes for me, or probably 25 for Ben, as he types much faster than anyone I do). So that's a pretty significant difference.
Bottom line
When we talk about trip reports being a labor of love, we truly mean that.
We love sharing them, and feel like they are a core part of what makes OMAAT unique. We'll always keep doing as many as possible, because it's such a large part of what makes this whole blogging thing fun. But they are read at a fraction of the rate of other posts, and as you can see they take oodles more time to compose.
And of course, it's far easier to carve out thirty minutes or an hour to write than it is to create 3-6 hours of distraction-free narrative-crafting time — especially when on the road, or when it's a busy business week. If there's any chance of my writing a trip report, it has to happen on the weekends, as there just isn't bandwidth to focus on telling a story like that in-between the normal tasks that make up a work week. It's even tougher for Ben, as he's writing 98% of the content in general — if it were a choice between "write a trip report" or "write this one other thing" I know he would always choose the trip report. But the actual decision point is usually between "write a trip report" and "write anything else today at all" or "write all the normal posts, and skip the gym, walking the dog, answering emails and reader questions, plus stay up late, and thus get half of the next review post written."
So when there are gaps in reviews, it's not because we've quit doing them, or aren't as anxious to get back to them as their most ardent fans are; it's just all a bit of a juggling act sometimes.
Anyway, hopefully that's helpful to those who are interested in this kind of thing, and provides some insights to those who love the trip reports more than any other content on the site!