Airline schedule changes can be a blessing and a curse. They can be a curse because you've planned that perfect trip a year out, and then schedule changes trickle in that make it less ideal. For example, the minute the airlines opened their schedules I planned an A380 around the world trip for my dad's "round" birthday this year, only to find that Singapore has downgraded our only segment on them from an A380 to a 777-300ER.
At the same time, schedule changes can also be a blessing because they allow you to make a less-than-ideal itinerary better.
General tips for dealing with airline schedule changes
There are a few general principles to understand when dealing with schedule changes. And as I provide these tips, please note I'm suggesting "reasonable" changes here. There are some people that think if they have a two minute schedule change they should be able to completely reroute, and I don't think that's reasonable. But when there's a major schedule change I don't think it's unreasonable to expect some things from the airlines:
In the case of major schedule changes, airlines can open up award space on their own flights. While not all airlines are equally generous about this, typically when there's a major schedule change an airline can open up additional award space on their own flights. That means if you were booked on a partner airline and their schedule changed significantly, the airline with which you booked should be willing to accommodate you on their own flights… assuming it's a route they operate.
I find Delta to be especially generous with this, which is ironic, given how stingy they usually are with releasing award space.
Airlines typically can't open up award space on partner airlines. Say there's a big schedule change on a partner airline. The airline with which you booked doesn't have a way of opening up award space on a partner airline. The only thing they can potentially do is contact the alliance liaison, who can work with both airlines to find an acceptable solution.
Keep in mind this gets really complicated and time consuming. Don't expect this for a 30 minute schedule change or a swap to a less desirable aircraft (assuming you remain in your originally ticketed class of service). But if there's truly not another option, this might be the best way to go. If you want something to be escalated to a liaison, I suggest asking for a supervisor, and then they can put in a request with a liaison. Note that it's not done in real time, but instead they're going to be sending messages back and forth.
With a schedule change you should be able to cancel your award for free. If nothing else, you should be able to redeposit your miles and get your taxes refunded in the event of a schedule change. This is why many people "hold on" to itineraries they've booked that they know they can't take, since they hope there will be a schedule change and they'll then be able to redeposit for free.
Typically itinerary changes as a result of a schedule change will be an "even exchange." I'll give an example of this below, but typically when you have a schedule change you won't be charged any difference in taxes, and similarly you won't be refunded taxes if they go down. In the example below I'll explain how useful that can be.
Hang up and call again. Just like everything else having to do with airlines, you may have to hang up and call again. When it comes to schedule changes, some agents may not be willing to help much, and blame it on the partner airlines. Yes, it is the partner airline's fault they had a schedule change, but ultimately the airline you issued your ticket with is responsible for the reservation. So be ready to hang up and call again — there's not going to be much benefit to arguing, and it may even get you a nasty note in your record, which can never be undone.
My (positive) airline schedule change
Last week I shared the details of the US Airways Dividend Miles award ticket that I recently booked to Australia. While I miss US Airways being in Star Alliance, there are some great redemption opportunities now that they're in oneworld, which aren't otherwise bookable using American AAdvantage miles.
For the period in which US Airways wasn't imposing fuel surcharges for travel on British Airways (which is no longer the case), I figured it was a great time to lock in travel on British Airways, given that there's otherwise no way to redeem miles for travel on them without fuel surcharges.
So I redeemed 140,000 US Airways miles for travel from New York to Melbourne via London and Dubai.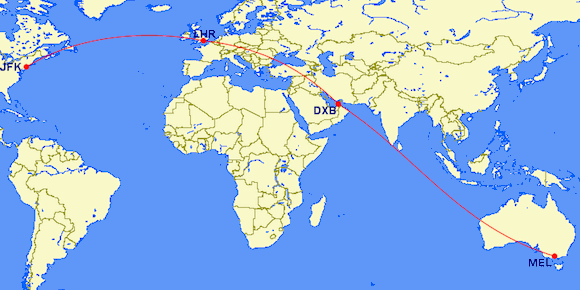 As part of Qantas' recent announcement of A380 service to Dallas, they also announced massive schedule changes to their London Heathrow service out of Melbourne in order to reduce the ground time and free up an A380.
The old schedule was as follows:
QF9 Melbourne to London departing 3:15PM arriving 5:40AM (+1 day)
QF10 London to Melbourne departing 10:25PM arriving 5:25AM (+2 days)
While the new schedule, as of July 20, 2014, is as follows:
QF9 Melbourne to London departing 10:55PM arriving 1:40PM (+1 day)
QF10 London to Melbourne 1:30PM arriving 8:55PM (+1 day)
I had booked my trip under the old schedule, with a layover in London of just under 24 hours in one direction, and a layover in London of about 12 hours in the other direction. With the changes I now basically had a six hour layover in one direction, and a two hour layover in the other.
The London to Melbourne flight is about 24 hours, which is already a really long time for me to be disconnected. I really couldn't justify doing a seven hour flight, two hour connection, and then another 24 hours of flying — that's way too long to be disconnected from the internet.
As many of you can probably guess, the reason I kept the layover just under 24 hours was because if you connect in the UK for more than 24 hours, you're charged the Air Passenger Duty (APD). Before a segment to Australia, that alone would be ~$327.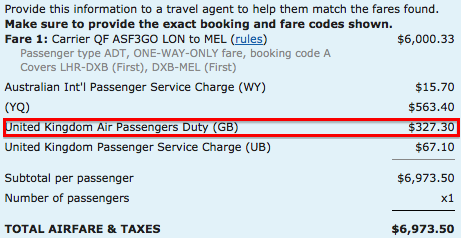 However, in the case of this schedule change, there simply wasn't any way to preserve some sort of a 12+ hour layover without going over 24 hours, so they gladly gave me a stopover of more than 24 hours in London, since that was the only reasonable alternative without a short connection.
And because it was due to a schedule change, they don't charge you the difference in taxes, which in this case include the Air Passenger Duty.
So in the end I was hoping for a longer connection anyway, and got it thanks to the schedule change.
Bottom line
With schedule changes you win some and you lose some, but it at least helps to know what you can do when they occur. There are plenty of ways to come out ahead when they happen without being unreasonable.