There aren't many things more relaxing than a nice spa treatment before a longhaul flight. While many airports have paid massage facilities, rarely are they actually relaxing given the terminal background noise.
So I figured I'd compile a list of what I consider to be the best complimentary spa treatments available in airport lounges. The list is just based on lounges I've been to, and as always, your mileage may vary. I'll also add that I'm only including one lounge per airline. In many cases airlines have more than one lounge with spa treatments, though I'll just include the lounge where I had the best experience.
With that in mind, what do I consider to be among the world's best complimentary airport lounge spa treatments?
While the ranking of the other lounges is all over the place, I think there's no denying that Thai Airways offers the single best airport lounge spa experience. As a first class passenger you receive an hour-long full body massage in a private treatment room, and afterwards you can soak in a bathtub if you'd like.
Given that Thai's onboard product is rather mediocre, it's nice to get a great massage and hop onto a redeye ready to sleep. It's also worth noting that Thai offers this for all first class passengers, including if you just fly from Bangkok to Hong Kong.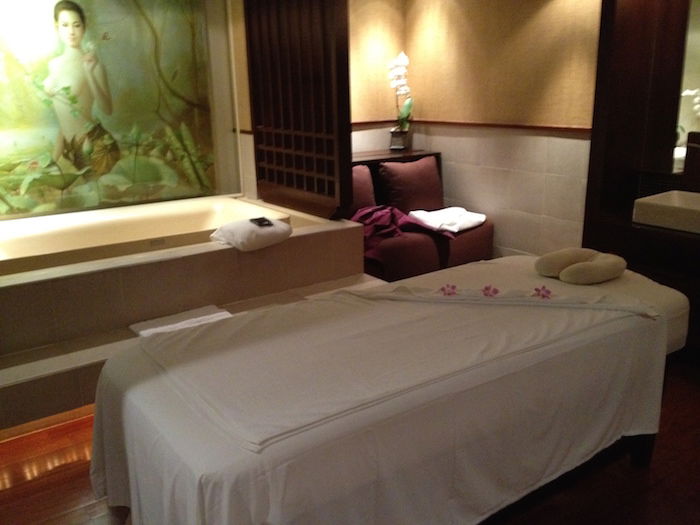 Qantas has an impressive spa setup in both their Sydney and Melbourne first class lounges. Spa treatments are 20 minutes long, and are the only other lounge treatments I know of where you take off your shirt and lay down for a "real" massage. The room that the treatments take place in is gorgeous as well.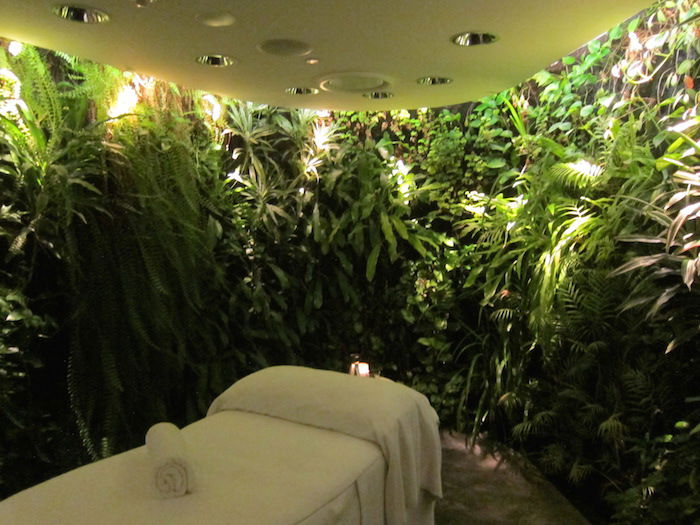 Virgin Atlantic's Clubhouses offer a variety of complimentary spa treatments, from massages to pedicures.
That being said, I think what truly sets the lounge apart are the complimentary haircuts. It's pretty awesome to get your hair cut while sipping on a glass of champagne and overlooking the tarmac.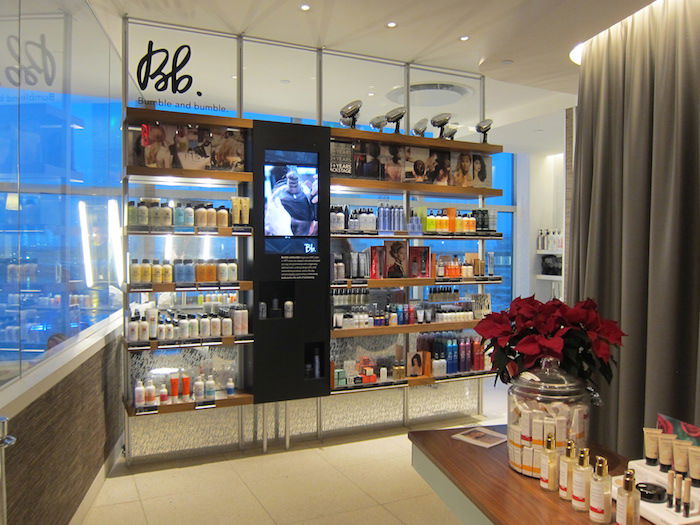 This is arguably the world's most exclusive first class lounge, given that there's no way to redeem miles at the saver level for Air France first class. Passengers can choose from a variety of 30 minute treatments. I went for a facial, which was great, and actually lasted about 45 minutes.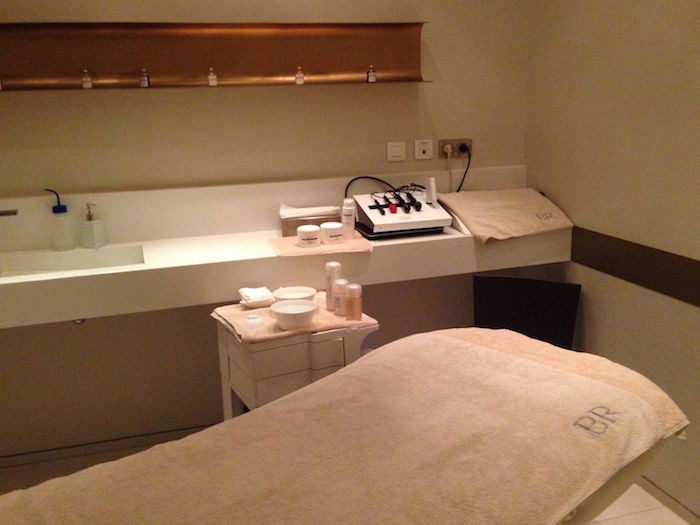 5. Etihad First & Business Lounge Abu Dhabi
Etihad's new first class lounge isn't yet open, so in the meantime Etihad has a shared flagship first & business class lounge in Abu Dhabi. Both first and business class passengers receive a complimentary 15 minute massage in their Six Senses Spa.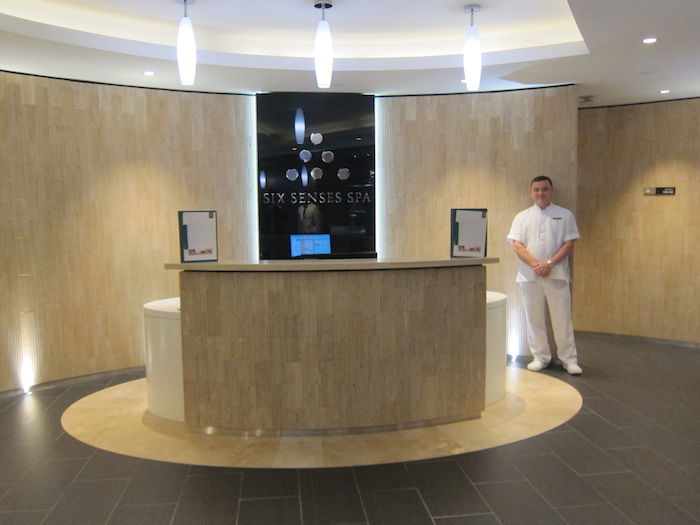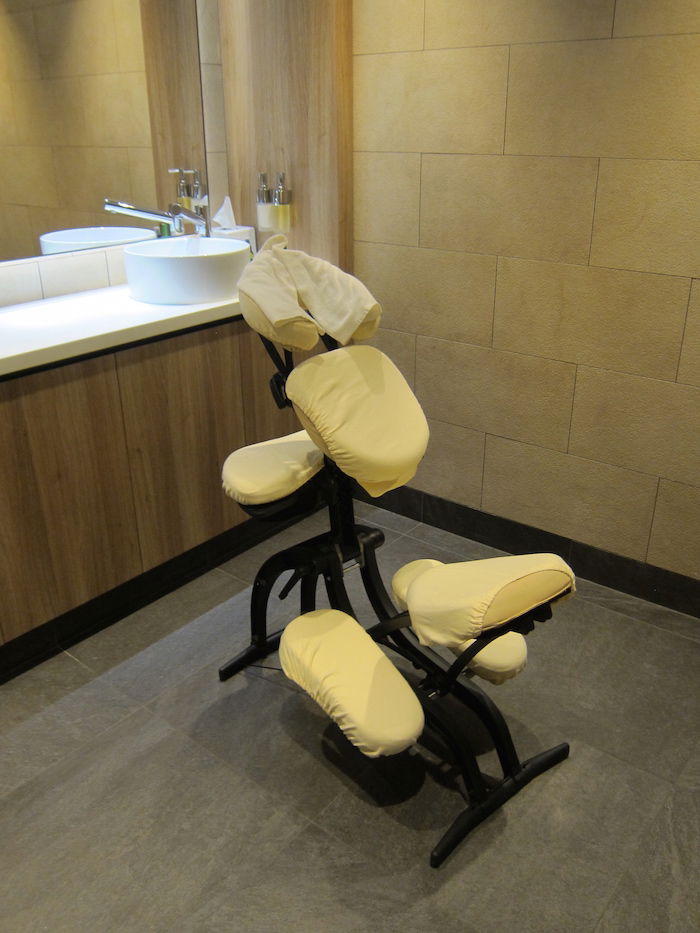 But the other awesome thing about the lounge is that they have a Shave by Etihad facility, whereby first class passengers can receive a complimentary clipper cut, shave, style, etc. There are (reasonable) costs for these services for business class passengers.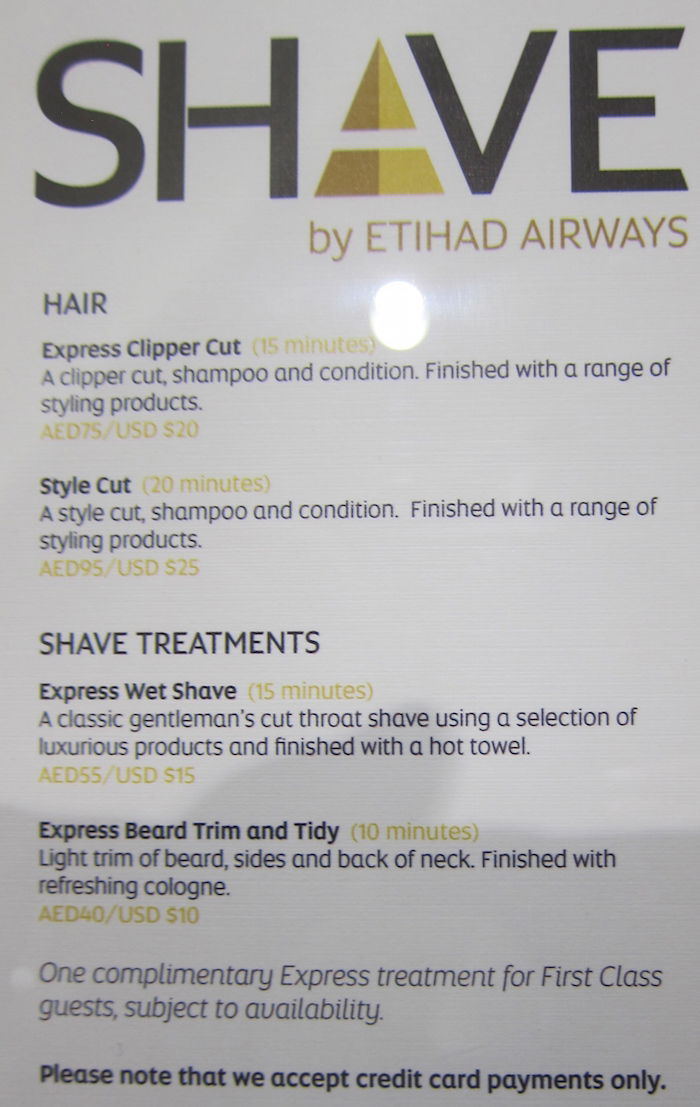 It's worth noting that they also offer this in their arrivals facility, which both first and business class passengers can access.
Emirates offers a shared first & business class spa facility, which is run by Timeless Spa.
First class passengers can choose from a variety of treatments, from a back massage to a dry cut. Business class passengers have to pay for treatments, unfortunately.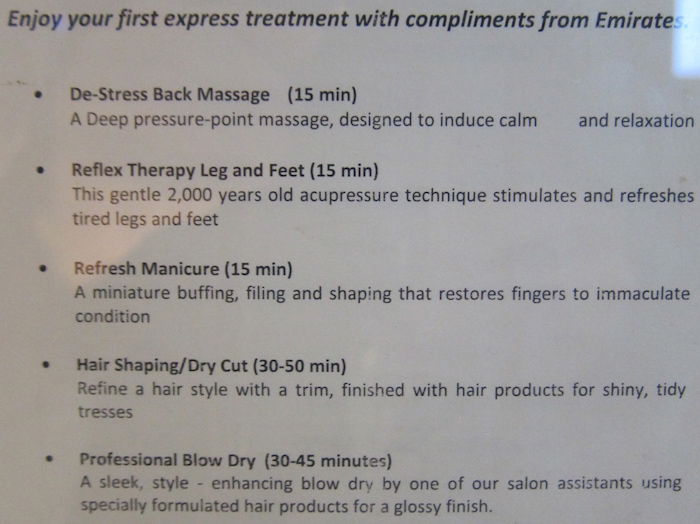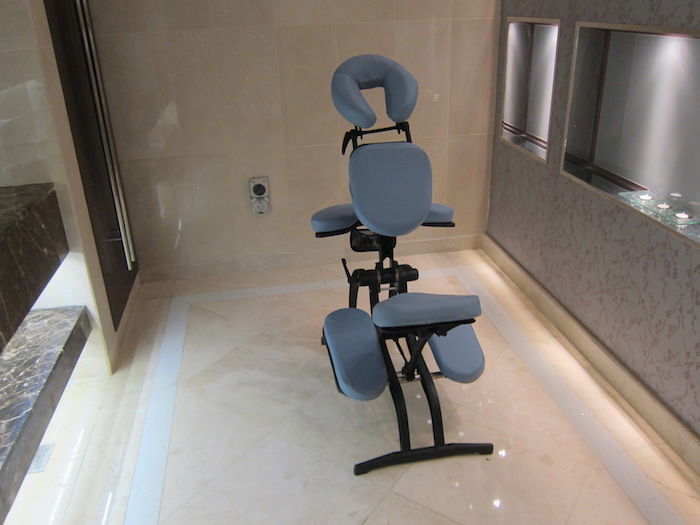 Japan Airlines offers first class passengers and oneworld Emerald members what I'd call teaser treatments, since they only last 10 minutes.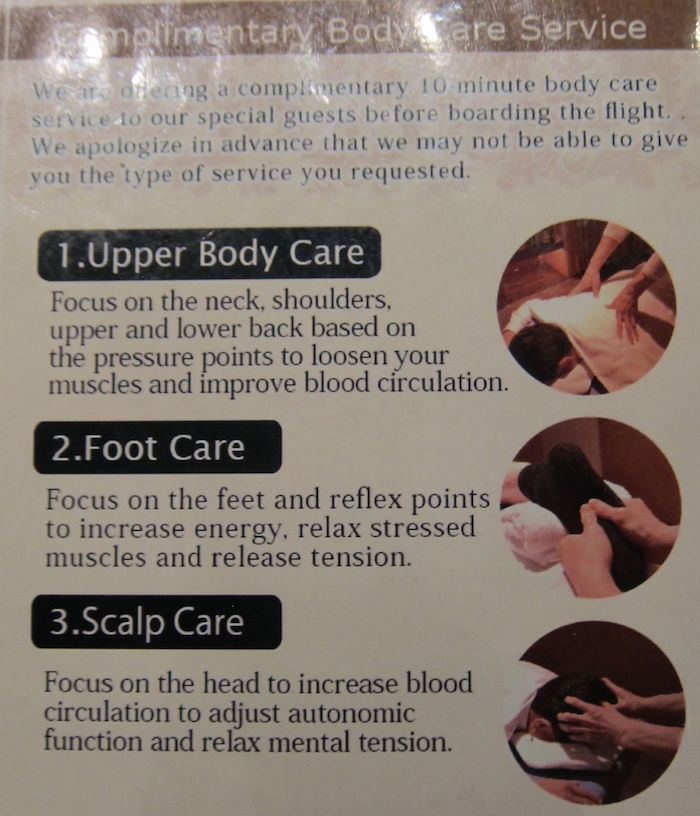 That being said, they have a legitimate massage table you lay down on, and the pressure with the treatments is fantastic.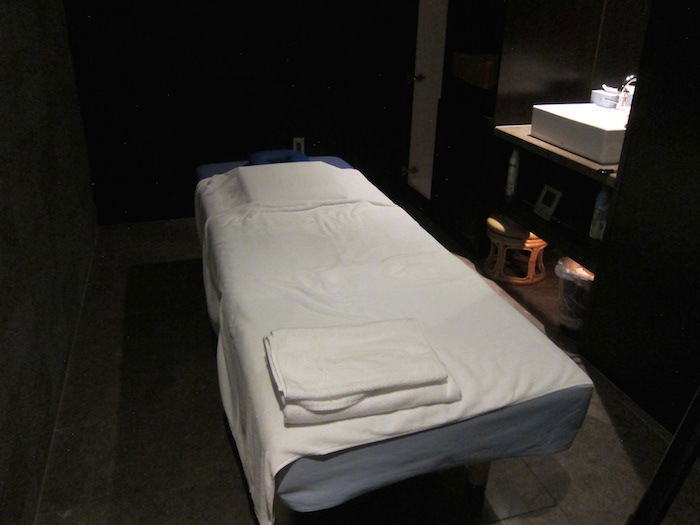 Also keep in mind that since this lounge is in Japan, tipping isn't only not expected, but is actually frowned upon. Don't mind that! 😉
I think this one is notable because you can access the lounge with with a credit card. You can choose between a 15 minute massage or express manicure, both of which are great.
When you sign up for a treatment they do tell you that "the service is complimentary and tipping is at your discretion." So of all the above lounges I think this is the one that it's most necessary to tip at.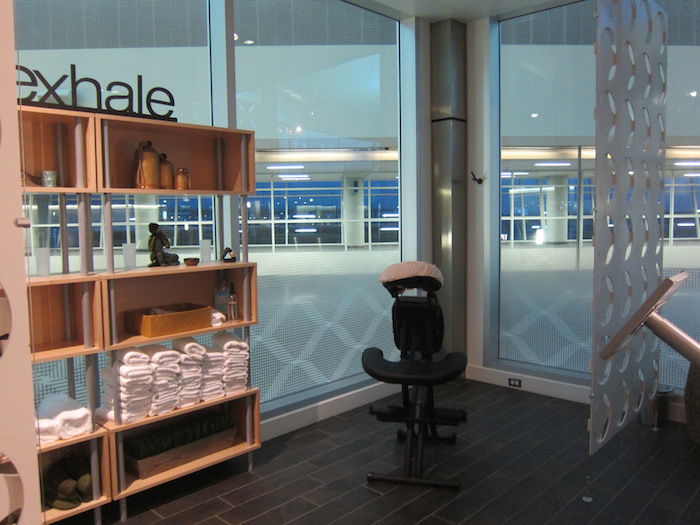 Then again, I tend to tip in airline lounges anyway.
Bottom line
While a complimentary lounge spa treatment in and of itself isn't a reason to choose an airline, it really adds disproportionately to the experience, in my opinion. Travel can be taxing on the body, so feeling at ease and fresh before hopping on a long flight makes it all the better.
What are your favorite airline lounge spa treatments?