Hello from Newark! I just flew TAP Portugal's A330 business class across the Atlantic for the eight hour flight from Lisbon, and in this post wanted to share my initial thoughts. I lucked out in the sense that my flight featured TAP's new business class product, even though Newark isn't one of the destinations to which they consistently offer the new cabins. The seatmap when I booked the flight showed the new seats, and fortunately that stuck.
TAP has 25 business class seats on their new A330s, and they're in a staggered configuration. The product is virtually identical to what Aer Lingus has on their A330s, Rows alternate between being in a 1-2-1 configuration and being in a 1-2-2 configuration, and I managed to reserve one of the two "throne" seats in the cabin, which are seats 3J and 5J. These are such private seats with great storage, and they're much better than the other seats in the cabin. I will say that TAP chose fairly generic finishes for their cabins, though that didn't bother me much.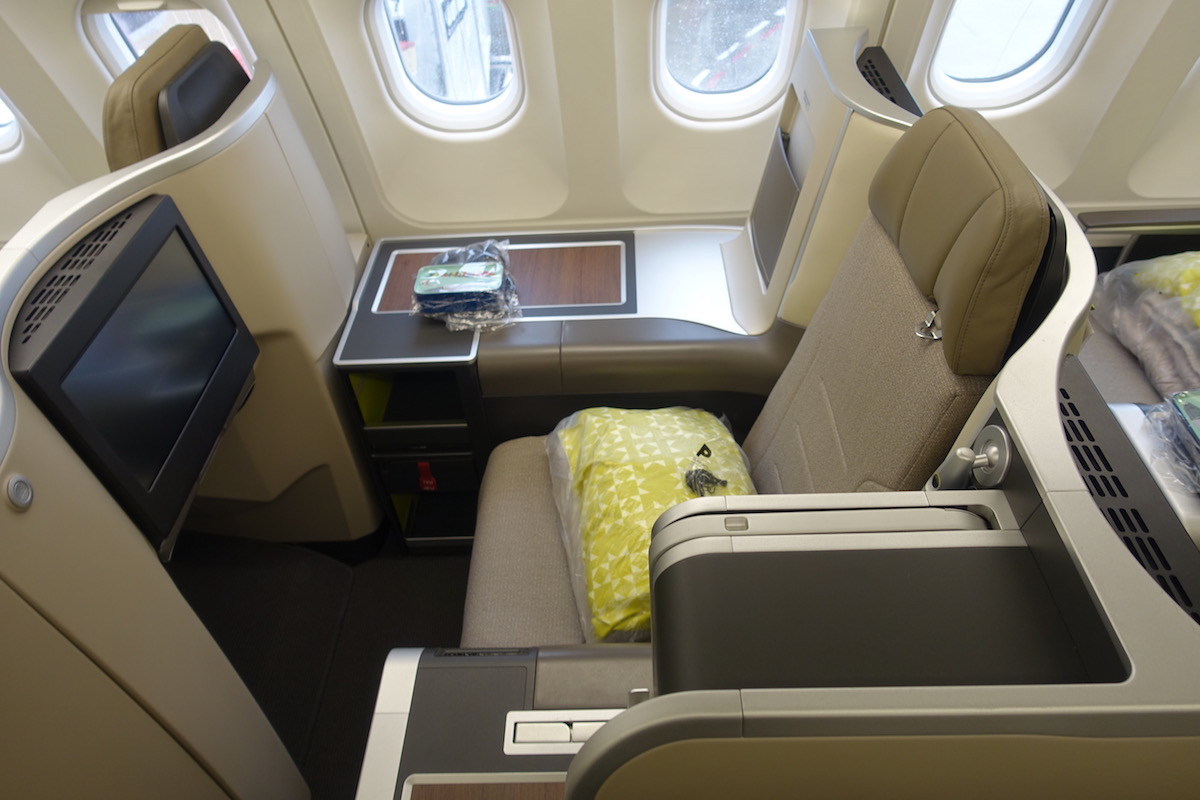 In terms of the food & drinks, I have mixed feelings. For the main meal, service began with a canapé consisting of nuts and roast beef with pepper jam.
That was followed by an appetizer of partridge confit escabeche and a tomato soup with cottage cheese. The soup was good, though personally I didn't love the appetizer.
For the main course I ordered the shrimp with sweet potato sauce, almond milk, farofa, and rice. It was awful. The dish consisted of just three shrimp that had no taste. They were soft, and the whole dish was flavorless.
Then for dessert there was ice cream, served in a plastic container. While the presentation wasn't great, the ice cream was very good.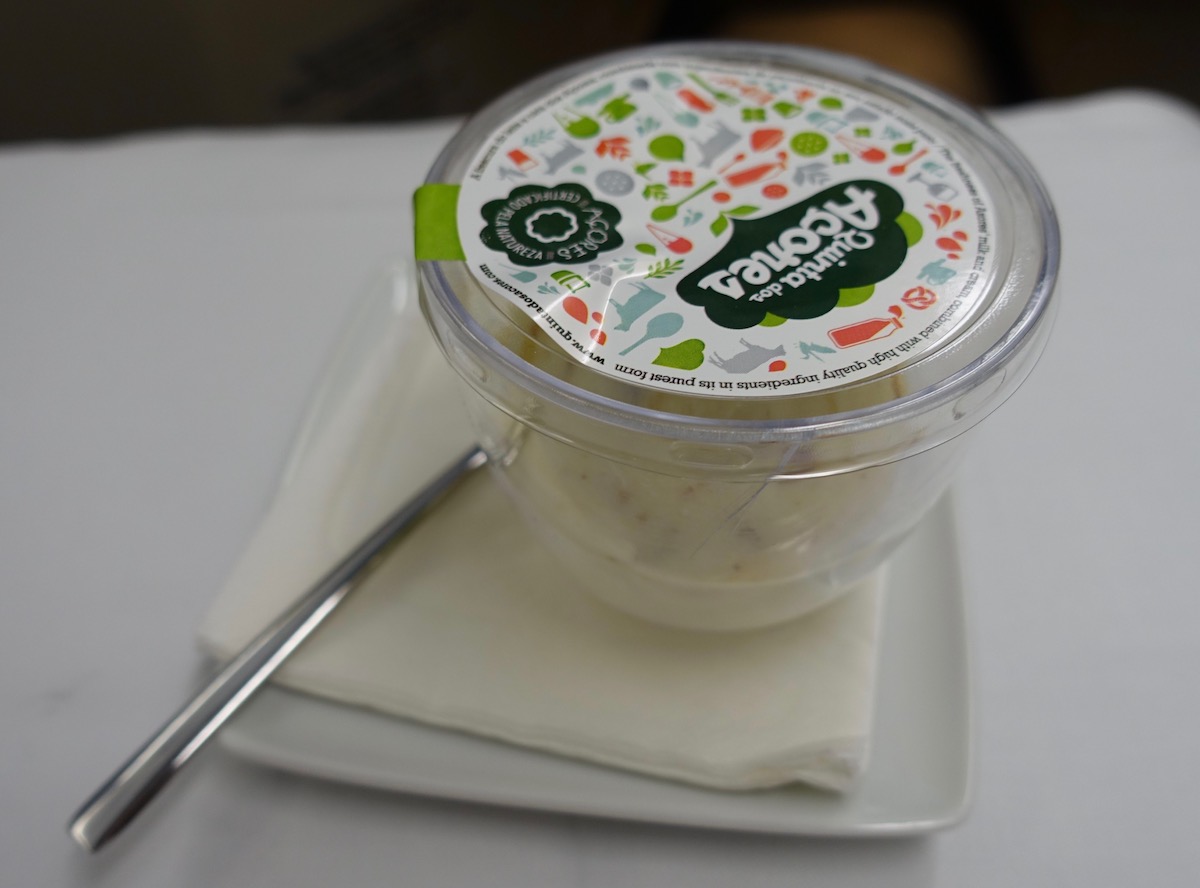 Portugal is known for their wine so I was looking forward to their selection. The drink list looked great, with two whites and two reds, though they only loaded one of each, and I didn't particularly care for the white wine on offer. Speaking of drinks, is this the smallest serving of a pre-departure sparkling wine ever, or what?
The crew on this flight was one of the worse crews I've had in a long time. It's not that they were trying to be rude, but it was just clear they didn't care. For example, when I was offered a pre-departure beverage the flight attendant just held out the tray and looked at me as if I personally offended her. No "welcome aboard," or "would you like a drink?"
To give another example, the guy across from me didn't take out his tray fast enough for the meal service, because he didn't know he was supposed to. The flight attendant just stood there looking at him, then she huffed and skipped him.
As far as the amenities go, TAP offers a large blanket in business class, which is fairly good, though not especially soft or cuddly. Then there's a pillow, which is on the small side.
Amenity kits were offered on boarding, and consisted of little sardine tins. While I thought the design was cute, it was really impractical. Once I opened the tin I couldn't close it back up.
The plane didn't have wifi, though the entertainment selection was surprisingly extensive, with a big selection of movies.
To sum it up, TAP's new business class product is a great improvement over the old one. A fully flat staggered configuration is definitely in the top half of transatlantic business class hard products, and business class is all about the seat. Other than that, the product is acceptable. The food was okay, the amenities were okay, and the service was… not great, but I guess okay (which is more than I can say about the service on my previous TAP Portugal flight).
TAP Portugal pretty consistently has the lowest transatlantic fares of just about any non-ultra low cost transatlantic carrier, in both economy and business class, so given that, I think they're an excellent choice. We sometimes see $1,200 roundtrip business class fares on them, so getting that kind of a fare for a fully flat business class seat like this represents an exceptional value.
If you've flown TAP Portugal's new business class, what was your experience like?