A few days ago I wrote about how Surinam Airways wanted to get rid of its 777. There's an update on that front, as the plane is currently enroute to Victorville.
Surinam Airways' 777 saga up until this point
Surinam Airways is a small national airline based in Paramaribo, Suriname. The airline has historically operated a single long haul route, between Paramaribo and Amsterdam (given the ties between the two places).
The airline has also tried to maintain a single long haul aircraft, which for many years wasn't an issue — from 2004 to 2009 the airline had a 747-300, while from 2010 to 2019 the airline had an A340-300.
That brings us to the saga of the past couple of years, as the airline has tried to replace its A340:
In mid-2019 it was announced that Surinam Airways would replace its single A340 with a used Boeing 777-200ER that previously flew for Singapore Airlines
This decision was a controversial move, and even got Surinam Airways' boss at the time suspended, as he apparently made that decision without consulting the board
Surinam Airways ended up taking delivery of this plane in early 2020, though for nearly a year the airline didn't operate a single passenger flight with it, and instead used a wet leased Air Belgium A340-300 for the route
What went wrong? Well, as it turned out, Surinam Airways lacked ETOPS certification for its 777. This meant the plane would need to make a huge detour if flying between Paramaribo and Amsterdam, as the plane would need to stay within 60 minutes of diversion points (which isn't possible when flying over the middle of the Atlantic).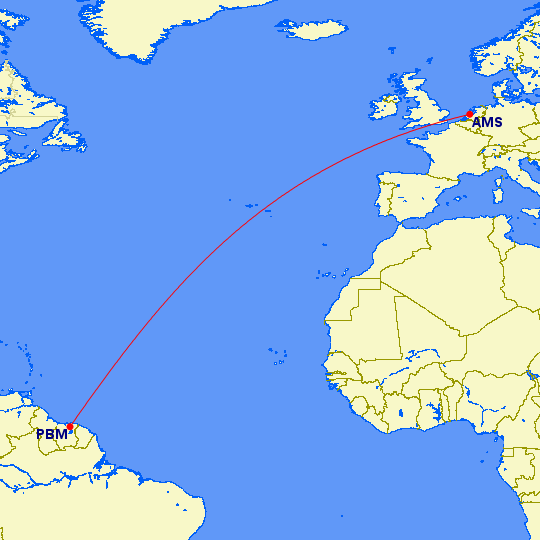 The issue had nothing to do with the plane as such, but rather had to do with the company's pilots needing to spend some time flying in 777 simulators. The issue was that the airline didn't have 777 simulators, and due to travel restrictions from coronavirus, the airline couldn't find any simulators for its pilots to use.
Surinam Airways gets rid of 777
Surinam Airways' ETOPS issue was resolved in late 2020. The airline began flying the 18 year old 777 with the registration code PZ-TCU regularly between Paramaribo and Amsterdam as of December 18, 2020.
Unfortunately that only lasted for all of several weeks, until the service came to a screeching halt as of February 7, 2021, after the plane landed in Amsterdam. The plane has been parked there ever since (well, until today), so what happened? Well, technical issues, including problems with one of the engines.
A few days ago we learned that Surinam Airways was looking to get rid of its brand new (used) 777. The airline stated that repairs would be expensive, so the airline wanted to return the plane to Boeing (the 777 is leased directly from the aircraft manufacturer). According to an internal memo:
The technical maintenance has shown that in the worst case, a large cost item must be taken into account for repair and possibly even having to replace one of the engines.

This fact has led the management and other actors within Surinam Airways to take the decision to use the early return of the B777 to Boeing.

A few things were discussed with Boeing yesterday and Surinam Airways expects further discussions on handling or possible other options. The aim is, by consensus with Boeing, to fly the aircraft within the next week to a location yet to be determined by Boeing.

Once things are final, we will share this with you. In the meantime, the Mid-Atlantic flight path is maintained by Air Belgium.
I'm about as skilled at graphic design as Surinam Airways (what is that plane?!)
Well, there's now an update on this — Surinam Airways' 777 is currently enroute from Amsterdam to Victorville, California, where the plane will be leaving Surinam Airways' fleet. We don't know the terms of this agreement, but somehow the airline has managed to dump the plane pretty quickly.
For the time being, Surinam Airways' service will continue to be operated by a wet leased Air Belgium A340-300.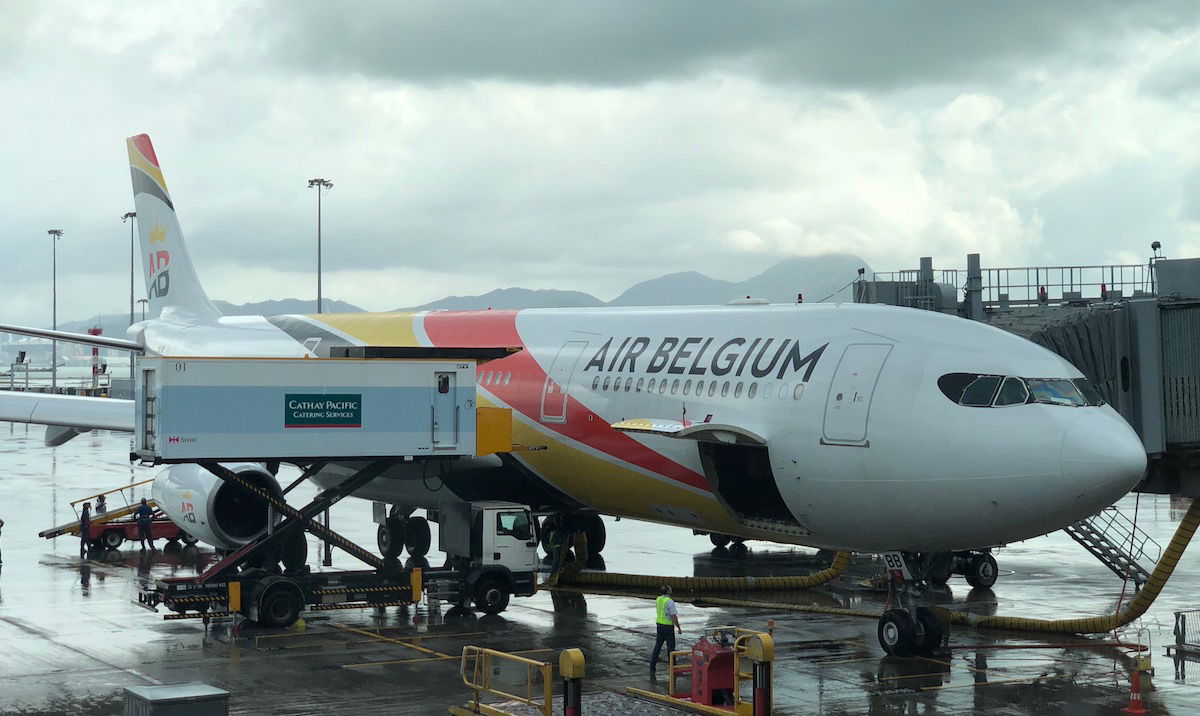 Air Belgium is once again operating Surinam Airways' flight
Bottom line
Surinam Airways took delivery of a used 777 in early 2020, which was supposed to be used for the carrier's flagship Paramaribo to Amsterdam route. Unfortunately ETOPS issues meant the airline couldn't actually fly the plane for many months. Then several weeks after service started there was a costly technical issue, which has grounded the plane for the past several weeks.
Surinam Airways seems to have succeeded with returning this 777 to Boeing, as the plane is currently enroute to Victorville. This seems like a situation where Surinam Airways should just give up the pride of operating this route and instead codeshare with KLM, because it is about as well run as so many other national airlines out there. But who knows what will actually happen…
I'll be curious to see what Surinam Airways' next move is with its long haul fleet, and also where this 777 goes (maybe Eastern will acquire it?).
What do you make of Surinam Airways' 777 situation?