You guys know I have a bit of an obsession with "random" routes. I put random in quotations because I'm not suggesting they're actually without merit, but rather from a US-centric perspective they might be surprising. For example, in a few weeks I'll be flying Condor from Frankfurt to Whitehorse, on their once weekly seasonal service.
I'd like to think I know just about all the longhaul routes and airlines that exist to & from the Americas, so when there's one I'm not familiar with, I get really excited. That brings me to Surinam Airways' fascinating flight between Paramaribo and Amsterdam. The route makes sense, given the Dutch ties here, and Surinam Airways isn't even the only airline to operate the route.
The airline has a fleet of just three aircraft, including two 737s and one A340. The A340-300 they have is about 20 years old, and used to fly for China Southwest Airlines, Garuda, and Air China, before starting service for Surinam Airways in 2015.
The airline uses that plane to fly 4x weekly between Paramaribo and Amsterdam, which is a ~4,700 mile journey.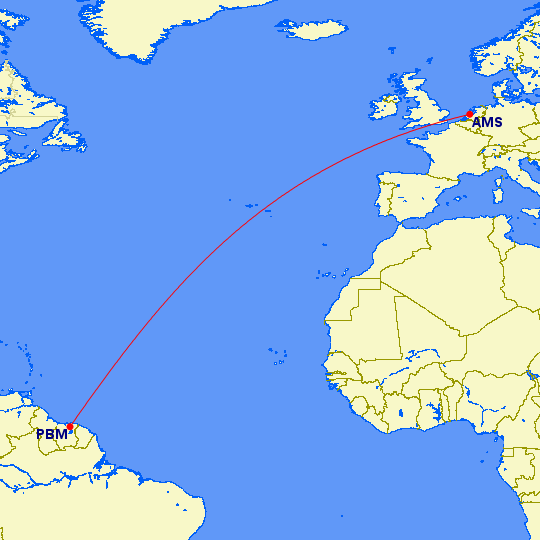 Surinam Airways' A340-300 features just 12 business class seats, which seem to be angled seats in a 2-2-2 configuration. Other than the picture on Surinam Airways' website, there's almost nothing out there about the airline, and even the website doesn't describe much about business class service.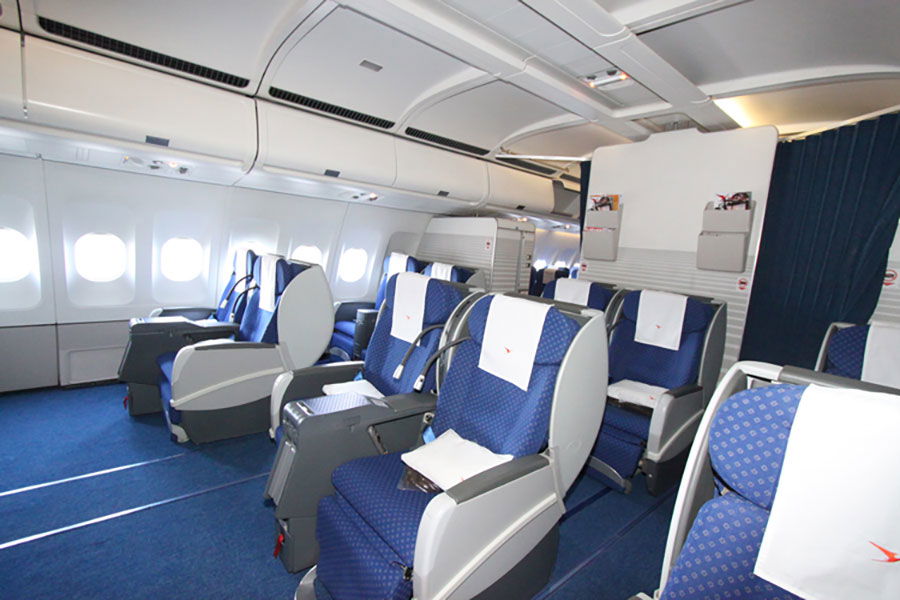 Naturally I now desperately want to fly Surinam Airways, though unfortunately they don't belong to any alliance or have any major airline partners, so I won't be able to redeem miles on them.
Roundtrip business class fares aren't too bad, at under $2,000:

The issue is that a one-way isn't half the price, but rather costs $1,600-1,700, which isn't nearly as good (and personally I'd only really like to fly them one-way):

It would be so cool to combine a flight on Surinam Airways in one direction with a flight on Boliviana de Aviación in the other direction, between Santa Cruz and Madrid, as those are the two Northern/Central South America transatlantic routes I'm most fascinated by:

On second thought, getting between Santa Cruz and Paramaribo looks tougher than getting to Saint Helena, so I think those would be two separate trips.
For that matter, getting to Paramaribo at all seems challenging. There are no direct flights from the US, and it almost seems like just doing a roundtrip ticket out of Amsterdam is the most practical option, unless I'm missing something. KLM and TUI also fly between Amsterdam and Paramaribo, so I could potentially fly them in one direction, and Surinam Airways in the other.
But when a roundtrip ticket is only $300 more than a one-way, I'm not sure booking a one-way on Surinam makes sense. So if anyone can think of a practical/economical way to combine Surinam Airways with an itinerary on another airline, I'd love to hear it!
Has anyone actually visited Paramaribo or flown Surinam Airways? How was it?
(Thanks to SQFirst for the idea, and featured image courtesy of Jules Meulemans)