Hello from Kigali! Yesterday I flew RwandAir from Nairobi to Kigali, which was a short 64 minute flight that was operated by a CRJ900. I'll save my thoughts on the actual experience for the trip report (since there's only so much you can say about the service), but in this post wanted to focus on just how strange this flight was.
I feel like I've seen some weird behavior over the years, but this certainly ranks up there. The RwandAir CRJ900 business class cabin has a total of seven seats. To set the scene, the cabin is in a 1-2 configuration, and there are three rows of single seats, and then two rows of double seats.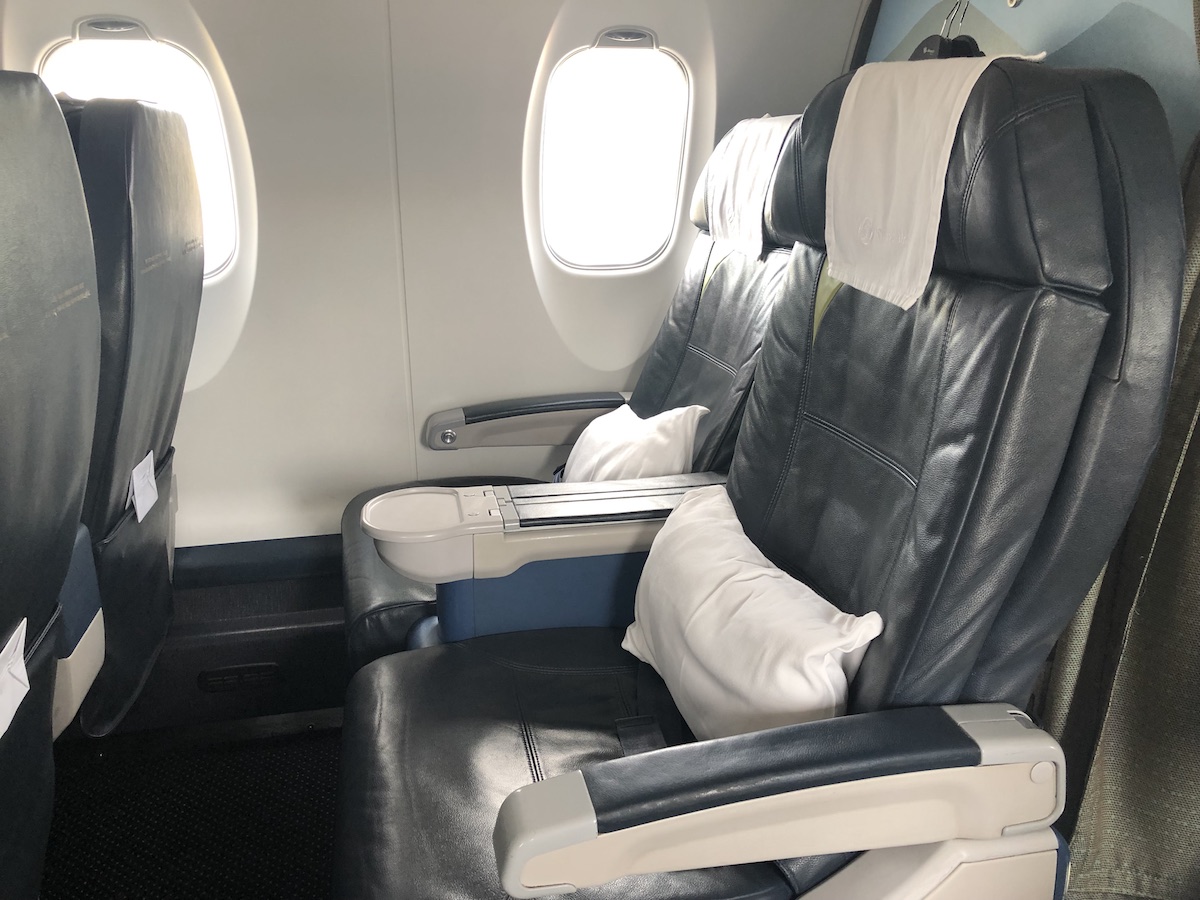 There were three "paid" passengers, and then two employees. Well, three if you count the captain (supposedly) flying the plane. There was a captain who was either deadheading or a relief pilot of some sort, then there was the actual captain, and then there was a ground agent of some sort, who I guess flies around with the plane to supervise boarding.
The plane was coming from Entebbe, so it was about a quarter full when I boarded. I was surprised how many people were flying from Entebbe to Nairobi to Kigali, given what a roundabout routing that is, and given that there are also nonstop flights. But hey, who am I to judge indirect routings? 😉
The flirting captain
This is the less interesting of the two stories.
First you had a captain seated in business class. I'm not sure if he was deadheading or was just a relief pilot (why you need a relief pilot on this short of a trip is beyond me), but he didn't actually seem to have an assigned seat.
That's because he was seated in 1A during boarding, but then someone showed up for that seat, so he went to sit next to a (pretty) lady. They spent the entire flight talking (he was flirting hard), and ended up exchanging phone numbers. Good for them.
The funny part there was that they tried to gate check the captain's bag because there was no room. He refused, so they ended up just leaving it just standing up on the floor by one of the business class seats.
The on-duty (but not really) captain
There were two pilots working the flight. The captain must have been Italian or something, while the first officer was local. He wasn't a third pilot, or anything (sometimes you might have a training captain in the jumpseat), but in this case I'm 100% sure it was just two pilots, since I saw the cockpit during boarding.
About 10 minutes after takeoff the captain came out of the cockpit to take a bathroom break. Unlike some other airlines, RwandAir doesn't send a flight attendant into the cockpit when the captain leaves, so it was just the first officer in the cockpit.
After going to the bathroom, the captain sat down in the one empty business class seat. This required kicking the ground employee (or whoever he was) out of the seat so that he could have the solo seat, meaning the other guy sat next to me. "Just 10 minutes," he said.
He then sat there relaxing for maybe 15 minutes, and then ate his meal in the seat. He even took a picture of his meal — maybe he was trying to review the flight as well?
Eventually he went back to the cockpit, at which point he announced we'd be landing in 16 minutes, so he spent over half the flight outside the cockpit.
Bottom line
The whole dynamic between the three employees in business class was just odd, between one captain exchanging numbers with a passenger, and the other captain not actually flying the plane.
I've seen pilots spend time outside the cockpit, and it doesn't bother me, since they need to stretch their legs, go to the bathroom, etc. But to spend over half of a 64 minute flight outside a cockpit seems… a bit much.