A few days ago I wrote a detailed review of the Starbucks® Rewards Visa® Card. I briefly talked about how to redeem Starbucks Rewards Stars, though after publishing the post, a colleague of mine made me aware of the fact that there was so much more I could be doing to maximize my Stars.
For example, did you know you a caffe misto with 12 shots of espresso, six pumps of syrup, and cocoa powder, costs the same number of Starbucks Stars as a plain cup of coffee? Okay, the former admittedly sounds horrifying, but the point is that the possibilities are endless. 😉
I've been down a Starbucks Rewards rabbit hole the past few days, and I kind of love it. I love learning the ins-and-outs of loyalty programs — while I usually focus on travel loyalty programs, there are some really cool aspects to the Starbucks Rewards program.
Now, I think context is important — I'm not the world's biggest Starbucks fan. Rather I sometimes go to Starbucks because the product is consistent and ordering is easy. My usual order is a cold brew to drink, and a spinach feta wrap to eat.
What is Starbucks Rewards?
Starbucks Rewards is Starbucks' rewards program. "Stars" are the rewards currency of the program, and you can earn them through purchases at Starbucks stores, or through Starbucks' co-branded credit card.
What makes Starbucks Rewards more exciting than some other loyalty programs? Well, the program isn't strictly revenue based, but rather has a rewards chart where you can get a wildly different dollar value for your Stars depending on how you redeem them.
I love how there are drinks that cost $3 and drinks that cost $15 that both require the same number of Stars for a redemption.
How can you earn Starbucks Rewards Stars?
There are several ways you can earn Starbucks Stars:
Earn 2x Starbucks Stars per dollar spent at Starbucks when you pay with a prepaid digital Starbucks Card (you can load funds onto this from your credit card, and there's no cost to join — make sure you use a credit card offering bonus rewards on dining, since Starbucks qualifies as that)
Earn 1x Starbucks Stars per dollar spent at Starbucks when using any other payment method (you just have to scan your Starbucks Rewards account separately from your payment method)
Earn Starbucks Stars for spending on the Starbucks Rewards Visa Card; for example, you can earn up to 4,800 Stars when you sign-up for the card and complete qualifying activities, and then can earn up to 1x Stars per dollar spent
To maximize your Stars you should always be using a registered Starbucks Card for your Starbucks spending, with a preloaded balance. Furthermore, Starbucks sometimes has double Stars days, where members can earn 4x Starbucks Stars for spending, rather than 2x Stars.
Do Starbucks Stars expire?
Starbucks Stars expire six months after the month in which they were earned. In other words, if you earn Stars on January 15, 2020, they'd expire on August 1, 2021. Note that if you have the Starbucks Rewards Visa Card then all the Stars that you earn don't expire, so that gives you quite a bit more flexibility.
How can you redeem Starbucks Rewards Stars?
Starbucks Rewards has five different redemption rates, ranging from 25 to 400 Stars per item. Here's how much you can expect to pay:
Redeem 25 Starbucks Stars to customize your drink — this includes an espresso shot, dairy substitute, or a syrup
Redeem 50 Starbucks Stars to get a brewed hot coffee, bakery item, or hot tea
Redeem 150 Starbucks Stars to get a handcrafted drink, hot breakfast sandwich, oatmeal, or your favorite drink
Redeem 200 Starbucks Stars to get a salad, sandwich, or protein box
Redeem 400 Starbucks Stars to get select merchandise or at-home coffee
Tips for maximizing Starbucks Stars
When it comes time to redeem Starbucks Stars, there are some general things to keep in mind:
The redemption cost is the same regardless of what size drink you order, so in general order a venti rather than a tall when redeeming Stars
Be aware of the free add-ons you can include with some redemptions, which I'll talk more about below; this is really the key to maximizing your Starbucks Stars
Be strategic about the items in each category that you redeem for; for example, both an almond croissant and petite vanilla bean scone cost 50 Stars, but the former costs 160% more when paying cash (screenshot below)
Starbucks Rewards members can receive free refills of hot or iced brewed coffee or tea during the same store visit, whether paying with cash or redeeming Starbucks Stars, so this is a great way to maximize your value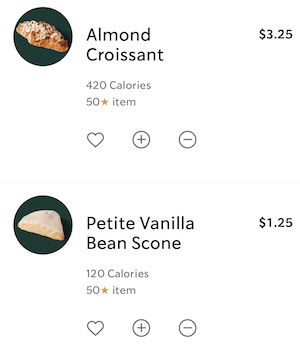 The Starbucks Rewards caffe misto sweet spot
My colleague made me aware of the website Starbucks Hacker, and I love it. The website goes into the ins-and-outs of the Starbucks Rewards program as much as I go into the details of frequent flyer programs.
This also taught me what's probably the single best use of Starbucks Rewards Stars:
50 Starbucks Stars is near the lower end of the redemption options, and it gets you a brewed hot coffee, bakery item, or hot tea
A caffe misto is half brewed coffee and half steamed milk, and that costs just 50 Starbucks Stars
Meanwhile a latte would cost 150 Stars, which is three times as much
If you redeem for a caffe misto, you can add espresso shots, syrups, and more, to the drink, at no extra cost. A venti caffe misto costs $3.65 or 50 Stars.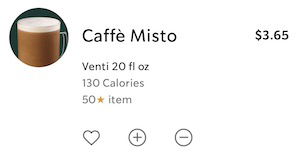 But that's kind of boring, no? Let's make some modifications…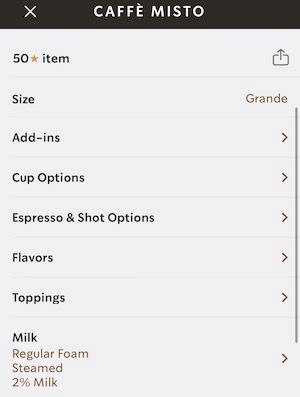 How about we add in four espresso shots, some pumps of syrup, some cocoa powder, and some almond milk foam? This would still only cost 50 Stars, while the cash cost would be over $10.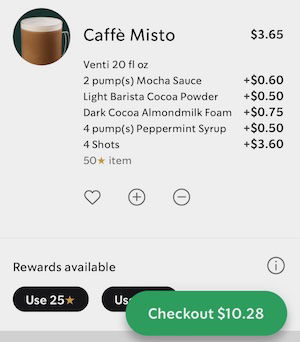 My colleague ordered one of these yesterday and said it actually tasted good. Personally I feel kind of sick even looking at the order, as much as I love the value of this on paper.
So you could also take it easy on the syrups, but still get significantly more value. If you order enough espresso shots in one drink, then I think your coffee with milk actually becomes a full-on latte.
I'm an old fashioned guy — leave out all the syrups, I think I'll just take a 12 shot caffe misto, which would retail for over $15 (warning: proceed at your own risk). 😉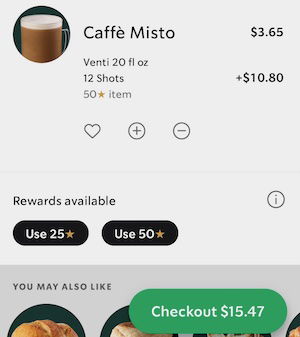 To be clear, I'm not at all suggesting that this is what anyone should actually order. Rather I'm just having fun with all of this and playing around with the possibilities.
What about the Starbucks free birthday reward?
One other great perks of the program is that Starbucks Rewards members receive a free reward on their birthday ever year:
This is automatically loaded to your account, and is only valid on the date of your birthday
You can have either a handcrafted beverage, food item, or ready-to-drink bottled beverage
To qualify, you must have signed up for Starbucks Rewards at least seven days prior to your birthday, and make at least one Star-earning transaction prior to your birthday every year
You can use similar strategies to the above for maximizing your Starbucks birthday reward. However, you can just go straight for the handcrafted beverage, because any eligible drink is covered.
How much are Starbucks Stars worth?
It's hard to give a concrete answer as to how much Starbucks Stars are worth:
Everyone likes to redeem for different things
Pricing varies based on the location
There's a difference between what you can order to get the most value per Starbucks Star, and what you might actually want to order; in other words, adding 12 espresso shots to a drink is possible, but it's probably not advisable
In trying to come up with a valuation, let's pick items at random from some of these categories (I'm going off of Miami pricing here):
A venti blonde roast usually costs $3, and requires 50 Starbucks Stars; that's a value of 6.0 cents per Starbucks Star
An almond croissant usually costs $3.50, and requires 50 Starbucks Stars; that's a value of 7.0 cents per Starbucks Star
A spinach, feta, and egg white wrap usually costs $4.50, and requires 150 Starbucks Stars; that's a value of 3.0 cents per Starbucks Star
A venti cold brew usually costs $4.50, and requires 150 Starbucks Stars; that's a value of 3.0 cents per Starbucks Star
A venti latte usually costs $5.50, and requires 150 Starbucks Stars; that's a value of 3.7 cents per Starbucks Star
A grilled chicken and hummus protein box usually costs $7, and requires 200 Starbucks Stars; that's a value of 3.5 cents per Starbucks Star
A chicken & quinoa protein bowl usually costs $9, and requires 200 Starbucks Stars; that's a value of 4.5 cents per Starbucks Star
A bag of veranda blend beans usually costs $14, and requires 400 Starbucks Stars; that's a value of 3.5 cents per Starbucks Star
This is just a random selection of items without any sort of add-ons. As you can see, we're looking at anywhere from 3.0-7.0 cents of value per Starbucks Star. Based on that, personally I'd conservatively value Starbucks Stars at somewhere in the range of 4-5 cents each.
Bottom line
I love loyalty programs of all kinds, and particular ones where there are ways to get outsized value. While Starbucks Rewards is hardly as lucrative as an airline frequent flyer program, I've had a lot of fun playing around with it, given all the creative redemption opportunities.
Redemption values vary significantly, so it's worth at least putting some thought into how you redeem your Starbucks Stars.
To summarize my Starbucks Rewards advice:
The 50 Stars category is the sweet spot, whether you're redeeming for a coffee or a bakery item; generally items costing 150 Stars aren't 3x as expensive if paying cash
The absolute best value is ordering a caffe misto with some modifications; this is a way to live the latte lifestyle on a coffee budget 😉
If you don't want to go totally overboard with modifications, at a minimum ordering drinks with additional espresso shots is a way to get more value; maybe don't order a drink with 12 shots, though
Unfortunately my go-to Starbucks orders only get me three cents of value per Star, so I need to do better. I guess I'll be trying a caffe misto on my next visit to Starbucks. 😉
Anyone have any other tips for maximizing the Starbucks Rewards program? What's your go-to reward redemption?