The brand new Starbucks Rewards Visa Card is now accepting applications, which is a co-brand card being issued by Chase. In this post I wanted to take a closer look at the card, now that we know all the details.
Starbucks Rewards Visa Card sign-up bonus
The card is offering a sign-up bonus of 2,500 Starbucks Stars after spending $500 within the first three months. You need 125 Stars for a free food or beverage item from Starbucks, meaning that the sign-up bonus basically gets you 20 free food or beverage items from Starbucks. For the purposes of the valuing Stars, I generally think of a free item as being worth about $5, meaning that the 2,500 Stars are worth ~$100.
On top of that, you can earn a further 250 Starbucks Stars the first time you use your Starbucks Rewards Visa Card to digitally load your registered Starbucks card in your app. That's potentially good for another two drinks or food items.
In other words, the sign-up bonus is really for up to 2,750 Starbucks Stars, or 27 free food items or drinks.
Starbucks Rewards Visa Card annual fee
The Starbucks Card has a $49 annual fee, which isn't waived the first year.
Starbucks Rewards Visa Card return on spend
The Starbucks Rewards Visa Card offers:
One Starbucks Star for every $4 spent outside of Starbucks stores
One Starbucks Star for every $1 spent at Starbucks stores (then you also earn an additional two Starbucks Stars just for being a rewards member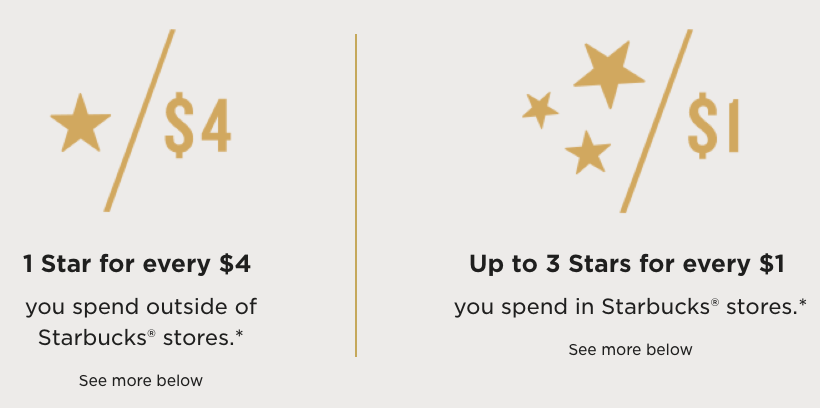 You need to spend $500 on non-Starbucks purchases to get enough stars for a free food or drink item. Since I value that at ~$5, that's like a 1% return, which I wouldn't consider to be compelling at all.
For Starbucks purchases you'd have to spend $125 to get enough Stars for an additional reward. Using the same value of $5 per reward, that's like a return of 4%, which I wouldn't consider to be that exceptional. The Chase Sapphire Reserve offers triple points on dining (including Starbucks), and I value that at a return of 5.1%.
Starbucks Rewards Visa Card perks
The card offers two other useful perks. The first one is that the card offers Gold status for as long as you have the card. Gold status makes you eligible to earn rewards, and ordinarily requires earning 300 Stars. That means you earn Gold status as long as you spend at least $150 per year at Starbucks, so if you're already a frequent Starbucks customer then that won't get you much value.
The other benefit of the card is that you get eight "Barista Picks" per year. Since this has been a point of confusion up until now, let's take a look at the terms & conditions of this benefit:
As a Starbucks Rewards Visa cardmember, you will receive eight (8) complimentary food or beverage items ("Barista Picks") as described below in each twelve (12) month period beginning 45 days following the opening of your account.

Each Barista Pick is available as a coupon automatically loaded to your Starbucks Rewards account which may be redeemed for one (1) complimentary item at a participating Starbucks store as described in the terms of the applicable Barista Pick coupon. Substitutions and customizations are not allowed unless specifically permitted by the Barista Pick coupon. Barista Picks cannot be redeemed for cash or Stars.

Each Barista Pick expires 30 days after it has been loaded onto your Starbucks Rewards account. If you have provided us with a current, valid email address, you will receive an emailed notice that the Barista Pick has been loaded to your account. One Barista Pick will be loaded approximately once every six (6) weeks.

You must present your registered Starbucks Card to the barista at a participating Starbucks store in order to redeem your Barista Pick. The Barista Pick benefit will be awarded as a single coupon valid for one-time use, regardless of the number of authorized user cards associated with your Starbucks Rewards Visa account.
As you can see, Starbucks will send you eight codes throughout the year, and they are each valid for 30 days and can be redeemed for select food or drink items.
Bottom line
I've gotta be honest, I don't see much value here at all. A sign-up bonus that gets you up to 22 free drinks or snacks is worth at most $110, at a valuation for $5 per item. That's not even factoring in the annual fee.
Beyond that, the card has a $49 annual fee, though the eight free (restricted) drinks or snacks help offset that a bit. But even at $5 a pop, the eight rewards don't quite cover the annual fee.
On top of that, the card doesn't offer a compelling return on spend. At a valuation of $5 per Starbucks snack or drink, you're earning a return of 1% on non-Starbucks purchases and a return of 4% on Starbucks purchases.
What do you make of the new Starbucks Rewards Visa Card?