GOOD MORNING! There are certain milestones we all remember in our lives. For some it may be their wedding. For some it may be the day they met Justin Bieber. For some it may be the day they were deflowered by Lufthansa first class. For me it's definitely the day that Air India joined the Star Alliance, which is today.
The courting process between the Star Alliance and Air India started back when I was still in diapers, and today it actually finally really actually really finally happened…. really! As of today — July 11, 2014 — Air India is a member of the Star Alliance!

Anyway, I've always wanted to try Air India's first class product, which is available on their 777-300ER aircraft. They have a total of four first class seats, so in terms of the overall first class "cabin footprint," it's probably very similar to TAM.
Air India operates three routes to the US:
Chicago to Delhi
New York to Delhi
Newark to Mumbai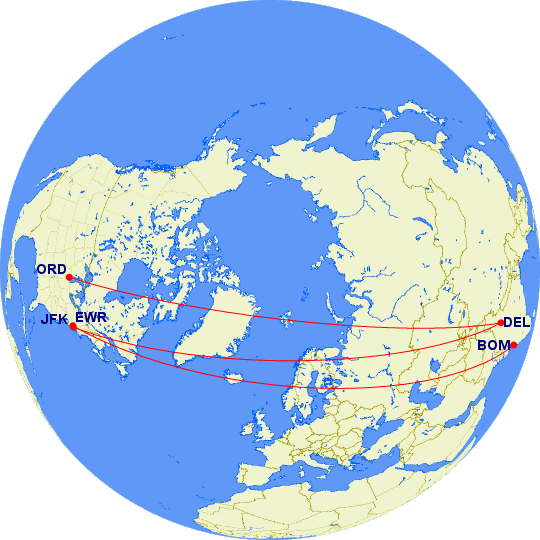 All US routes are operated by 777-300ERs, featuring:
4 First Class seats
35 Business Class seats
303 Economy Class seats
What does Air India award availability look like?
While Air India has only been in the Star Alliance for a few hours, so far the Aeroplan website, ANA website, and LifeMiles website are displaying Air India award space. So what does it look like?
Air India first class award space
For the US flights the general trends I'm noticing are that:
They release at most one first class award seat per flight (which isn't surprising since there are only a total of four seats)
The Chicago to Delhi route has a lot of first class award space, while the Newark to Mumbai and New York to Delhi flights don't have a lot of award space
On the Chicago to Delhi route I'm seeing first class award space most dates, though oddly there are some periods where there's not space for weeks at a time, and then they go back to having space every day (maybe they have blackout dates?).
Here's first class space for the first week of August:

Here's first class space for the first week of next March:

Here's first class space for the first week of next June:

For what it's worth, first class award space is also excellent out of London, where they have once daily 777-300ER service: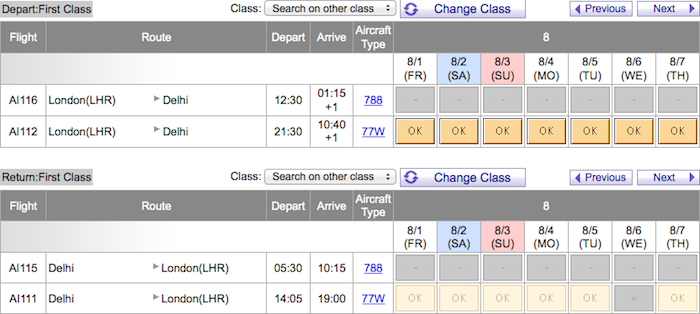 Air India business class award space
Air India releases business class space on a lot of longhaul flights, though for the most part it seems to be just one business class seat per flight to the US. So if you're traveling alone, Air India might be a nice addition to the Star Alliance, but they're not especially useful if traveling with someone else.
Here's availability on Chicago to Delhi for one person:

And New York to Delhi:

And Newark to Mumbai:

Air India economy class award space
Not surprisingly, I suppose, Air India economy award space is excellent across the board, on all three of their US routes.
That includes the Chicago to Delhi route:

New York to Delhi route: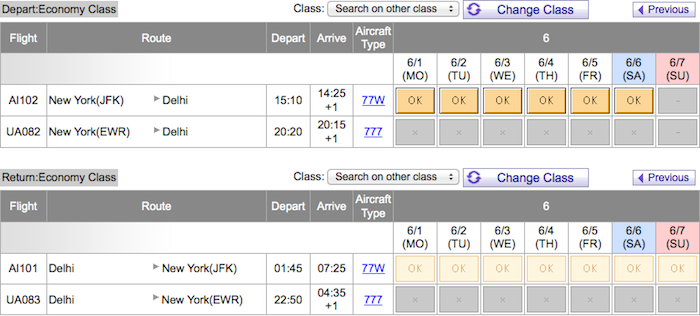 And Newark to Mumbai route: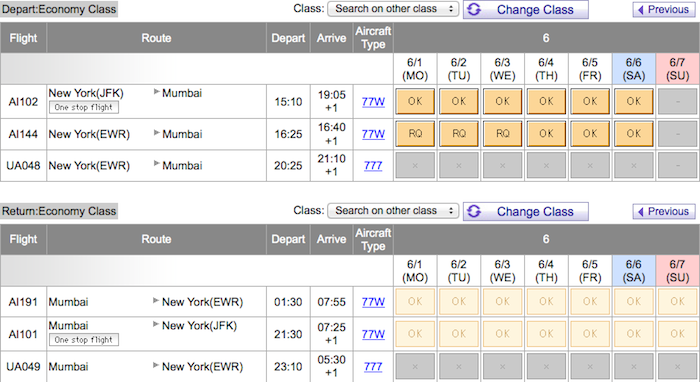 Air India domestic award space
Domestic award availability is excellent across the board. There's no shortage of space in either business or economy class.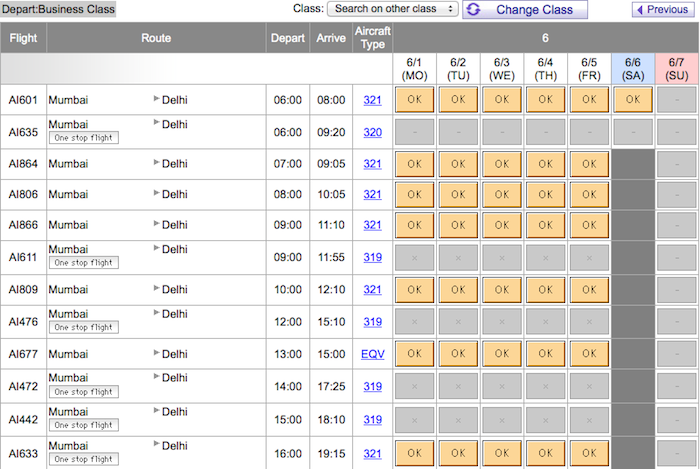 Redeeming Star Alliance miles for Air India
On the whole, the Star Alliance sure isn't as lucrative as it used to be for redeeming miles on partner airlines. With United's devaluation earlier in the year, and US Airways leaving the Star Alliance, there aren't many economical options remaining.
Mileage requirements for booking Air India between the US and India on a few of the most popular Star Alliance programs are as follows, one-way:
| Program | Economy Class | Business Class | First Class |
| --- | --- | --- | --- |
| Air Canada Aeroplan | 50,000 | 75,000 | 110,000 |
| Avianca LifeMiles | 42,500 | 78,000 | 111,000 |
| United MileagePlus | 42,000 | 93,500 | 140,000 |
Redeem Miles for Air India flights through these Star Alliance partners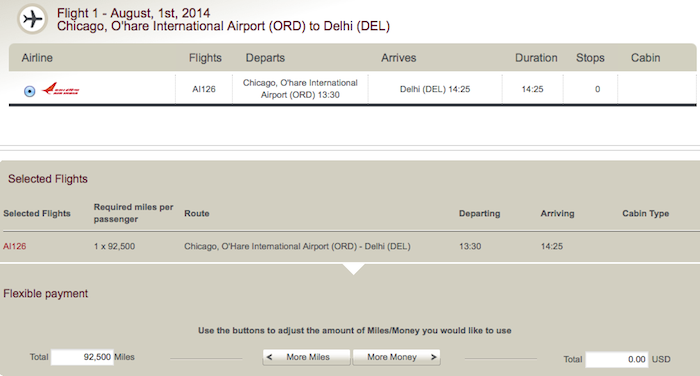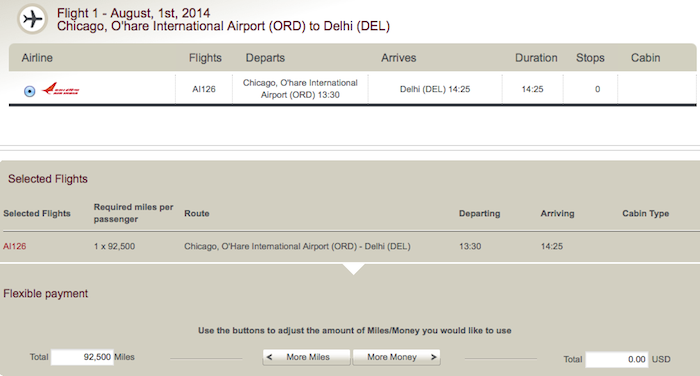 It's worth noting that Aeroplan is not imposing fuel surcharges for redemptions on Air India as of now.

Bottom line on Air India joining the Star Alliance
I know I'm more excited than the average person about Air India joining, and can't wait to fly with the Maharajah.
But even if you're not just excited because you're darn curious about what they're like, I do think they add quite a bit of value to the alliance. Even if you're not wanting to fly them longhaul, being able to earn and redeem miles as well as get alliance benefits when flying them domestically is a big win, in my opinion.
Stay tuned, I'll be checking out Air India soon!