Review: Spirit Airlines Booking & Check-In Process
Review: Spirit Airlines Big Front Seat A319 Los Angeles To Seattle
---
Before I publish the actual review of my Spirit Airlines flights, I wanted to talk a bit about the booking process and check-in process. This is in addition to the following OMAAT posts that have been published recently about Spirit (as Travis also flew them):
Booking my Spirit Airlines flight
I booked my ticket through Spirit's website just shortly before departure, and knew I wanted a Big Front Seat. These are basically first class seats with no extra service, and the premium for them is minimal.
The Spirit Airlines booking process was both transparent and repetitive/annoying. Spirit is known for their "Bare Fares," so for my flight that was $119.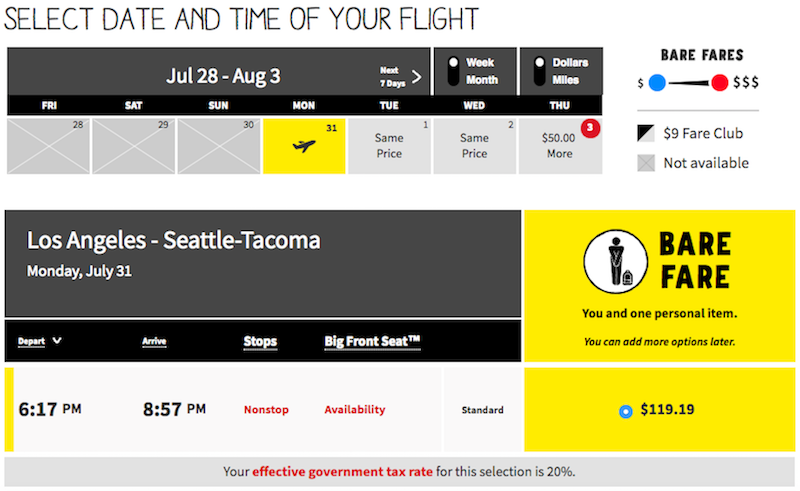 I knew I wanted a Big Front Seat, though it's treated no differently than any other "premium" seat on the plane, so you just select it during the booking process. On the plus side, when you do your initial search there's a button you can click to see how many are still available. In the case of my flight, there were seven available (though it doesn't show the price until you get further into the booking process).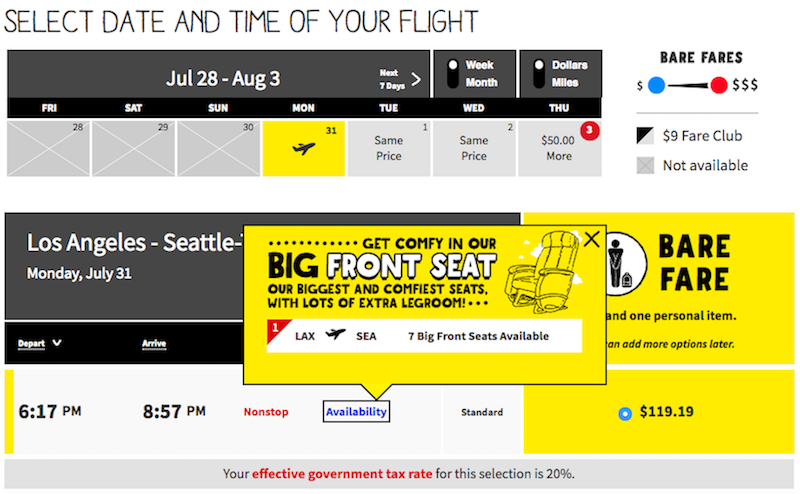 Spirit shows both the "flight price" and the "government's cut," as they call it. In my case it was $99 and $20 for the two, respectively.

Next you can pay for bags, and Spirit does a good job of explaining what's included and what isn't.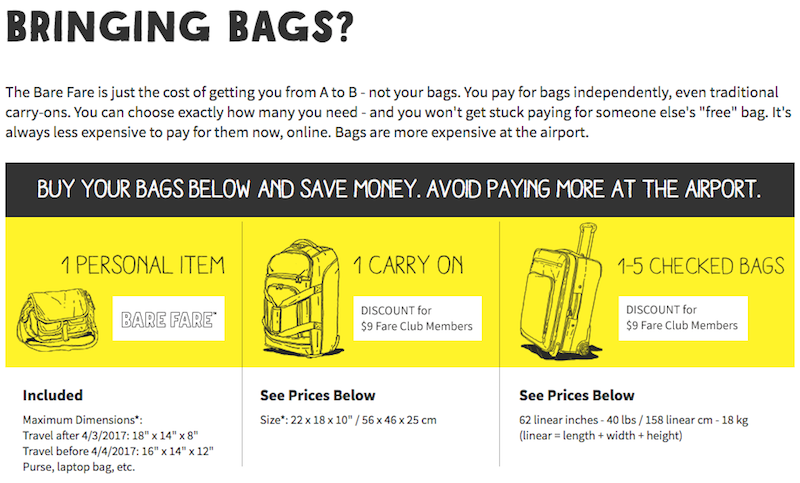 As crazy as it sounds, Spirit charges more for carry-ons than they do for checked bags. In the case of my flight it was $37 to carry-on and $32 to check. Why is this?
When you pay for a carry-on you get priority boarding included
Spirit makes the process of checking a bag so miserable that you'll want to pay extra to carry-on, given that there's typically a very long line to check a bag (Travis made this mistake when he flew Spirit)

Next you'll be given the option of selecting a seat. If you don't want to just be assigned a seat at check-in, you can pay $32 for a Big Front Seat, $28 for an exit row seat, and $20 for a seat towards the front of the cabin. The Big Front Seat is a phenomenal value, given that it's basically a first class seat.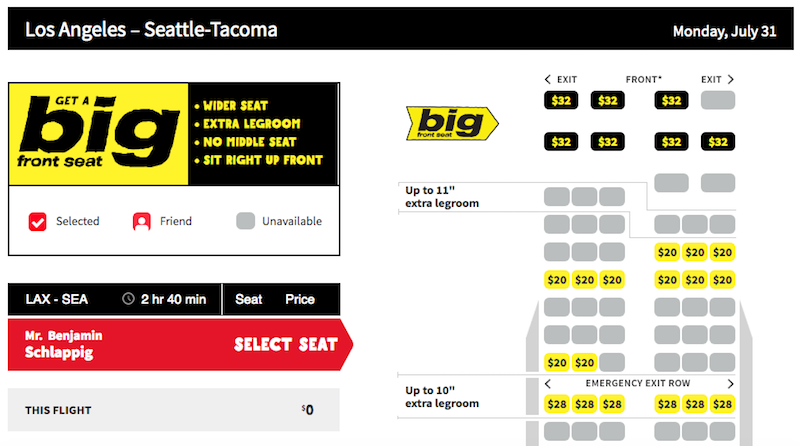 Then you'll be given the option to purchase all kinds of extras, ranging from shortcut security to priority boarding (which was already included with my ticket because I paid for a carry-on).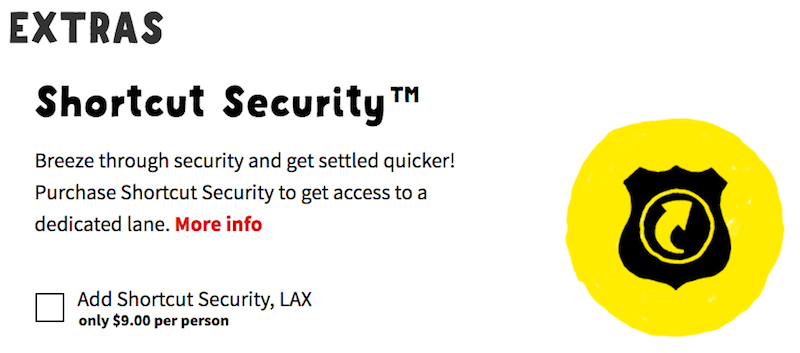 You're also given the option of how you want to check-in. This part is a bit deceiving. Spirit charges $10 if you choose to have an agent check you in at the airport, though you can check yourself in at an airport kiosk for no cost.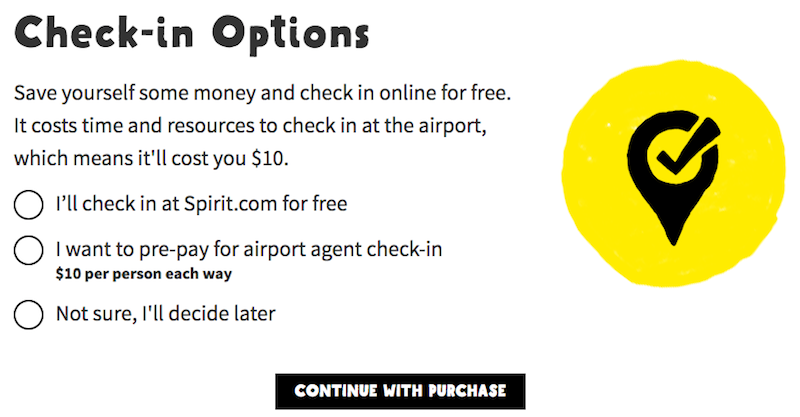 So, by the time I paid for a carry-on and a Big Front Seat, the total cost of my ticket was $188. That's not looking so cheap anymore, eh?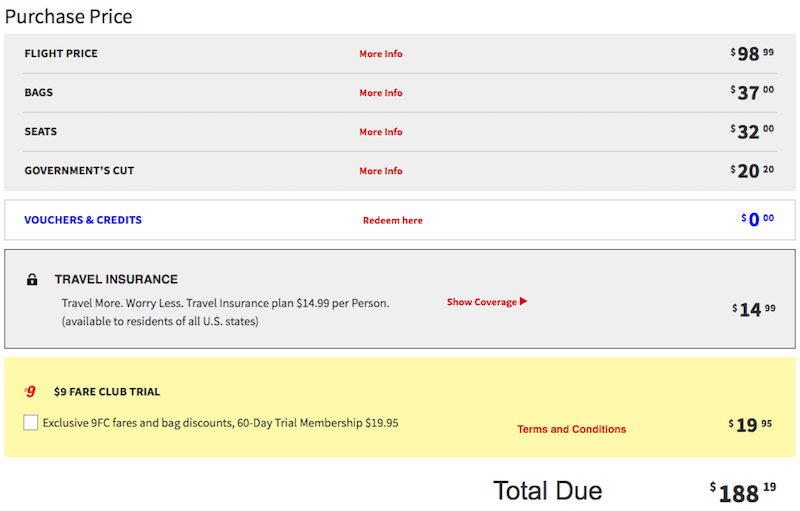 As a point of comparison, American was charging $99 for tickets that day. In my case I wasn't booking Spirit because it was a better deal, but because I was curious about the experience.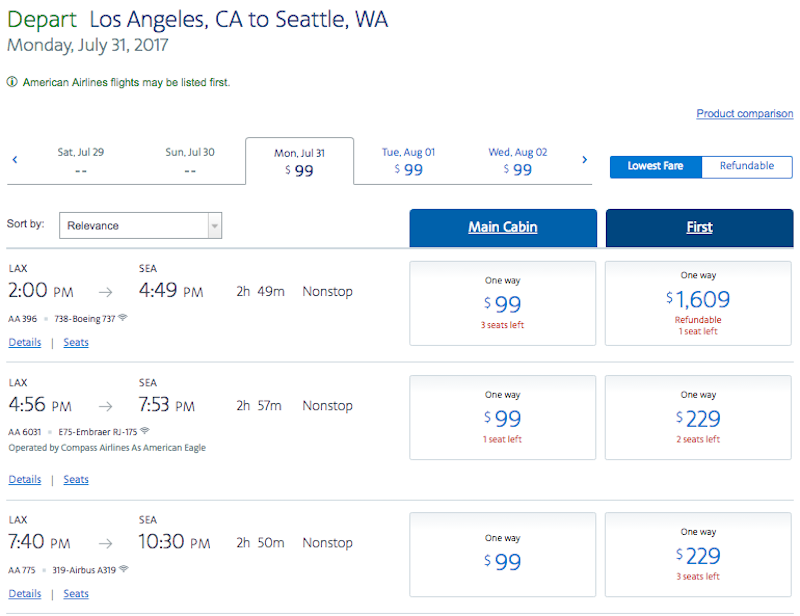 What I didn't mention above is the number of repetitive screens during the boarding process, asking you to triple check you don't want to pay for a certain bag, buy insurance, etc. Booking a Spirit ticket requires a lot of clicking.
On the plus side, I appreciate the transparency in the booking process. Unfortunately as I later learned out at the airport, many of Spirit's customers choose not to read.
Checking in for my Spirit Airlines flight
Spirit Airlines departs out of LAX Terminal 5. I walked past the Allegiant, Frontier, and Sun Country check-in desks, and they were civilized and fairly quiet. Great, I figured Spirit would be the same.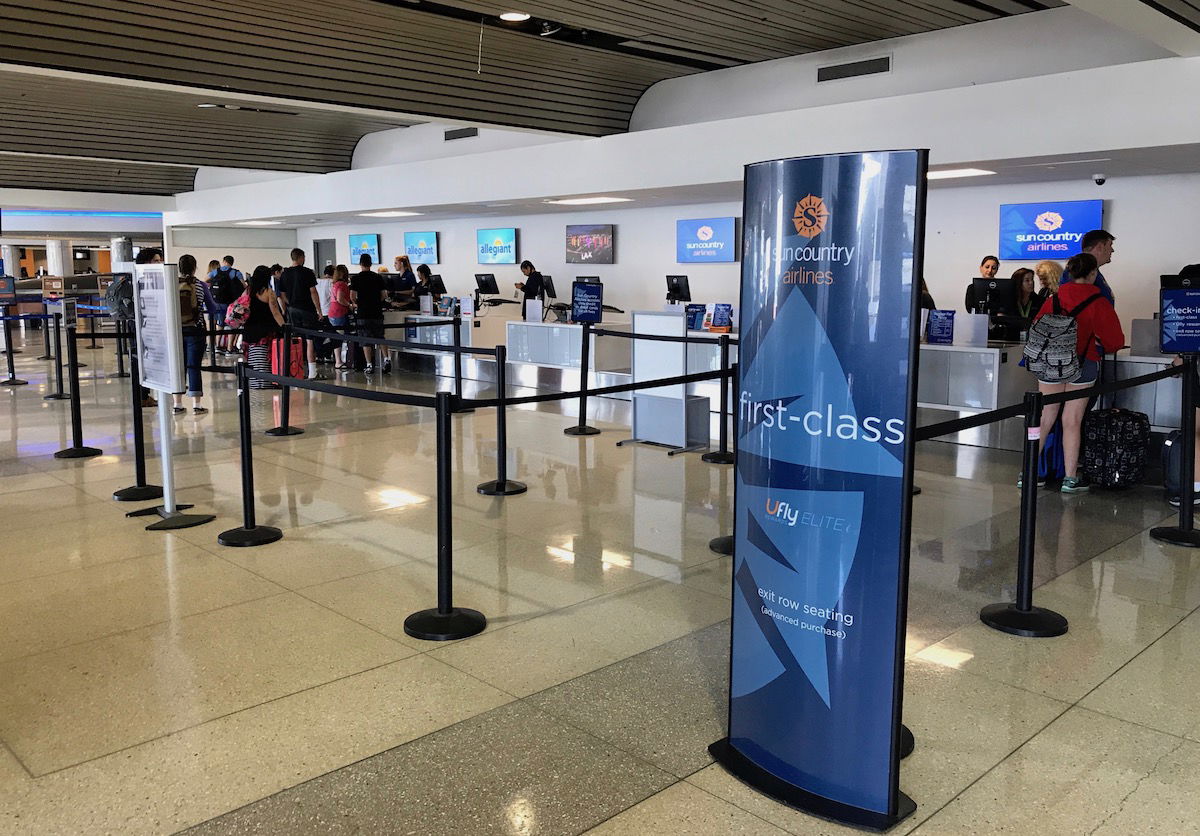 Allegiant & Sun Country check-in LAX
NOPE. Instead there was a huge — some might even say YUGE — line to check-in.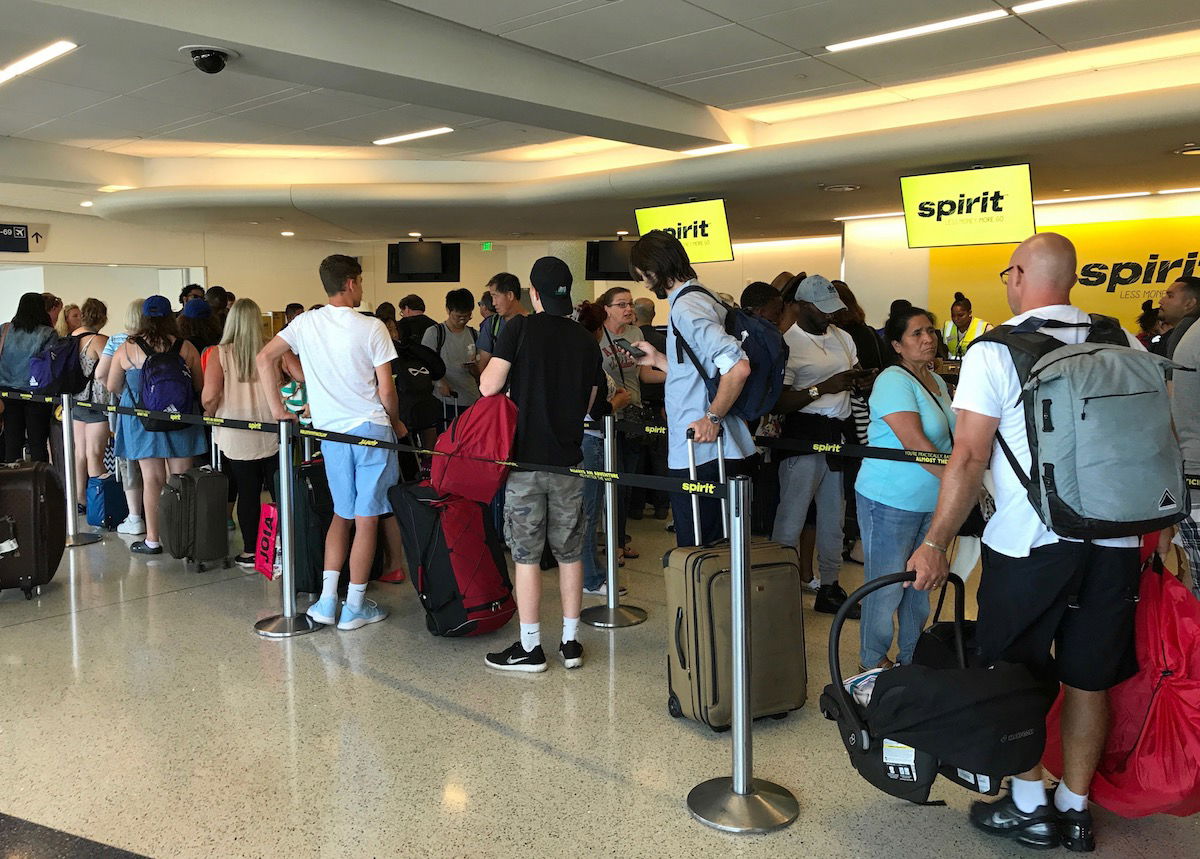 Spirit Airlines check-in
As it turned out, Spirit actually has a two step check-in process. First you go up to a kiosk, where you can print your boarding pass if needed. Once you're checked in for your flight, then you get in line to check your bag.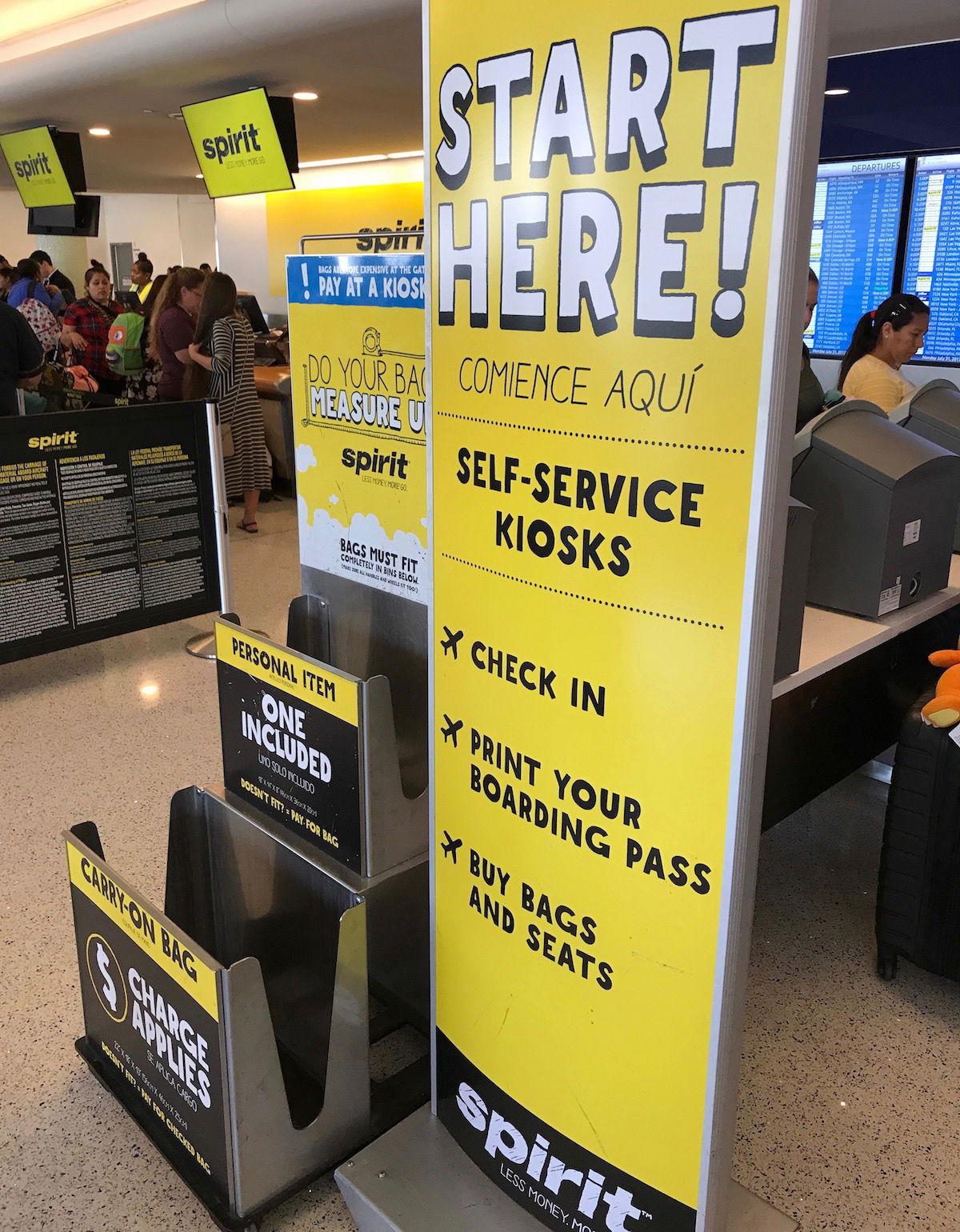 Spirit Airlines check-in kiosks
So you only have to line up to see an agent if you want to buy a ticket in person or check a bag.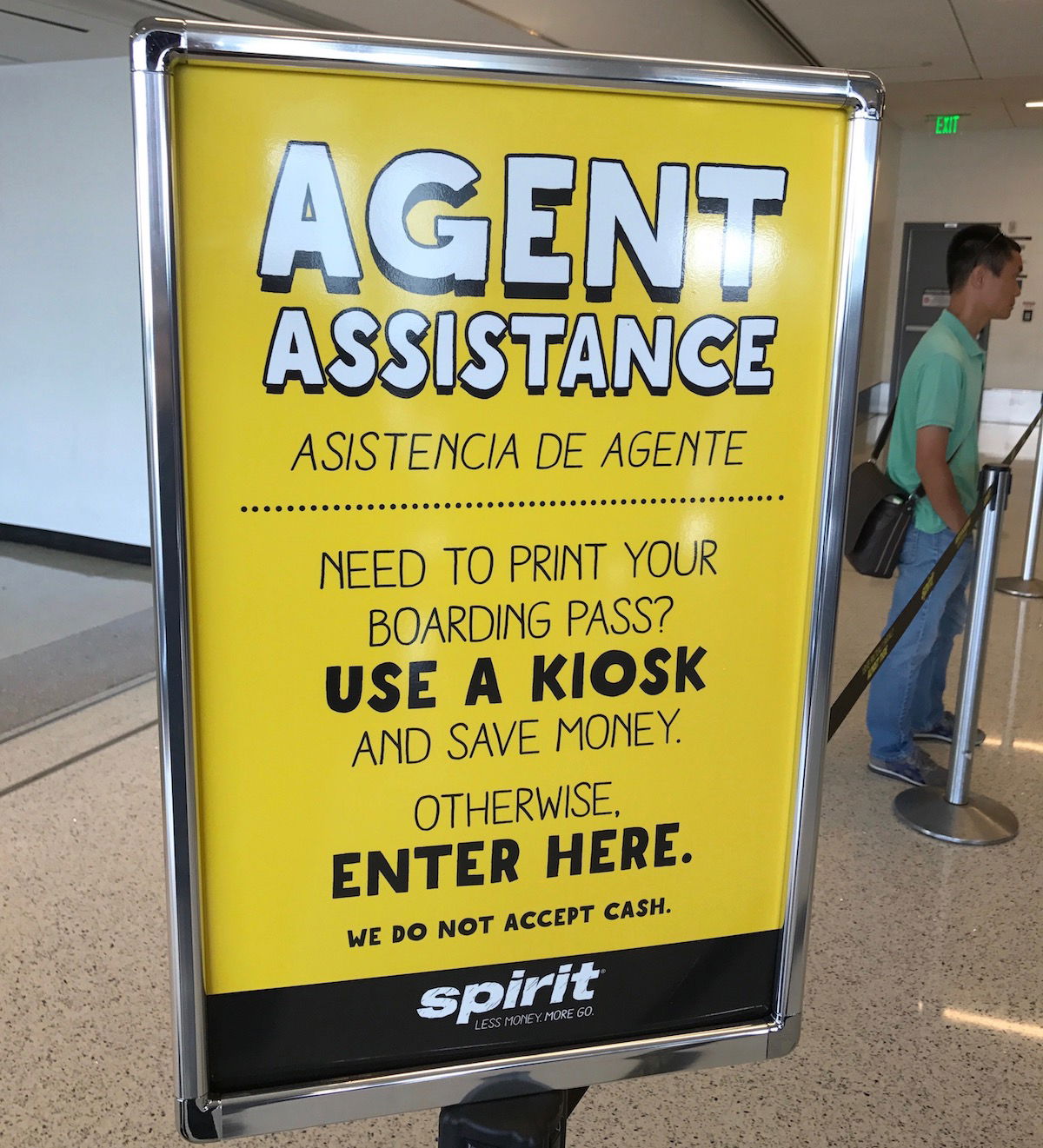 Spirit Airlines check-in counter
I went up to a kiosk to print a boarding pass just to experience it. Go figure over half the kiosks were out of order.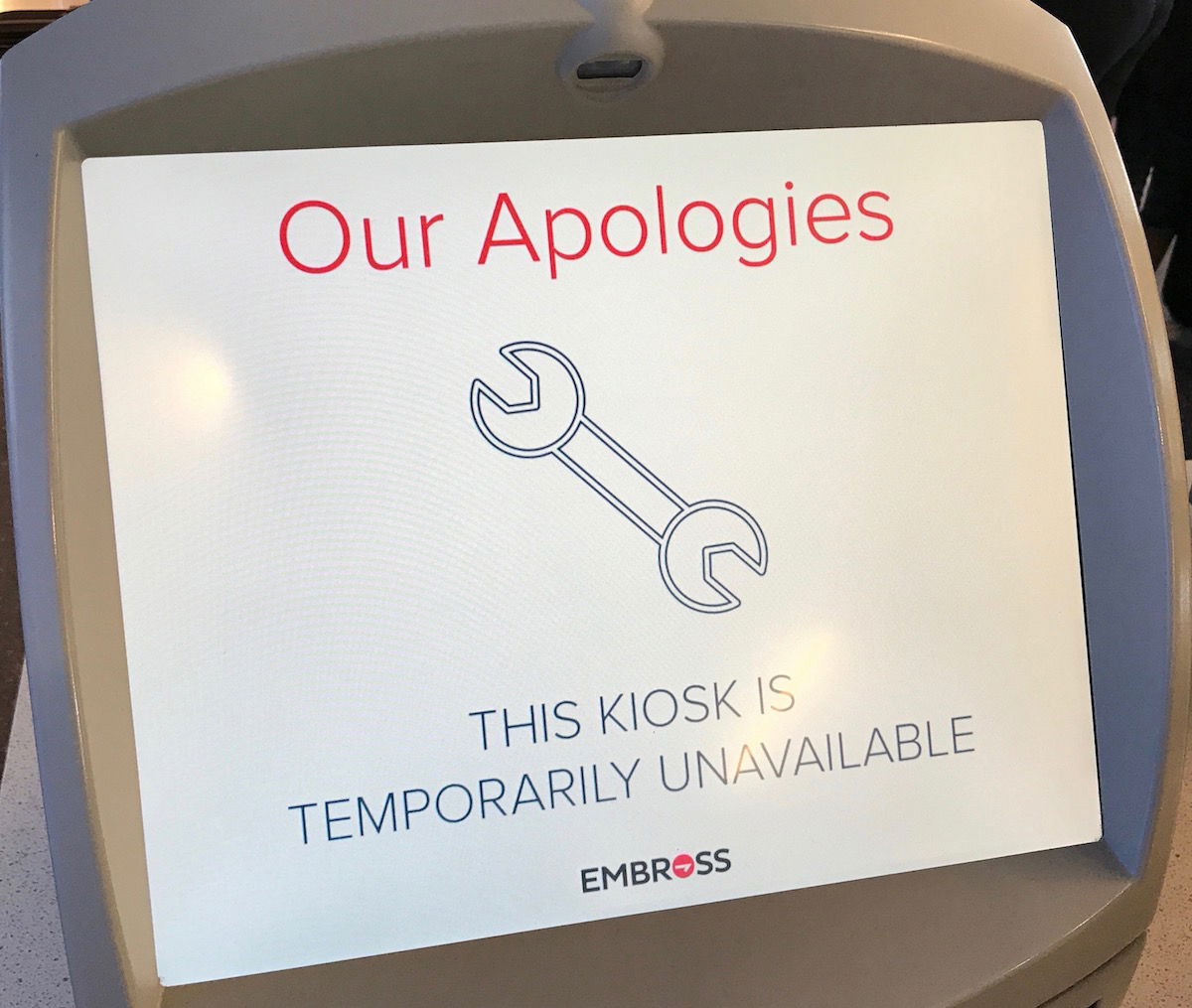 Spirit Airlines kiosk
Once I found a kiosk it was easy enough to use.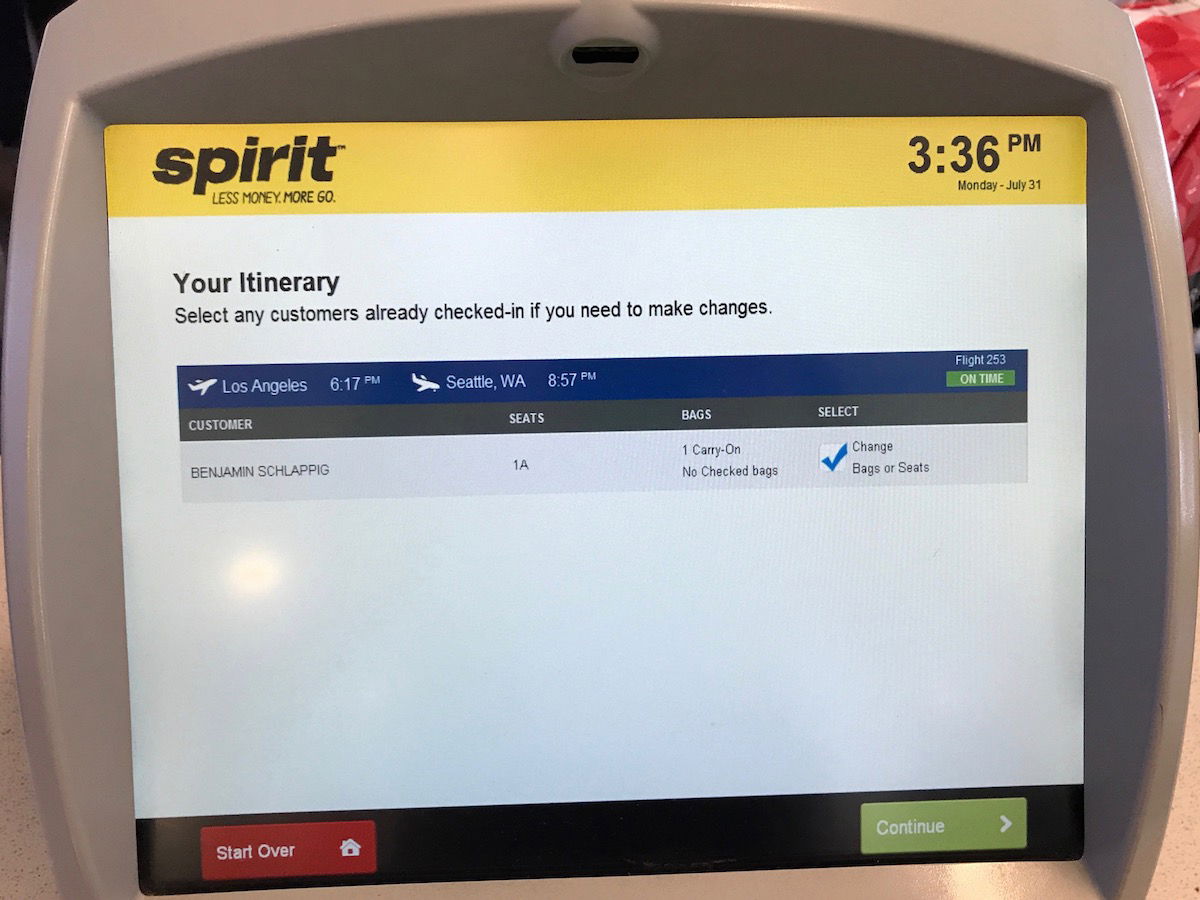 Spirit Airlines kiosk
However, I guess they're saving money on ink, because it was a really low quality print job.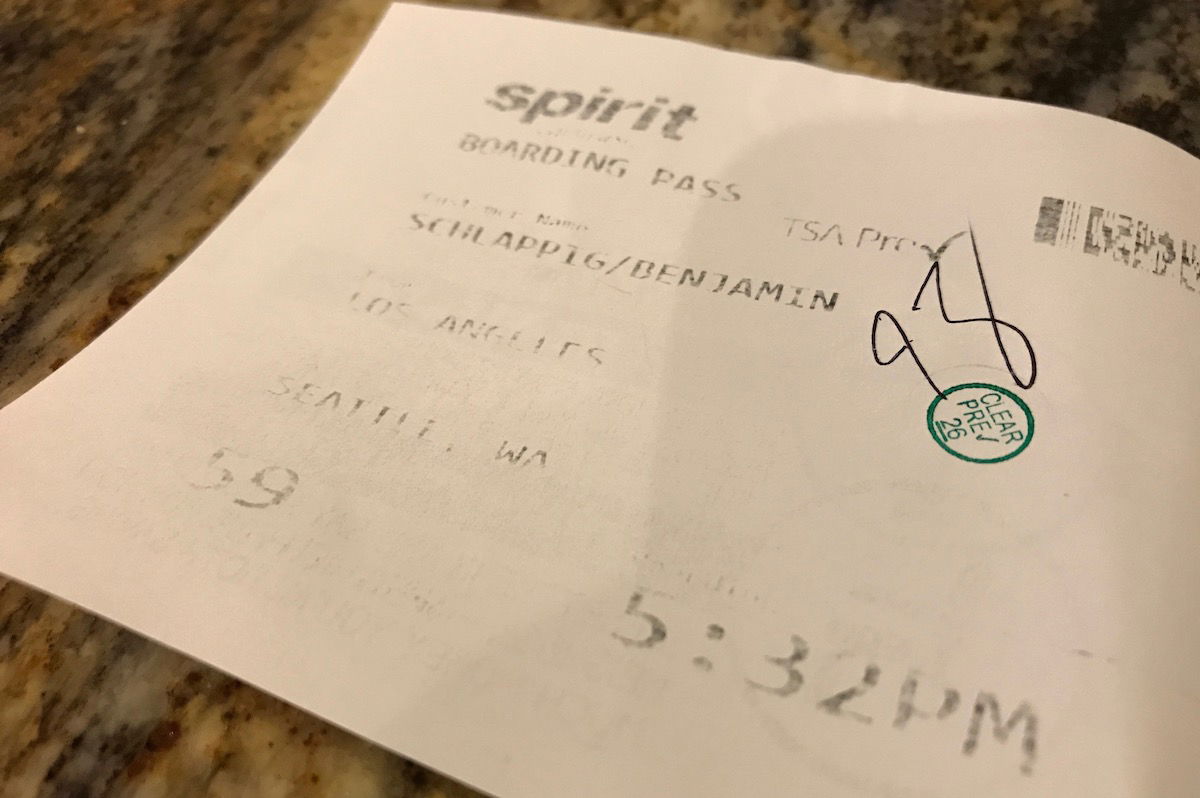 Spirit Airlines boarding pass
Fortunately I could use CLEAR for security and had TSA PreCheck, so that wasn't too bad. My flight was scheduled to depart from gate 51A, though the monitor at that gate indicated a flight to Oakland. Several people approached the gate agent about this. He said he had no control over what the monitor said, but assured them the flight was going to Seattle.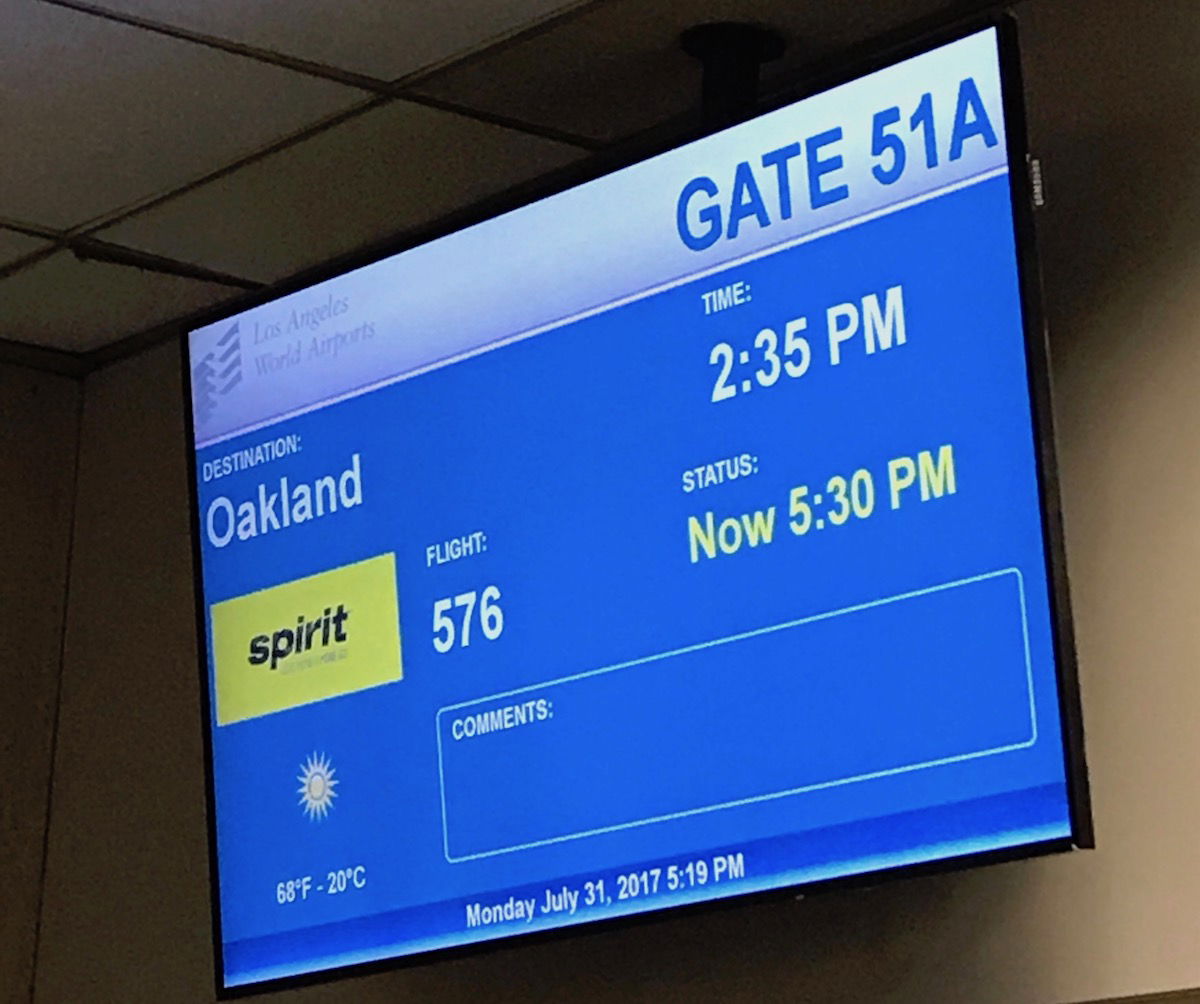 Spirit Airlines departure gate
The most interesting thing about the gate area was how many people were complaining loudly about Spirit. If they were complaining about how long the check-in line was I'd totally sympathize, but it was more along the lines of "can you believe these a&*holes tried to charge me for a carry-on?" I have zero sympathy for anyone who books a flight and chooses not to read the terms at the time. That's especially true of Spirit, given how repetitive the booking process is.
Boarding for my flight was scheduled to start at 5:32PM (45 minutes before departure), though that was delayed a bit because the inbound flight only arrived at 5:40PM. Nonetheless we started boarding by 6PM. Spirit Airlines has four boarding zones, and I was in group one. That's not because I paid for a Big Front Seat, but rather because I paid for a carry-on bag, which comes with priority boarding.
Bottom line
I appreciate how transparent the Spirit Airlines booking process is. While the process of booking a ticket is really repetitive based on the number of times they ask whether you're sure you don't want to pay for something, etc., I guess that's necessary, given that people were still confused. As far as the airport experience goes, it's not half bad if you pay for a carry-on and don't check a bag. You'll get to board first and can skip the long check-in line.