The Companion Pass is probably the best way to get discounts on Southwest Airlines, as you're effectively getting 2-for-1 travel for as long as you have the pass. And before anyone makes a snarky comment about no one at OMAAT flying WN, the last time I flew Southwest was a week ago Wednesday, and my next Southwest flight will be next Thursday. 😉
Given that many of you will be receiving your first Companion Passes in the coming weeks, I figured it would be helpful to go through the details on how to actually use it!
Everything you need to know about the Southwest Companion Pass
This is totally one of those things that is easy once you've used it, but it's understandable that people have questions. There are always two "phases" to booking a Companion Pass ticket — you book your flight, and then you add your companion.
You can use the Companion Pass for anywhere Southwest flies. Domestic tickets, international flights, peak season flights to Orlando, random Sunday morning flights to Sacramento — as long as there are two seats left on the flight, you can use this benefit.
Book your Southwest flight as normal
The great thing about the Southwest Companion Pass is that you don't have to use a special portal or voucher code. You just book your travel like you normally would.
Let's say you want to go to Cancun from Chicago, for example. Go to southwest.com, then enter your search parameters.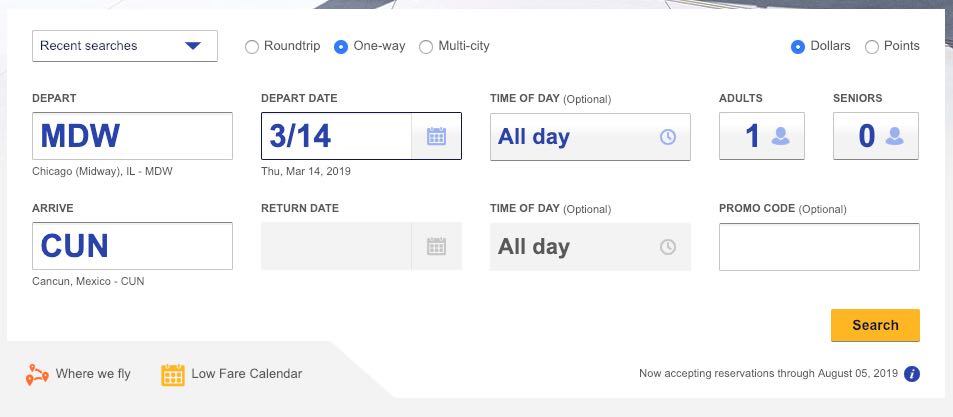 It doesn't matter whether you book your flight with dollars or points.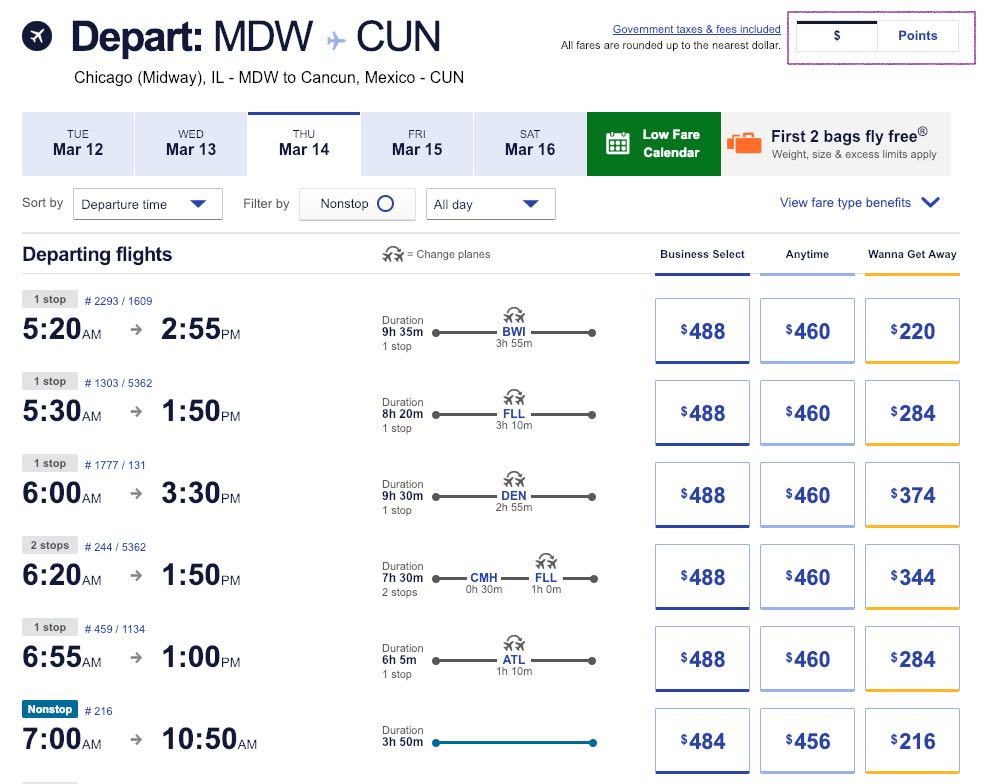 Technically, you don't even need to use your points — you'll still be able to add a companion later if your ticket is booked with points from someone else's account as long as your Rapid Rewards number is in the reservation.
Even if you plan on booking your ticket with cash, it can still be helpful to toggle over to the points tab. Southwest displays cash prices all-in, but a glance at the points tab will give you an idea as to how much the taxes and fees will be on your companion's ticket (more on that later).
There's also no minimum fare requirement to use your Companion Pass. So you can book the cheapest "Wanna Get Away" fare (again, with either cash or points), and your companion can fly for basically free.

If you forgot to check the taxes and fees along the way, whatever you end up paying on the final booking screen will be identical to what you'll pay for the companion ticket. It's worth noting that these will be lower — just a few dollars — for most domestic itineraries. But ~$33 isn't bad at all for a second ticket out of Chicago Winter!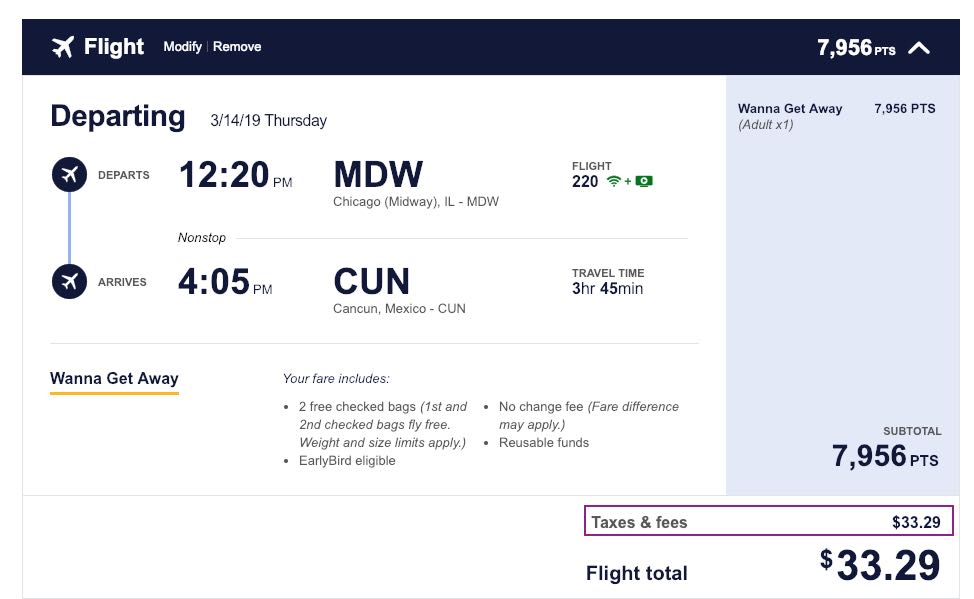 Book a flight for your Southwest Companion
Once your itinerary is confirmed, you'll be able to see your trip in the "Upcoming Trips" section of your account. There will also be a handy button to add your companion!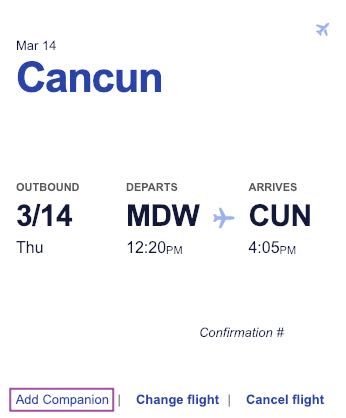 When you click that link, Southwest automatically pulls all the details from your itinerary into a new companion reservation. And, as you can see the taxes and fees are identical.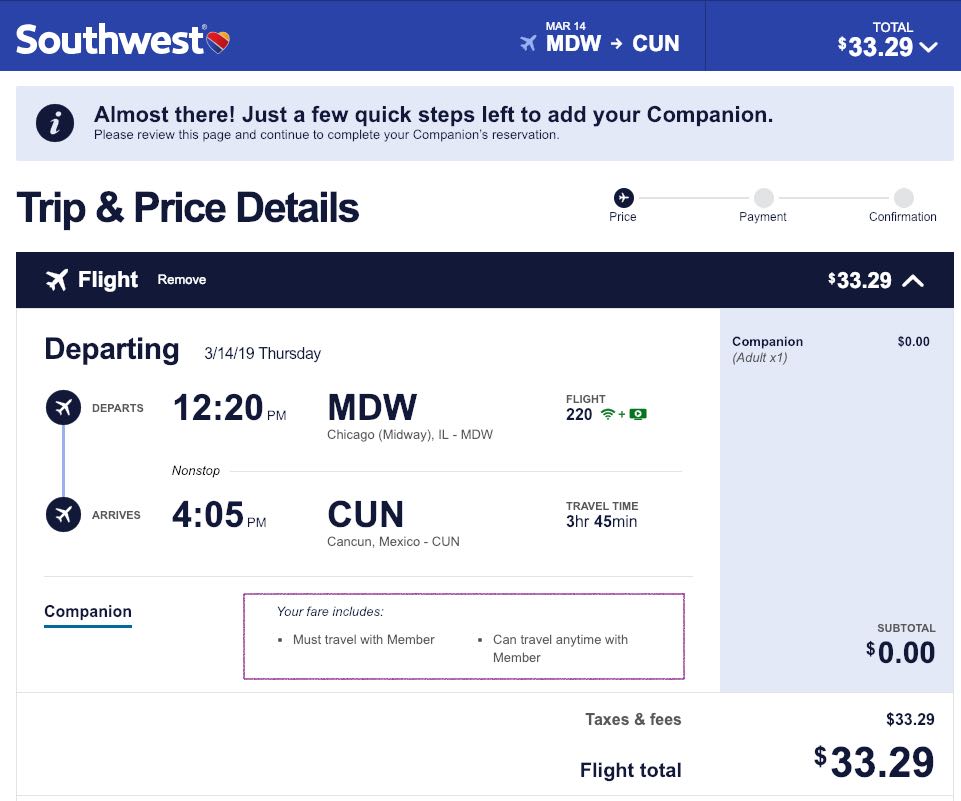 Review the details (the companion fare rules are consistent, in that they always have to travel with you), then click to the next page.
You'll be prompted to confirm passenger info, but as you've already designated your companion, this information is already filled out, and you can't actually edit any of the fields.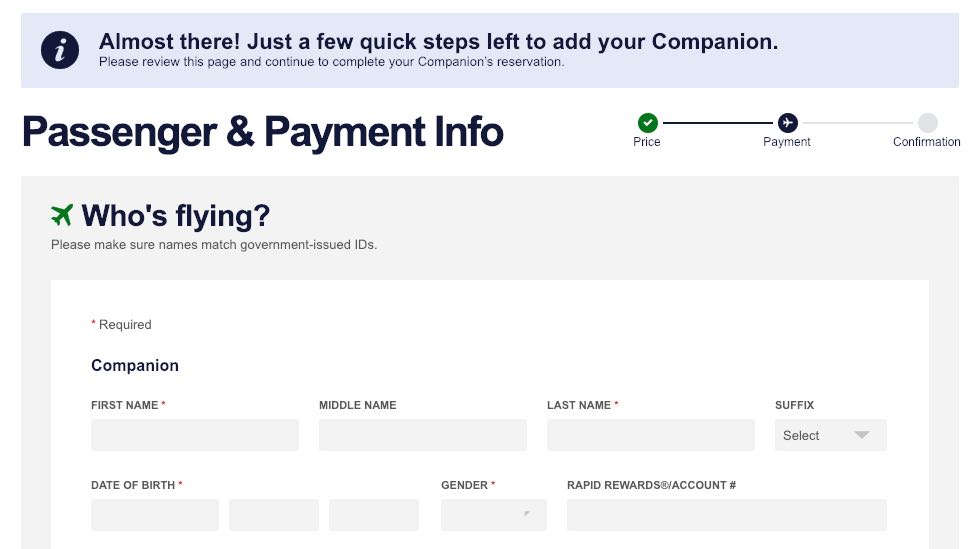 If you do see any errors, call Southwest Rapid Rewards at 1-800-435-9792 to correct them before continuing. Pay the taxes and fees, and you'll get the companion confirmation. Your companion will get an email (or you can send additional emails), just like when you're booking any other kind of Southwest ticket.
Once you've completed the process, your upcoming trips will also reflect the Companion booking: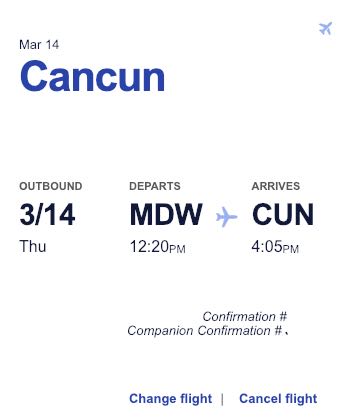 And if you look at your reservation details, their info will be linked as well, which makes it a bit easier to stay organized:
Canceling a reservation with a Companion ticket
While you can still change and cancel your Southwest ticket according to their normal policies, the order of operations matters a bit when the Companion Pass is involved.
If you have a reservation where you've added a companion ticket, and try and cancel your flight, you'll get this error message:

So you'll need to go into the companion reservation first, and cancel that itinerary: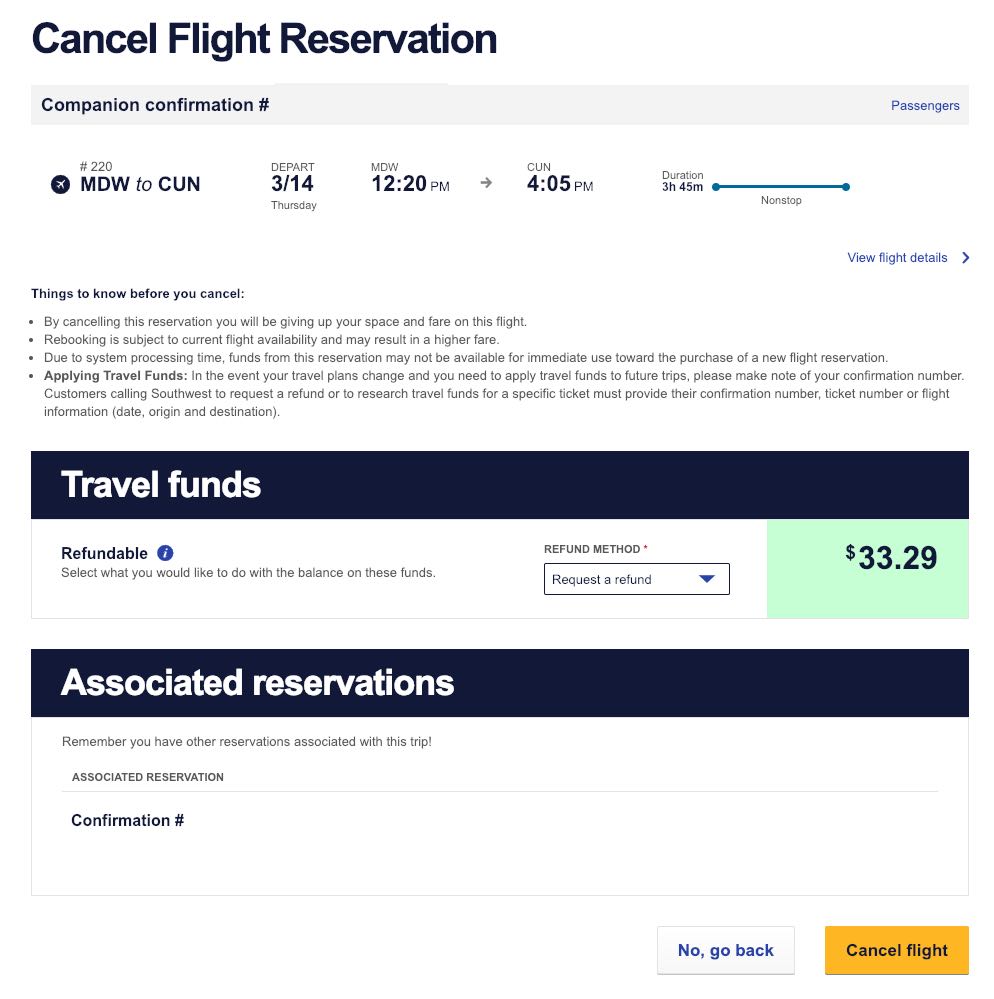 Then you can cancel or change whatever you need for your ticket, then go back in later and add your companion again.
The one thing to be aware of is that if you are booking the very last seat on your new flight, Southwest won't overbook the flight to add your companion. So make sure you're choosing a flight with at least two seats.
When will I get my Southwest Companion Pass?
Once you've earned your 125,000 qualifying points, the Companion Pass usually shows up within a few business days. If you're earning your Companion Pass through a Southwest credit card, the communication seems to happen pretty quickly between the two companies, so once your statement closes you should see the points post quickly.
So I wouldn't necessarily expect to have to wait a full eight weeks — my guess is that it will post shortly after you hit your minimum spend and the statement closes. But of course it could take that long, so you'll want to factor that in as you plan your spend and travel.
How do I know if my Southwest Companion Pass is active, and who my companion is?
Once your Companion Pass is active, you'll see it in your Rapid Rewards account. Rather than messaging showing you what you can do to earn a Companion Pass, you'll be prompted to "Earn your next" one.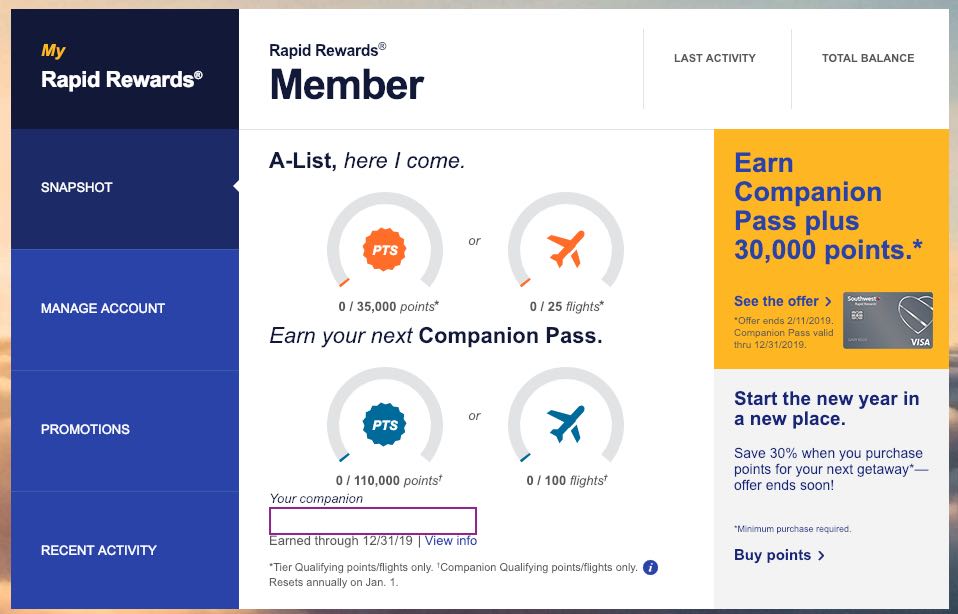 If you've already designated your companion, their name will be displayed along with the expiration date of the current pass. Otherwise, you'll be prompted to choose your companion, and enter their Rapid Rewards number and other info.
Can I change my Companion?
Yep! Southwest will let you change your companion three times (meaning you can have up to four different companions, or go back and forth between a couple). Just call Southwest Rapid Rewards at 1-800-435-9792 to make the change.
The rules say it should take 21 business days for the change to be reflected, but in practice it's pretty much instant.
Do note that if you have upcoming reservations with Companion A, you won't want to change to Companion B until that travel is completed. So if you anticipate changing your companion over the year, you'll want to think about the order of your travel.
The good news is that your companion has last-seat availability on your flight, so if you have to make a short-notice change that should be fine.
Bottom line
Back when my husband and I traveled together domestically we got tremendous value out of the Southwest Companion Pass, easily saving thousands of dollars a year. Now we almost always have solo domestic flights, so it's less useful for us, but we have friends and family who use theirs constantly.
If you live in a Southwest city, and are eligible for one of the promotional card offers, I think it's well-worth testing out if the Companion Pass works with your travel patterns. If you like it, there are several ways to earn the pass again next year!
How have you used your Southwest Companion Pass?
Earn Southwest Rapid Rewards points with these cards: