I just had the opportunity to fly Thai Airways' new first class from Frankfurt to Bangkok, which is a damn near miracle since they have exactly one 747 configured with the new product. Given that Lufthansa had Airbus 380 first class award space to Tokyo, it was the only way I was going to try Thai first, since I tend to think they're lagging behind on their in-flight product somewhat.
Fortunately I lucked out and got their new first class from Frankfurt to Bangkok yesterday, and on the whole it's a very nice "hard" product. There are nine suites in first class, and they're very private. I do wish they'd have doors like on the 777-300ER (which seems like it would be pretty easy to do given that the seat is designed the same way as an enclosed suite.
Some of the suite finishes do feel a bit cheap, but on the whole it's one of the better seats out there, and a huge step up over their old first class. The biggest improvement, believe it or not, is that they now have a mattress pad for first class passengers, which they didn't previously have. That makes a huge difference, and it amazes me they didn't have it before. Here's to hoping they pick up the speed at which they reconfigure these bad boys.
Here are a few pictures (with lots more coming with the trip report in a few days):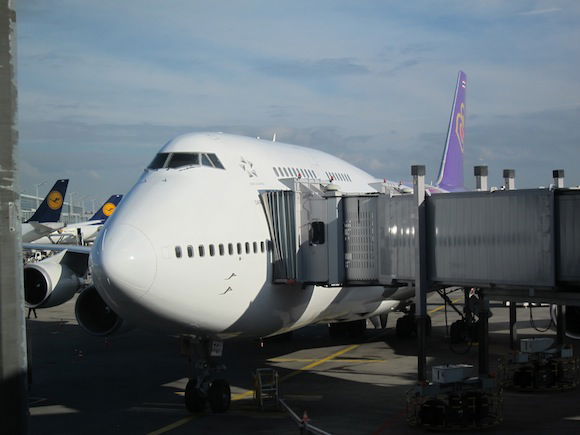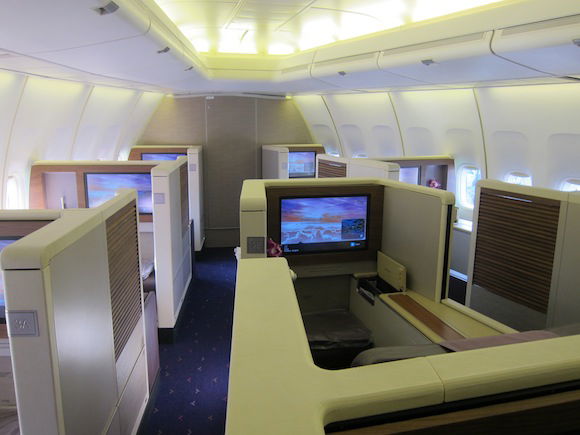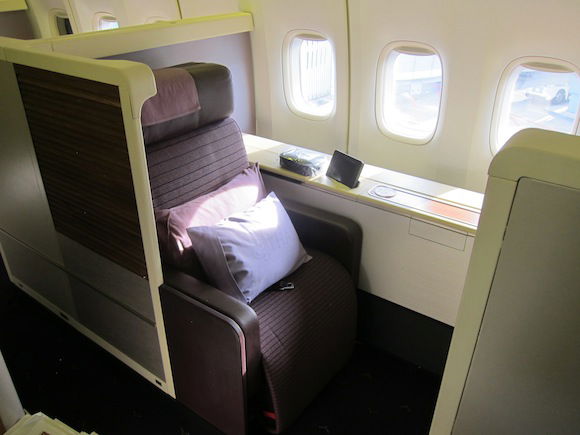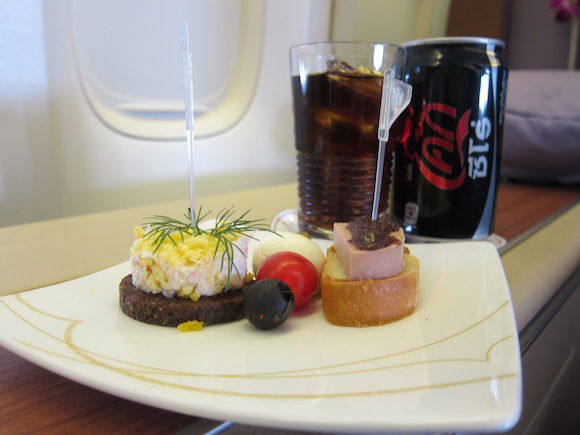 As far as the services goes, well, upfront let me say I really do like Thai Airways. Their ground services in Bangkok are among the best in the world, and more than make up for any shortcomings in-flight. As a first class passenger you have access to their amazing first class lounge and get an hour-long massage in their spa, both of which are awesome before a long flight (though aren't especially useful if originating in Frankfurt and terminating in Bangkok).
I generally find the service on Thai to be genuine and warm, though they're the one Asian airline somewhat notorious for having some indifferent senior flight attendants working first class.
And while my crew was friendly(ish), they were extremely unpolished. Admittedly service in first class is the ultimate "first world problem" (which I always have to add as a disclaimer with this kind of stuff), though here are a few examples:
The guy seated across from me was served his appetizer and a couple of minutes later he returns it to the flight attendant. What does she do? She turns it around and serves it to me without batting an eyelash.
One attention to detail from crew members I love is when you have stuff that obviously needs to be discarded, and they proactively remove it. Not once did they proactively remove anything from near my seat, from the plastic pajama wrapper to used hot towels to empty bottles of water .
Not once did the flight attendant primarily serving me use any "polite" words. I always said "please" and "thank you," and she never responded with "you're welcome" or "enjoy."
Perhaps part of their turndown service is actually trying your bed, because this is what my bed looked like when they finished turndown service (and not when I woke up from my six hour nap):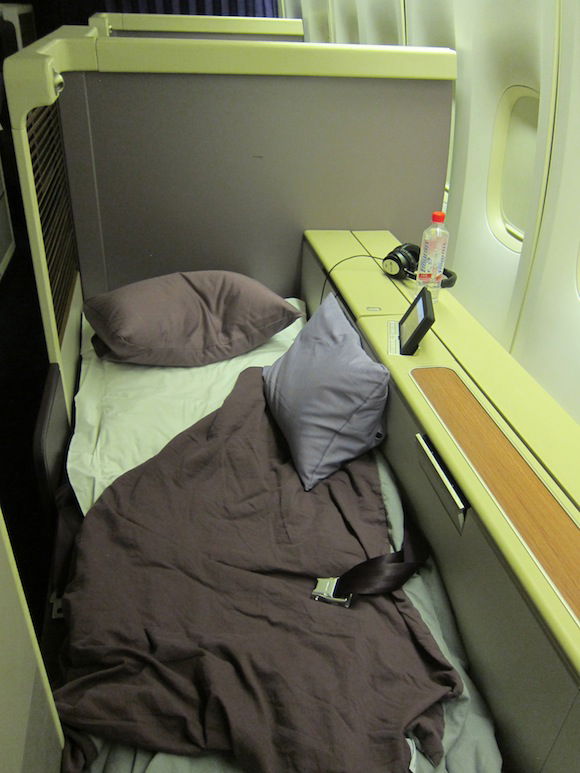 Anyway, I'm happy to have tried Thai Airways' new first class. I think their 777-300ER first class hard product is still a bit better since they feature fully enclosed suites, but then again some of the 777-300ER suites aren't in great shape anymore. That being said, if you haven't flown the new 747 first class and have done the 777-300ER first class before, I'd definitely recommend the 747 for the novelty of the new product.
As far as my travels go, I'll continue to fly Thai Airways intra-Asia as much as possible in first class. You get the same amazing ground services regardless of whether you're on a short-haul or longhaul flight, and that's where Thai shines. I also want to try their new Airbus 380, which looks quite nice.
There are other airlines I'd rather fly longhaul given the option, so pending availability I'd rather fly Asiana, Cathay Pacific, or Lufthansa, just to name a few.
Still a very pleasant flight on the whole, as I got a solid six hours of sleep!