Recently Airbus completed their first test flight for the A350-900ULR, for which Singapore Airlines is the launch customer. The airline has seven of these on order, in addition to the 60 A350-900s they have on order.
We're seeing more and more ultra longhaul flights nowadays, thanks to smaller and more fuel efficient longhaul aircraft. All five of the world's longest flights have been added within the past couple of years. I expect that trend to continue, and the A350-900ULR is the latest "weapon" in the ultra longhaul battle, as it's the longest range plane yet.
There's no airline that needs these more than Singapore Airlines. Singapore Airlines used to fly nonstop to Los Angeles and New York, but they were forced to discontinue the flights in 2013, when they got rid of their A340-500 aircraft.
The whole reason they ordered these planes is so that they can restart these routes. In our community, I'm sure I'm not the only one who would love to book this flight and experience a 19 hour nonstop.
The Straits Times had a story today about the future of these routes. They note that Singapore Airlines is scheduled to restart their Singapore to New York nonstop flight by the end of 2018, and restart their Singapore to Los Angeles nonstop flight in early 2019. That means these new flights are right around the corner.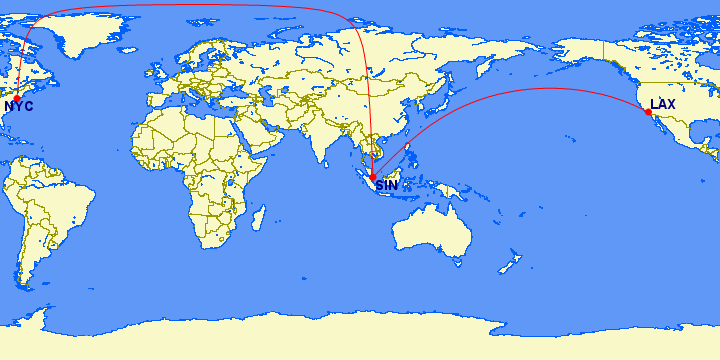 Singapore to New York will be the world's longest flight, while Singapore to Los Angeles will be the fourth longest flight, though it's a route that United also operates, using a Boeing 787-9.
Singapore's A350-900ULRs will feature just 162 seats, including 68 business class seats and 94 premium economy seats. This is both to keep the weight of the plane down, and also because the only way to make money on these ultra longhaul flights is with premium passengers.
The real wild card here is that Singapore Airlines has seven of these on order, and they're rumored to be considering a third destination for these planes, given that they have the capacity. My speculation is that they're considering either Chicago or Toronto, though this hasn't been confirmed one way or another.
Anyway, there are just over eight months remaining in the year, so I suspect that Singapore Airlines will reveal the details of their New York flight within the next few weeks, and tickets should be on sale shortly after that. I can't wait to (hopefully) redeem miles for this flight.
The other big question remaining is whether Singapore Airlines uses New York JFK or Newark for this route. On one hand, Newark is the logical choice since it's a United hub, though on the other hand their existing flight to New York (via Frankfurt) is to JFK.
Anyone else excited to try Singapore Airlines' new routes to Los Angeles and New York?
(Tip of the hat to SINJim)