A few weeks ago Singapore Airlines operated a restaurant onboard an Airbus A380, in an effort to raise money for the airline as borders remain mostly closed.
Well, that's not the only way you can dine while being served by (displaced) Singapore Airlines employees.
Several employees of the national airline have come together to open a restaurant (completely independent of the airline) — how cool is that?
Singapore's new "Kevin Khoo" restaurant
Kevin Khoo Bistro is the name of one of Singapore's newest restaurants. Who is Kevin Khoo? No one. Rather it's a reference to a popular meme on how "cabin crew" is often pronounced.
Paging for Kevin Khoo… Paging for Kevin Khoo… pic.twitter.com/KGJ4fhPvhL

— SGAG (@SGAG_SG) December 27, 2015
The intent of the restaurant is to provide work for those who are currently displaced from Singapore Airlines, while they continue to look for longer-term placements.
The restaurant promises to "provide a perfect outlet for our crew to shine, by tapping into what they're known for in the skies: exemplary and impeccable service."
As the inspiration behind the restaurant is described:
"Given the current economic climate, opening an F&B outlet in the CBD in the midst of a pandemic may seem like a questionable decision. But it's because of this situation that drove its creation – to provide work for those who are currently displaced while they continue looking for longer-term placements."
The restaurant is open Mondays through Saturdays from 3PM until 10:30PM.
You can read a review of the dining experience and see the menu for the restaurant in this Mothership story.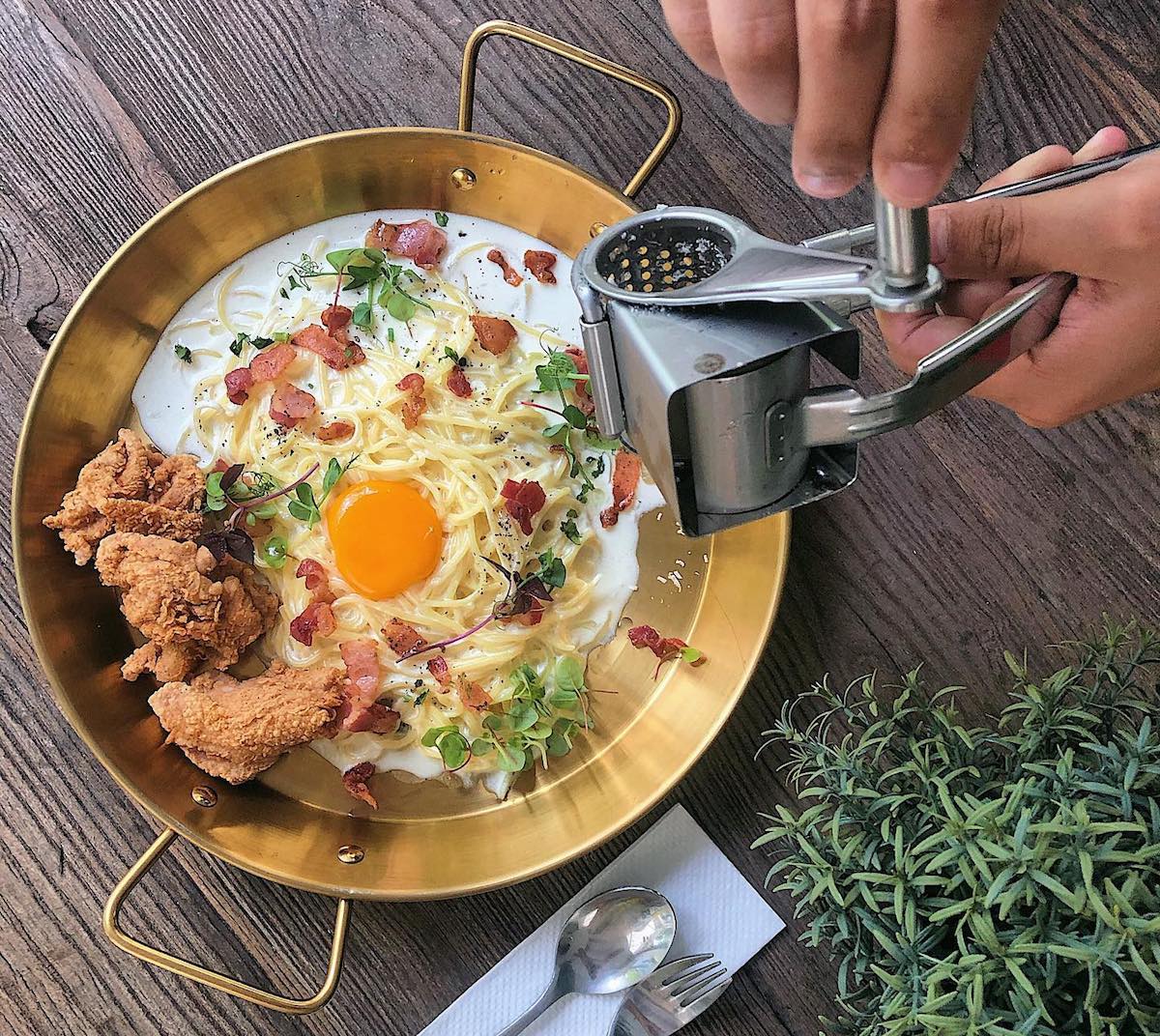 A meal at Kevin Khoo Bistro
Bottom line
Newly opened Kevin Khoo Bistro in Singapore is intended to give work to those currently displaced by Singapore Airlines. While the restaurant isn't aviation themed, it still seems worth visiting for any aviation geek, given that it's primarily airline employees working there. I also love the hilarious story behind the name.
Hopefully this sticks around, and I look forward to checking out if/when I can return to Singapore.
Have any readers in Singapore had the chance to check out Kevin Khoo yet?
(Tip of the hat to SINJim)