One of the best uses of Delta SkyMiles has long been for travel on Virgin Australia between the US and Australia in business class.
Why Virgin Australia is a great SkyMiles partner
The value proposition of this award has actually improved over the past several years. When Virgin Australia was first added as a Delta SkyMiles award redemption partner, Delta would impose fuel surcharges on these redemptions. In addition to the miles you'd pay ~$1,000 roundtrip per person in cash, which stung pretty bad.
A little over two years ago Delta stopped imposing fuel surcharges for award travel on Virgin Australia, making this an even better use of Delta SkyMiles.
Virgin Australia hands down has the most saver level business class award availability nonstop between the US and Australia, which is an award that's otherwise really tough to book.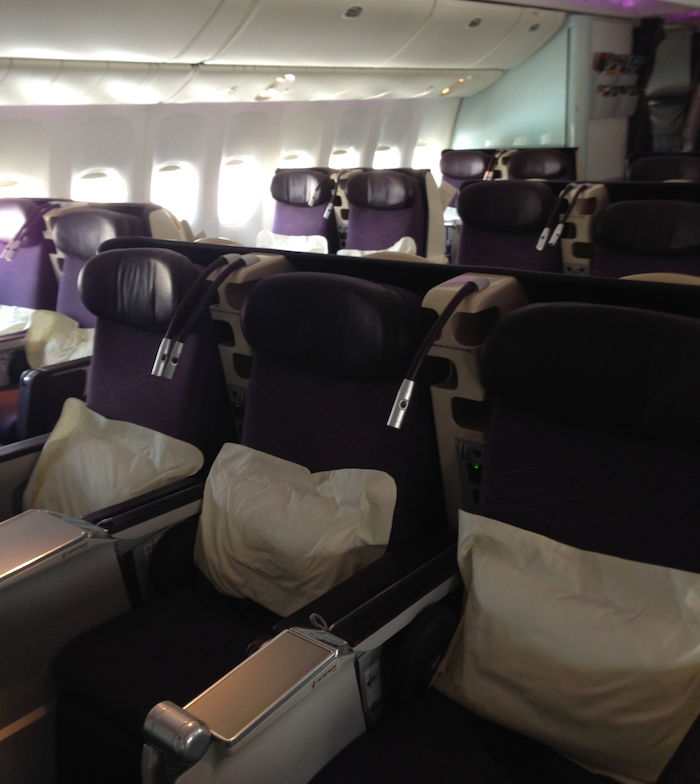 Virgin Australia business class 777-300ER
Virgin Australia award space no longer shows on delta.com
But something weird happened recently.
Virgin Australia award space no longer shows up on delta.com. So if you search for Virgin Australia's routes between Los Angeles and Brisbane or Sydney (they recently axed their flight between Los Angeles and Melbourne), you simply won't see any Virgin Australia results.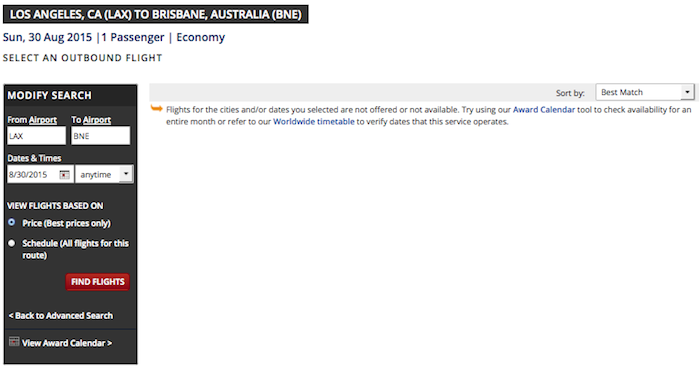 So what happened? Is Delta blocking all Virgin Australia award space, or what? The good news is that Virgin Australia award space is still bookable, it just has to be booked via Delta's SkyMiles reservations agents.
We don't know if it's intentional or not. It could be that Delta is trying to control the costs of their Virgin Australia award redemptions by no longer showing the space online (presumably causing fewer people to book it), or it could be that it's a genuine glitch ("Delta" and "genuine" don't usually go in the same sentence, so…).
How to search Virgin Australia award space
Regardless, for the savvy among us it's business as usual.
You can still quite easily search Virgin Australia award space through Virgin Australia's website.
To do so, simply sign-up for a Virgin Australia Velocity Frequent Flyer account, if you don't have one already.
Once you have a Velocity Frequent Flyer account, log-in, and go to the "redeem" page, where you can search for award availability.
Simply enter your route, dates, and then select your travel class. Note that if you're looking for business class award space you'll want to click on "Premium/Business," which will show you both the premium economy and business class award space (you can't redeem Delta SkyMiles for premium economy on Virgin Australia, however).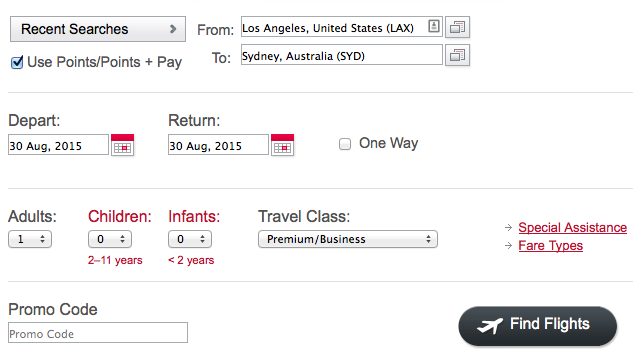 On the results page you'll want to look for "Business Reward" space — it should be the second column from the left for their longhaul flights. If it shows availability then it should also be bookable via Delta.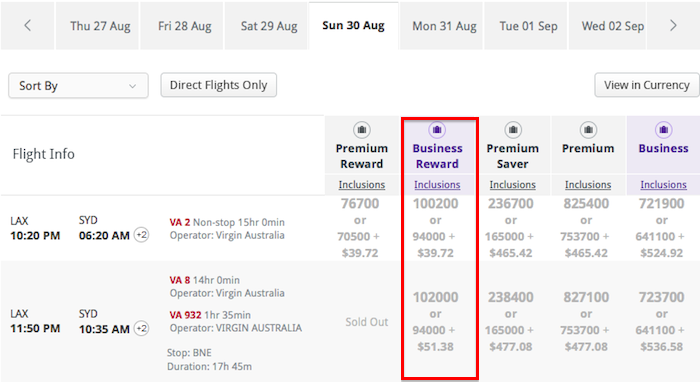 Meanwhile if it shows as "Sold Out," you won't be able to book through Delta.

The results page won't display the number of seats available, so if you want to search for multiple people, go back to the search page and change the number of people you're searching for. It will always only display availability for the number of people you're searching for.
Bottom line
As I've said a million times before, airlines displaying award space online is a double edged sword. On one hand I like it because it makes my life easier, on the other hand I'm happy when they don't display it, since it means fewer people will potentially stumble upon the space by chance.
This is a change I don't mind nearly as much as Delta's stealth devaluation that I wrote about last night, whereby they eliminated stopovers on award tickets without any sort of advance notice.
Why do you think Delta isn't displaying Virgin Australia award space online, and how do you feel about it?