On a recent trip to Tokyo (pretty much my favorite place), I had to position to Taipei for my return flight to the U.S. The Tokyo to Taipei route is served by quite a few airlines, but the best deal I found was on Scoot. I've been fascinated by Scoot for a while, so I was thrilled to have the chance to fly with them.
About Scoot/Buying A Ticket
For those of you who aren't familiar with Scoot, it's a low-cost carrier owned by Singapore Airlines. Unlike many LCCs, Scoot focuses on medium and long-haul routes, with a fleet composed entirely of Boeing 787s.
Their marketing is… quirky. (Check out their YouTube page for some examples.)
I actually like the playful design of their website. Booking was easy and kind of fun. As with many LCCs, a lot of services are unbundled – there's a base fare, which gets you on the plane, and a bunch of extras you can purchase, like checked bags, food, and a better seat.
I was surprised at how small the difference in price was between a base economy fare and a seat in their business class, called ScootBiz. In addition to the better seat, you get an increased baggage allowance, a meal, an alcoholic beverage, priority check-in and boarding, and a couple other perks.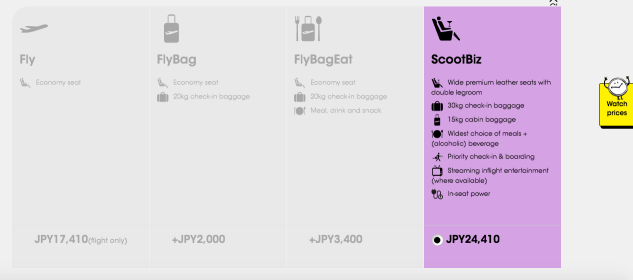 On the day I needed to travel, the base economy fare was about $155, whereas ScootBiz was about $220. Since I would have had to buy an additional baggage allowance anyway, the difference for me was even less. It seemed like a no-brainer to choose the upgrade. Plus I figured Lucky would be proud.
It's a 3.5-hour flight from Tokyo to Taipei. Imagine a U.S. airline charging only $65 more than economy for a first-class seat on a flight from Dallas to D.C.
Scoot has both 787-8s and 787-9s in its fleet. This flight was on the larger 787-9, which has 35 ScootBiz seats. I selected 5A, a window seat in the last row of the cabin.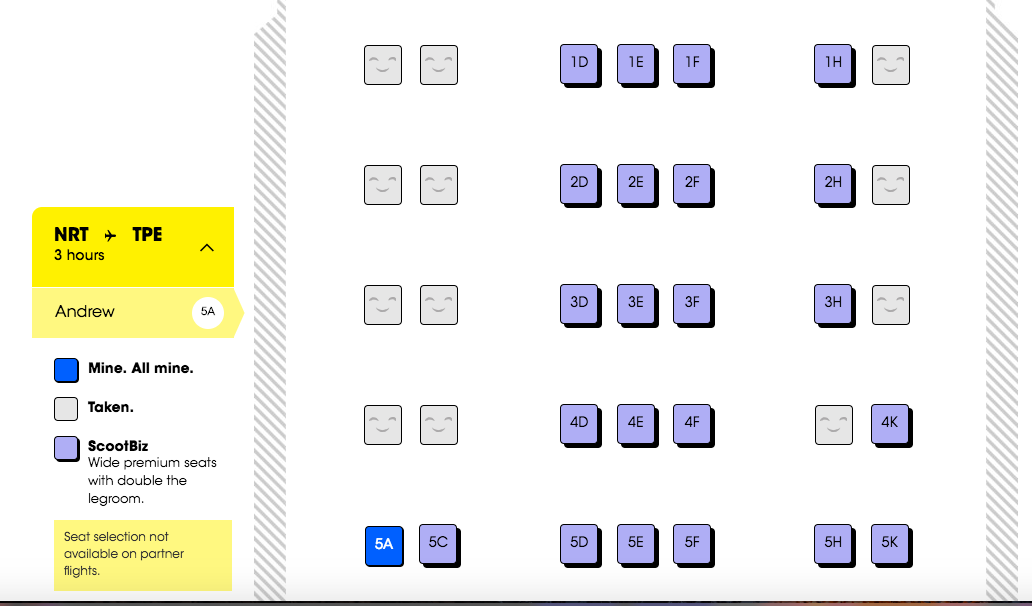 At The Airport
I arrived at Narita Airport about two hours before the flight. (By the way, Scoot is in Terminal 2 at Narita, while its parent Singapore operates out of Terminal 1.) There are a couple of dedicated check-in desks for ScootBiz passengers, but the ScootBiz queue was very busy. Still, I got in line. It moved very quickly (agents at regular check-in desks were taking ScootBiz passengers as well as economy passengers).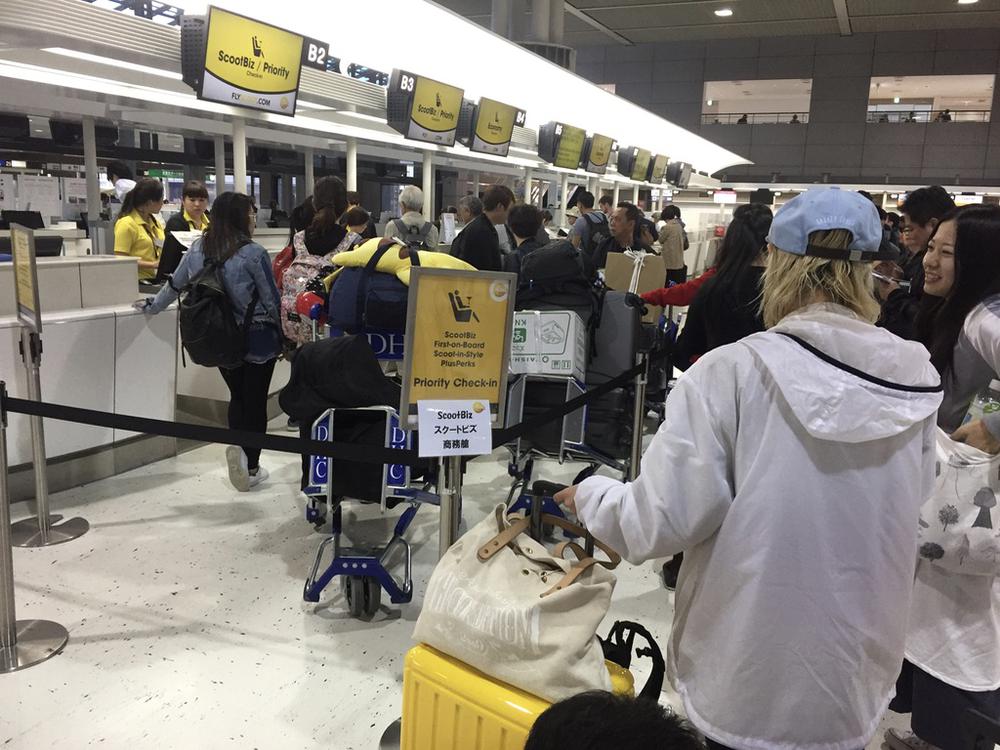 Interestingly, my boarding pass had no indication that I was in a premium cabin. There is a premium security line at Narita, but ScootBiz passengers aren't allowed to use it. And of course, there is no lounge access either.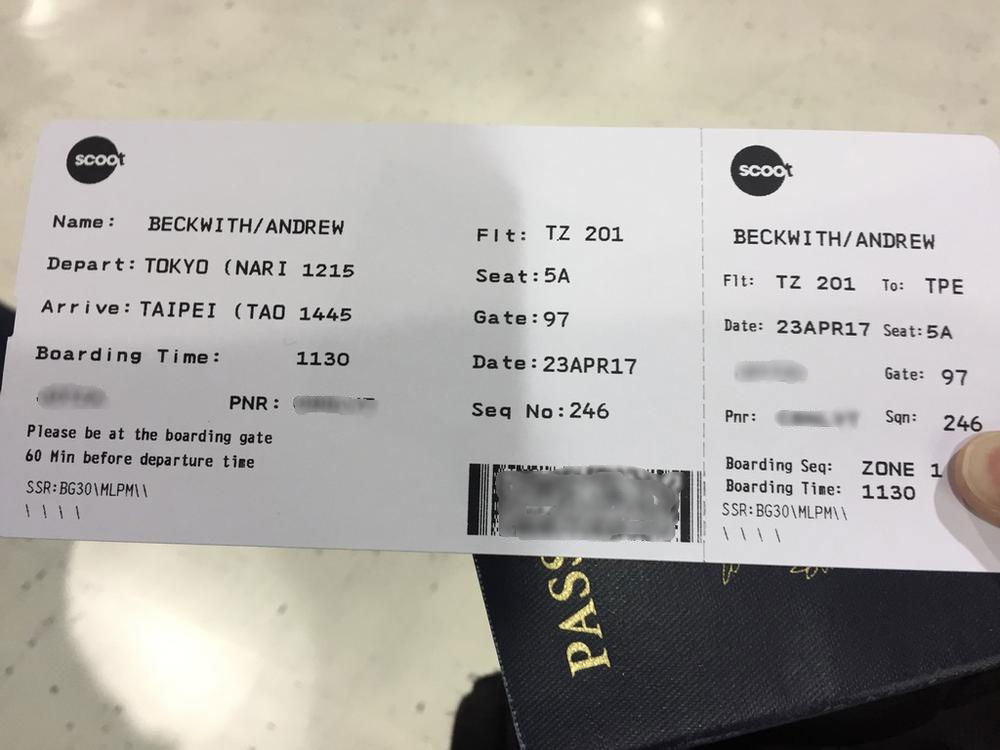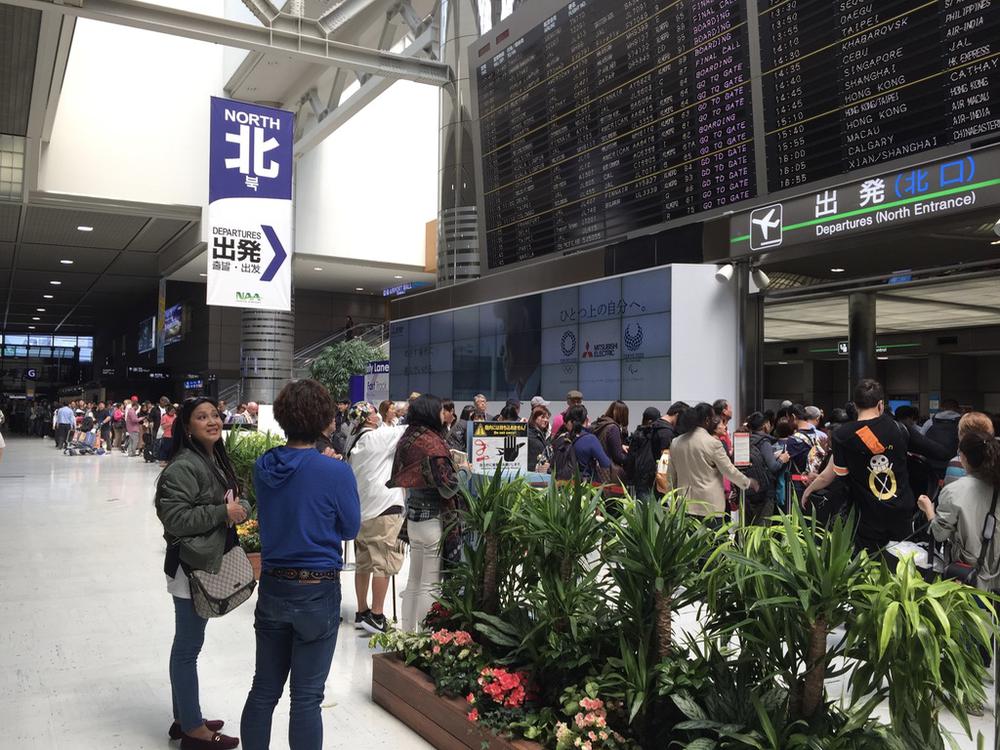 The distance between the security area and the gate was huge. By the time I got to the gate, I figured I must have already walked most of the way to Taipei.
I was able to get a great view of the plane from the gate area. I noticed that this flight is served by the plane named "Dream Start," tail number 9V-OJA, which was Scoot's first 787 delivery back in 2015.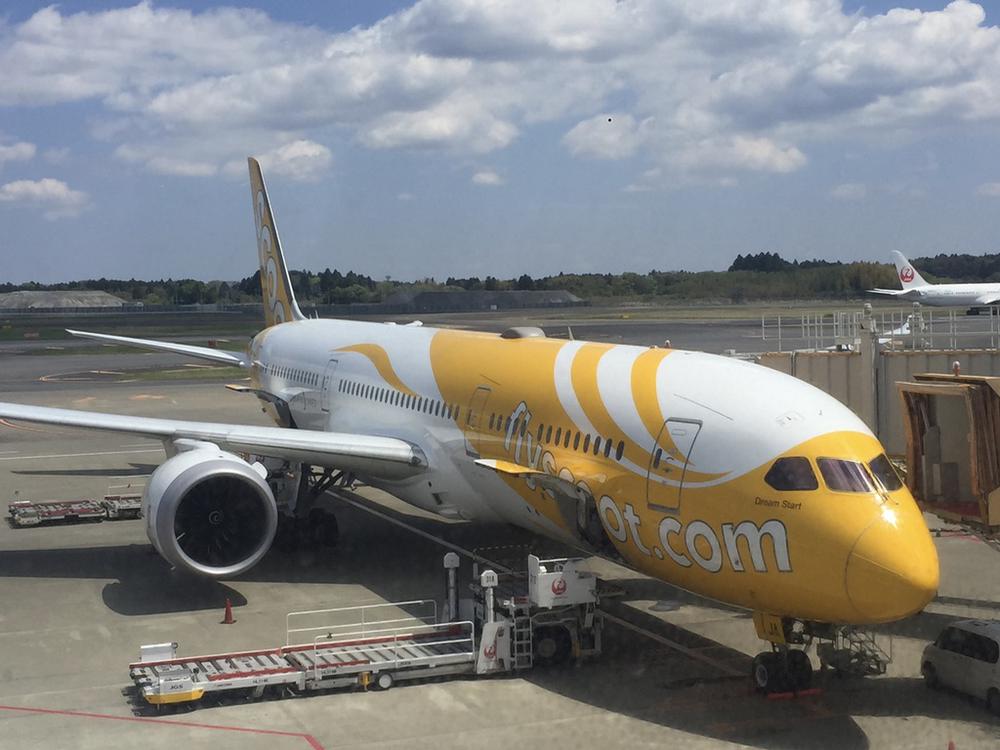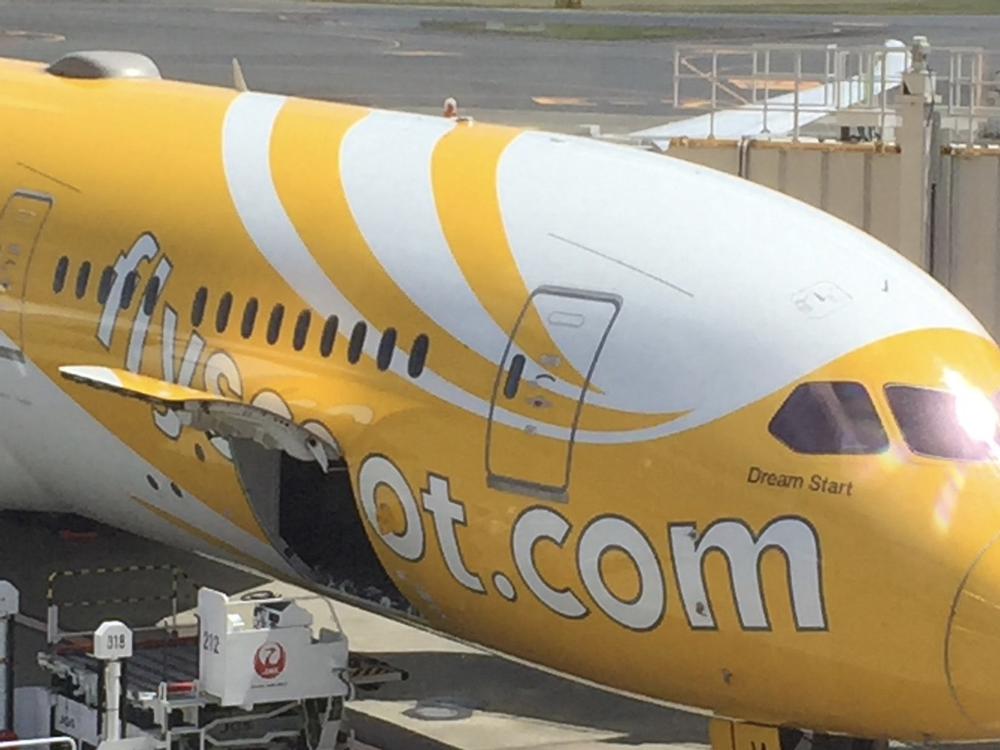 Personally I think Scoot's livery is adorable. It reminds me a lot of the paint scheme of the short-lived, long-defunct Delta subsidiary Song (remember them?).
Pre-Departure
We boarded on time, and ScootBiz passengers were called to board first.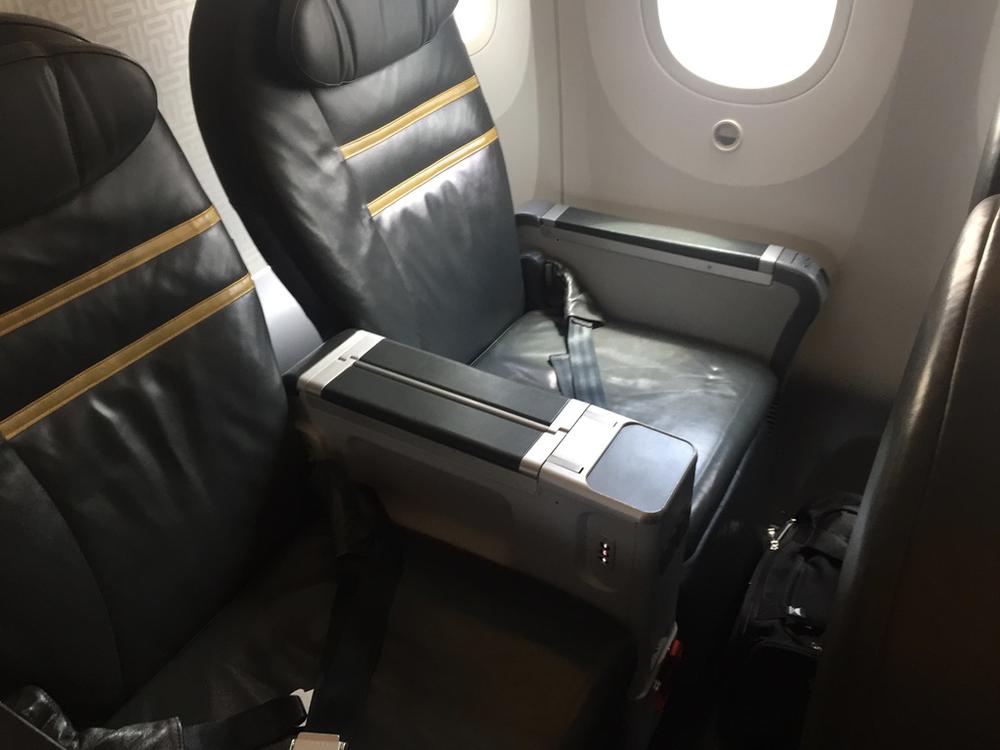 ScootBiz
My first impressions of the plane were mixed. On the one hand, the seats looked reasonably nice. They reminded me a lot of domestic first class seats, but with a bit more recline and a footrest.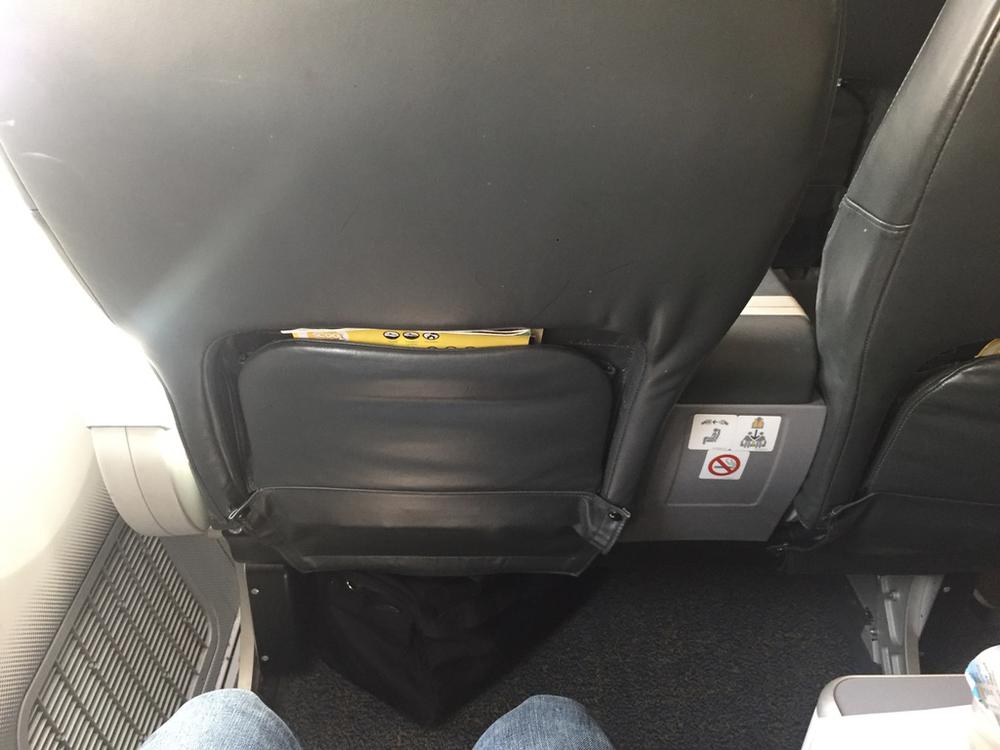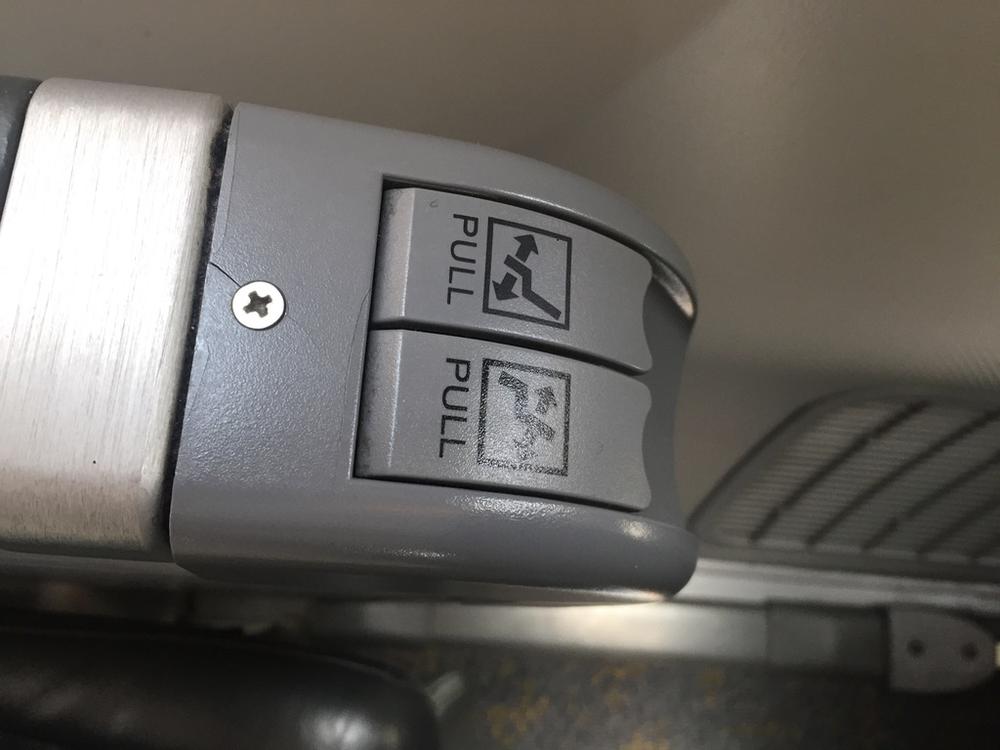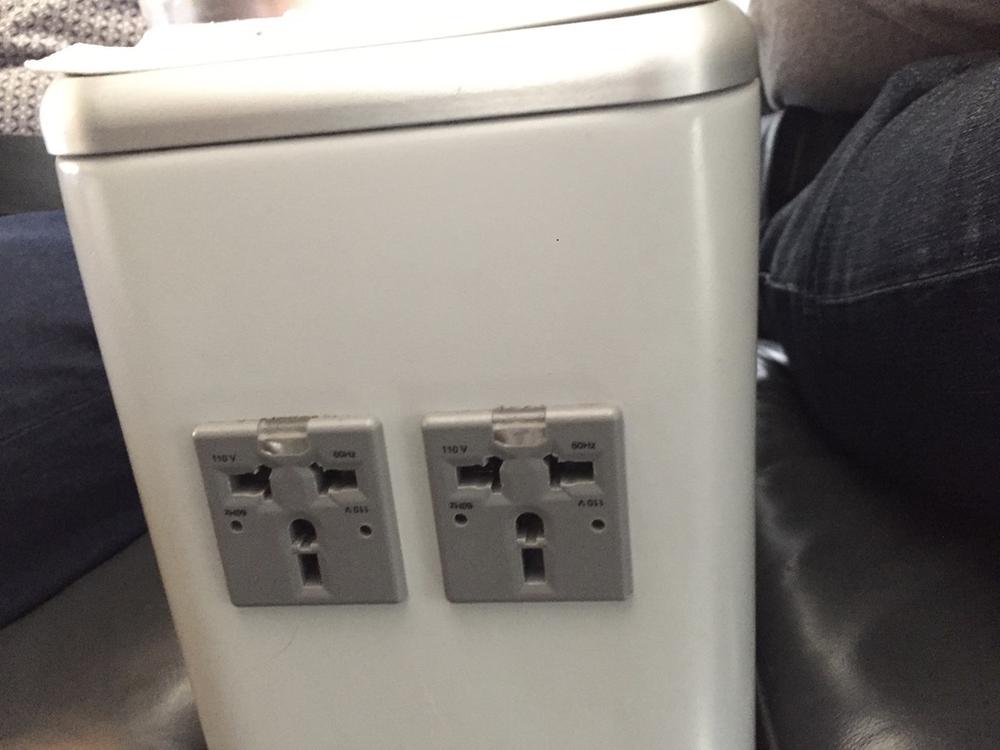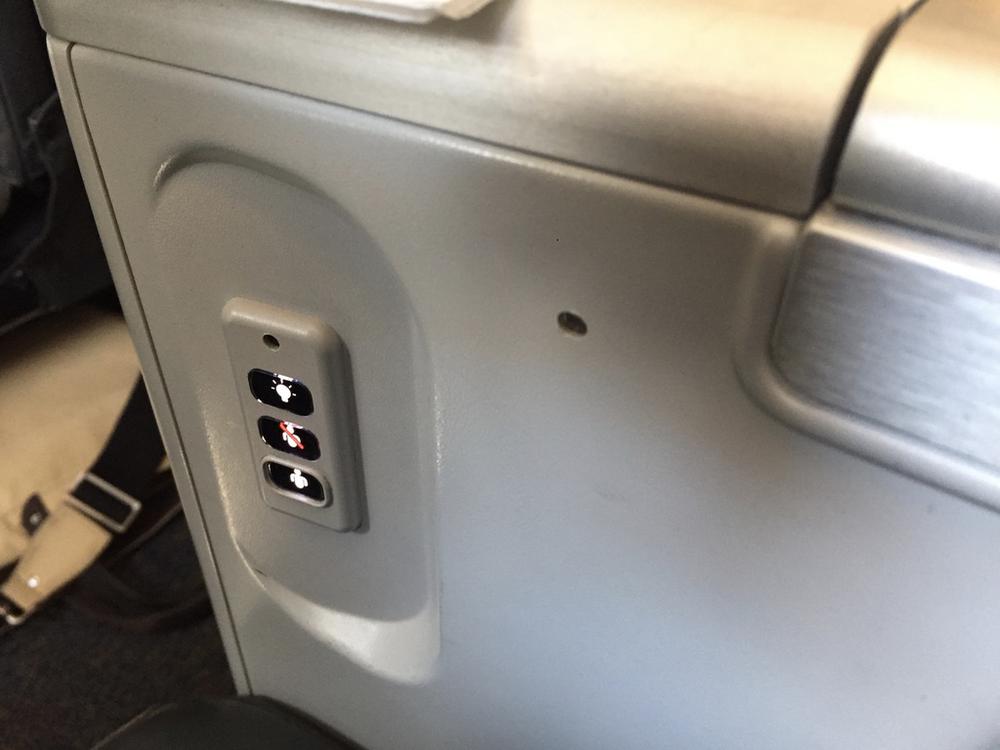 On the other hand, someone had scribbled all over the back of the seat in front of me with a pen. There seemed to be a lot of pen scribbles around my seat, actually.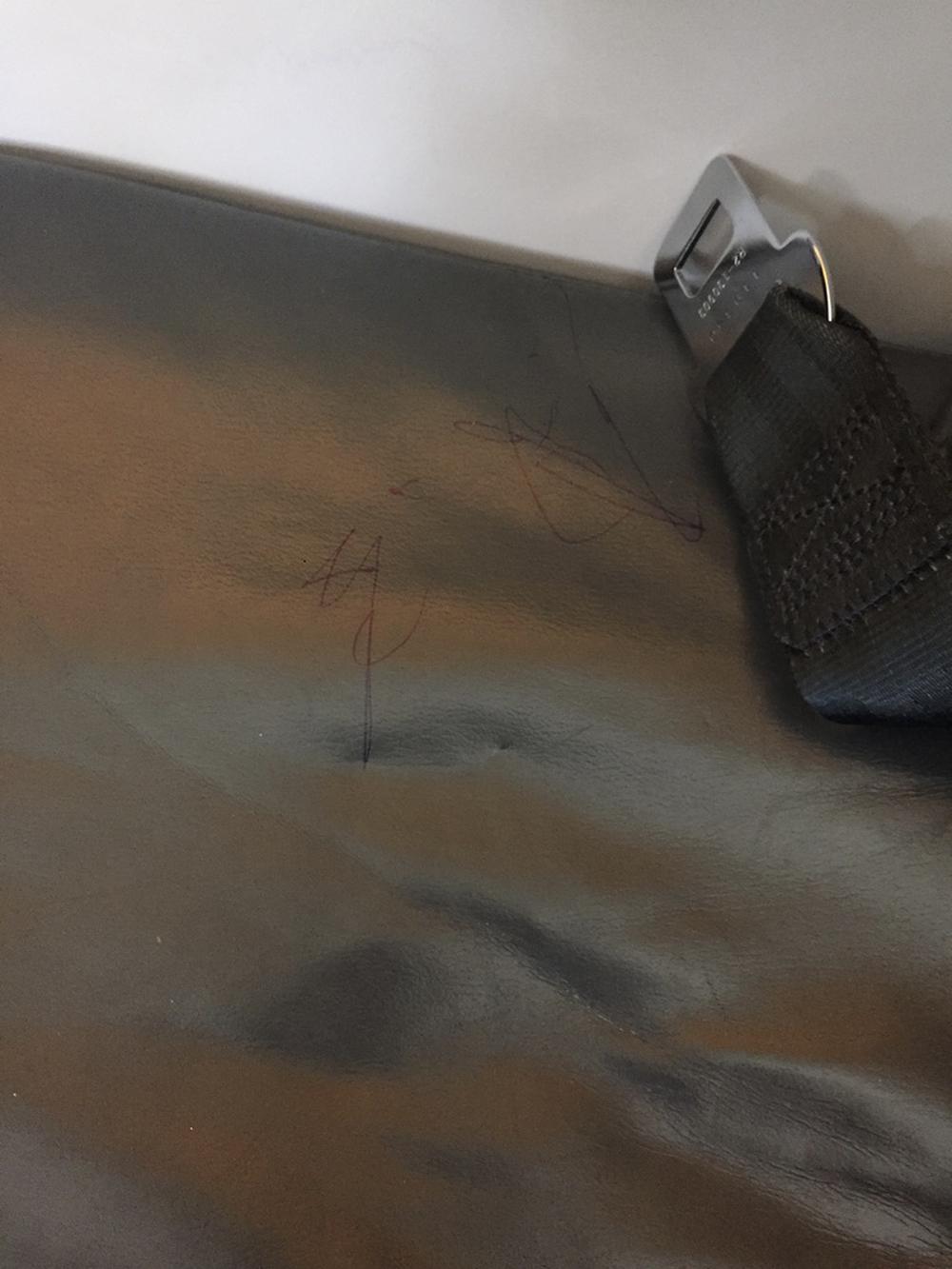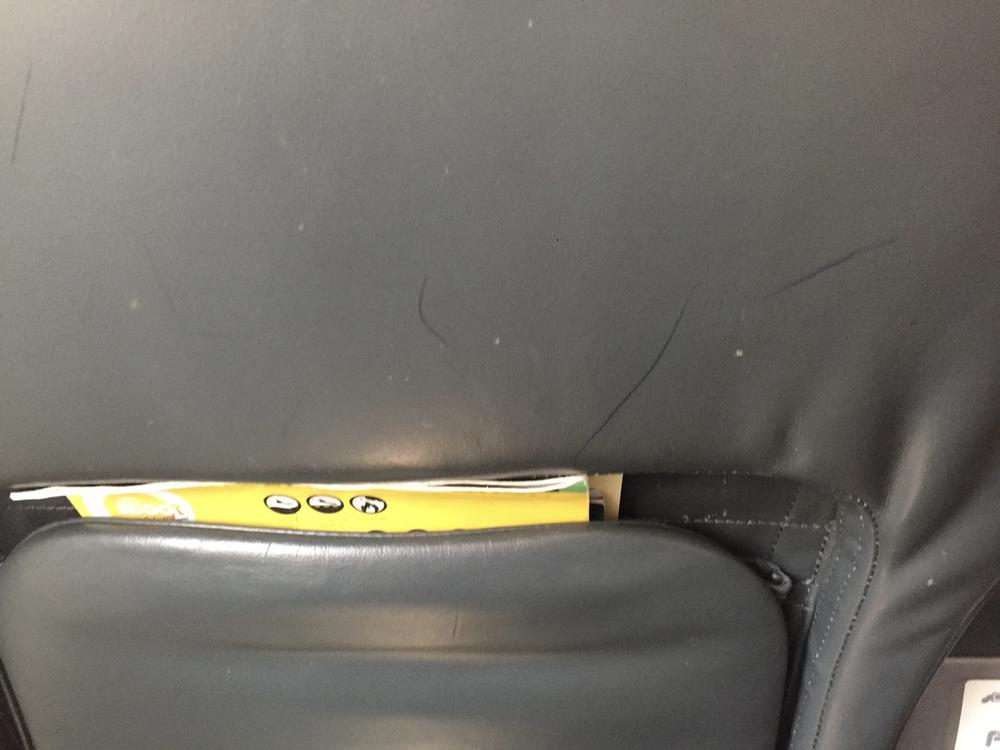 Also, Scoot, like most airlines, makes use of the mood lighting available on the 787's Sky Interior. Except the yellow lighting (which I know is the color of all their branding) looks so ugly…it felt like I was in a sad office building.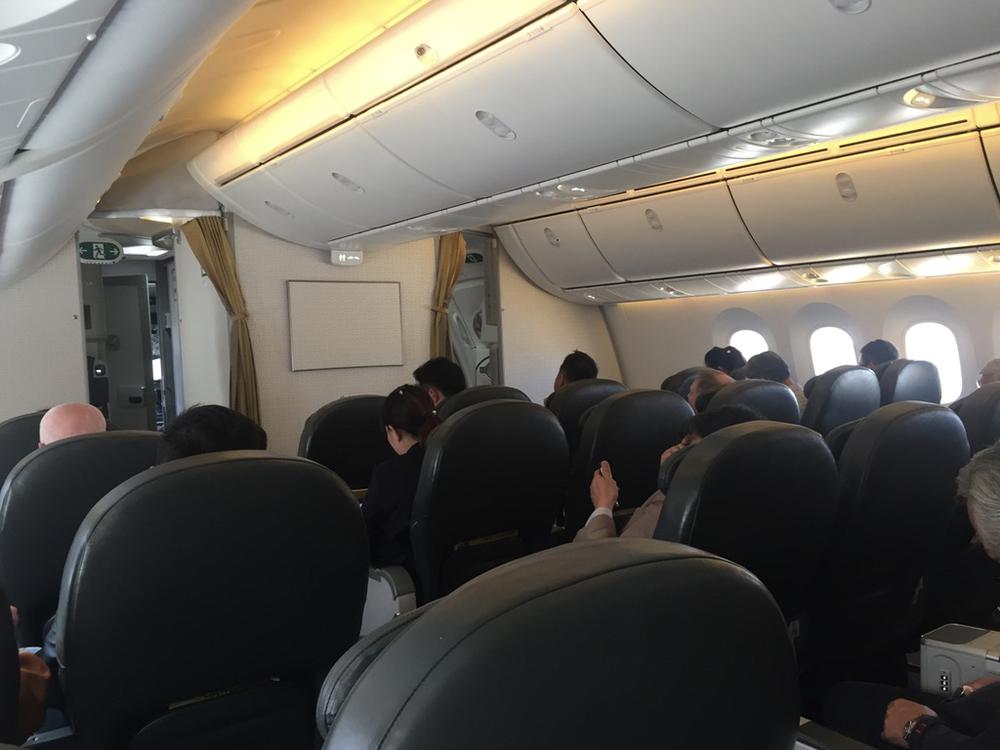 As a pre-departure beverage, I was handed a warm sealed cup of water. It looked kind of like a giant K-Cup.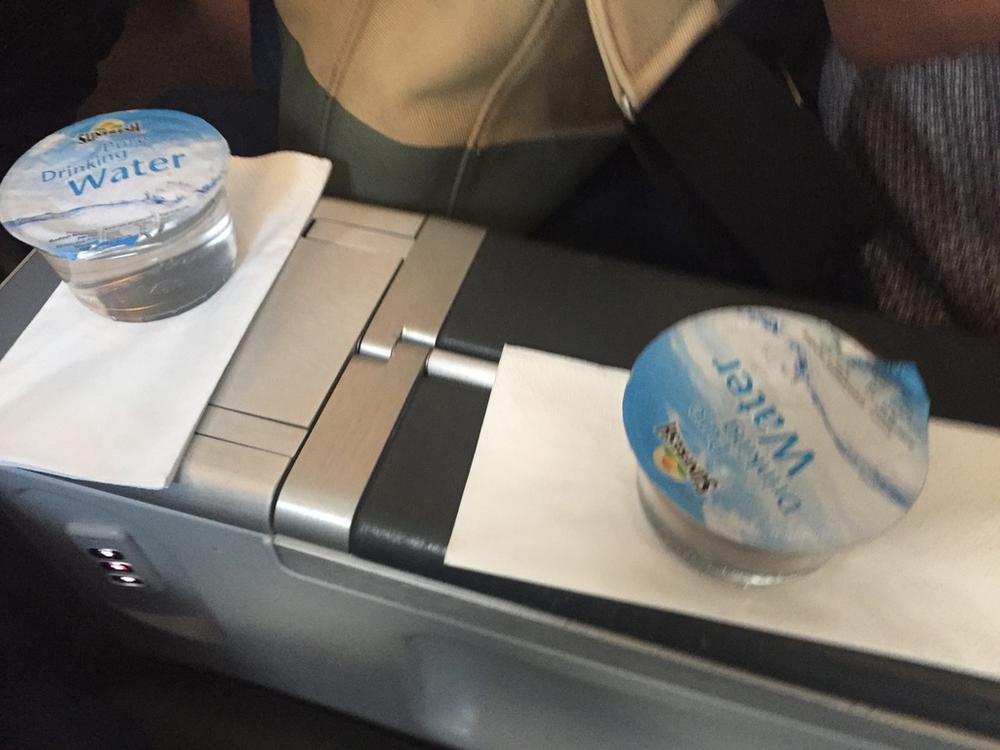 During boarding, I also managed to get a picture of the ScootinSilence mini economy cabin behind ScootBiz, where children under 12 aren't allowed to sit. (Aside from the age restriction and the more intimate cabin, the seats are the same as the rest of economy.)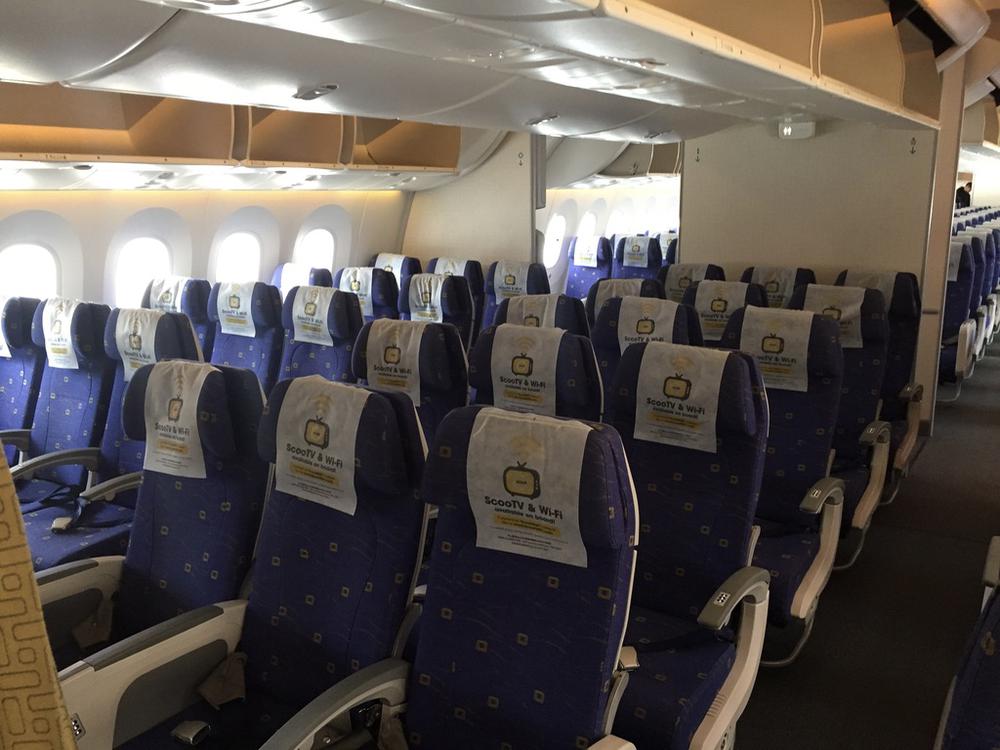 In Flight
Boarding was orderly (as is almost everything in Japan), and we departed right on time.
Scoot lets you preorder food online, and a meal is free for ScootBiz passengers. Almost all of their meals are Asian-themed, which I guess makes sense (though even North Korea's airline has hamburgers… kind of). I pre-ordered the chicken teriyaki.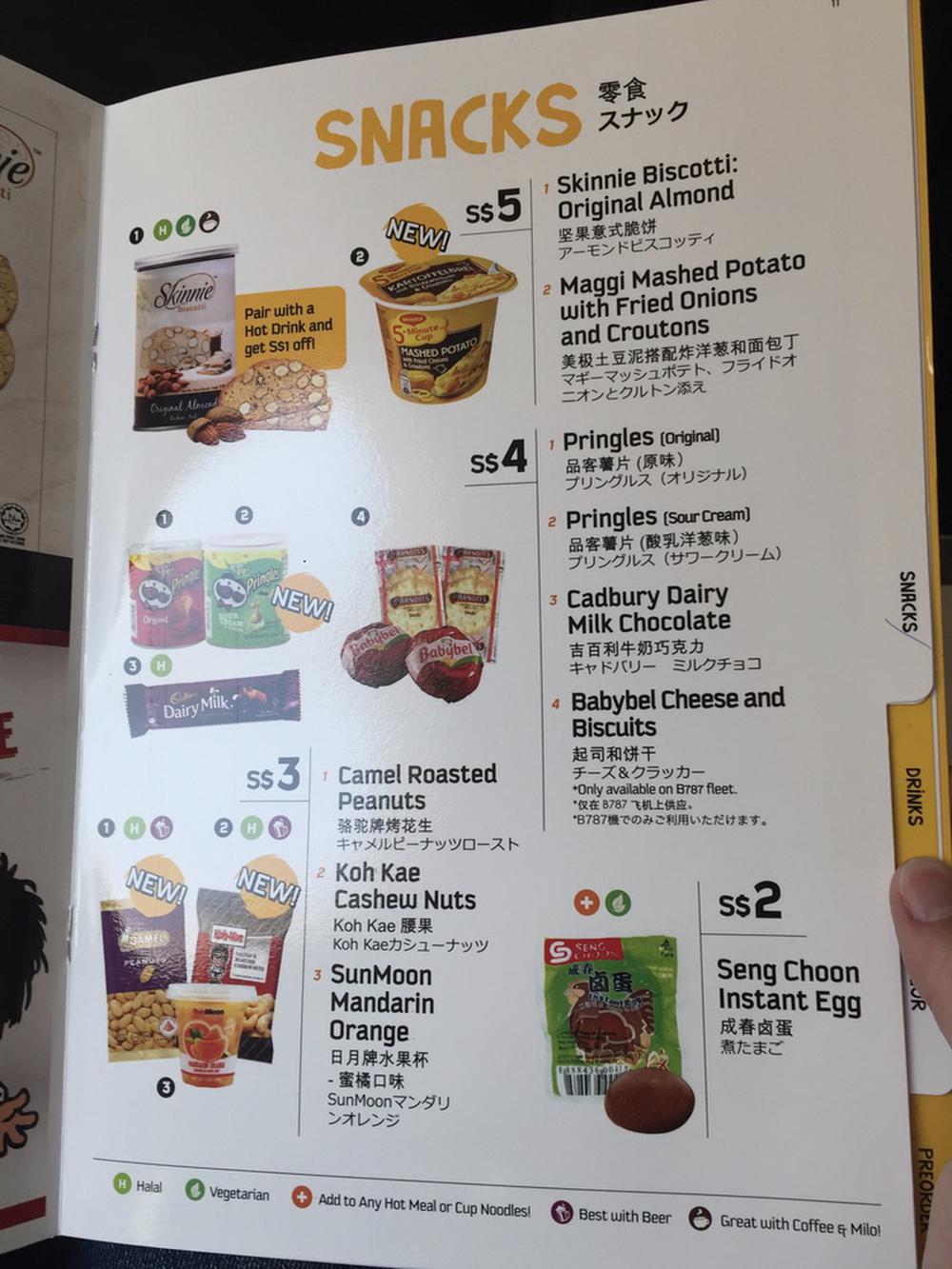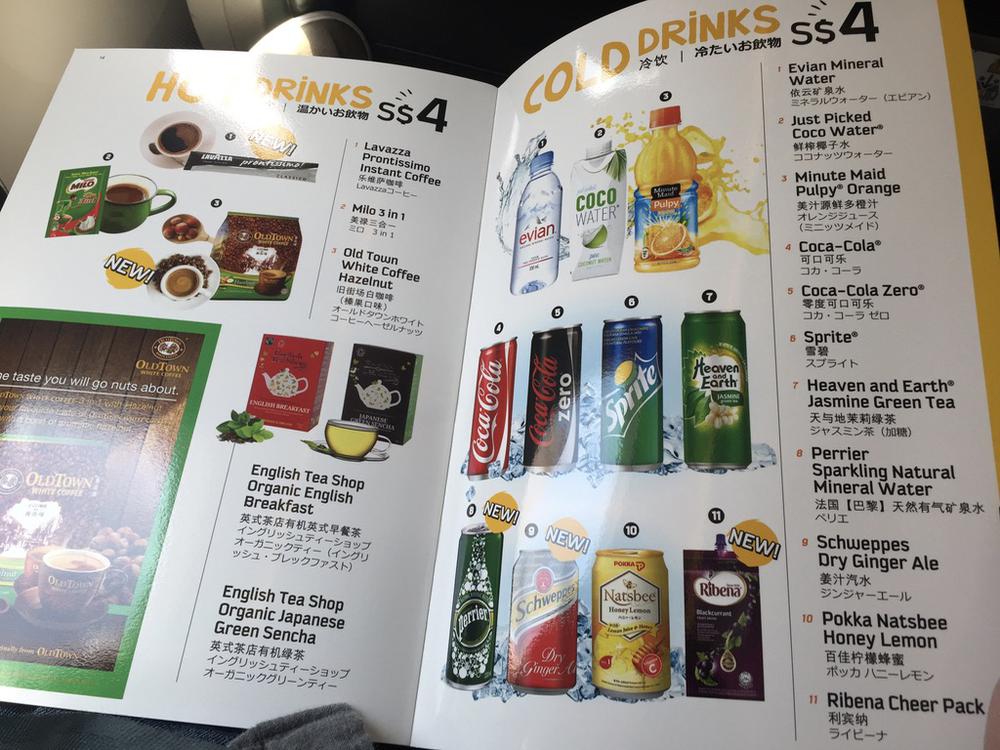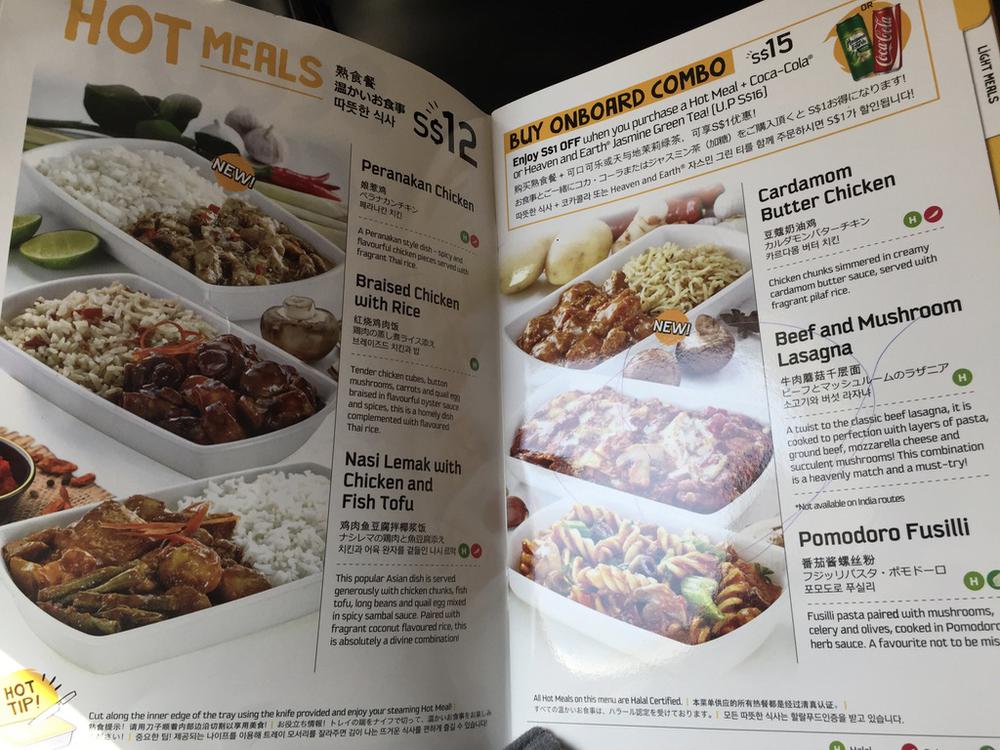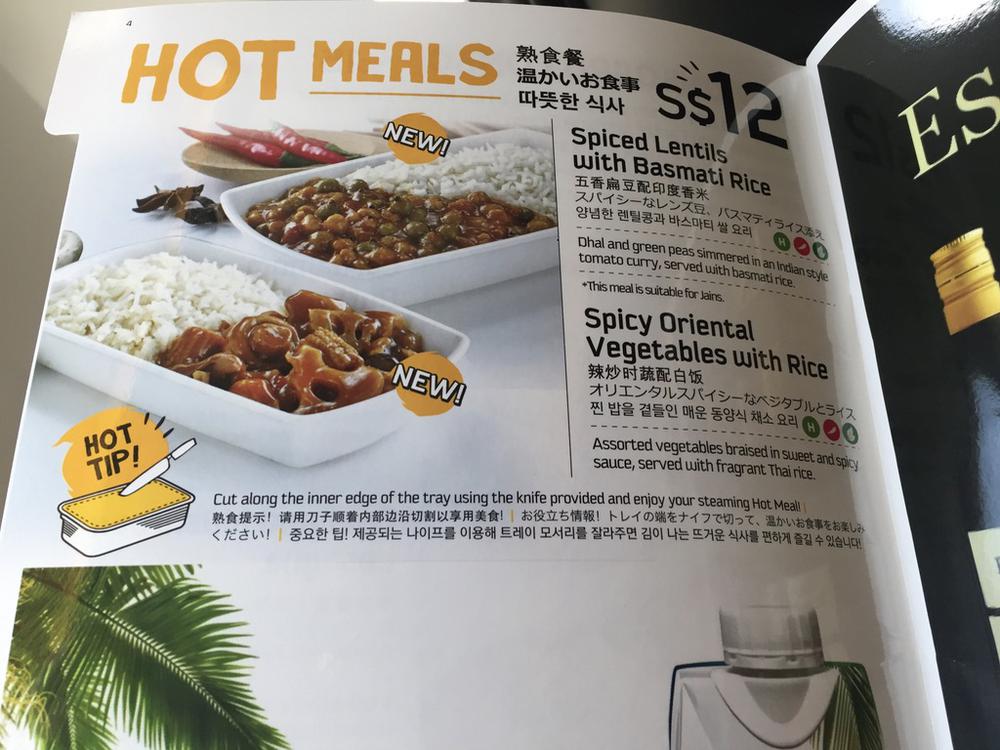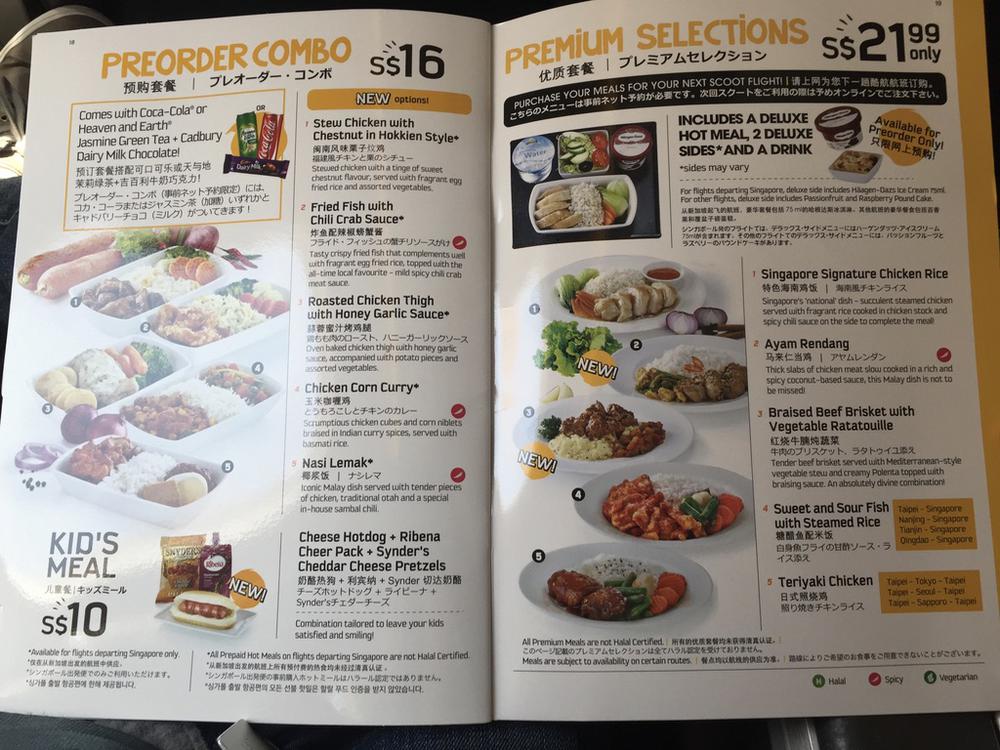 ScootBiz tickets come with one free beverage (in addition to the pre-departure cup of water), so I ordered some white wine.
My meal was perfectly decent, though not exactly gourmet. It was all served on a single tray, and the aluminum foil was still on the entree. The dessert was a raspberry coffee cake type thing, and it was actually pretty tasty (though admittedly I only eat sweets when I'm on vacation, so anything with added sugar tastes amazing to me nowadays).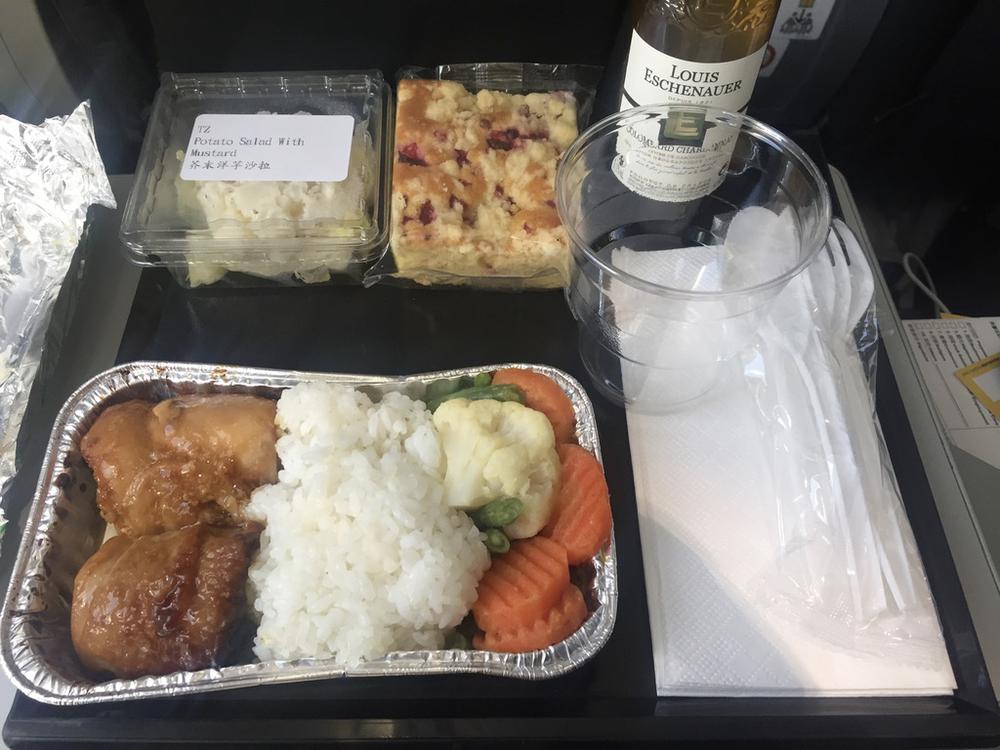 Scoot makes it very clear that you may not consume any outside food or beverages on the plane. There was a sign to that effect in the gate area. It's also written on the menu and on the website, and they announced it at least twice during the flight itself.
You know how on some flights they announce that flight attendants are primarily there for your safety? On Scoot, I was almost expecting them to announce that flight attendants are primarily there to ensure you don't consume outside food or beverages.
That said, at least they did have a lot of food and snacks for purchase, and the prices weren't outrageous.
Throughout the flight, the flight attendants (or Scootees, as they're called – believe me, that wasn't my idea) served efficiently with a friendly smile. In theory, Scootees are supposed to be fun, quirky people who possess a personality trait known as "Scootitude," which I haven't seen defined in any mainstream psychology textbook.
To me, they seemed pretty normal, but these days I consider it a win to just have a flight experience where I'm not treated with outright disdain. (You can probably tell I take a lot of flights on U.S. carriers.)
Scoot offers streaming entertainment that you can play on your own device. In economy, you have to pay for it, but in business they give you a code so that it's all free.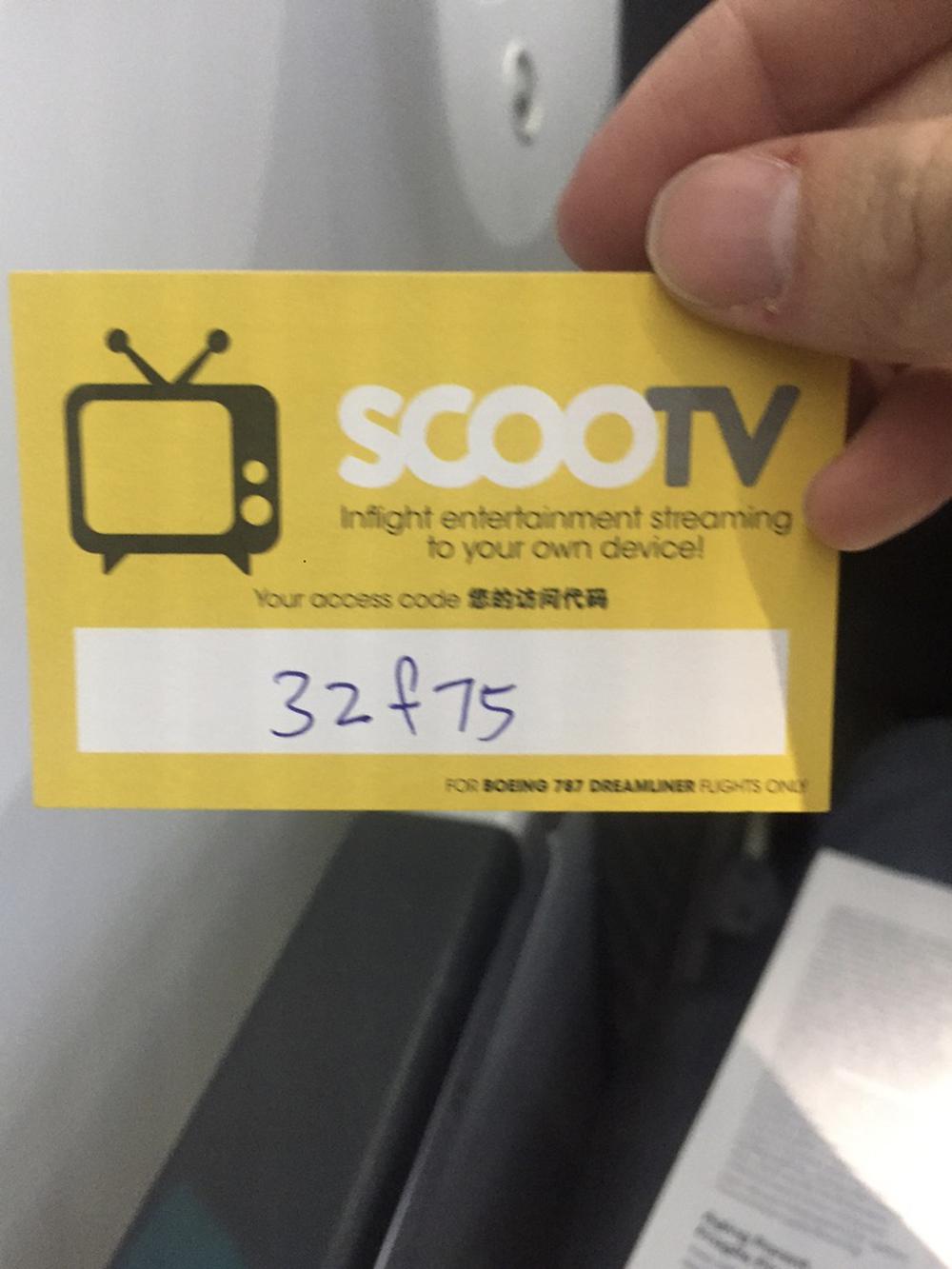 They didn't have a ton of appealing TV shows or movies, so I ended up watching a few episodes of a series called Web Therapy, starring Lisa Kudrow (I'd never even heard of it before). It was ok.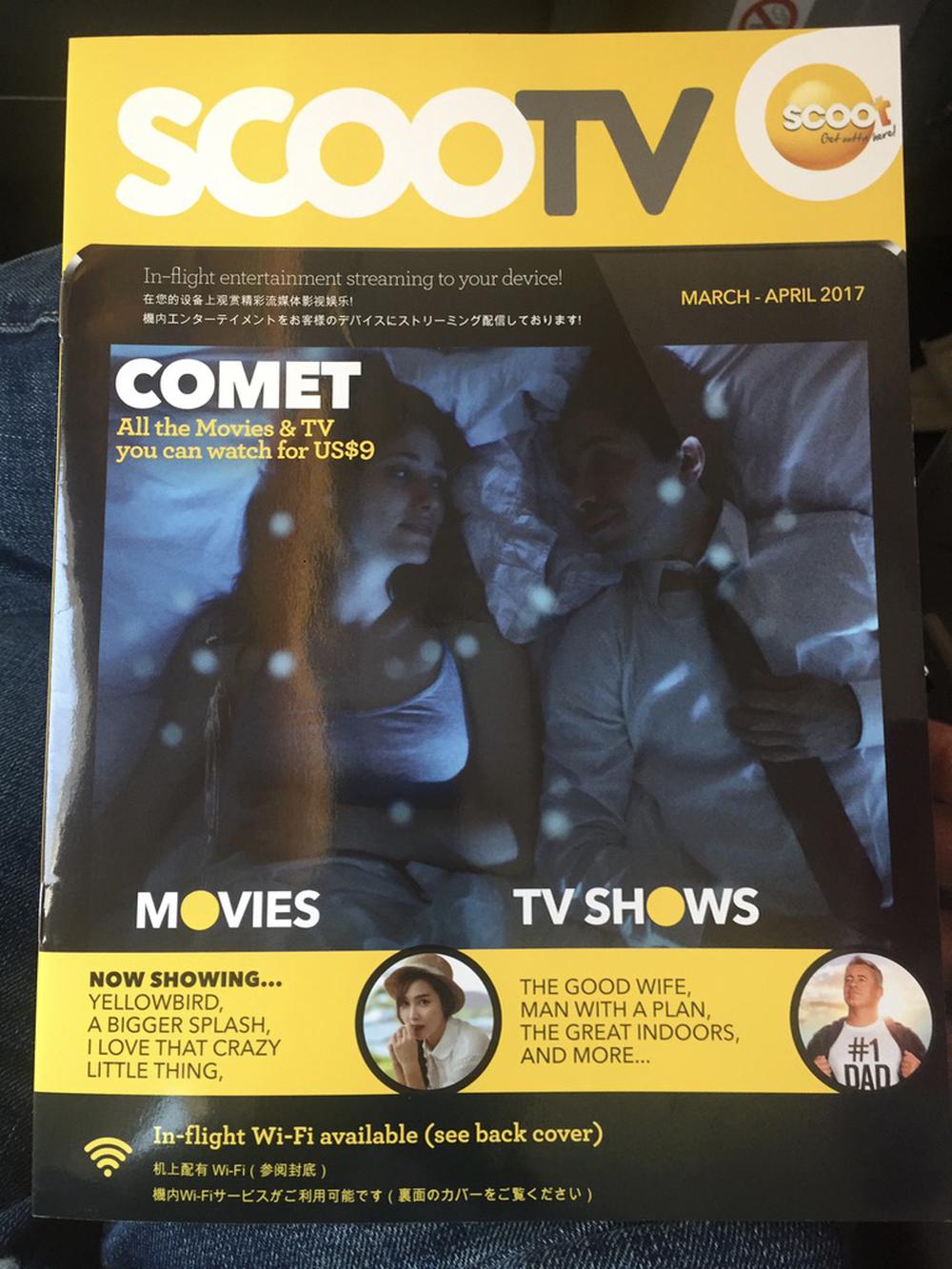 One minor annoyance: every time a flight attendant spoke over the PA, it minimized the video window and displayed a "PA Announcement" icon. At the end of each announcement, I would have to re-expand the video window to full screen mode.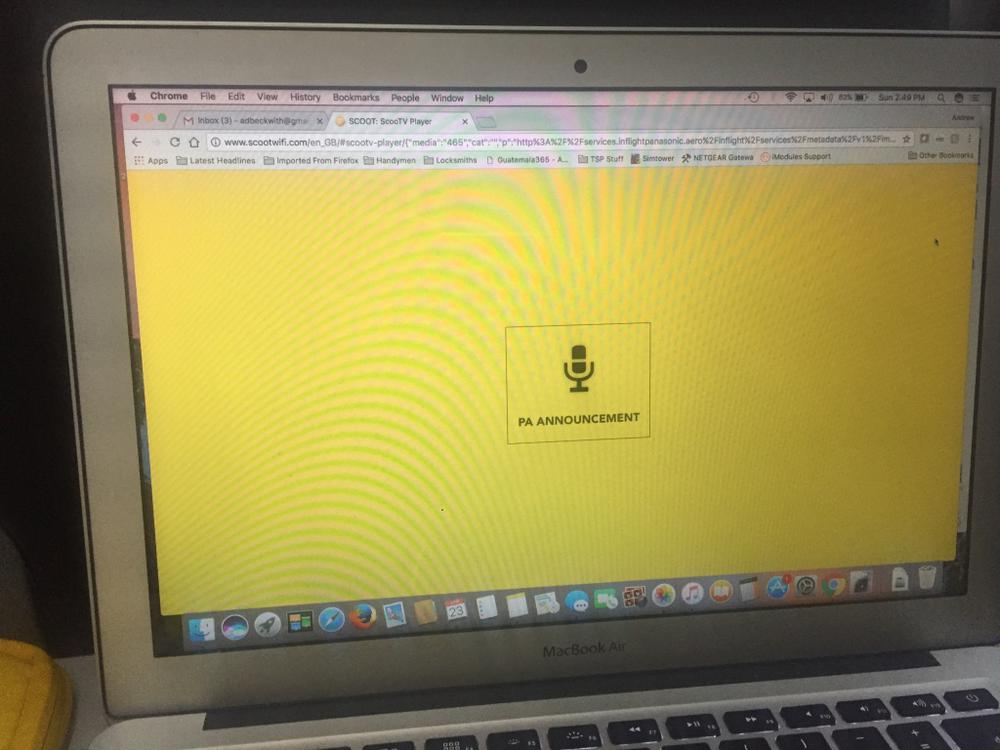 It's clear that Scoot is looking to maximize ancillary revenue. As I mentioned, even in ScootBiz, you only get one free beverage. Rather than pay for a bottle of water, I stubbornly spent about half the flight feeling dehydrated.
They also pushed the duty free items pretty aggressively, making several announcements during the flight. And guess what? It worked. I ended up buying a model Scoot 787-9. As luck would have it, the model is 9V-OJA, aka "Dream Start," the exact aircraft I was flying in. How could I pass that up?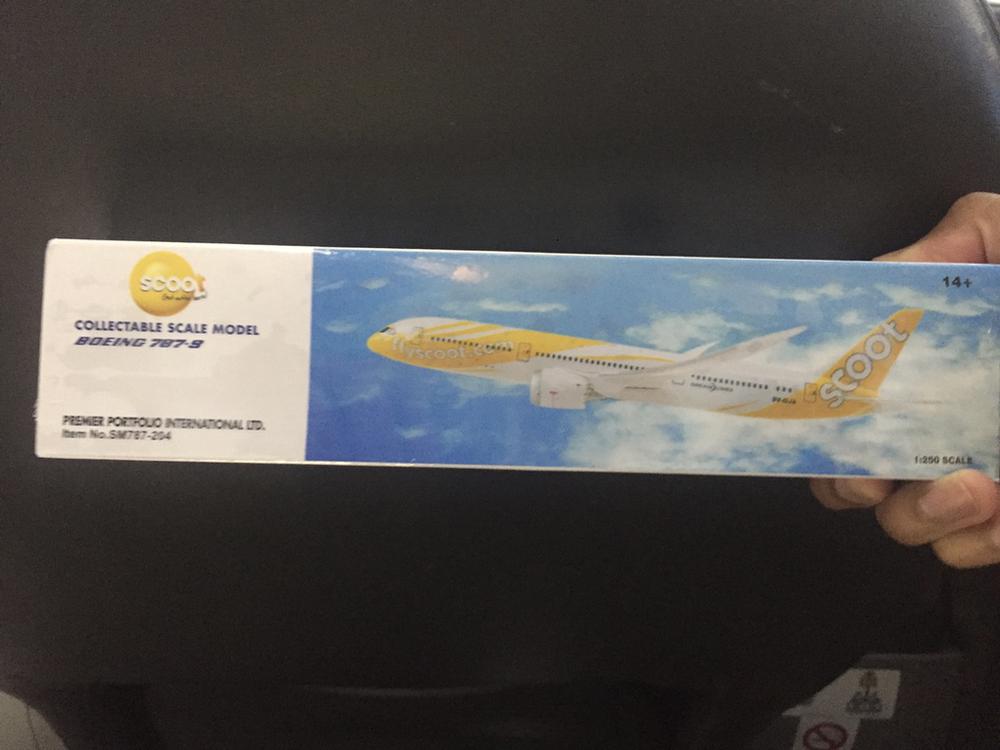 Another thing that shocked me about the nickel-and-diming: in economy, power outlets are not free. Somehow, flight attendants can activate them when you pay. Wifi is also available for an extra charge (unlike streaming entertainment, it's not free to ScootBiz passengers). The prices were reasonable, however.
One final issue I wanted to point out is the squeaking. Whatever interior fittings they've installed on this plane squeaked like crazy, especially during taxi, takeoff, and landing. It was annoying, and made me wonder how such a relatively new plane could have such an annoying issue. I would expect this on a 25-year-old United 757, not a 2-year-old Dreamliner.
Earning Miles
Scoot participates in Singapore's KrisFlyer program… kind of. You must pay extra for the privilege of earning KrisFlyer miles on a Scoot flight by purchasing the "PlusPerks" bundle. (Remember when airlines used to give you miles as a reward for your loyalty?)
The number of miles earned with this add-on is laid out rather confusingly here. I don't think it's worth it, so I didn't purchase it.
You can also redeem KrisFlyer miles for "vouchers" that can be applied toward Scoot purchases, but please don't do that.
Bottom Line
I actually did really enjoy this flight. There are few flights of this length that can be enjoyed in such relative comfort for this price. In the U.S., you could find a route this long served by a regional jet, so the 787 is certainly a step up from that.
I do wish they would be a little less stingy with drinks (unlimited non-alcoholic beverages in ScootBiz would be nice), and some food options from different parts of the world might be nice. But I wouldn't hesitate to fly them again, especially for daytime flights where this kind of seat is perfectly comfortable.