12 months ago, several Arab countries cut diplomatic ties with Qatar, accusing them of destabilising the region, by backing militant groups including the Islamic State (IS) and Al-Qaeda. These countries included:
Saudi Arabia
Bahrain
United Arab Emirates
Egypt
The most notable consequence of this severing of ties in our 'space' is that it suddenly meant there were no flights between these countries. Emirates, Etihad, Saudia, Gulf Air, EgyptAir, FlyDubai and Air Arabia all immediately ceased flights to Qatar, and also Qatar Airways was forced to cease flights to these countries as well.
This blockade has had some interesting side effects for Qatar Airways:
I don't profess to know a lot about the intricacies of Middle-Eastern politics (miles and points is my expertise), but I must admit I had (perhaps naively) thought the Qatar blockade would have been resolved by now. The national airline and imports are so important to the tiny, wealthy nation of Qatar that I had imagined the countries would have come to some sort of agreement by now.
Qatar has shown how desperate it is to be 'on the map,' both by investing massive amounts of money in its national airline, airport and infrastructure, as well as winning the right to host major global sporting events, like the 2022 FIFA World Cup.
But 12 months in, the restrictions remain, and is about to get even worse.
The Saudia Arabia / Qatar border
Qatar shares a 48 mile/61 km border with Saudi Arabia.
Business Insider is reporting that Saudi Arabia is planning to dig a canal along the length of this border, turning Qatar into an island, tentatively called the 'Salwa Channel.'
Five international construction companies have been invited to bid for the work. The canal is expected to be 200 metres wide and around 20 metres deep and will cost around $750 million.
Saudi Arabia has no shortage of money to pay for this project. While Qatar is the world's richest nation per person, Saudi Arabia is number 14.
Saudia Arabia plans to complete the canal by the end of this year.
As a final slap in the face to tourism-desperate Qatar, Saudi Arabia hopes this canal will have a dual purpose — it will both isolate Qatar physically, as well as be a tourism attraction for Saudi Arabia, with resorts planned for the Saudi side of the canal. The canal will be well within the Saudi territory, to avoid further escalations over land ownership.
I imagined this would create an unusual 'no mans land' strip on the Qatar side of the canal, where it would technically be Saudi Arabian land, with no easy way for Saudi Arabia to access it. But no, Saudi Arabia is planning to use this strip as both a military base, and a nuclear waste dump.
A resort area in such an ultra-conservative country, overlooking a nuclear waste dump sure will be a niche market.
I wouldn't hold your breath for a St. Regis to be constructed.
Here is what the new border between the two countries would look like, with the canal constructed.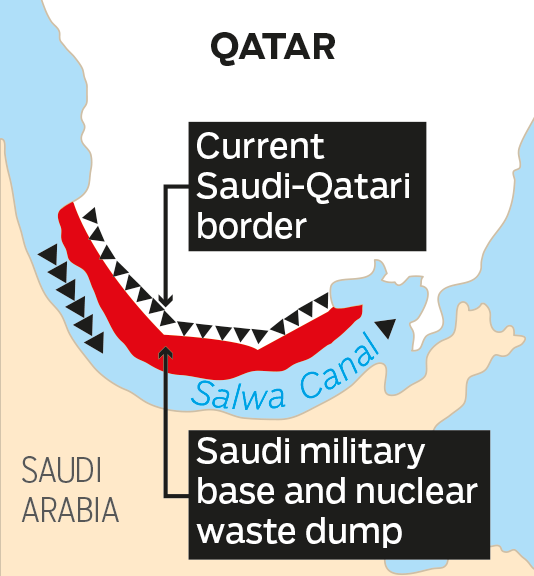 Saudi Arabia has already closed this border to land crossings to Qatar.
Bottom line
The Qatar blockade has now lasted 12 months and shows no signs of easing. This latest bold plan by Saudi Arabia will further isolate Qatar, both physically and symbolically.
What do you make of Saudi Arabia turning Qatar into an island?