In June 2019 we learned that South African Airways would be leasing some Airbus A350-900s. As we learned soon thereafter, the airline is getting four A350-900s, with the priority being deploying these planes on the New York route.
While the first A350 joined SAA's fleet a couple of months ago, up until now the planes have just been flying regional routes, primarily between Johannesburg and Cape Town (presumably for crew familiarization). That will soon be changing.
A350 will operate Johannesburg to New York route
South African Airways has scheduled the A350-900 to operate their Johannesburg to New York JFK route as of February 7, 2020.
The airline operates this route 6x weekly with the following schedule:
SA203 Johannesburg to New York departing 9:40PM arriving 6:40AM (+1 day)
SA204 New York to Johannesburg departing 10:40AM arriving 8:15AM (+1 day)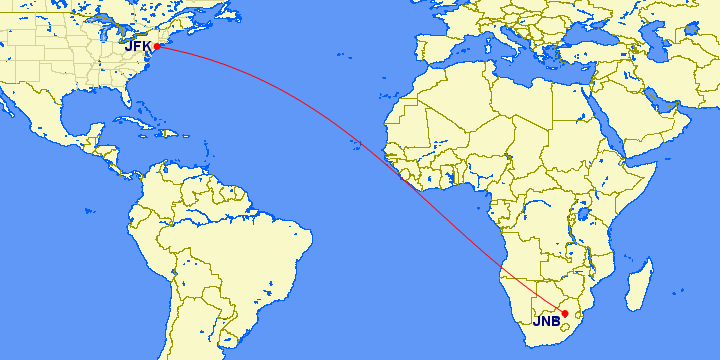 The flight covers a distance of nearly 8,000 miles in each direction, and is blocked at 16hr westbound and 14hr35min eastbound.
Surprising business class product
I'm both pleasantly surprised and confused as I look at the seatmap for South African Airways' A350 on the New York route. The seatmap shows a business class cabin with only 26 business class seats, with seat seat having direct aisle access, in a 1-2-1 configuration.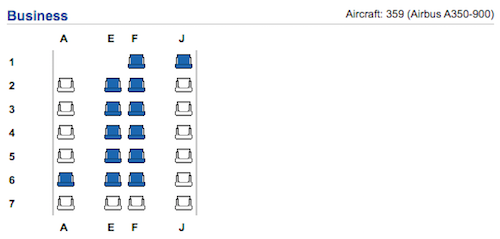 That's not the configuration I was expecting to see:
South African Airways is getting two A350-900s from Hainan Airlines, which I was under the impression would have a 2-2-2 business class configuration
South African Airways is getting two A350-900s that were supposed to go to Air Mauritius, which I assume have the same staggered seats that Air Mauritius has on their other A350-900s
However, Air Mauritius has 28 business class seats on their A350s. So my assumption is that SAA is using the Air Mauritius configuration for the JFK route, but two of the seats are simply blocked for crew… or something?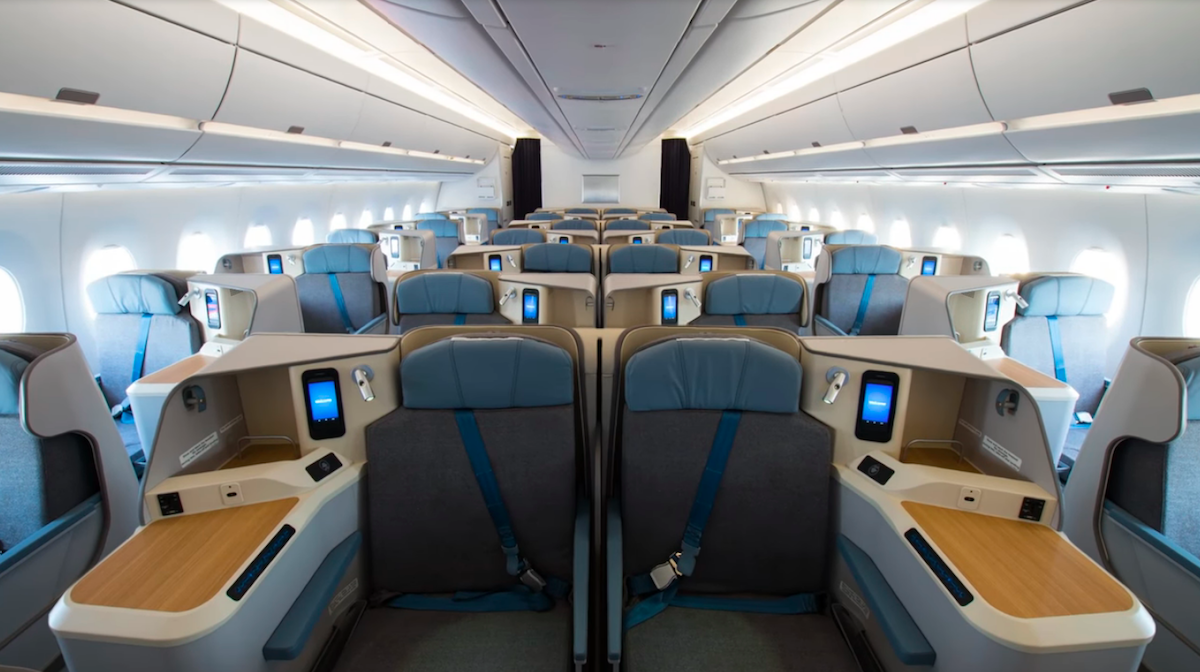 Air Mauritius A350-900 business class
Bottom line
It's nice to see SAA moving forward with putting their A350s on their Johannesburg to New York route as of February 2020, in spite of the company being in "business rescue."
This should help greatly in terms of the passenger experience and cost structure for the route, and it's a step in the right direction. The airline is currently trying to sell most of their A340s, so we'll see if they have any luck with that.
I'm also pleasantly surprised by the business class product that SAA has on the A350 they'll use for the New York route. The seatmap above suggests they'll be using the two planes that were supposed to go to Air Mauritius for the route, with similar seats, though someone correct me if I'm wrong.
Now I'll be curious to see what they use their other A350s for, as I don't yet see them scheduled on any long haul routes.
I'm booked on the New York to Johannesburg route in a few months when I go to Namibia, so I can't wait to experience the SAA A350!
Are you excited to see SAA fly A350s to JFK?