Despite financial woes, South African Airways is in the process of taking delivery of four Airbus A350-900s, which they're leasing for a period of three years.
We've known from the beginning that SAA's priority was to use the A350s fro the New York route, and sure enough, the airline has already started flying the A350 between Johannesburg and New York.
Well, the airline has now updated their schedule to reflect the next long haul route to be operated by the A350. South African Airways will start flying the A350 daily between Johannesburg and Frankfurt as of February 7, 2020. This ~5,400 mile flight operates with the following schedule:
SA260 Johannesburg to Frankfurt departing 8:25PM arriving 6:15AM (+1 day)
SA261 Frankfurt to Johannesburg departing 8:45PM arriving 8:25AM (+1 day)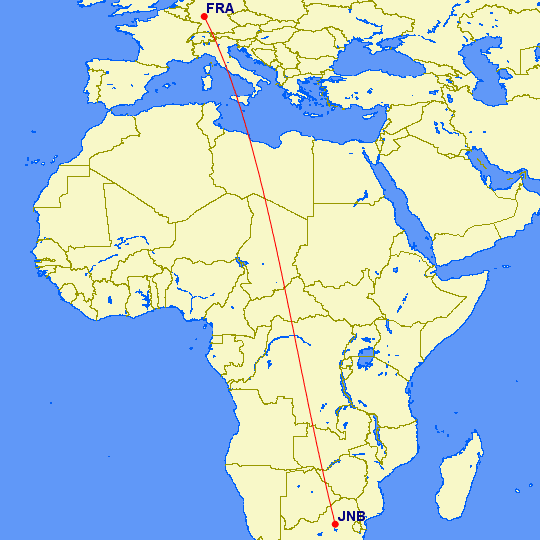 The airline currently uses the A340-600 for the route, just as they used to fly the A340-600 to New York.
With both Frankfurt and New York getting the A350, it would appear that SAA's four A350s are more or less maxed out as far as long haul routes go.
Between the two routes, the airline will have two A350s on the ground every day from morning until evening, but that's it. This means that at most we can expect SAA to maybe operate some domestic or regional international flights with the A350s during that downtime.
SAA's four A350s have two different kinds of business class products, given that the planes were initially supposed to go to two airlines:
Two South African Airways A350-900s were designed for Hainan Airlines, and have fully flat seats in a 2-2-2 configuration
Two South African Airways A350-900s were designed for Air Mauritius, and have staggered seats in a 1-2-1 configuration
Bottom line
It's exciting to see South African Airways now deploying their A350s on two long haul routes. I wouldn't expect to see A350s operating any other long haul routes for the airline, given that each of these daily routes requires two planes, with some downtime in Johannesburg.
This also means that four SAA 340-600s are now available, after being taken off these two routes. We know SAA is currently trying to sell most of their A340s, though that seems unlikely to be successful.