Boeing has just received its first major firm order for the Boeing 737 MAX since the plane was grounded globally in March 2019. This comes just days after it was announced that both the FAA and EASA will be "ungrounding" the 737 MAX.
Ryanair orders 75 additional 737 MAXs
Ryanair has today announced a firm order for 75 additional Boeing 737 MAX 8-200 aircraft. The airline had already ordered 135 737 MAXs, so this brings Ryanair's order total to 210.
For context, Ryanair placed its initial order for 100 737 MAXs back in 2014, then it ordered an additional 10 in 2017, and a further 25 in 2018. The airline had options to order additional 737 MAXs, and that's what's being exercised here (though for all practical purposes it's the same as a new order, since options are no guarantees).
As Ryanair CEO Michael O'Leary describes this order:
"Ryanair's board and people are confident that our customers will love these new aircraft. Passengers will enjoy the new interiors, more generous leg room, lower fuel consumption and quieter noise performance. And, most of all, our customers will love the lower fares, which these aircraft will enable Ryanair to offer starting in 2021 and for the next decade, as Ryanair leads the recovery of Europe's aviation and tourism industries."
I'd imagine Ryanair got a heck of a deal on these planes with some very favorable terms. Presumably Boeing is hoping to create some momentum around 737 MAX orders, since this is the first major order in nearly two years.
In June 2019 we did see IAG (the parent company of British Airways, Iberia, and Aer Lingus) sign a letter of intent to acquire 200 737 MAXs. However, those are pretty easy to get out of, and the airline group hasn't firmed up that order, making it seem like this may have been a publicity stunt on some level.
What's the 737 MAX 8-200?
While many people have probably heard of the 737 MAX 8, what's the 737 MAX 8-200? Ryanair is the launch customer for this type of aircraft, and it's essentially a higher capacity version of the 737 MAX 8.
No, the plane isn't actually bigger, but there are more seats crammed into it. Ryanair's 737 MAX 8-200s will feature a total 197 seats, and per-seat fuel consumption is expected to be decreased by 16% compared to previous generation aircraft.
It's incredible to think that Ryanair is cramming nearly 200 seats into a 737 MAX 8, and O'Leary still manages to say that passengers will enjoy the "more generous leg room."
Why is there a separate aircraft designation for these higher configuration planes? After all, typically an airline choosing to reconfigure a plane in a certain way has nothing to do with the aircraft manufacturer, and doesn't warrant a different aircraft designation.
Well, the reason is because the 737 MAX 8-200 has an extra set of emergency exits, due to how many seats there are. As you can see, there are four sets of emergency exits — the forward and rear doors, the over wing exits, and another set of exits between the wings and the back of the plane.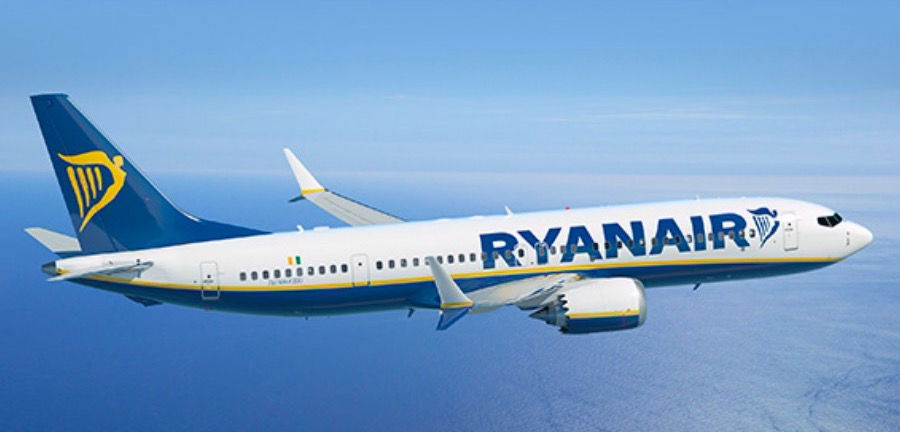 Ryanair 737 MAX 8-200, with additional exits
The branding here is interesting
Boeing has subtly been rebranding the 737 MAX 8 as the 737-8. Previously the plane was widely marketed publicly as the "MAX," while internally the plane has always been known as the 737-8.
It's interesting to me that in the press release, Boeing makes no secret of this being the "MAX," and even includes that in the headline. It's almost like Boeing is trying to rebuild trust in the 737 MAX branding now that the plane is again certified, rather than pretending the plane doesn't exist.
Meanwhile we've seen Ryanair rebrand the plane — Ryanair's 737 MAXs used to say "737 MAX" near the nose, and now say "737-8200."
Bottom line
Ryanair has just increased its 737 MAX order from 135 planes to 210 planes. Ryanair loves a good deal, and I imagine the airline got a great deal here, without much cash down (since the airline is also in a tough financial spot).
This is also a big milestone for Boeing, as it's the first major order for the 737 MAX since the plane was grounded in March 2019.
Ryanair's 737 MAXs are especially unpleasant, to the point that they need an extra set of emergency exits due to how many seats they have. Or as Ryanair's CEO describes it, the planes have "more generous leg room."
Are you surprised to see Ryanair order more 737 MAXs, and do you think any other airlines will follow?