As I wrote about in late April, I booked a trip to Longyearbyen for this summer, which is the northernmost city in the world. I'm not sure there's actually much to do there, though the landscape looks gorgeous, and there will be 24 hours of sunlight, which is intriguing.
It worked out well because we're getting there in SAS' new business class, which is one of the airline products I most wanted to review this year. If I can combine a new airline review with visiting a destination which has been on my list, why not?

I tried to figure out where to go from there, and after looking at a map, figured it would be great to tie this in with a trip to Russia. While I of course strongly disagree with many of Russia's policies, it's a country I'm fascinated by, and I think it would be enlightening to visit.
So we booked tickets from Longyearbyen to St. Petersburg, and plan on checking out St. Petersburg and Moscow. We'll be staying at the W Hotel and St. Regis, respectively.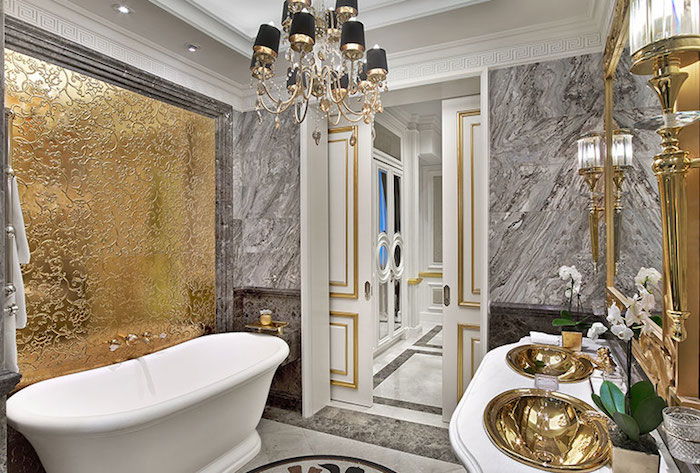 St. Regis seems in its element in Russia!
I'm not traveling internationally for the next couple of weeks, so this is a good time to get our visas done. I'm not planning on going to the consulate myself, so as usual I'll use Allied Passport, as they're friends of the blog, and consistently do a great job.
I started filling out the Russian visa form, which is probably the most thorough visa form I've seen. You even have to list every country you've been to in the past 10 years, along with when you visited. Suffice to say that's no easy task for some of us.
The worst part? Take a look at the cost of Russian visas. A basic visa costs $193, though it takes up to 15 business days to process. When you add in the time it takes to ship the passport there and back, that means you could potentially be without your passport for a month, which is beyond my comfort zone. So I'll do the expedited service, which costs $283.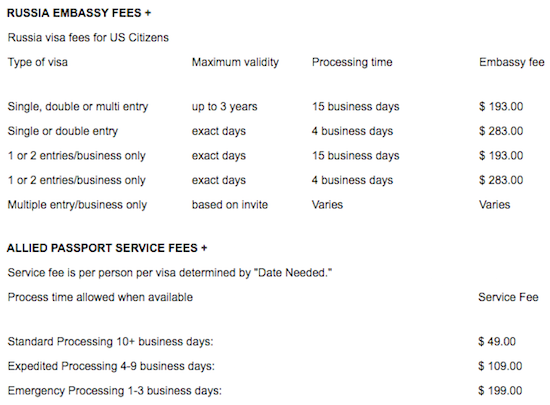 That's in addition to the Allied Passport service fees, which are $49-199 (which are reasonable, by comparison).
So all-in-all it looks like I'll be paying $283 plus $109 for my visa, for a grand total of $392.
That doesn't account for the amount of time it takes to complete the application, plus needing a formal invitation to visit, etc.
I knew Russia was expensive, but who knew that was true to this degree before even arriving in the country?
Boy, it's almost as if Russia doesn't want tourists to visit, or something. 😉
Bottom line
I generally avoid countries which require visas to visit, or at least ones which have to be done through a consulate rather than online. That being said, Russia has always intrigued me, so I'm excited to finally be visiting, and hope it'll be worthwhile.
Still, I'm kind of in disbelief at the cost and hurdles of applying for a Russian visa. When all is said and done I'll have spent over $400 and will have spent a couple of hours on this. Yow!
To what degree do visa requirements prevent you from visiting certain countries?